Human Touch has been in the market for more than 35 years and specializes in manufacturing some of the best massage chairs along with other wellness products.
As the name suggests 'Human Touch', their massage chairs actually mimic techniques used by professional massage therapists.
Their massage chairs guarantee three things:
Stress relief.
Improved blood circulation.
Back pain relief.
They have a wide range of massage recliners at different prices. Important to mention that Human Touch chairs may be slightly expensive from other brands in the market but the features and functionalities they provide are outstanding.
After spending a good time on research, here are top 10 Human Touch Massage Chair reviews.
Related: Best Inada Massage Chairs 2017
This will be a long article, it's better to grab a cup of coffee before you start.
1: iJoy Active 2.0 Perfect Fit Massage Chair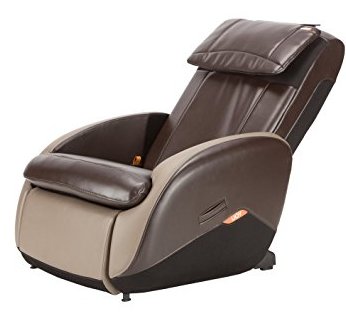 The Human Touch iJoy Active 2.0 is one hell of a beauty. Its Espresso color will instantly grab anyone's attention.
This massage recliner is built to mimic human hand techniques some of which include stretch, orbit, glide motion and deep tissue pressure for a therapeutic relief.
It comes loaded with three auto massage programs. The first one is the THINK program, which soothes the entire back. The second is PERFORM that works on the neck and shoulder region while the third one RECHARGE relieves all the pain and tension in the lower back.
The FlexGlide™ is its orbital massage technology that helps reduce stress dramatically. It delivers the ultimate relaxation that you've been yearning for.
What I like the most is its compact profile and smart ergonomics allowing users with small spaces to easily fit and use this chair.
Need more…?
Pull its recline angle, which brings you in a 180-degree position for relaxation.
Smart and ergonomic design.
3-auto massage programs.
Human touch techniques.
180-degree recline.
Versatile head pillow.
Easily portable.
The chair is portable but might be heavy to lift to greater distances.
2: iJoy-2310 Recline & Relax Robotic Massage Chair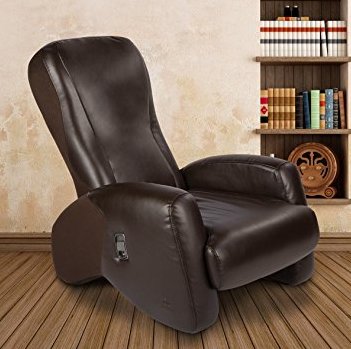 The iJoy-2310 Recline & Relax may not be like the conventional massage chairs but is designed to relieve all the tension and stress from your body.
It's compact, light and can be carried anywhere you want. Plus, it comes just under $700, making it a great option for those who have a limited budget.
Firstly, its recline feature is very enjoyable and soothing. Simply pull the recline handle and bring the chair to 180-degree angle to relax.
For maximum comfort and relief, choose among its 3 auto-massage programs that include Sore Muscle Relief, Stress Therapy, and Back Wellness. These are intense and deliver a deep tissue effect.
Other than auto-programs come the manual massage features that mimic human touch. These functions include kneading, compression, percussion, and rolling.
If you are living in a small house or apartment, assembling this chair won't be a hassle. Its space saving design is what tackles the small areas.
3-auto and 4-manual massage programs.
180-degree recline feature.
Human Touch.
Rated as a consumer's digest best buy in 2013.
Includes a remote control.
Doesn't include arm or leg massage.
3: WholeBody 7.1 Swivel-Base Full Body Relax and Massage Chair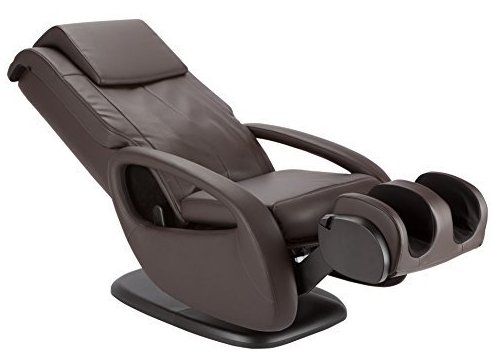 The WholeBody 7.1 is a full body massage chair with an attached foot massager with powerful functions.
Users love it for its ease of customization and efficiency.
Its BodyMap PRO feature scans your body and automatically selects the best massage combination from its memory.
With a whopping 5-auto massage functions including Full Back, Upper Back, Lower Back, Relax and Sleep, you'll get the most pleasurable experience of your life.
Its deep tissue massage quickly heals the sore muscles while the BodyMatch technology pinpoints the rollers on the targeted location you want. In this way, you can smartly function the chair to target the area you want to get massaged.
For a therapeutic relief, the chair has a built-in heating function that delivers heat on shoulders, lower back and lumbar region to soothe the tensed muscles.
Another noteworthy technology which is called "CirQlation" helps to improve blood circulation in the body and encourage lymphatic drainage. This also helps individuals with high and low blood pressure, sleep disorders and fibromyalgia.
Patented Warm Air Technology for maximum relief.
5-auto massage functions.
BodyMap Pro and BodyMatch technology to target the right area.
CirQlation technology which helps to improve blood circulation in the body.
Weights 285 lbs. and can be difficult to move around.
4: Novo XT Ultra High-Performance Zero-Gravity Massage Chair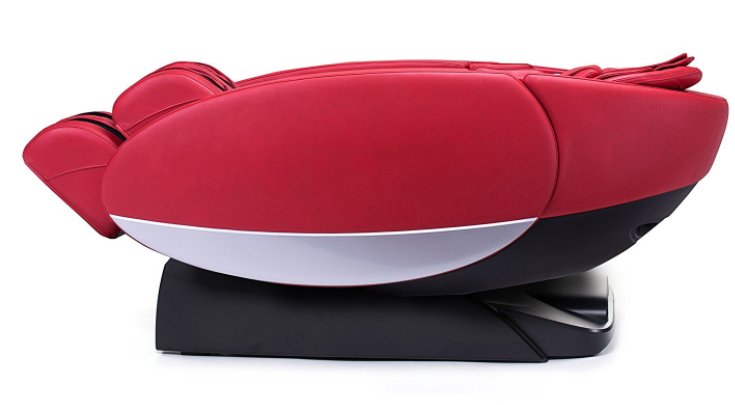 Available in 5 premium colors, the Novo XT maybe the first and last massage chair you'll buy. It' fully loaded with a plethora of features and different massage functions to give you the best experience.
Its eye-popping design and looks add more décor to your room. Being easily customizable, the chair can be tailored as per your preferences.
It even allows creating a custom massage experience using it's 5 intensity settings and 3 deep tissue massage programs (soothe, stretch and rejuvenate) to relax your entire body.
The best thing about the intensity settings is that even if you suffering from an injury or recovering form one, you can still enjoy the massage without damaging your body.
There is an LCD remote with easy to use controls including massage intensity adjustment, width adjustment, speed, focus, kneading speed, underfoot roller speed, height range, stretch direction and massage duration.
Usually, a recommended massage session for best results must be of 30-minutes at least.
Its warm air technology heats the lumbar region and soothes the tight muscles, thus relieving you from pain and stress.
5-Year frame warranty.
Warm air technology.
User-friendly LCD remote.
5 intensity adjustments and 3 deep tissue massage programs.
5: HT-5040 Swivel-Base Massage Chair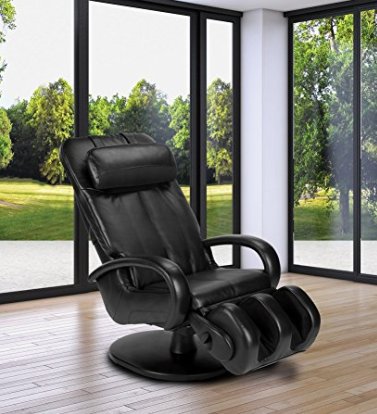 The HT-5040 is a smart, slim and high quality massage recliner. Its officially endorsed by World Federation of Chriopractic.
Unlike some of the other Human Touch massage chairs that don't come with foot massager, it features an exclusive multi-speed open foot and calf massager and can be easily converted into an ottoman.
The unique thing about this foot and calf massager is that it massages in an upward direction that pushes the blood towards the body's core. As a result of it, fresh and nutrient rich blood re-enters your feet and calves.
It's actually a patented technology by Human Touch.
There is a total of 5 manual massage programs and you can easily control their intensity levels. These include rolling, kneading, compression, percussion and knead + compression. Since you can control the intensity, the chair can deliver a deep tissue massage.
Moreover, 3-auto massage functions tailored for the back region have been integrated as well. They target the Full Back, Lower Back and Upper back region for maximum stimulation.
Overall, this recliner has a robust design and is also ADEX Platinum Award Winner for its functions, quality, and design.
Deep foot and calf massage.
Full neck and shoulder coverage.
Automatic massage programs that are specifically designed for your back.
5 manual massage techniques with a human
Design flaws in the foot and calf massager.
6: Human Touch "AcuTouch 9500x" Premium Leather Recliner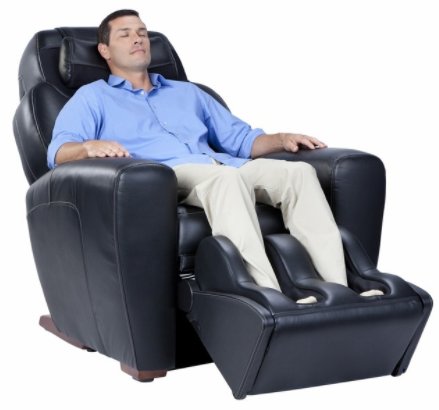 AcuTouch 9500x is a full body massage recliner made of premium leather and memory foam that gives you instant relaxation as soon as you hop into this chair.
The attached foot and calf massager can be easily elevated and extended. You can also convert it into an ottoman.
Its AcuPoint detection system smartly scans the S-curve of your spine and locates the pressure points for best massage experience and pain relief.
Likewise, the WholeBody 7.1 Swivel recliner, it also features Patented Figure-8 CirQlation technology for foot and calf massager and improves overall blood circulation and lymphatic drainage in the body.
It Warm Air Technology heats the dual lumbar back for maximum relief. The chair also has under seat massage with a leg vibrator for better stimulation of muscles and joints.
Made of finest quality leather and memory foam.
Comes with an elevating and extendable foot and calf massager.
Patent Figure-8 CirQlation Technology.
Heat, under seat massage and leg vibration feature.
Expensive and heavy to move around.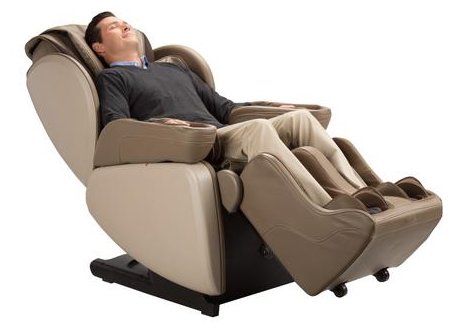 Navitas Sleep is the only massage chair that gives a 4D rhythmic massage and still comes at a very affordable price.
This chair has a whopping 36 wellness programs installed in it. Just push and enjoy! Also, the zero-gravity recline gives you a wonderful experience.
Human Touch claims that Navitas has the most auto massage programs than any other chair in the world and every program has been carefully integrated into its system.
The zero gravity feature provides extra relief of back pain and reduces stress on vertebrae.
The 8 Memory Setting Technology lets you design your own massage combination and techniques for maximum pleasure and relief. Once you design a massage combination, you can save it to one of its 8 memory settings.
A high-resolution color control allows you to easily navigate through all of its features and selects the best one for you.
Finally, the Acupoint Optical Scan smartly measures the length of your back and contours of your neck and shoulders, thus targeting the stress points during the massage session.
Integrated with 36 wellness programs.
Zero gravity chair.
8 Memory Settings.
High-Resolution
Acupoint Optical Scan.
4D Rhythm Massage Technology.
The chair may not reach the lower back effectively. Depends on your height.
RUNNERS UP FROM HUMAN TOUCH
8: WholeBody 5.1 Swivel-Base Full Body Relax And Massage Chair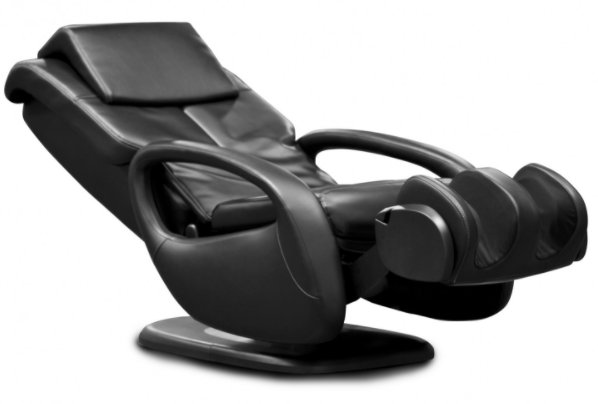 With a swiveling base, WholeBody 5.1 is ready to give a full body massage for the ultimate relaxing experience.
It comes equipped with two powerful motors, one for back and one for the leg rest adjustment. You can customize the height and bend for maximum stimulation of the legs and back.
The CirQlation technology comes integrated with it that soothes all the aching, sore feet and stiff legs while improving the blood circulation in the body.
And yes…
Even though it is a low price massage chair but still has 3-auto massage programs for back pain, stress relief, and relaxation.
Base Swivels.
Dual motors for leg and back adjustment.
CirQlation technology.
3-Auto massage programs.
9: Bali Full Body Stretch And Massage Chair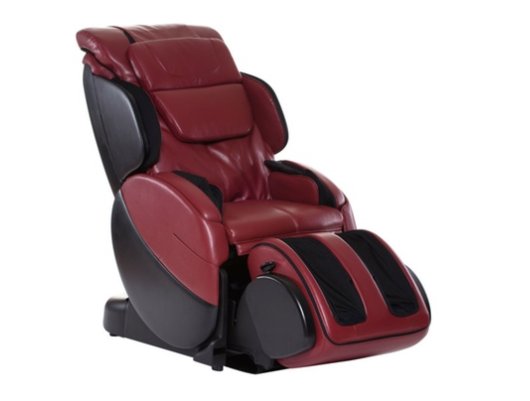 Bali is one of the premium category massage chairs by Human Touch and it fully covers your entire body for the best massage experience.
With three elegant colors to choose from, this recline has 9 vertical height adjustments so that you can enjoy a full-length body massage.
There are a whopping 21 target Massage Techniques including stretch, loosen and relax for different parts and muscles of the body.
Users loved its full body stretch function as it relieves the stress on the spine and increases blood flow towards the vertebrae and discs. Moreover, stretching also improves blood circulation and lymphatic drainage which supplies rich nutrients to the body and eliminates all the harmful toxins.
The AcuPoint Detection system measures the length of your back and contours of neck and shoulders to accurately detect the pressure points located in these regions and works effectively on them during the massage session.
9 vertical height adjustments.
21 Target Massage Techniques.
Full Body Stretch.
AcuPoint Detection System.
Retractable foot and calf massager.
Lightweight and easy to assemble.
10: ThermoStretch Massage Chair
The last but not the least on our list of top 10 Human Touch Massage Chair reviews is the ThermoStretch Massage Chair.
It has 5 professional massage techniques that efficiently target the stress areas using powerful massage techniques like rolling, kneading, compression, percussion and kneading + percussion.
The Massage Comfort Control Technology lets you customize the intensity of the massage program currently running.
The attached foot and calf massage uses upward massaging technique in rolling, rotating and multi-speed manner to push the blood towards the body's core. This way, fresh and nutrient rich blood reenters your legs and feet.
Finally, its dual lumbar heat system is worth mentioning here that soothes the muscles and helps you get rid of the soreness and stiffness.
5 Professional Massage Techniques.
Massage Comfort Control.
Foot and Calf Massager.
Dual Lumbar Back Heat.