Inada is one of the leading massage chair brands from Japan and manufactures professional, health focused and user-friendly massage chairs of some of the finest quality.
Their massage chairs are not only used by individuals but also businesses like massage spas, beauty salons, etc.
It's quite fascinating to know that Inada or Family Inada is first inventor of automatic shiatsu massage chair.
With that much of a brief intro about the company, here are 6 of the best Inada massage chair reviews, which are a must read.
Needless to say that all of the massage chairs offered by Inada or of exceptional quality and features and fall in the premium class.
1: Inada HCP-S373 (B) Flex 3s Massage Chair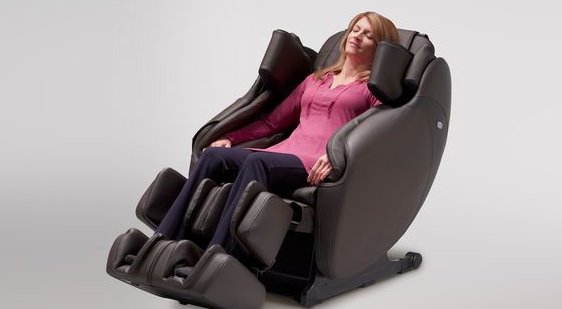 The Inada HCP-S373 is a premium quality massage chair with a full body air massage function. It's been rated as the World's Best Massage Chair and is designed to meet all your needs.
This massage chair helps to improve your posture instantly. The shoulder stabilizers are worth mentioning here. It's smart technology automatically adjusts to the nature S-curve of your spine and gives a wonderful massage.
Its deep tissue massage not only relieves the pain and relaxes the muscles but also increases lymphatic circulation and eliminates all the harmful toxins.
The heat therapy function installed in the chair provides heat to the hand and sole of the feet and runs all along your back. It actually helps to relieve the pain effectively.
Not only that, the chair also has six automatic massage sessions which include massage and stretch, full body stretch, full body massage, lower body focus, warmup and cool down. These can be activated with a single push of a button.
Moreover, HCP-S373 also comes with manual operations which include kneading, tapping, rolling, sliding, pressing, human hands, shoulder massage, lower body massage and stretch.
6 automatic massage functions with multiple manual features as well.
Automatic shiatsu point locator.
Removable headset, lower back pad and automatic reclining function.
Hand-held remote for ease of use.
Heat therapy and vibration.
100% child safe.
Hip and thigh massage may not be ideal for individuals with an lower back or hip injury since the massage is intense.
Here is a video of Dr. Alan Weidner, explaining how to use this chair.
2: Inada DreamWave Massage Chair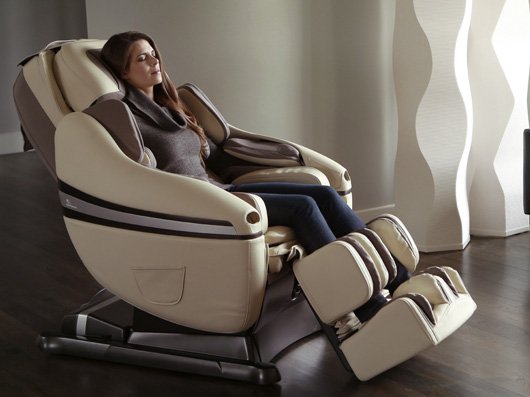 Inada DreamWave massage chair is my favorite one on the list and it comes with 8 preset programs to entertain you.
Even though the massage chair is quite expensive but worth the sum paid for. It comes with over 1000+ unique massage combinations to choose from which makes it totally versatile and user focused. You can select from kneading, vibration, tapping, rolling, human hands, shiatsu, clapping and much more.
With its 8-preset healthcare programs, there are additional 4 wellbeing programs as well and all are shiatsu based. The wellbeing programs include night-time, morning, stretch and dreamwave for ultimate relaxation.
The chair hardly covers 1,200 square inch which is perfect to fit in small places as well. Needless to say you must ensure that there is enough space behind the chair to allow it to easily go in the zero gravity position.
For a therapeutic effect and relief, it has a shoulder and full-arm massage that relives you from the tension in the neck and shoulder region.
It also comes with a back sensor scan that automatically measures the S-curve of your spine and matches it with one of the 106 profiles installed in its system. Finally, it selects the best suited massage for your body and automatically delivers it.
4 wellbeing programs and 8 healthcare massage programs.
Shoulder and full arm massage.
Shiatsu focused and hip and thigh function.
Comes in 5 different colors and leather material.
Body scan sensor.
Quite heavy to move around.
Remote control is located in the side pocket of the chair and is difficult to reach. Must be embedded in the armrest.
3: Inada Nest Massage Chair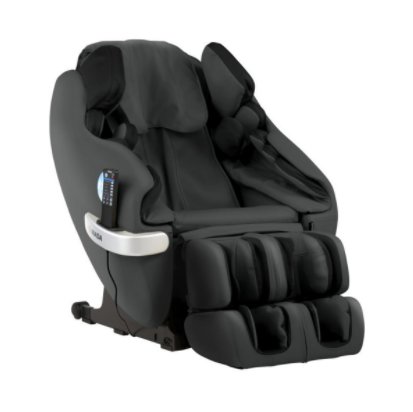 Inada Nest is the new beauty launched by Family Inada and is nonetheless a winner product. It comes with innovative technology and outstanding quality.
The 3D roller features is worth a mention that runs from your neck and down towards your hips giving a relaxing experience. There is a re-engineered roller ball with ridges that adds more to the roller massage experience.
With a whopping 64 air cells, you'll get the best therapeutic experience. Unlike other Inada chairs that come with 6 or 8 automatic functions, the Nest has 11 programs with a full arm massage that also covers your hands.
The lower body features include target calf and anterior shin massage. The chair envelops your calves and exerts pressure on them that sooths the area and relieves the muscle soreness.
Other than its 11 automatic functions, there are 16 manual massage programs as well and all can be accessed easily through the click of its remote control. The remote control is store on a built-in holder located on the arm rest.
3D and re-engineered rollers.
Targeted calf and anterior shin massage.
11 automatic and 16 manual massage programs.
Full arm massage.
Remote control that allows you to select from 300 possible manual massage combinations.
4: Inada Sogno Massage Chair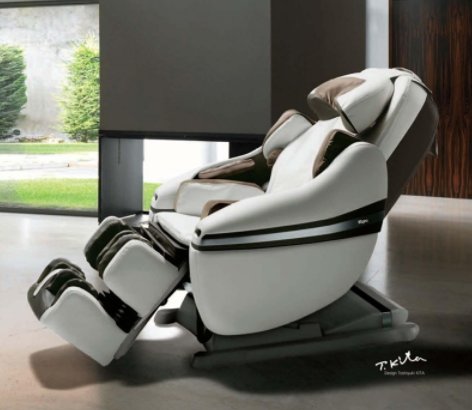 The Inada Sogno is one of the best and finest manufacture of Family Inada. If you have a serious budget and really want to invest in something worthy of it, then Inada Sogno is your dream massage chair to choose.
Its best feature is the optical shiatsu point locator that automatically detects the right shiatsu point for a deep tissue massage.
There are eight pre-set massage operations which include Dreamwave, stretch, night, morning, quick, youth massage, full body and full body air massage.
For added security, there is a child lock and a key that act as a safety door for the kids and pets. The 3D shiatsu massage is worth mentioning.
Its infrared sensor scans your body for shiatsu point locating. The Dreamwave technology installed mimics chiropractic adjustment and helps to treat spine and back problems.
The chair also delivers a full arm and side massage while covering your buttocks as well. With 101 air cells inflating and deflating, your blood circulation improves along with the lymphatic drainage for eliminating the harmful toxins.
Another unique technology installed is the IlioTibial Band that is made for the outside of your thighs and is really effective.
Overall, the chair is made from high quality materials and is guaranteed to sooth your body and relieve all the pain.
Optical shiatsu point located.
8 pre-set massage programs.
18 different manual massage features.
3D shiatsu massage.
3-year solid warranty.
Child and pet safety lock.
The session time is only 20-30 minutes and cannot be adjusted.
Doesn't come fully assembled. Takes 20 minutes approx.
Weighs 300 lbs. and is difficult to move around.
5: Inada Yu Me Massage Chair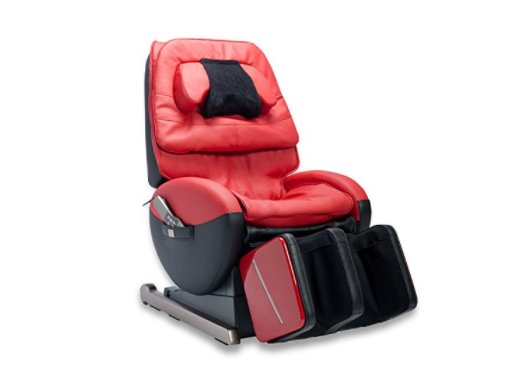 The Inada Yu Me Massage Chair is specifically designed to cover all your body parts for a long lasting therapeutic relief. It's one of the best chairs in the industry with a wide array of features and automatic functions.
The chair itself has a thin profile but gives a better experience. It comes equipped with thera-eliptical kneading technology that massage your calves using compression and rotation.
The rotatory rocker technology accelerates and decelerates the chair velocity in order to mimic a rocking chair. This ensures maximum relaxation and makes the session extremely enjoyable.
It also includes many standard features including a full body massage with arms, shoulders and neck as well.
Yu Me is equipped both with automatic and manual functions and provides great support and value for the money paid.
Even though I personally think that the chair is overly priced but you'll get an exaggerated value for what you've paid for. Their support is outstanding and responds lightning fast to all the queries.
It has the zero gravity features with color kinetic LEDs along with shiatsu and acupressure techniques and multiple massage combinations.
Thera Elliptical-kneading.
Rotary rocking technology.
Zero-gravity massage.
Kinetic LEDs with calming hues.
Proprietary pillows for kneading.
6: Inada Sogno Dreamwave Massage Chair (HCP-10001A)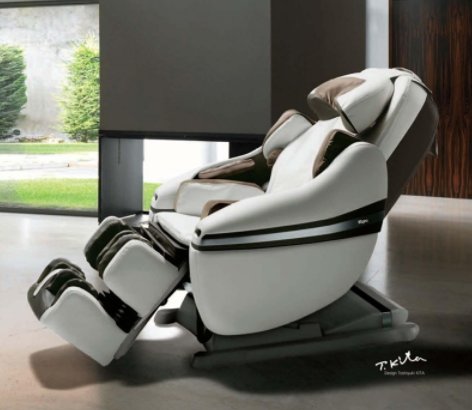 The Inada HCP-10001A is one of the best and top selling massage chairs by Family Inada. It helps to get rid of the pain and discomfort instantly and is exclusively available at a 8% discount on Amazon today.
This robotic massage chair comes with tons of automatic and manual massage functions and combinations.
There are 8 pre-set massage programs that mimics professional therapists. The chair is also equipped with dreamwave technology and has the stretching function as well.
The gentle rotational stretching, flexion and extension of the mid-back, shoulders and hips gives you a wonderful experience.
Sogno Dreamwave hardly covers 1200 sq. ft. of area and can easily fit in the smallest places. Important to note that it is only designed for individuals who are 14+.
Pros
Automatic and manual massage programs and combinations.
Shiatsu and acupressure techniques.
Dreamwave technology for overall well-being.
Roller and air bag massage.
Exclusive 8% discount.
Cons