A face snorkel mask allows you to get a better and comfortable swim underwater. If you are crazy about exploring unseen underwater creatures, then you must go snorkeling.
It is also one of a preferable activity by the tourists. People who come from dry areas, wish to go underwater and enjoy the cold water. They are keen to learn about the underwater creatures and see all the beauty that they cannot see from above the surface.
There are a lot of accessories that are prescribed for the people who are planning to go snorkeling. Snorkelers must have a swimsuit, the right paddles, and a snorkeling mask.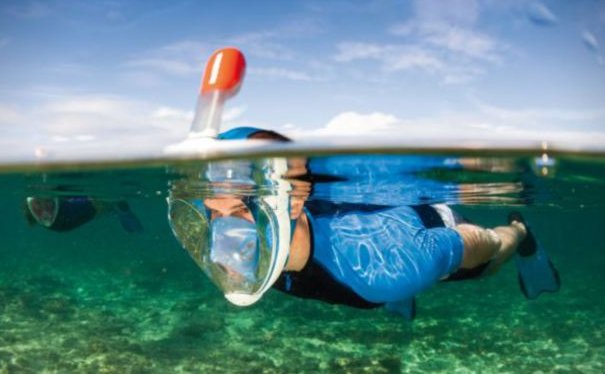 The face snorkel is a mask that you have to wear on your face like the oxygen mask while you are going snorkeling. Snorkeling is a great activity.
It teaches you a lot about the beauty underwater. You will experience that just like there are loads of creature above the water, there are millions of creatures underwater.
It is just like a small world. We humans are not used to living underwater, which is why it is impossible for us to breathe in water. So, there are tools to help us; just like a face snorkel.
Types of face snorkel
There are two types of face snorkels;
Half face snorkel
Full face snorkel
Those who have a fear of getting suffocated by a full face mask go for the conventional half face snorkel mask, while the others prefer the more advanced type of the face snorkel.
The function of a face snorkel is to let the swimmer breathe comfortable underwater without the fear of having a gag reflex.
The modern face snorkel masks are tubeless which means that there is no need to hold a tube in your mouth for as long as you are under water.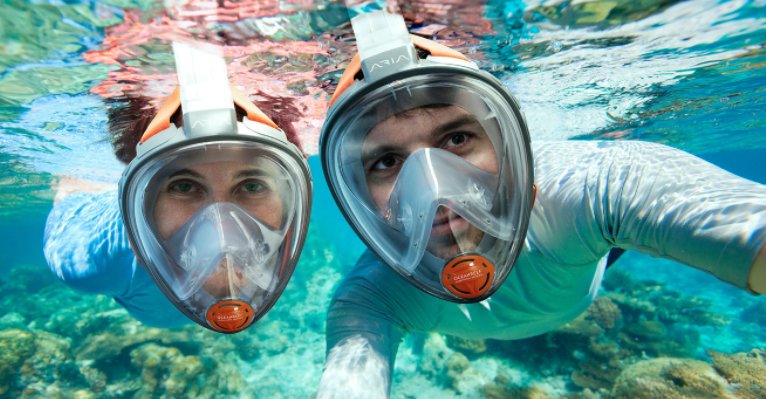 It is a safety tool, so you do not take in any salty sea water. You have to be well-equipped before you go for an out of routine experience; same is the case with snorkeling.
You cannot have a safe and comfortable experience without the right tools, so get yourself a face snorkel and then plan a day in the water with friends and family.
How To Choose A Face Snorkel?
There are endless options available when it comes to choosing a face snorkel – But it all comes down to the shape of your face and what your needs.
Voiding these two factors…temporarily… much important is to consider a high quality and surgical grade silicone seal for your safety.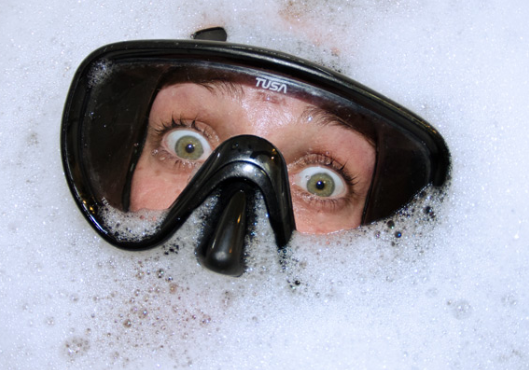 With such a large number of snorkel mask manufacturers in the market, it can be difficult for anyone to make the right choice.
There are a lot of things you have to take care of while buying a face snorkel. Here we are going to tell you some tips to buy the perfect one.
Proper fit – a good snorkeling mask must be a proper fit. The rubber-like portion of the mask which is called the skirt must seal against your face.
Remember, this seal in going to prevent water from coming inside the mask, which otherwise can cause great discomfort. To avoid fogging, you have to make sure that the mask is as per your face size.
Skirt – a good quality skirt prevents the mask from leaking. There are no risks of water entering the mask. A silicone skirt is a preferable option here.
Vision – you are going underwater to admire the beauty of nature, so you would not want to miss a single thing. Make sure your mask has a wide peripheral vision. Most of the masks these days offer an 180-degree vision, which is the best.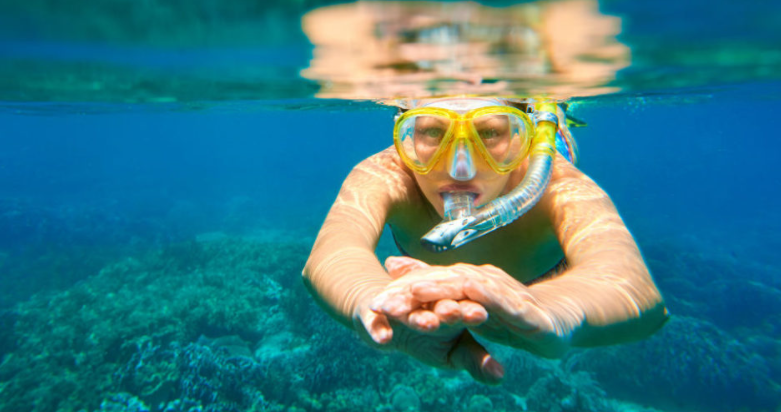 Lens quality – the lens of a face snorkel is the window to see the water world around you. You get to witness the splendor and magnificence of the magical creatures around.
You do not want to remember in all blurry, so make sure your lens has a wide range view. It is even better if your mask has a special tinting on the lens to improve the visibility.
Anti-fog technology – choose a mask that supports anti-fog technology. Otherwise, your view will blur out soon, and you won't be able to enjoy your experience. Your lens must increase the underwater vision even in difficult lighting.
Straps – masks with silicone straps provide extra stretch and flexibility. They can adjust and fit with different head sizes.
If you do not want to have an aching jaw when you come out of the water, then make sure that your mask has flexible straps.
Frame – the frame of the full face snorkel mask is one f an essential thing that keeps all the parts of the mask together.
There are frameless masks also, but it is better to have a framed mask as it provides grip to the lens, buckles, straps and skirt.
You can find it in different colors if you feel like looking pretty to the tiny creatures underwater.
Fitting The Mask
While choosing the perfect mask is crucial, knowing how to fit it on your face properly is also important. Here's an endeavor worth it: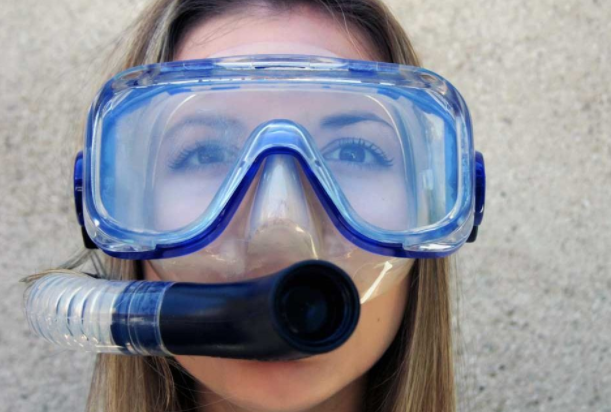 Placing The Mask On The Face: The most important thing to remember before you even start is to never pull the mask. Gently place it on your face and strap it over your head.
Checking The Seals: Having the mask properly placed, the next thing to check are the seals, both the inner and out seal. A mask that offers good fitting has quality seals with no leaks. In case, you feel the seal is not good, check if there are hairs stuck in the mask or the strap is not properly caught.
Adjusting The Strap: After checking for the seals, the next thing to do is adjust the strap to your comfort level. Too tight will squeeze your face and too lose will not seal it properly.
Nose Pocket: After adjusting the seals, you have to pinch the nose pocket with the thumb and forefinger.
Having all these factors perfectly checked, you'll have the best experience while scuba diving or swimming.
The only thing left now is choosing the best snorkeling mask and we have it backed for you :).
We hope you will find these helpful in your full face snorkeling mask shopping.