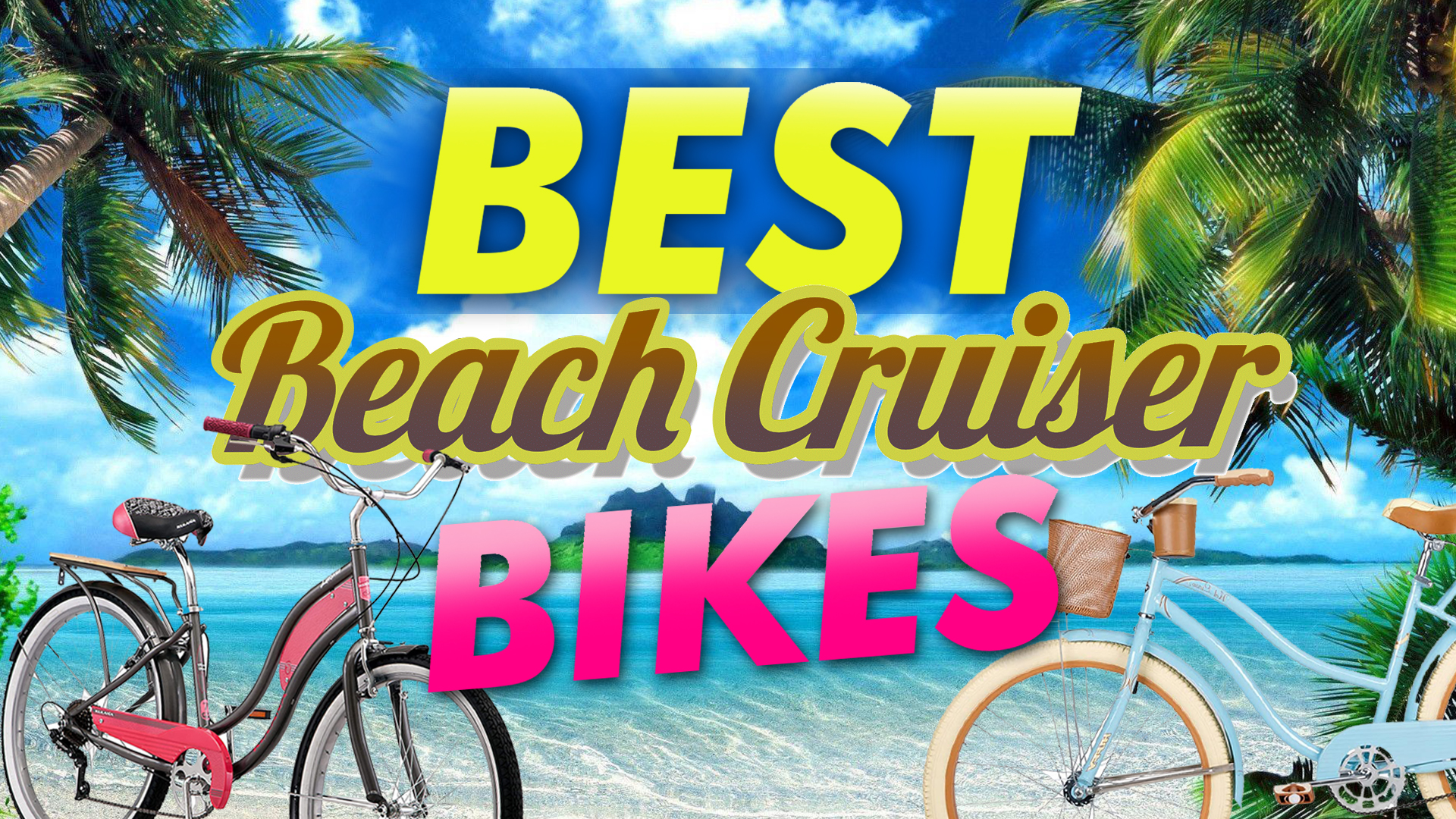 Cruiser may seem a simple speed bicycle with a comfortable saddle and handlebar. But when it comes to choosing a beach cruiser bike, there is a lot more to it. From being the right vehicle to escape worldly realities to enjoying the breathtaking views this nature has reserved for us, beach cruisers are something exceptional.
Precisely, the beach cruiser bike is a bicycle that is particularly manufactured for casual rides on and around the beach. Even though it is generally used for leisure purpose, it can even be used as a means of transport for short-distance journeys. It works on multiple terrains.
Top 7 Best Beach Cruiser Bikes
Each beach cruiser bike is unique in its own way. Either it may look different aesthetically or the functionality may be diverse in some aspect. Here are some of the best beach cruisers that are capable of being in use all year round.
1. Kulana Lakona Youth/Adult Beach Cruiser Bike
Pros
Great bike for beginners
Durable and easy to maintain
Stylish and colorful
Comfortable seat and pedals
This beach cruiser bike from Kulana Lakona is great for anyone taking their children out for a beach ride. It it best suited for anyone between 4 and 5 feet tall, making it a great option for the older kids in your family. The drive-train features only one single speed, making this bike great for beginners who don't yet understand how to use or take care of a more complicated, multi-speed option.
Another reason kids will love this bike is because of the bright and bold colors of the frame. The bike comes in gray and pink, pink and yellow, or silver and red, so there is an option for everyone. Aside from being colorful and stylish, the frame of this bike is also extremely durable. Made from strong steel materials, this bike can withstand some falls, bangs, and rocky beach terrain with ease.
Everything from the handles to the seat to the pedals have been made with the rider's comfort in mind. The bike features and extra large spring saddle, allowing the rider to sit upright and avoid any back pain or injury. The large roller coaster pedals allow for both comfortable riding as well as easy braking.
2. Slsy Adult Tricycle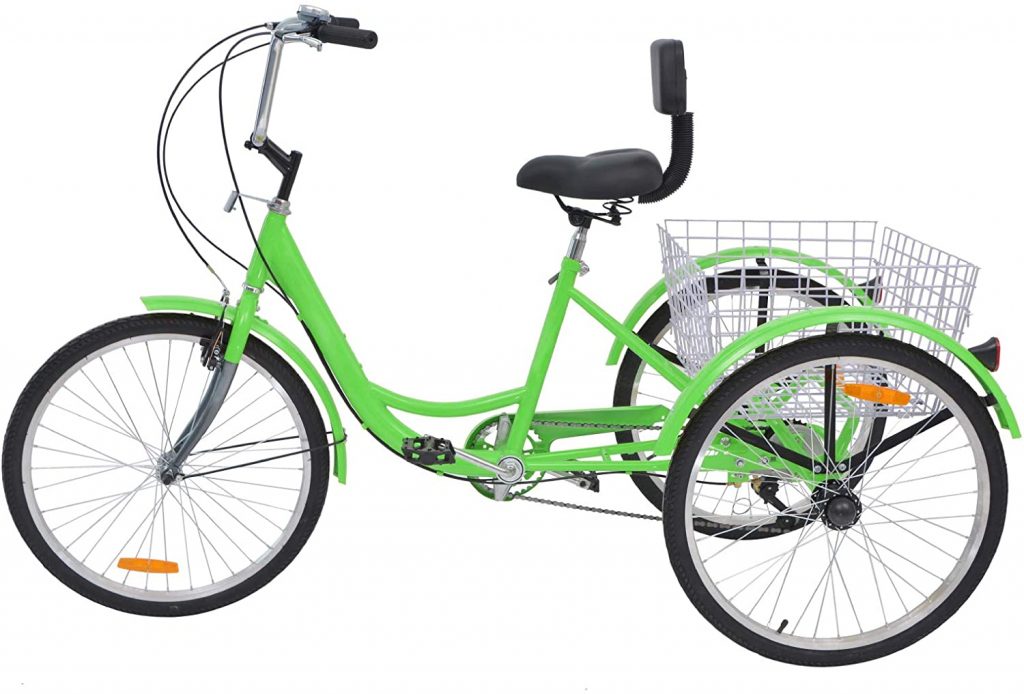 Pros
Incredibly comfortable seat with backrest
Additional wheel allows for more relaxed rides
Comes in a wide variety of bold and vibrant colors
Multiple speeds for slopes and inclines
Large rear basket for supplies
Cons
Can be difficult to assemble
Backrest is not durable
This tricycle from Slsy is a fantastic option for those who are looking for a more leisurely ride along the beach. Featuring three wheels rather than two, the tricycle allows you to take your time as your ride. A large basket rests between the two back wheels, offering plenty of room for beach blankets, small coolers, towels, toys, or other beach supplies that you want to bring along with you.
The bike's seat features a unique and foam padded back rest, which allows the rider to lean back comfortably while still maintaining control over the bike. Fenders wrap completely around the bike's most important and vulnerable components, like the wheels and chain, keeping them both clean and functional in a beach environment.
This tricycle has a 7-speed drive-train, which allows if to be ridden easily up slopes and more difficult terrain than a single speed option could. The frame has been constructed with a sturdy steel material, which is durable and creates a frame which can support up to 350 lbs. You'll be able to carry plenty of belongings in the basket without worrying about putting too much pressure on the frame.
3. Schwinn Destiny Women's Beach Cruiser Bike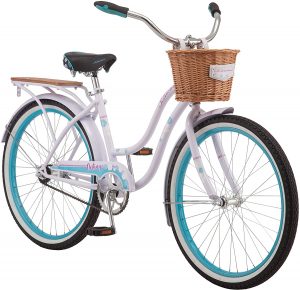 Pros
Great option for beginners
Comfortable spring saddle seat
Durable and easy-to-maintain frame
Fenders to keep rider clean and dry
Cons
May be too small for some adult women
This women's beach cruise bike from Schwinn features a single speed drive-train, making it ideally suited for casual or inexperienced riders on flat terrain. It was built for riders between the heights of 4'8″ and 5'6″, making it a good option for older kids as well as adult riders. It features a brake system that simply requires you to pedal backwards instead of using handlebar brakes.
The saddle seat features springs and is wide and cushioned, allowing for comfortable riding even on longer trips. Because it is high up, the seat keeps your back aligned so that you won't experience soreness or injury. The handles, as well, are comfortable to grip for optimal comfort and control of the bike, so riders can feel safe and secure on their trip.
The cruiser bike's frame is made with a durable steel material, so this bike will last you for years to come after your purchase regardless of bumps and drops. Front and rear fenders on the bike's wheels keep water, sand, or other debris from flying up and hitting you are you ride along the beach. It is a great option not only for beach riding, but also for neighborhood riding and everyday commuting.
4. sixthreezero Around The Block Men's Single-Speed Beach Cruiser Bicycle
Pros
Rear rack for optional basket
Great for flat terrain
Versatility between beach riding and neighborhood riding
Comfortable saddle seat and handlebars
Cons
No handlebar brakes
Only one speed, so not well suited for inclines
This beach cruiser from sixthreezero is a men's bike with rigid suspension and linear pull brakes. Constructed with a strong steel material, the frame is durable and relatively lightweight. It is great for beach riding as well as casual riding through town. The saddle seat features two springs which keep it upright and comfortable, and the handlebars are padded for additional comfort and grip.
This bike's drive-train features just one speed, so it is better suited for riding on flat terrain than on inclines of any type. This also makes it a good option for anyone who doesn't want to commit to a bike for more experienced riders, as it offers a great way for beginners to learn the ropes.
A rack is featured on the rear of this bike, giving riders the option to attach a basket if they need to transport anything from place to place. This makes it a great option for commuters to work and school or anyone who wants to bring along items to the beach with them. The aluminum alloy wheels allow to bike to glide easily for a smooth and comfortable ride.
5. UAMSISTE Adult Tricycle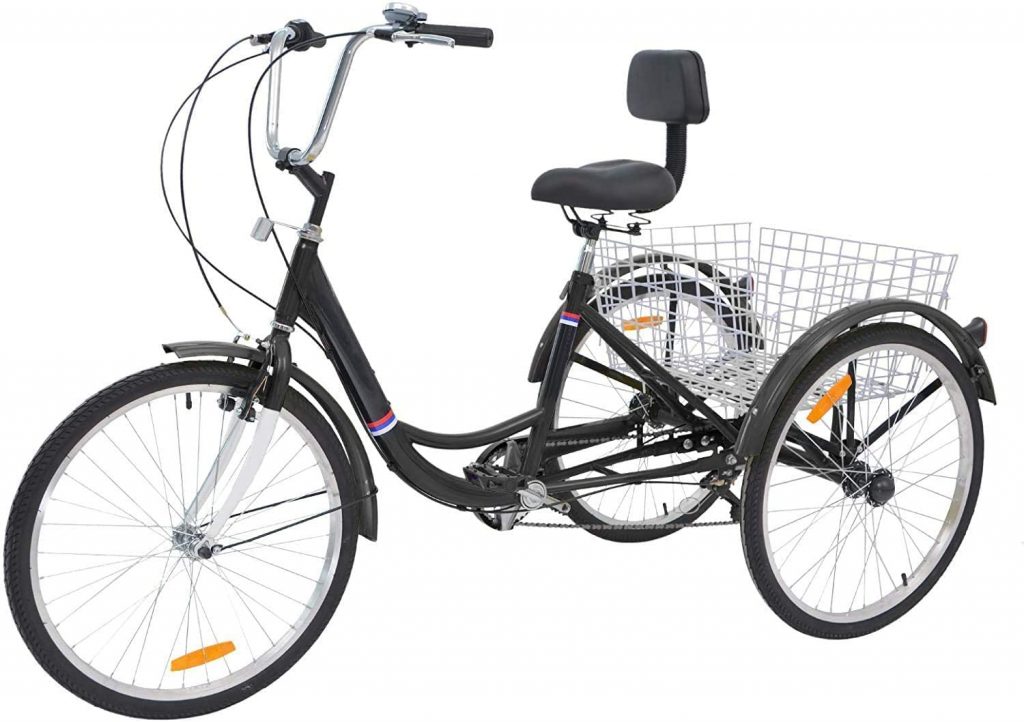 Pros
Safe and stable bike for elderly riders
Multiple gears for inclines and rough terrain
Large basket for transporting items hands-free
Comfortable back rest on seat
Easy-to-use handlebar brakes
Cons
May not offer the speed of a standard bike
Another tricycle, this beach cruiser from UAMSISTE was designed for adults and has a 330 lbs weight capacity. Between the two back wheels of the bike, there is a large metal basket which makes it easy to transport belongings along with you and your ride. It's a great option for taking blankets or a picnic out to the beach with you for a day. If you're looking for a day of leisure, then this may just be the bike for you.
Thanks to the increased stability the bike has because of its three wheels and lower level to the ground, this bike is ideally suited for older, elderly family members who would otherwise have difficulty keeping up. It offers peace of mind that the rider is safe from falling. The seat features a back rest, allowing the rider to lean back for additional comfort and support on their rides.
This tricycle's braking system uses handlebar brakes, rather than pedal brakes like most of the other options on the list, which are often easier for some people to operate. The gear shift is also on the handlebars, featuring seven easy-to-change speeds that allow the bike to be ridden safely on inclines and rougher terrain than single-speed bikes.
6. Huffy Nel Lusso Women's Cruiser Bike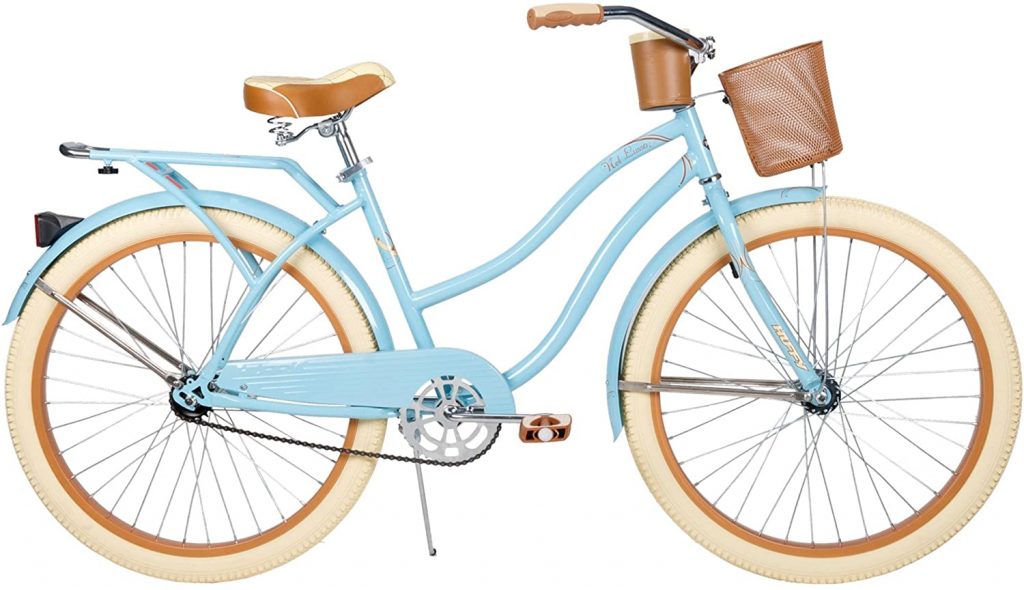 Pros
Stylish and vintage in design
Single speed is easy to control
Plenty of carrying space to transport belongings
Comfortable spring and padded seat
Durable, long-lasting frame
This Huffy cruiser bike is designed to be convenient for anyone riding around with their belongings, making it a great bike for commuters. It features a small front basket on the handlebars, which easily fits everyday essentials. It also allows the option to carry more belongings by attaching a larger basket to the bike's rear rack. There's even a cup holder near the front basket.
With a powder blue frame and beige and cream accents, this cruiser bike has a vintage and stylish feel. It's as functional as it is stylish, and offer stability and control to new and experienced riders alike. The bike has just a single speed, so it is ideally suited for flat and easy terrain.
The aluminum alloy wheels glide smoothly as you cruise, and the steel frame gives peace of mind that the bike is durable enough to last well into the future. Fenders above both the front and rear tire protect the rider from flung debris or water that the bike may pick up along the trip.
7. Schwinn Huron and Mikko Adult Beach Cruiser Bike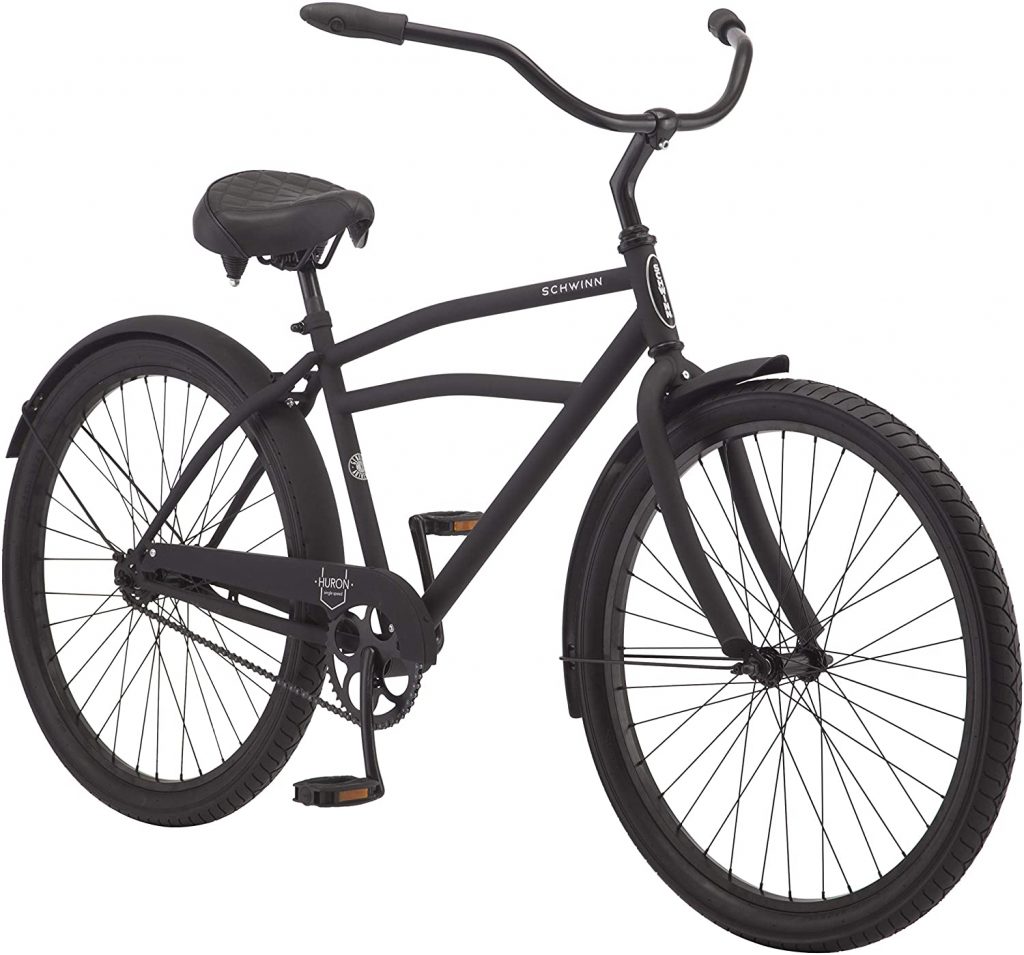 Pros
Vintage and colorful design
Allows for comfortable, upright sitting
Easy to use at all experience levels
Great option for taller women and men
Wonderful on flat terrain
Cons
Can be difficult to assemble
No handlebar brakes
This beach cruiser bike from Schwinn was designed for riders between the heights of 5'4″ and 6'2″, so it is ideal for adult women and men rather than younger riders. It comes in a variety of colors, including black, grey, red, and teal, so both men and women have something to choose from.
The bike features an upright handlebar with a long stem, allowing the rider to sit comfortable rather than hunch over as they ride. The wide seat is also designed to be both secure and comfortable, allowing the bike to be used for long trips without any pain or discomfort for the rider.
The bike frame itself is vintage looking in design, which makes it stand out when you're out riding it. The single speed drive-train allows this bike to be used easily by everyone, even the inexperienced, but means that it should really only be used on level terrain with no inclines.
Given the increasing popularity of beach cruisers, here is all we need to know about the new trend.
Historical context
The roots for beach bikes lie deep in the history. During the Great Depression in the 1930s, unemployment was at its peak. Fewer bicycles were being sold due to its high price. It became a trademark for the richer class.
A motorbike with no engine from Schwinn was manufactured which catered to the lower class. This was one of the first cruiser bikes with an upright seating. Early designs were light-weighted as well to enhance comfort.
Benefits of Cruiser Bikes
Cruiser bikes provide a remarkable experience for people who enjoy biking. Here are compelling reasons why cruiser bikes are a must purchase.
Better life quality
Riding a cruiser on regular basis contributes a lot to better life quality. It can have long-lasting positive impacts on an individual's health. It is a good mode of exercise for people who want to remain fit or lose weight. It even improves the posture since it is a proponent of upright cycling. Furthermore, it reduces the stress that an individual faces in daily routine. Meeting new friends and spending time with family can develop good relations which decreases stress and other negative energies.
Comfort
Cruiser bikes are comfortable means of transport. These are designed keeping the rider's comfort in mind. It comes with adjustable features such as the seat and handlebar to make it easier for the rider to pedal. They are even made easier to ride giving more control to the rider.
Aesthetics
One of the reasons why cruiser bikes for the beach are so popular is that of its exceptional design. It comes with a curved design which is more attractive compared to conventional designs. It is more customizable as well.
Different types of Beach Cruiser Bikes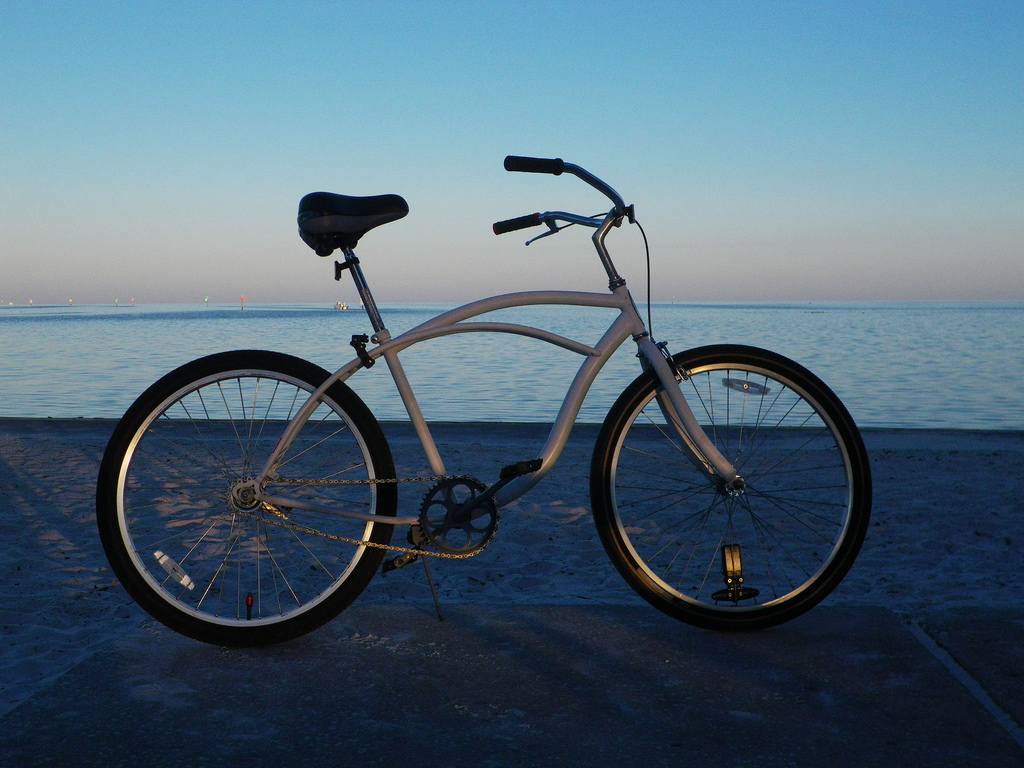 Given the variety available, it has become difficult to choose the right beach cruiser bike. Even though one can refer to Adventure Gear's Lab review of these products, here are the different options that are available to the consumers in the market:
Classic beach cruiser: It is one of the classical options that have a wider and comfortable seat with a sturdy frame and upright handlebar. These are often heavier than other options featuring an attractive tank similar to a motorcycle's gas tank. It is an all-in-one option that can do it all.
Stretch cruiser bicycle: As the name speaks for itself, these are known for the long distance between seat and handlebar. It automatically forces the rider into a reclined position. However, this option must only be considered for casual rides. Even though they are fun but can prove to be difficult on longer rides.
Low rider cruiser: These are cruisers with longer seats. These were originally designed to imitate the low-rider motorcycle. It is a great choice for people who want a stylish cruiser. Nevertheless, it can be a difficult ride for longer routes.
Chopper cruiser: Chopper cruiser also imitates classic motorcycle design. It features upright handlebars, front-wheel, and deep seat. It is an ideal option if used for recreational purposes. Similar to the previous two options, it is not preferred for longer rides.
Multi-speed cruiser: Conventional cruisers come with only one gear. However, there are greater options as well that offer multi-speed. Most cruisers have adopted the modern styles. Additional gears provide more versatility and allow to shift for hills.
How to purchase the right Beach Cruiser Bike?
As mentioned above, there is a wide variety of cruisers available in the market. There are multiple types that can be chosen. This makes it difficult for the customers to select the right option that suits their needs and preferences. Here are some factors that must be taken into account when selecting the best beach cruiser bike.
Size of bike
It is highly recommended to purchase a bike that is the right size for you. Riding a bike that is either too small or too big for you can be incredibly uncomfortable. Spend some time and get it measured. Even though cruiser bikes are normally for both the genders, there are variations for men and women.
Size of cruisers is generally based on the diameters of the wheels. 26" is for the taller riders whereas 24", 20" and 16" are for shorter individuals. Seat heights and handlebar must be considered as well but they can be adjusted, unlike the frame.
Fenders
Cruiser normally comes with rear and front fenders. Cruiser's tire spray on rainy days which can be highly annoying for most riders. Set offenders can help you keep dry.
Frame options
Cruiser bicycles come in different frame materials. Steel and aluminum are the two popular options that most manufacturers consider. Steel is considered the most durable option which can withstand a number of circumstances. However, there are drawbacks as well. The most important one is the weight. Steel frames are heavier which requires the rider more energy to pedal. It even tends to compromise on speed.
When it comes to aluminum, it is unquestionably the best option. It is lighter in weight and resistant to rust. However, it is expensive than steel frames and is less durable. This requires the rider to take extra care of it in order to prevent corrosion.
However, the budget is something that determines which material is been used. Both steel and aluminum are good options but in the end, it depends on the preference as well. If you want an affordable option then go for steel whereas aluminum recommendable who want lighter beach cruisers.
Gears and brakes
One of the most important decisions to make when purchasing a beach cruiser bike is whether you want gears or not. Cruiser bikes with gears are the perfect choice making it easier for longer rides and when climbing hills because it comes with standard lever brakes. On the other hand, the single-speed cruiser has a pedal as the brakes only. It is a preferable option for shorter rides and only for experienced riders.
However, brakes can be installed on single-speed bikes but it will cost an additional price. Since pedal brakes can be unreliable, it is recommendable to purchase bikes with gears that offer better control override.
Cost
Prices of cruiser depend on a number of factors. From brand and material to features and design, price is influenced by different aspects. It is important to do comparison shopping before finding the cruiser bike that offers the best value for money. Figure out your needs in detail and then select the cruiser bike accordingly.
The bottom line
Cruiser bikes are highly popular amongst individuals who love riding along the beach. It doesn't only work as a source of peace of mind but also provides a variety of health benefits. Despite its popularity, some people are still unaware of it. Above are listed all the details that are vital to know.
Nevertheless, few things must be considered generally. Cruiser bikes are not meant for traditional transport. It cannot be used for longer journeys. Furthermore, before purchasing a cruiser, it is recommended to do some comparison shopping. Read customer reviews to gain insights into the actual customer experience. Also, consider different companies manufacturing beach bikes. Evaluate the differences and select one of them depending on your preferences and needs.
Having said all of the above, consider riding a beach cruiser bike to get all the happiness you can get!
Recap:  The Top 7 Best Beach Cruiser Bikes in 2020