Cruiser may seem a simple speed bicycle with a comfortable saddle and handlebar. But when it comes to beach cruiser bikes, there is a lot more to it. From being the right vehicle to escape worldly realities to enjoying the breathtaking views this nature has reserved for us, beach cruisers are something exceptional.
Precisely, the beach cruiser bike is a bicycle that is particularly manufactured for casual rides on and around the beach. Even though it is generally used for leisure purpose, it can even be used as a means of transport for short-distance journeys. It works on multiple terrains.
Given the increasing popularity of beach cruisers, here is all we need to know about the new trend.
Historical context
The roots for beach cruiser bikes lie deep in the history. During the Great Depression in the 1930s, unemployment was at its peak. Fewer bicycles were being sold due to its high price. It became a trademark for the richer class.
A motorbike with no engine from Schwinn was manufactured which catered to the lower class. This was one of the first cruiser bikes with an upright seating. Early designs were light-weighted as well to enhance comfort.
Benefits of Beach Cruiser Bikes
Cruiser bikes provide a remarkable experience for people who enjoy biking. Here are compelling reasons why cruiser bikes are a must purchase.
Better life quality
Riding a cruiser on regular basis contributes a lot to better life quality. It can have long-lasting positive impacts on an individual's health. It is a good mode of exercise for people who want to remain fit or lose weight. It even improves the posture since it is a proponent of upright cycling. Furthermore, it reduces the stress that an individual faces in daily routine. Meeting new friends and spending time with family can develop good relations which decreases stress and other negative energies.
Comfort
Beach cruiser bikes are comfortable means of transport. These are designed keeping the rider's comfort in mind. It comes with adjustable features such as the seat and handlebar to make it easier for the rider to pedal. They are even made easier to ride giving more control to the rider.
Aesthetics
One of the reasons why beach cruiser bikes are so popular is that of its exceptional design. It comes with a curved design which is more attractive compared to conventional designs. It is more customizable as well.
Different types of Beach Cruiser Bikes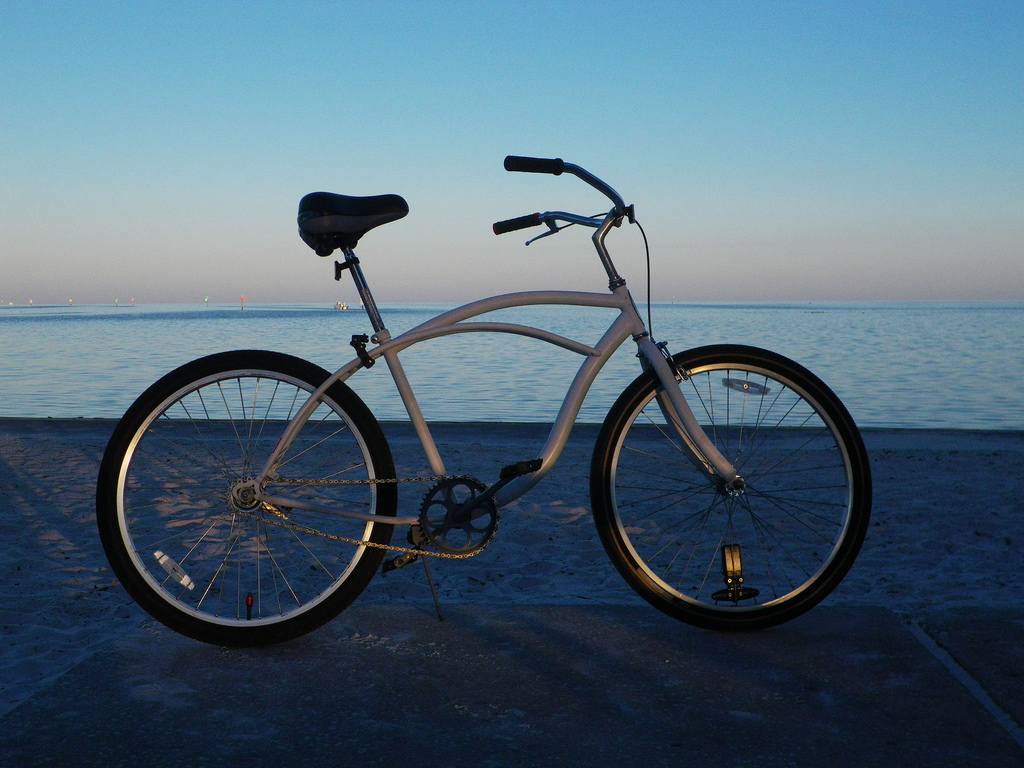 Given the variety available, it has become difficult to choose the right beach cruiser bike. Even though one can refer to Adventure Gear's Lab review of these products, here are the different options that are available to the consumers in the market:
Classic beach cruiser: It is one of the classical options that have a wider and comfortable seat with a sturdy frame and upright handlebar. These are often heavier than other options featuring an attractive tank similar to a motorcycle's gas tank. It is an all-in-one option that can do it all.
Stretch cruiser bicycle: As the name speaks for itself, these are known for the long distance between seat and handlebar. It automatically forces the rider into a reclined position. However, this option must only be considered for casual rides. Even though they are fun but can prove to be difficult on longer rides.
Low rider cruiser: These are cruisers with longer seats. These were originally designed to imitate the low-rider motorcycle. It is a great choice for people who want a stylish cruiser. Nevertheless, it can be a difficult ride for longer routes.
Chopper cruiser: Chopper cruiser also imitates classic motorcycle design. It features upright handlebars, front-wheel, and deep seat. It is an ideal option if used for recreational purposes. Similar to the previous two options, it is not preferred for longer rides.
Multi-speed cruiser: Conventional cruisers come with only one gear. However, there are greater options as well that offer multi-speed. Most cruisers have adopted the modern styles. Additional gears provide more versatility and allow to shift for hills.
How to purchase the right Beach Cruiser Bike?
As mentioned above, there is a wide variety of cruisers available in the market. There are multiple types that can be chosen. This makes it difficult for the customers to select the right option that suits their needs and preferences. Here are some factors that must be taken into account when selecting the best beach cruiser bike.
Size of bike
It is highly recommended to purchase a bike that is the right size for you. Riding a bike that is either too small or too big for you can be incredibly uncomfortable. Spend some time and get it measured. Even though cruiser bikes are normally for both the genders, there are variations for men and women.
Size of cruisers is generally based on the diameters of the wheels. 26" is for the taller riders whereas 24", 20" and 16" are for shorter individuals. Seat heights and handlebar must be considered as well but they can be adjusted, unlike the frame.
Fenders
Cruiser normally comes with rear and front fenders. Cruiser's tire spray on rainy days which can be highly annoying for most riders. Set offenders can help you keep dry.
Frame options
Cruiser bicycles come in different frame materials. Steel and aluminum are the two popular options that most manufacturers consider. Steel is considered the most durable option which can withstand a number of circumstances. However, there are drawbacks as well. The most important one is the weight. Steel frames are heavier which requires the rider more energy to pedal. It even tends to compromise on speed.
When it comes to aluminum, it is unquestionably the best option. It is lighter in weight and resistant to rust. However, it is expensive than steel frames and is less durable. This requires the rider to take extra care of it in order to prevent corrosion.
However, the budget is something that determines which material is been used. Both steel and aluminum are good options but in the end, it depends on the preference as well. If you want an affordable option then go for steel whereas aluminum recommendable who want lighter beach cruisers.
Gears and brakes
One of the most important decisions to make when purchasing a beach cruiser bike is whether you want gears or not. Cruiser bikes with gears are the perfect choice making it easier for longer rides and when climbing hills because it comes with standard lever brakes. On the other hand, the single-speed cruiser has a pedal as the brakes only. It is a preferable option for shorter rides and only for experienced riders.
However, brakes can be installed on single-speed bikes but it will cost an additional price. Since pedal brakes can be unreliable, it is recommendable to purchase bikes with gears that offer better control override.
Cost
Prices of cruiser depend on a number of factors. From brand and material to features and design, price is influenced by different aspects. It is important to do comparison shopping before finding the cruiser bike that offers the best value for money. Figure out your needs in detail and then select the cruiser bike accordingly.
Best beach cruisers
Each beach cruiser bike is unique in its own way. Either it may look different aesthetically or the functionality may be diverse in some aspect. Here are some of the best beach cruisers that are capable of being in use all year round.
Benno Ballooner Ladies
This is a modern cruiser that makes each and every ride feel pleasant. It is an absolute investment that one wants to ride all year to round. It is a lot more than a cruiser. It can be used as an ideal bike to commute from one place to another. Benno requires less maintenance. It features hydraulic disc brakes giving rider betting stopping power. The balloon tires are of 2.35 inches that give a faster and smoother ride. It is considered as one of the best cruisers in the market due to the versatility it offers. It is a perfect combination of aesthetics and functionality making it an ideal purchase. The pink color is one of the cruisers that can be purchased within this category making it the right selection for girls.
Brooklyn Brighton
Coming at the cost of $450, this is a cruiser bike that makes it to the list. It is a lightweight option with an aluminum frame. It features rim brakes, 1.95 inch tires, comfortable saddle, no-slip pedals and perfectly aligned handlebar. It comes in a variety of colors as well. There are 6 bright colors to choose from including matte coral and beach-inspired sea glass. It can be complemented with matching rims, fenders and chain-guard. The upright seat is perfect for people who want to improve their posture. Ride your way with Brighton in order to obtain the benefits mentioned above. It has the capability to be the perfect errand-runner. Consider this option next time you head towards the market to choose the best beach cruiser bike.
Liv Suede 1
Weighing at 35.9 lbs with a price of $540, this aluminum framed cruiser features a pedal-forward position that enables the rider to touch the ground while remaining seated. There is an easy-to-reach handlebar which makes the overall ride extremely comfortable. The ride feel is incredibly stable as well. Liv Suede 1 features rear rack, a colorful chain cover, full fenders, kickstand, front basket, a skirt guard and a bell. These are some of the features that make the ride worthwhile. It is a light-weighted cruiser which enhances the usage of the cruiser. This bicycle has everything that is needed for cruising. Consider it as one of your priorities if you want a ride that has never been experienced before. It is even affordable compared to other options.
Fuji Cape May
Even more affordable, costing only $300, this aluminum-framed cruiser completely deserves a place in the top rankings. It is a single-speed beach cruiser which is as efficient as it could be. This cruiser is also available in a step-through frame. It features an oversize seat which makes it highly comfortable to ride this bike. Rack and fender mounts even make it possible for the rider to transport stuff from one place to another. From being an absolute leisure trip to an ideal mode of transport for shorter distances, Fuji Cape May is considered as one of the best options in the market.
Electra Cruiser
This beach cruiser comes with fat tires at a cost of $660 only. These bikes were launched around 25 years ago. It has been divided into three categories named: Fashion, Attitude, and Classic. It comes with a matte titanium paint that makes it an ideally looking cruiser. Café handlebar, laid-back geometry, springy seat, integrated kickstand and anti-rust elements make it an amazing option to purchase. The overall quality and functionality of this cruiser have been elevated through the disc-brakes. There are 3.5-inch balloon tires that can easily roll on the beach. This makes it a different consideration to make.
All the bikes on the list are considered as one of the best cruisers in the market.
The bottom line
Beach cruiser bikes are highly popular amongst individuals who love riding along the beach. It doesn't only work as a source of peace of mind but also provides a variety of health benefits. Despite its popularity, some people are still unaware of it. Above are listed all the details that are vital to know.
Nevertheless, few things must be considered generally. Beach cruiser bikes are not meant for traditional transport. It cannot be used for longer journeys. Furthermore, before purchasing a cruiser, it is recommended to do some comparison shopping. Read customer reviews to gain insights into the actual customer experience. Also, consider different companies manufacturing beach cruiser bikes. Evaluate the differences and select one of them depending on your preferences and needs.
Having said all of the above, consider riding a beach cruiser bike to get all the happiness you can get!