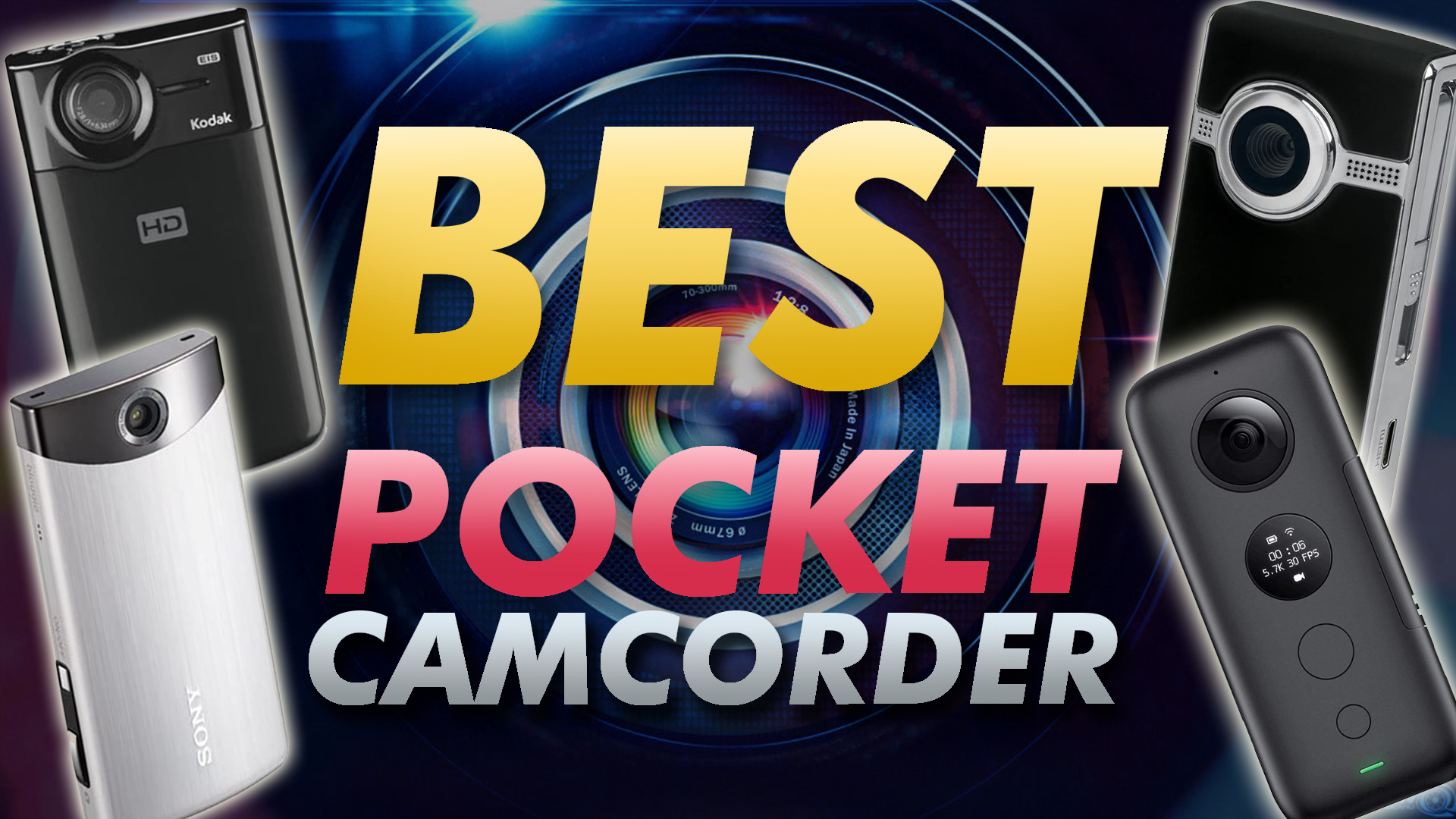 We'll touch on 10 of the best pocket camcorders from the past and present, as well as what you can expect when it comes time to record footage.
The 10 Best Pocket Cameras for Video on the Go
1. Flip UltraHD Pocket Camcorder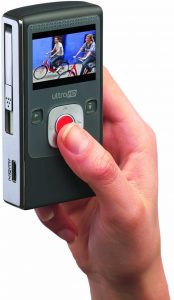 One of the originators of the pocket style HD cameras, Flip has been a popular mainstay in the pocket camcorder marketplace for over a decade. The Flip UltraHD is one of the cornerstones of their mobile video lineup, offering 720p resolution at 30 frames per second. The 8 GB of built-in internal storage is a basic starting point, capturing up to 120 minutes of footage.
When it comes time to transfer that footage for backup, the Flip UltraHD has a USB extension that easily flips out to connect to a PC or Mac for storage or editing. The device features a slender 2 inch anti-glare LCD screen, acting as a viewfinder and access to menus and file management. The Flip UltraHD also includes their "FlipShare" preinstalled software which allows for video uploads to YouTube, the ability to e-mail clips, as well as simple video editing and movie making.
Pros
Small and compact
All in one package, allowing for video creating without the need for external software or equipment
Easily transferable video files to Mac or PC
Cons
Only 720p video with minimal storage
Slightly outdated in comparison to other compact video recorders
2. DJI Osmo Pocket Camcorder

A unique addition to this list, the DJI Osmo pocket camcorder not only records high-resolution footage, but also acts as a 3 axis gimble for stable and smooth recording. With the ability to record 4K footage up to 60 frames per second, the CMOS sensor and wide-angle lens boast an 80-degree field of view with an exposure of F/2.0. Recording at 100 Mbps, you'll also have the ability for 12 MP still photos.
In addition to the gimble, the DJI Osmo also features tracking software and stabilizers for face tracking and "ActiveTrack". Additionally, it offers the standard options of panoramic, timelapse, and "Motionlapse". With the ability to use your iPhone or Android as a viewfinder, you'll easily be able to record over 2 hours of 1080p 30 fps footage between battery charging. With expandable storage up to 256 GB via MicroSD, this is a light-weight but powerful and feature-rich mobile video option.
Pros
3 axis gimble for stabilized and clear footage
4K video recording
Wireless connection to both iPhone and Android cell phones
Cons
No built-in viewfinder
No replaceable battery, only rechargeable internal battery
3. GoPro HERO8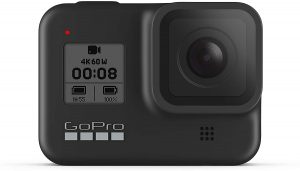 The king of action video recording for sports and outdoor activities, GoPro has stood atop the list of compact high-resolution video for quite a few years. The HERO8 Black edition offers one of their most well rounded and technologically advanced products released to date. With a rugged and waterproof design, you'll still be able to record 4K Ultra HD video up to 60 frames per second, with 1080p video coming in at an astonishing 240 FPS for slow-motion footage. You will also have the option for 1080p live streaming via wifi connection, giving you the ability to share high quality stabilized footage to social media.
While small and mobile, the quality and durability has not only made this a popular choice for consumers and hobbyists, but also among professional filmmakers and production companies. With optional attachments including a shotgun mic or lights, the GoPro HERO8 Black punches well above its weight class in video quality and usability.
Pros
4K 60 FPS video recording
Option for additional accessories including shotgun mic and lights
Maximum of 240 FPS video recording
Ability for 12 MP photos
Cons
No built in HDMI output, unlike previous versions
4. Insta360 ONE X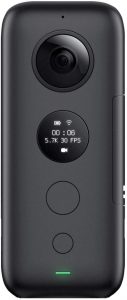 One of the highest resolution cameras on this list, the Insta360 ONE X features a 5.7K resolution sensor in a small and slender form factor. Also offering 360-degree video recording, it ensures that no matter the angle or movement while recording, you won't miss a detail. Additionally, the Flow State image stabilization results in smooth footage whether you are mountain biking or surfing. With the option for up to 18 MP still photos, the Insta360 ONE X covers the full range of media recording in this small but powerful camera.
Featuring wireless media transfer, you will have the ability to store footage via 5 GHz WIFI transfer or by using traditional cable transfer at 50 MB/s. The Insta360 also features "No-Stitch" editing with Adobe Premiere Pro, allowing for a more simplified and speedy editing process.
Pros
High resolution recording at 5.7K
360 degree video recording
High speed wireless video transfer
Cons
No built-in viewfinder
Requires purchase of additional housing for waterproof recording
5. Kodak PlaySport Zx5 HD Waterproof Pocket Camcorder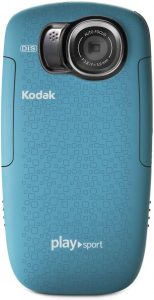 A barebones but still powerful option, the Kodak PlaySport Zx5 is a full 1080p HD pocket camcorder with a CMOS sensor. Rugged and meant for outdoor recording, the PlaySport is shockproof, dustproof, and most importantly, waterproof up to 10 feet of depth. Featuring automatic image stabilization improving image quality and decreasing blur, this camera also includes the ability for 5 MP still photos. You'll also have options for high framerate recording in 720p, either at 30 or 60 frames per second.
Weighing in at 4.32 ounces, the rear of the device features a 2-inch color LCD viewfinder. You'll also find options for media management, as well as a 'Share' button for e-mail or their proprietary Kodak Pulse Display.
Pros
Dustproof, waterproof, and shockproof
Rear LCD viewfinder
Ability to record up to 60 FPS at 720p
Cons
Slightly out of date
No 4K video recording
6. Samsung HMX-W200 Waterproof HD
Another pocket camcorder with a focus on outdoor use, the Samsung HMX-W200 is another durable and compact camcorder. Similar to the above camera from Kodak, this camera is shockproof, dustproof, and waterproof up to 10 feet. Recording in 1080p full HD up to 30 FPS, you'll also have options for 720p written in the MP4 video format. In terms of still photography, the Samsung HMX-W200 offers increased low-light performance as a 5 MP still shooter with their F/2.2 aperture.
Furthermore, the W200 features a number of smart filters and modes to increase the quality and aesthetic of your media. "Aqua Mode" automatically adjusts for dim lighting, color abnormalities, and static noise. Additionally, the smart filters allow you to add vignettes, fish-eye distortion, as well as color and lens altering effects.
Pros
Waterproof, shockproof, and dustproof
Custom filters and effects
2.4 inch rear LCD viewfinder
Cons
Limited resolution and framerate
Out of date compared to modern cameras
7. Creative Labs Vado HD Pocket Video Camcorder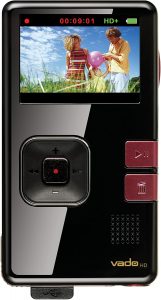 Another compact camera with consumer-friendly quality, the Creative Labs HD camera records at 720p HD in a slim form factor. With the ability to record up to 2 hours of footage, the 8 GB storage capacity is sufficient while recording at this resolution. The rear of the camera features a 2 inch LCD viewfinder, with the ability for "one-touch" recording.
The built-in USB connection makes transferring your footage to a Mac or PC effortless, while you'll also have the option for HDTV playback with the supported HDMI output.
Pros
Easy media tranfer with built-in USB connection
HDMI output for HDTV playback
2-inch rear LCD viewfinder
Cons
Only records at 720p
Not waterproof or especially durable
8. Kodak Zi8 Pocket Video Camera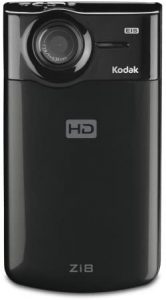 Light and portable, the 3.84 ounce Kodak Zi8 Pocket Camera is a small 1080p camera with an F/2.8 lens. Recording up to 30 frames per second at a 16:9 aspect ratio, you'll be able to record hours of footage with expandable storage up to 32 GB via SD card.
It features a large 2.5 inch rear LCD viewfinder, with easy to use navigation and menus. With the inclusion of multiple input and outputs, you'll be able to use an external microphone for improved audio, as well as playback footage via HDMI to an HDTV.
Pros
Lightweight at 3.84 ounces
Option for external microphone
Large 2.5 inch viewfinder
Cons
Only records at 30 FPS
Not waterproof or especially durable
9. Veho VCC-005-MUVI-HD10 Mini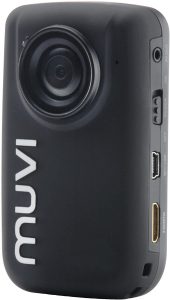 A more modern pocket consumer camera, the Veho Muvi HD10 is a durable and portable 1080p camera recording up to 30 FPS. Built with a 170-degree wide-angle lens, you'll also have the option for 8 MP still photos. Designed specifically to be used as a body camera for security and law enforcement, it features a 360-degree alligator clip for secure and flexible mounting. The rear 1.5 inch LCD viewfinder allows for media playback and management, while the Muvi HD10 also supports remote hands-free operation.
Pros
360 degree clip for body mounting
Remote control operation
Ability for time lapse videos
Cons
Only records at 30 FPS
Small viewfinder
10. Sony Bloggie Touch (MHS-TS10/S)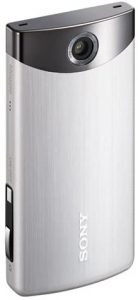 Designed for personal video recording and sharing in an all-in-one package, the Sony Bloggie caters to the video blogging community with its web-friendly 1080p full HD video recording and 12.8 MP still photos. Built with the largest viewfinder on this list, the rear features a 3 inch LCD screen that spans nearly the entire length of the device.
Not only large, but the rear viewfinder is also a capacitive touch screen for easy menu navigation and playback. Offering a 4x digital zoom, the Bloggie also features video stabilization for smooth recording and a Macro Mode for up close and detailed photos and video.
Pros
Large 3 inch rear touch screen viewfinder
Macro Mode for upclose recording
High resolution 12.8 MP still photos
Cons
Not 4K
Limited framrate options
How to Get the Most From Your HD Video Pocket Camcorder
Whether you are recording for a family event or you plan on sharing your daily adventures with the world on YouTube, knowing how to increase the production quality on your personal camera can go a long way towards the end result. Although resolution and framerate may seem like the most obvious enhancements you'd look for in a camera, oftentimes it's the more simple steps that can go a long way in increasing the quality of your video footage.
Lighting
Whether it is via a mountable LED light on the top of your camera or possibly just the lamp in your living room, being able to properly light the room before you record will greatly increase the quality of your footage. Understanding the basics of light temperature and your own camera's exposure can easily translate from a low-quality amateur look to something more professional.
There are plenty of handheld or camera mounted options for on the go lighting, while the simple repositioning of home lamps can provide clearer and more visually pleasing footage when it comes time to edit.
Tripods and Hand Held Rigs
Although your new pocket camcorder may come with built-in stabilization software, it usually doesn't compete with traditional tripods or mounting rigs for stable footage while walking or stationary. A traditional tripod is an easy and cheap solution for static video recording, while mounted stabilizing rigs will give you a smoother look while recording action shots.
Audio
One of the most overlooked aspects of video production, audio makes up 50% of the viewing experience of any modern television show or movie. While it may be an afterthought when you are immersed in the experience, shoddy audio recording or editing becomes blatantly obvious and distracting for the viewer. While many handheld cameras will have internal microphones, implementing a top-mounted shotgun microphone can greatly improve the quality.
What Features to Look for in a Pocket Camcorder
While many cameras will seem the same on the outside, the internals of the lens and sensor will dictate the end result of your footage. We'll touch on the main specifications you should focus on when buying a pocket camcorder and how they affect the recording process.
Resolution
One of the most popular and widely known aspects to a pocket camcorder, the resolution simply dictates the lines of detail recorded by the camera's sensor. This results in a 'crisper' or a more detailed image when played back, especially when viewed on a high-resolution television or monitor. While 4K seems to be the high end of realistic expectations out of consumer cameras, cinema-quality cameras can extend even higher, although playback will oftentimes not be supported by the vast majority of televisions and theaters.
Framerate
The framerate of your camera determines how many frames are recorded per second, allowing you for smoother playback at slower speeds. If you are looking for slow-motion footage of sports or activities, having a high framerate camera will avoid choppy footage when it comes time to edit.
Ability to Expand with Supporting Equipment
While the camera may feel like the only thing that matters when it comes to producing high-quality video, there are a number of complementary pieces of gear that can improve the end result. Whether it is a top-mounted shotgun mic or LED light, a tripod or handheld rig, or the option for expanded viewfinders and data management, there is an endless list of peripheral devices that will increase the production quality of your video. Researching which pocket camcorder supports which pieces of equipment will better prepare you for how you plan on expanding in the future. Being bottlenecked by mounts and ports can stop you before you get off the ground, so be prepared for how you plan on using your camera in the future as well as the present.
Recap: 10 Best Pocket Camcorders for 2020
Keep in mind how you plan on using your camera, whether it is on the beaches and in the water, or if you are just planning on recording from your desk at home. The key features of each of the above cameras will not only cater to a specific use, but will determine your ability to expand the quality of your recording in the future.