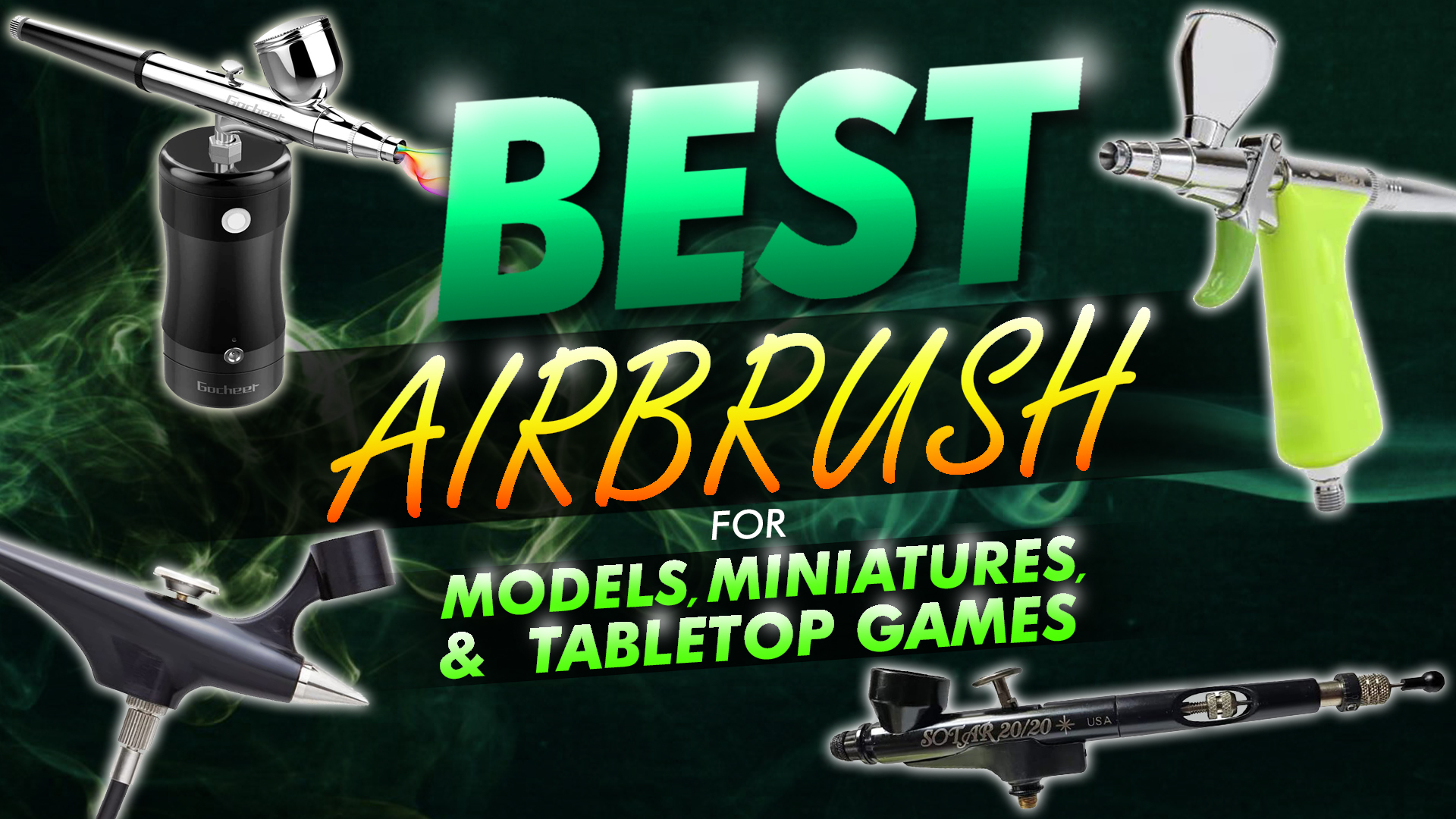 Finding the best airbrush for models, miniatures, and tabletop games can be a challenging task. Depending on the models, miniatures, or the brand you are using, you will have several choices to make before you hit the stores. Most importantly, you want to make sure that you have the right airbrush for your needs, especially when you are committing a lot of money to it.
Pay attention to needle and nozzle sizes and advanced features as that will determine the best airbrush to buy for fine detail work often used on models and miniatures. Here are a few tips and reviews to help you find the best airbrush for models, miniatures, and tabletop games.
10 Best Airbrushes For Models And Miniatures
1. Infinity CR Plus Airbrush by Harder & Steenbeck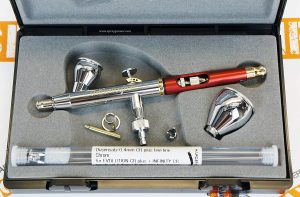 Pros
There are tons of options for this airbrush
The airbrush comes with a great instruction manual on controlling your brush
This is a well-built model with great engineering
Cons
It is on the expensive side
Completely taking this airbrush apart can be tricky
Featuring various options and controls, the Infinity CR Plus Airbrush by Harder & Steenbeck is precise and well-recommended for use on miniatures. Using PTFE Seals and a body that is chrome-plated, this airbrush comes with a lot of controls. And, with the airbrush's quick-fix system, you can easily lock into place how far you want to pull back on the trigger, plus you can release it instantly when you need to.
The trigger resistance is also controllable and the needle guard comes with a quick-release as well. You can change out the cup from a two to five-milliliter cup when you need to. And, the airbrush is easy to clean between uses with all the components that quickly snap together.
This brush is top of the line and maybe a bit much for those that are just starting out. The Infinity CR Plus Airbrush definitely takes advantage of the incredible German engineering, which can make the airbrush a little more expensive as well.
You will find that the 0.4, 0.2, and 0.15 Infinity CR Plus Airbrush models come with their respective size needles. You can buy a couple of different two-in-one kits including one that has 0.4- and 0.15-mm nozzles and another that comes with 0.4- and 0.2-mm nozzles. Both, however, come with 5- and 2-ml paint cups.
2. Master Performance G233 Airbrush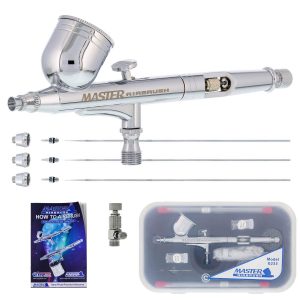 Pros
Inexpensive
All-around airbrush kit best for beginners, as well as for advanced artists
Rear end limiter allows better control of paint flow.
Cons
Unbranded / generic
Needs cleaning after each use
The Master Performance G233 is a dual-action gravity feed airbrush with independent control for air and paint release. It is packaged in a nicely organized case and comes with extra needles, a quick disconnect air hose, and a removable cone shaped guard to protect the needle tip.
The rear end has an adjustable limiter to limit how far the needle opens or how far back the trigger can be pulled. This enables to control maximum application of paint. For beginners, this is perfect for light misting, helping you to learn control and achieving a more consistent spray pattern.
If you are painter of miniature Wargames, the Master Performance G233 is ideal for doing the basecoat, applying the dominant color and highlights before going in with a detailed brush.
The Master Performance G233 is an inexpensive alternative that can hold its own against branded airbrushes.
3. Tritium TG Airbrush by Grex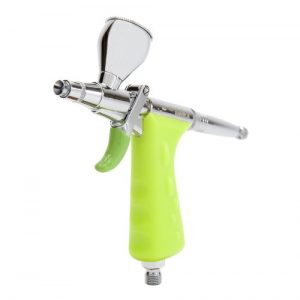 Pros
The Micro Air Control Valve is a great feature that lets you control airflow
You can buy conversion kits for other size needles
This is one of the best airbrush choices for those users that get sore hands after long periods of use working on models
Cons
Some users are not fond of the pistol grip
The airbrush is on the expensive side and can be hard to find
One the best airbrush choices for miniatures painting, the Tritium TG Airbrush by Grex features a comfortable grip and is a good choice for highlighting basecoats and primer. The airbrush also does a good job when it comes to army painting. This is a good all-around airbrush that can be a great choice if your hands tend to ache after use.
With an interesting appearance, the TG Airbrush features a pistol-grip trigger, a green handle, and a chrome body. The trigger is really a dual-action trigger that allows you to just pull back a little to get air. Once you have the air completely on, you can pull back even further to engage the needle to increase your paint flow while you pull back even farther. This airbrush does not give you the same airflow you get from a press down and then pull back type of trigger, but you can always use a compressor to adjust your airflow.
The TG Airbrush includes a 15, 7, and 2 ml paint cup that can be swapped out as needed, plus you can even buy an additional 50 ml cup if you want. It is suggested on their website to use a bare threaded cup recess as the integrated cup in the event you need to use a small amount of paint.
4. Custom Micron CM-B Airbrush by Iwata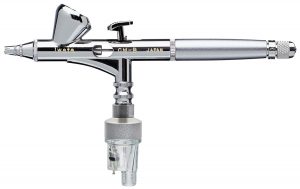 Pros
This is a great brush for precise detailing on models
The airbrush works really well and isn't hard to use
This is a good old school airbrush for models
Cons
The airbrush is hard to keep clean and maintain
The airbrush doesn't have a lot of features
If you are looking for absolute precision, the Custom Micro CM-B Airbursh by Iwata is one of the best airbrushes when it comes to fine detail. While the airbrush is on the expensive side, users love this airbrush and never use another after buying it.
Featuring a fixed 1.5 ml cup, you don't have the opportunity to expand it. You do however get a dial-in trigger stop along with a typical dual-action finger trigger that allows you to dial back on the limit of the airbrush telling it how far back you want to pull on the needle. Other old-school features that you can expect is the needle cap that screws in and no cutaway in the back of the handle.
The CM-B does come with a 0.18 mm needle, but no conversion options. The airbrush can be a bit challenging to clean, so expect a little bit of a tricky process. But, overall, the airbrush has an impressive reputation as being one of the best detail airbrushes on the market.
5. Renegade Krome Aribrush by Badger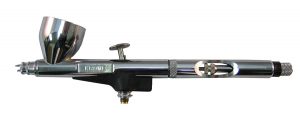 Pros
This is a really durable airbrush that comes with easy purchase options
The airbrush has very intuitive trigger actions for painting models
Cons
The website isn't very helpful
Precise and durable, the Renegade Krome Airbrush by Badger allows you needle access and trigger tension adjustments. You get a fixed 10 ml paint cup and a needle with a quick stop dial. The Renegade Krome features a simple purchase option and comes with a two in one set that includes a 0.33- and 0.21-mm nozzle.
6. Evolution CR Plus Airbrush by Harder & Steenbeck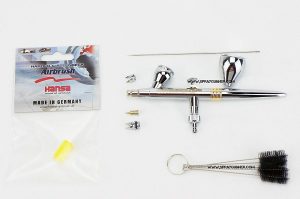 Pros
This is a nice mid-range airbrush for models
The airbrush is very affordable
Cons
The airbrush tends to show wear quickly
Another good choice for those on a budget is the Evolution CR Plus Airbrush by Harder & Steenbeck. This is a precision airbrush that won't break the bank, but also give you needle size variation. This is a mid-range airbrush at an affordable price.
While the nozzle cap differs from the Infinity, the airbrush does have the same paint cups and nozzle system. It also does not have the needle cutaway that the Infinity has or the tripper quick stop. You will find the same purchase options as the Infinity with either three individual sized needles or the two-in-one box set.
7. Sotar 20/20 Airbrush by Badger

Pros
You can buy conversion kits for different size needles
This is a very durable airbrush for models
The airbrush comes with a lot of control and options
The durable and multi-control optional Sotar 20/20 Airbrushcomes with tons of features for painting models. The airbrush includes a quick-release needle guard, a quick-release trigger stop, and a dual-action finger trigger as well as a crown cap that snaps-on. Plus, you get a fixed paint cup that will hold 2.5 ml of paint and 0.2, 0.3, and 0.5 mm needles.
8. Infinity Solo Airbrush by Harder & Steenbeck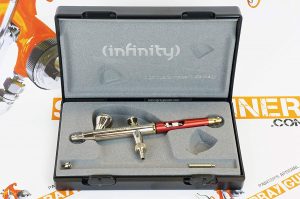 Pros
This is a great all-around airbrush for models
The airbrush is very affordable
Cons
Not a good choice for a beginner
The airbrush is prone to getting clogged with acrylics
A good all-around airbrush is the Infinity Solo Airbrush by Harder & Steenbeck. This budget model is a newer version of the Infinity Solo. The base airbrush features a 0.15 mm nozzle making it one of the finest airbrushes on our list. This is a great choice for those that want to almost completely airbrush an entire model.
This is not a beginner level airbrush, so you need to know to think your paint properly to use this airbrush. Since the airbrush is so fine, it can be prone to getting clogged with acrylics. And, the airbrush features a 2 ml paint cup that is interchangeable.
Featuring a Quick Fix Trigger Stop, you are prevented from pulling back on the needle too far. You also get quick access with a cutaway to the torsion system and needle release. The Infinity Solo also allows you to adjust the trigger's tension to get better control.
With its nickel-plated finish, you may have problems if you have an allergy to nickel, and the finish will tend to wear down as time passes. You can either get the Infinity with the 0.15 mm superfine nozzle or as the two-in-one set that includes a 5 ml paint cup and a 0.4 mm nozzle.
9. NEO CN Gravity Feed Dual Action Airbrush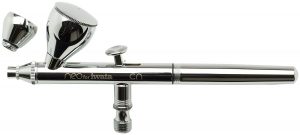 Pros
This is a very durable and affordable airbrush
Performs well at lower air pressures thereby creating better detail
Interchangeable large and medium cups for easy clean-up and efficient paint flow
This airbrush is perfect for both beginners and advanced models
The NEO CN Gravity Feed Dual Action Airbrush is one of the best airbrushes for anyone on a budget. Reliable, cost-effective and comfortable, the NEO CN Gravity Feed Airbrush is a great choice for miniatures, especially since the airbrush is so simple to use. This is a workhorse that you can trust that will never let you down.
The dual action and smooth trigger are really nice. Its easy to keep the air flowing at a steady rate while varying the amount of paint dispensed. The parts are solid and well built with no leaking issues. Perfect for small to medium sized areas with small amounts of paint
Not only does the airbrush comes with a 5 year warranty, but it has everything a beginner needs to get started as well as enough features to keep an advanced modeler occupied. The airbrush is easy to maintain, clean and has a minimal need for spare parts.
10. Eclipse HP-BS Airbrush & HP-CS Airbrush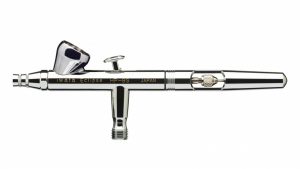 Pros
This is an easy to clean airbrush
Great all-around airbrush for miniatures and models
The airbrush is very affordable and you can easily buy conversion kits
Cons
The airbrush lacks some of the more advanced features you need for models
For those that don't want to do a lot of maintenance, the Eclipse HP-BS Airbrush & HP-CS Airbrush is one of the best airbrush choices at an affordable price. Both durable and precise, this is an easy to use airbrush that is really a good all-around tool for models.
The two airbrushes in this category are basically the same model with just a different sized fixed paint cup. The HP-CS Airbrush has a 7 ml paint cup while the HP-BS Airbrush has a 1.5 ml paint cup. They are both available at the same price, so unless you have a project that needs an ultrafine airbrush, the HP-CS Airbrush is probably the better option due to the size of the paint cup.
Both options come with conversion kits that you can find online that easily allow you to swap out the needle when you need to. The HP-BS Airbrush and the HP-CS Airbrush also come with needle caps that have quick-release compression fits, needle access through cutaways, and finger triggers with dual-action.
They do not have the advanced features some users look for like an adjustable trigger tension or a quick stop on the trigger, but they are both a good mid-range airbrush that has what most painters of miniatures and models look for.
Considerations for Selecting the Best Airbrush for Model and Miniatures
Nozzle/Needle Size
When there is a reference to a needle or nozzle, it means both of them since they work as a pair. Keep in mind that the nozzle will need to have a hole size that is equal to the needle's diameter.
The nozzle and needle are the primary parts of the airbrush that will control the cone of spray's width from your airbrush. If you have a small nozzle, you will also have a small spray cone. With a large nozzle, you will have a large cone. It is similar to a paintbrush size in which the lower the number brush, the more detail you can apply to your work.
In the case of the best airbrush kit for models and miniatures, keep in mind that the smaller the nozzle, the higher the odds that airbrush will become clogged with pigment. This is especially true of acrylic paint, which is the best choice for airbrush painting. You will find other brands that are better for airbrush painting or that offer an 'Air' range option.
As you work with paint, you will learn you to thin your paint and find a good balance for your airbrush to avoid blockages and get a good flow. You also don't want the paint to be too thin, so it's important to have the experience and knowledge of detailed work on models and miniatures to use certain airbrushes properly.
If you just plan to base-coat or prime, you only need a 0.4- or 0.5-mm nozzle, but to do more detailed work, you will want a 0.15- or 0.2-mm nozzle. This will let you do spot highlight and shading that you couldn't otherwise do as easily with a larger nozzle, although with enough practice it is possible.
Variable Nozzle/Needle?
Typically, the best airbrush will let you change out the nozzle and needle. This is a great option for beginners that want to try out different nozzle sizes to see how they work. This will also allow you to try some detailed work before spending the money on a more expensive airbrush. Look for an airbrush that either comes with nozzle and needle conversion kits or offers them as a separate purchase so you can try out various sizes to get a good comparison of how they work.
When you are airbrushing miniatures, the size of the needle is pretty important, but since the cone of spray varies between airbrushes, you want to look for anything around 0.5 mm for vehicles and basecoats and 0.2 mm for nice detailed work. Keep in mind that the large nozzle doesn't spray faster than a small needle, but the large needle won't be as prone to getting clogged.
For larger projects, 0.5 mm is perfectly fine, but for precision work, 0.1 mm or even smaller is the best choice. Just keep in mind the clogging issues.
PSI
Airbrush pressure will also depend on the airbrush you choose and determine how consistency your paint will flow and how fine a spray you can have. Typically, airbrushes work well between 20 and 25 PSI, but if you are using thicker paint, you may want to go up to 30 or 35 PSI. All this depends on the airbrush, which depending on how far you can press down on your trigger should give you similar control of the airflow. Keep in mind that some triggers will give you a shallow range that works more like an on and off switch that either gives you full air pressure or no air at all.
If you have controls with analogue levels, it is possible to turn up your compressor to 60 PSI or even higher and control the airflow with the trigger.
Keep in mind that if the pressure becomes too high, you will get spider webbing or spreading of the paint when you spray it. Use thicker paint to avoid this and reduce the air pressure.
If you do get splattering, either your pressure is not high enough or you have paint that is too thick. Try and thin your paint down and play with the distance and pressure of your compressor to fix the consistency of your spray.
Discovering the Types of Airbrushes
When choosing the best airbrush, there are several things to keep in mind. Think about how you will control it, how the paint will feed into and out of the nozzle, how the paint will be atomized before ending up on the model. Each airbrush is made with a mix of different control styles, paint feeds, and methods of atomizing. Here is the difference between each type, which can help you decide which you prefer in the end.
Single Action vs. Dual Action
The airbrush action tells you how much airflow and paint are released by the button or lever. This will determine the control you will have as you paint your miniatures or models.
Single Action
Allows you to control your airflow, a single-action airbrush works by pressing the button or trigger. You won't have any real-time adjustments to the flow of paint. This is done instead by adjusting the depth of the needle in the nozzle. You must also stop painting to make any necessary adjustments, which can be a pain. This type of airbrush can be a better choice for a beginner since it is easy to maintain and to learn. Once you get the hang of the airbrush, you can upgrade to the dual-action.
Dual Action
Allowing you control of both paint flow and airflow with a button or trigger, this airbrush work first by pressing the trigger down to let air into it and then sliding back the trigger to let the paint flow in. as you push down further, you will increase the airflow or paint allowing for continual adjustments, but also requiring more skill to perfect this more versatile technique.
When trying to choose between the two, think about how much fixed or on the fly air and paint flow you will need, which will be the deciding difference between the two types.
Gravity vs Siphon Feed Airbrushes
How the airbrush delivers the paint is another major factor in choosing an airbrush. There are benefits and drawbacks to both methods, so it really depends on what your planned use and needs are.
Gravity Feed Airbrush
Placing the paint cup on the top of the airbrush, gravity will pull the paint inside the atomizing chamber of the airbrush. This allows for low air pressure to be used, which can be a benefit when creating fine details and line on a miniature figure and avoiding any overspray. One drawback though is that you will need to use a small paint cup size to store the paint in, so you will have to refill the airbrush frequently when you paint a larger model.
Siphon Feed Airbrush
Attached the paint bottle under the airbrush, siphon fed airbrushes feed a tube inside the paint container to connect it to the mixing chamber. As air is passed across the tub in the chamber, it siphons in the paint. This usually allows you to store a large amount of paint, which is great when working on larger scale models. They will also use a little more paint but need more cleanup time. With this type of airbrush, you should have enough air pressure to cover a large spray area or make a fine line when needed. Typically, a cup size will range between 0.9 to 15 ml with a siphon-feed.
Internal vs External Mix Airbrushes
Referring to where paint and air are atomized, the mix of air and pain will often have an effect on the finish of the paint. Plus, if it is internally mixed, the airbrush can require more cleanup.
Internal Mix
The paint will enter the airbrush's chamber to mix with air in what is called an internal mix. This internal mix of pain typically creates a finer and smoother finish, which is often preferred by model builders.
External Mix
While it doesn't enter the airbrush, the paint will flow on the outside of the airbrush nozzle and atomizes with air when the air stream is exiting the nozzle. This external mix produces a flatter finish that is not as smooth as an internal mix. However, if you experiment with the paint mix enough, you can still get a pretty smooth finish.
What is the best airbrush for miniatures?
If you are starting out airbrushing miniatures, the best airbrush for miniatures is probably an unbranded and cheap airbrush model. This is actually a good idea since it won't matter if you end up destroying a cheap airbrush after using it a few times. When starting out, you want a kit that you can learn on and not have to worry about ruining because you spent a lot of money on the airbrush. It's much better to destroy a cheap airbrush than something really expensive. Also, if all you want to do is base-coat and prime, a cheap option is also the best choice.
Depending on the scale of the miniatures or the model you are painting, you will want to get an airbrush that is appropriate for what you can do with it. For instance, a 15 mm miniature won't require a lot of detail while 28 mm miniatures can. For these models, you will want a precision airbrush. Again, until you get the hang of the airbrush, a cheaper precision airbrush is the best option and then buy the more expensive model after a few months of practice.
Choosing the Best Airbrush Brand
There are a few of the best airbrush brands that are recommended thanks to their customer service and reputation.
Iwata 
Known for making quality airbrushes, Iwata is held high above other brands. Not only do they sell some of the most popular airbrushes on the market, but they also have excellent technical and service support.
Badger 
On the less expensive side, Badger has decent quality airbrushes and they stand behind their products, so you can trust their service if anything goes wrong. Plus, they are constantly coming out with innovative and new designs.
Paasche 
Just a little above Badger, Paasche has good quality products that you don't have to steer away from. Plus, their technical and customer service support is not bad.
Harder and Steinbeck 
Like Paasche, Harder and Steinbeck also have quite a few popular products on the market and decent customer service.
All Other Brands
Be careful of companies that try to clone themselves after Paasche, Harder and Steinbeck, Badger, and Iwata. While they may look like one of the good brands, make sure they aren't a company coming out of Taiwan or China that won't be able to help you when you need their customer service.
Paint Brands for Models and Miniatures
With every airbrush, there is a wide variety of paint for different models. Here are a few to check out before you start your next project. You might also want to check the top 4 paint color conversion charts for miniatures.
Jacquard Airbrush Color Model Paint
This versatile paint is made for airbrushing models, so it won't chip, peel, or crack like other brands. This is a water-based, odorless, and non-toxic acrylic paint that works well at low pressures. You also have minimal clogging or tip drying with the Jacquard Airbrush Colors, and it is available in Iridescent, Bright, Fluorescent, Metallic, Opaque, and Transparent.
JVR Colours Model Paint
These water-based acrylics are made up of pigments by about 50 percent. They adhere well to diverse surfaces such as metal, fingernails, fiberglass, plastic, wood, and paper models.
Pro-Color Model Paint
Offering limitless creative options, the Pro-Color acrylic airbrush paints adhere well to metals, plastic, acetate, textiles, cardboard, and paper models. Since they are pre-thinned, they are ready to use right from the bottle making them a great option for beginners.
Tamiya Mini Acrylics Model Paint
Created water-soluble acrylic resins, Tamiya Mini Acrylics are great for either spray or brush painting. You can use these paints on common model plastic, wood, Styrofoam, and styrol resins. It flows smoothly and covers well with no fading or blushing, plus you can easily blend it. It is available in either flat or glass and needs to be thinned with Tamiya X-20A thinner before it is ready to be used by an airbrush.
Vallejo Metal Color Model Paint
Designed specifically for airbrushing, Vallejo Metal Color's formula was created to adhere to metal and plastic models and features exceptional resistance. You can also apply it right onto models without having to use a primer.
Vallejo Model Air
With Vallejo Model Air paints, you get a product that adheres really well to any surface models. It works on white metal, steel, plastics, and resin models and features a wide variety of colors. You can use it right from the bottle with an airbrush that has a 0.2mm nozzle, but it is recommended to thin the paint to give it a smoother flow.
Vallejo Model Wash
Typically, the Vallejo Model Wash is used with a brush, but you can thin it down to use with an airbrush. It is good for use creating a weathered look on miniatures, figures, ships, planes, vehicles, and armor models.
Vallejo Game Air Model Paint
In the Vallejo Game Air range, you will find colors that were selected to work well in dioramas, miniatures, and fantasy figures. With the viscosity of this paint, you can use it with airbrushes that are as small as 0.2 mm and it won't need to be thinned. Keep in mind that environmental conditions may alter the product's viscosity and require that it be diluted.
Vallejo Premium RC Colors Model Paint
Non-toxic and water-based, the Vallejo Premium RC Colors are very versatile and perfect for any surface. This paint is formulated especially for good adhesion to polycarbonate, fiberglass, and metals models. This paint range includes nine transparent and shimmering Candy Color, 23 fluorescents and metallics, and 20 opaque colors. All of these colors are fine for use on detail work and for covering a large surface on a model.
Basically, which choice is really the best airbrush for miniatures boils down to more of a personal preference than anything else. While we can list the best airbrushes for models, miniatures, and tabletop games, what you choose is really based on the scale and types of models and miniatures you are working on. As well as your skill level since some airbrushes are better for beginners than others.
For those that are ready to move up, keep in mind the quality of the airbrush as well as the features you are looking for, and the size of the models you will be working on. Triggers, paint cups sizes, and nozzle sizes again are all dictated by the projects you like to work on. So, think about how you like to work, what you plan to work on in the next few months, and use our solid list of the best airbrushes for models and miniatures as a starting point for your purchase. Good luck!