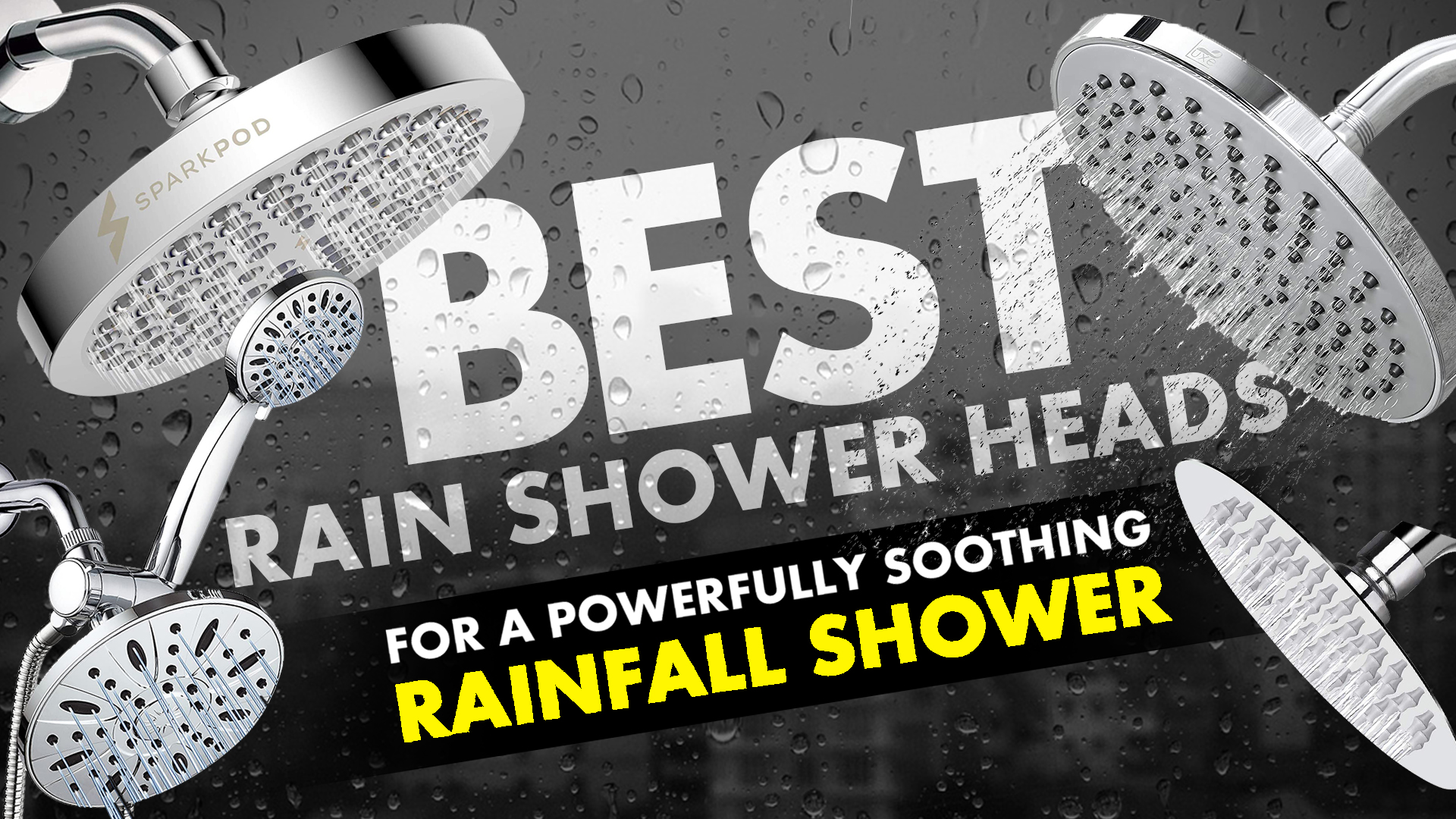 Rainfall shower heads offer users a vastly different and unique showering experience when compared to traditional shower heads. The best rain shower heads offer high water pressure while maintaining a relaxing water flow reminiscent of natural rain.
However, there are so many imitation rainfall shower heads out there that it can be difficult to find the best rainfall shower head overall. The following rainfall showerhead reviews are designed in order to highlight the best aspects of some of the top rainfall shower heads on the market today while offering a fair assessment of their potential shortcomings.
True rainfall shower heads easily balance high water pressure with an enjoyable, relaxing shower experience. However, many shower heads that claim to be the real deal offer little flexibility and a very small amount of water pressure.
Additionally, purchasing the wrong rainfall shower head can lead to one using up their hot water in a matter of minutes, leaving them in a cold, low-pressure shower.
The goal of installing a rainfall shower head is to add more relaxation to your life overall. Therefore, the process of finding the perfect rainfall shower head should be as stress-free as possible. The following shower heads make the cut due to their innovation, simple installation, adjustable features, and more.
10 Best Rainfall Showerhead Reviews
1. Luxe RainLuxe Shower Head
Size: 8″ | Flow Rate: 3 GPM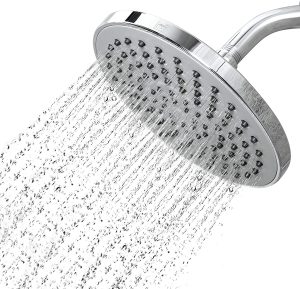 Pros
Simple installation
Easy to clean
Over 100 jets
Cons
Little water flow control
The Luxe RainLuxe Shower Head is one of the best rainfall shower heads out there. With over 100 jets, this shower head is powerful and simple to use. What's more, it is simple to install and less complex than other shower heads of a similar nature.
The water flow is thin yet delivers the high-pressure water flow one looks for in a rainfall shower head. As this shower head is self-cleaning, it really works well to check all the boxes for usability. Able to be installed in under 5 minutes and without any tools, the RainLuxe is the best model for someone looking for a no-fuss shower head.
2. SparkPod Shower Head High Pressure Rain
Size: 6″ | Flow Rate: 2.5 GPM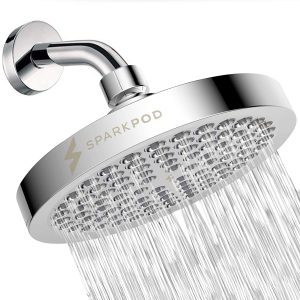 Pros
Water-flow conscious
Touch to clean mechanism
High water pressure
Cons
Must purchase diverter separately
The SparkPod shower head aims to bring a monsoon-like power to your showering experience. The ultimate aim of this shower head is to utilize its natural-flowing, warm water stream in order to create a sense of peace in its users and ease their tension.
The SparkPod also works to bring a sense of style to one's showering experience by prioritizing design as well as function. As this is a huge part of an enjoyable showering experience, this shower head aims above all to add a little extra joy into its users' lives.
3. MeSun High Pressure Showerhead with 11 Inch Arm
Size: 12″ | Flow Rate: 2.4 GPM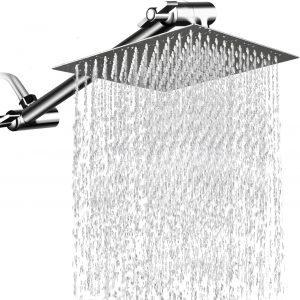 Pros
Large shower head offers luxurious experience
Stainless steel
Offers an adjustable extension arm
Cons
Slightly shorter shower arm
This shower head is both stylish and sleek in a way that promotes pure luxury. Available with an additional extension arm, this shower head aims toward usability while offering a unique design. Additionally, this shower head is built on a swiveling, rotating connector that allows it to swing a full 360 degrees.
Designed as a square plate, this shower head easily avoids clogging and excess dripping issues thanks to its silicone nozzles. Equipped with advanced air booster technology, this shower head is great for those concerned about the feeling of that extra water pressure boost without wanting to ramp up the actual water pressure.
4. SR Sunrise Wall Mounted Rainfall Shower Head
Size: 10″ | Flow Rate: 2.5 GPM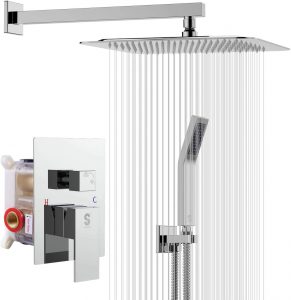 Pros
Combination wall-mounted and handheld shower heads
Concealed installation
Ten layers of plated chrome
Cons
More involved installation process
While this shower head offers a more traditional rainfall shower head design, it is also sure to add something for those looking for a more traditional and innovative showering experience.
This two-in-one product comes equipped with a handheld shower head as well. This additional shower head is easily detachable and allows one to take a more dynamic shower.
With an impressive 71 inch hose, users will enjoy the flexibility this shower head allows them while still maintaining an all-around rainfall shower effect. Made from pure metal and solid materials, users will feel confident in the professionally-installed feel of their new shower head.
5. Aisoso High Pressure Fixed Rain Showerhead
Size: 4.1″ | Flow Rate: 2.5 GPM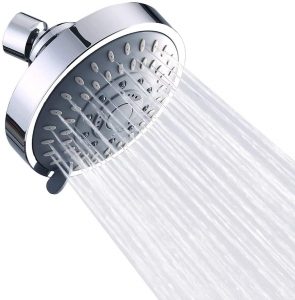 Pros
Offers high water pressure
Provides rhythmic pulsing water pressure for a calming effect
Simple installation
Cons
Difficult to change pressure when shower is running
Equipped with a water pressure regulator, this shower head offers something for everyone. Rainfall shower heads are infamous overall for the lower water pressure they typically offer. In order to provide a relaxing, rain-like experience, this is typically a necessity.
However, this shower head offers the added bonus of being equipped with a water pressure regulator that can either be turned on or off. This allows users to still enjoy their rainfall-like experience while still taking a shower with higher water pressure.
However, more environmentally conscious users will be relieved to know that the water pressure regulator works well when turned on, saving both water and one's utility bill in the long run.
6. AquaDance Premium High Pressure 3-Way Rainfall Combo
Size: 7″ | Flow Rate: 2.5 GPM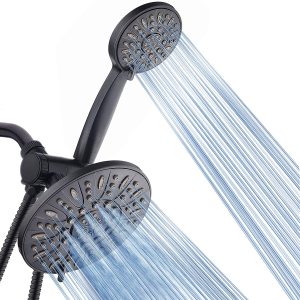 Pros
Combination overhead and handheld shower head
Easily-cleaned dial jets
Six enjoyable settings
Cons
Only the hose is comprised of stainless steel
This shower head aims to offer users a luxurious showering experience by featuring six dynamic settings:
Power Rain
Power Mist
Pulsating Massage
Rain Massage
Water Saving Pause
Rain Mist
Easily installed without a plumber, users will be able to enjoy a fantastic rainfall showering experience within minutes.
Equipped with a high-powered click lever dial, users will have some luck in finding the exact right setting for their ideal showering experience. As the shower head itself is dynamic while offering dynamic settings, this shower head is ideal for those looking for maximum customization.
7.  Voolan Rain Shower Head
Size: 12″ | Flow Rate: 2.5 GPM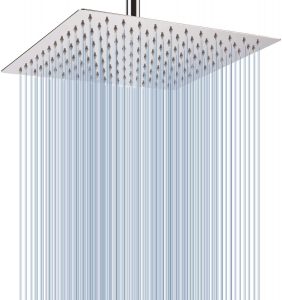 Pros
Self-cleaning
Easy installation
High pressure, stylish shower head
This ceiling-mounted unit works well to mimic the rainfall aspect one looks for in these shower heads. A larger unit overall, this Voolan shower head is ideal for those looking to cover a larger area with their shower head.
Easily installed and compatible with most standard piping, this is a great standard and starter unit for those interested in a rainfall shower head. One should make sure to check their pipe angle before purchasing this, however, as it should have an angle that points straight down in order to be compatible with this shower head.
8. AquaDance Premium High Pressure Rain Showerhead
Size: 7″ | Flow Rate: 2.5 GPM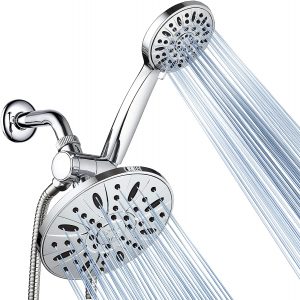 Pros
3-way adjustable rainfall combination shower head
Includes 6 unique settings
Adjustable
Anyone who is slightly hesitant about trying a rainfall shower head for themself will likely appreciate this AquaDance model. This is truly a great starter model equipped with multiple customization options that will allow users to find what settings truly work for them.
This unit comes with a wall-mounted option as well as a handheld one. With six settings, a water diverter, and easy installation, this unit covers most of the options offered by some of the best rainfall shower heads out there.
What's more, AquaDance shower heads come with lifetime customer service support, making this the ideal unit for anyone worried about sustainability.
9. NearMoon Ultra Thin High Pressure Shower Head
Size: 6″ | Flow Rate: 2.5 GPM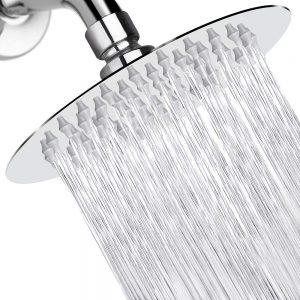 Pros
Self-cleaning nozzles
Simple and fast installation
Ultrathin, smooth and stylish design
Buyers worried about potential leakage issues will appreciate the rubber gasket this shower head comes equipped with. This NearMoon model attempts to go all-in for comfort while maximizing ease of usage and installation.
Cleaning these nozzles is simple, as is adjusting the shower head after installation. Ideal for those who prefer to install their products relatively quickly and move on to using them soon after, this shower head offers a no-fuss experience every step of the way.
Its elegant design is purely concerned with giving one's shower a modern touch, all while utilizing the natural water flow typical of the best rainfall shower head.
10. NearMoon Luxury Square Stainless Steel Rainfall Showerhead
Size: 12″ | Flow Rate: 2.5 GPM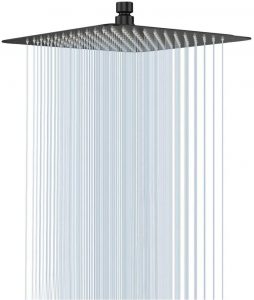 Pros
Large surface area, thin shower head
Offers leak and rust protection
Easy installation
This 12×12″ shower head seeks to engulf users with the feeling of standing in a rainfall. However, this unit is far from clunky, as it is less than an inch thick.
These dimensions allow for an overall enjoyable and immersive rainfall experience while still maintaining the sleek design users are familiar with. Designed with the safest self-cleaning silicone, users have very little to worry about in terms of this shower head's usability.
With 144 individual outlets, users will feel the true luxury rainfall shower heads are meant to offer. Additionally, this unit is easily adjustable and easily installed.
Important Features of the Best Rainfall Shower Heads
When picking out one's first rainfall shower head, it can be difficult to know exactly what to look for. There are many options suited to all sorts of showering experiences, but there are a few qualities one should look for overall when choosing the best rainfall shower head for their own shower.
High-Pressure Spray
In order to maximize one's showering experience, the water pressure must be relatively strong. When unsure of which model shower head will provide the best showering experience, a good rule of thumb is to look for a shower head with a wide face and numerous spray nozzles.
Some rainfall shower heads sacrifice water pressure for their rainfall dripping effect, but the two do not have to be mutually exclusive.
Easily-Cleaned
As with any shower head, rainfall shower head nozzles can easily clog over time. While consumers will want to look for easy-clean nozzles at the bare minimum, many of these units actually come equipped with self-cleaning nozzles.
This is truly a necessity for anyone worried about keeping their shower in top condition, especially as overhead rainfall shower head nozzles can at times be difficult to reach and clean.
Easily Adjustable
While many rainfall shower heads are designed to point straight down from the ceiling, most showers are not designed in this way. It is likely that without the additional help of a plumber, one will be installing a shower head that points out from the side of their shower wall.
Because of this, adjustability is key. In order to ensure the rainfall shower head is reaching its maximum potential, and providing its users will maximum relaxation, the shower head should be flexible and able to reach multiple angles.
Some of these shower heads come with additional, detachable spray nozzles for this purpose, as manufacturers know the trials of in-home rainfall shower head installation.
The neck and face of the shower head should be adjustable and pivot in order to provide maximum customization.
Simple Installation
Many of the units mentioned on this list made the cut above the rest for a simple reason: they are easily self-installed. These units are easily installed without a plumber and with minimal tools.
In fact, many of these rainfall shower heads come equipped with wrench tools that are necessary for installation. These wrenches are constructed specifically for the installation of these shower heads, and users should have little-to-no hassle installing them in minutes.
Very few models mentioned in this list will likely require the help of a professional plumber in order to maximize efficiency and keep installation costs down. However, should one find themselves in a situation in which the help of a professional is necessary in order to install their shower head, they can rest assured knowing taking the extra effort and care is more than worth it in order to incorporate this relaxing product into their lifestyle.
Multiple Settings
Another complaint many users have in regards to less than reputable models of rainfall shower heads is in regards to their lack of customization.
While one person may say the water flow of one rainfall shower head is too heavy, another consumer will say that the exact shower head has too heavy of a flow. As this matter is one of luxury and comfort, it really comes down to personal taste.
For this reason, it is advisable that one's shower head be easily adjustable. These dynamic shower heads offer multiple settings that are sure to please anyone – ideal in a family situation.
What's more, these settings are often designed with providing a luxury experience in mind. Rather than stick with one setting, in particular, one can easily adjust the setting of their shower head and feel as though they are getting another relaxing experience altogether, providing some great bang for your buck!
Lifetime Warranty
Many shower head companies know the trials of owning shower heads. Over time, they are bound to wear down, regardless of how well one takes care of them.
Luckily, many companies offer at least limited lifetime warranties or lifetime support for their shower head models in order to assure their products are working up to their standard.
Water Filters
While you may be able to add your own water filter to your shower head, some rainfall shower heads come with water filters included. This is a great way to ensure your shower experience is as safe as possible.
These filters help to remove trace metals and compounds such as copper and chlorine. Rather than risk absorbing these chemicals and compounds, one can insure they are getting a true cleansing experience from their shower.
Best Rain Shower Heads Buying Guide
In order to obtain a clearer picture of what a rainfall shower head is meant to do, it is important to understand the vision behind the rainfall shower head.
Often found in luxury hotels and Airbnbs, these shower heads aim to mimic the feeling of standing in rainfall in a few important ways.
A Direct Spray
These shower heads are meant to spray directly down, providing that rain-like experience. Smooth and natural, they are meant to be comforting and a step above the typical showering experience.
Heavy Droplets
Well-designed rainfall shower heads are also meant to utilize heavier droplets that are infused with air in order to provide that waterfall-like feel. If these shower heads were meant to operate at a high water pressure, they would omit the addition of the air and simply rain down.
However, the addition of the air infused with the droplets is an important one, as it gives the shower the ambiance it is meant to have.
Ideal for Low Water Pressure Homes
A home with an already weak water pressure level will likely benefit from the installation of a rainfall shower head. As typical shower heads require slightly more water pressure, this is a great way to increase the enjoyment of one's home showering experience without feeling the need to call a plumber.
Comfort Above All Else
There is little to no reason to choose a rainfall shower head if one is not prioritizing comfort above all else. As these shower heads typically do not have the highest water pressure, and as they are sometimes limited in mobility, one has to prize the rainfall effect above all else when purchasing this type of shower head.
FAQ: Finding the Best Rainfall Shower Heads
Do rainfall shower heads have good water pressure?
While the water pressure of these shower heads is actually typically fairly impressive, it is their design that inhibits the feel of showering with maximum water pressure.
These showers typically operate within a 2.0 to 2.5 GPM range, which is usually a fairly good range. However, they do not prioritize water pressure as they are meant to mimic soft rainfall.
Are rainfall shower heads water-efficient?
Rainfall shower heads are actually typically fairly water efficient. Compared to just a few short decades ago when shower heads typically used over 5.5 GPM, the 2.0 to 2.5 GPM range of rainfall shower heads is negligible.
Is it expensive to install a rain shower head?
It is comparatively affordable to install a rain shower head. Many of these models can be easily self-installed within minutes and without the help of a plumber.
The steps of installing a rainfall shower head typically include the removal of the former shower head as well as mounting and sealing the new shower head. Typically, the cost of installing a rainfall shower head includes only the cost of purchasing the shower head itself.
Are rainfall shower heads expensive?
Rainfall shower heads are typically inexpensive, especially today. These shower heads can range from $20 to $300, depending on the materials, installation, and features one is looking for.
However, there is typically little reason to fork out extra cash over one of these shower heads, as even lower-priced models offer a relatively increased degree of luxury.
What are the benefits of buying a rainfall shower head?
There are many reasons one might choose to purchase a rainfall shower head if not sold on the relaxing luxury of the unit alone.
They are easily maintained
These showers are typically chosen in luxury hotels not simply due to the relaxing experience they offer guests but due to how easy they are to clean.
Great for low water pressure homes
When one is faced with a low-water pressure system in one's home, the options before them can seem daunting. Rather than add the extra expense of getting a plumber and installing a water pressure system in one's home, simply making the most of the low pressure can make a huge difference.
These shower heads thrive on low water pressure. Because they are relatively simple and inexpensive to install, they can be a great solution to a low water pressure problem.
Stylish and sleek
The interior design aspect of rainfall shower heads is truly an impressive one. Guests will likely be impressed by the design of a rainfall shower head, while homeowners will be able to luxuriate in the design of their own shower.
Revolutionary Showers with Rainfall Shower Heads
While there is a lot to consider when purchasing a rainfall shower head, it is important to identify what concerns are a priority. A rainfall shower head is meant to offer relaxation above all else, and the process of narrowing down the correct model should not be a stressful one.
Taking one's shower to the next level of comfort and style is simple when choosing a rainfall shower head. It is important to remember that these shower heads are meant to provide a significant lifestyle improvement, and it is likely that any model on this list will do just that.
Recap: Best rainfall shower heads at a glance.