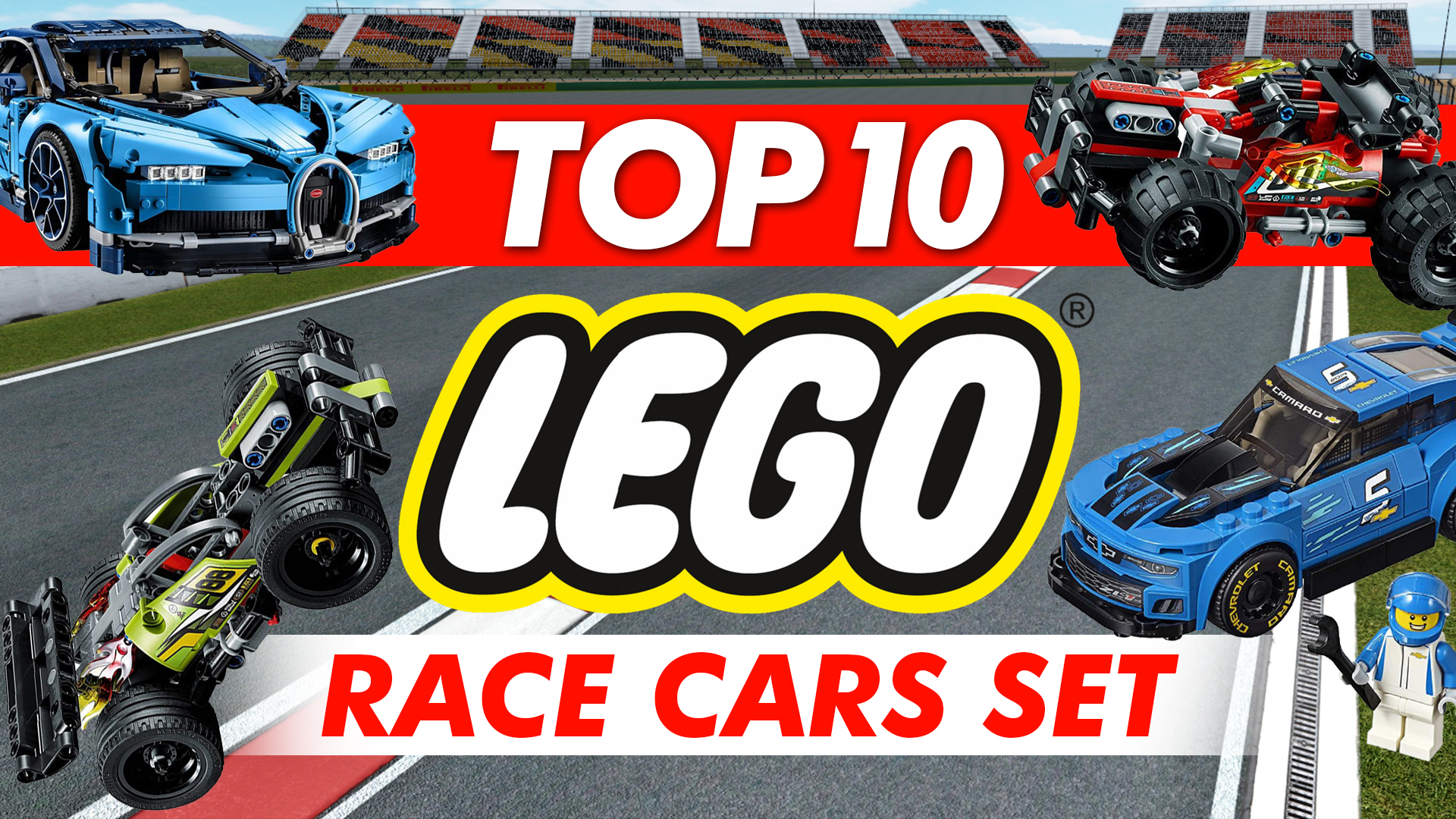 LEGO offers something for (almost) everyone – from the aspiring car mechanics and NASCAR drivers to the engineering students and car-model connoisseurs. This massive company provides so many options that choosing which kit to select may prove to be a headache. After all, people have many different reasons for investing in the LEGO mania.
But there is no reason to despair. This guide has selected the top 10 best LEGO race cars, exploring everything from the Technic to the Creator subtypes. Each style offers its own unique advantages and drawbacks, and this article looks at all of these aspects.
Whether one is looking for a building kit to entertain their seven-year-old or searching for a sophisticated showcase item to add to their LEGO collection, this guide has it all covered. It looks at elements such as the number of pieces, the car measurements, and the unique features. Last, but not least, is a brief guide for building a LEGO collection.
10 Best Lego Race Cars for Kids in 2020
1. LEGO Speed Champions Chevrolet Camaro ZL1 Race Car Set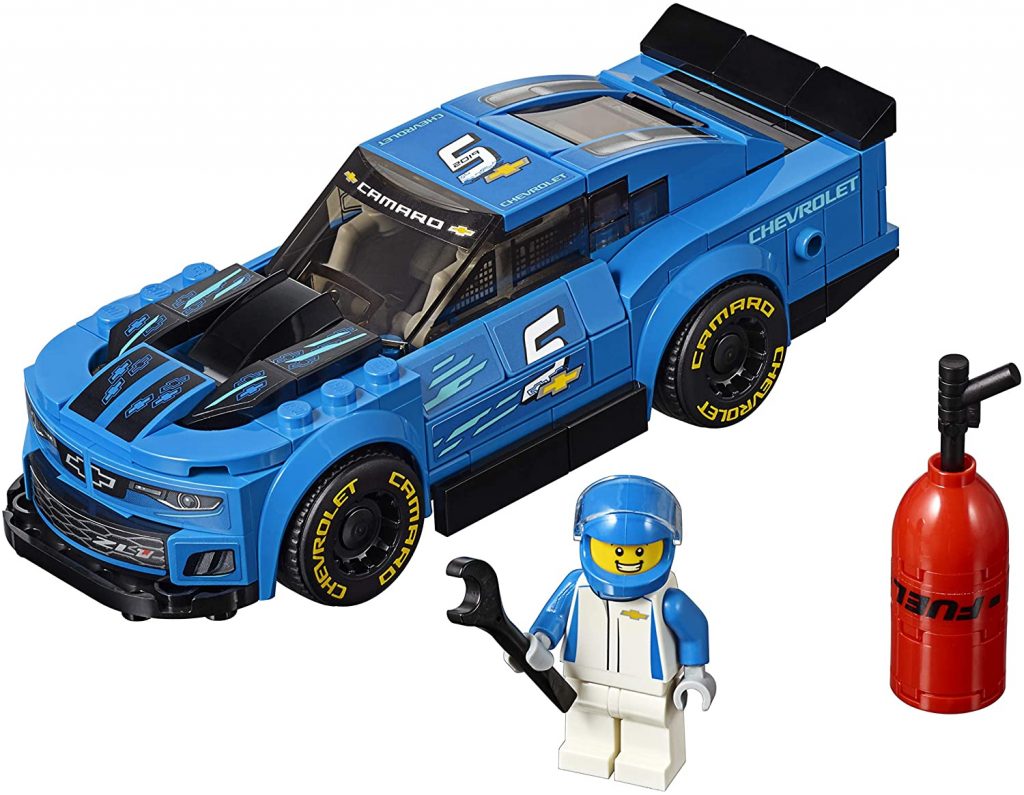 Pros
Stylish exterior
Simple construction
Cons
Only one Minifigure
Simplistic
This 198-piece race-car set features a sleek Chevrolet Camaro ZL1 race car with a Minifigure cockpit, an adjustable roll cage, a removable windshield and wheels, and model-branded rims. The set also comes with a racing driver Minifigure, a blue Minifigure helmet that matches the car, and a red fuel canister. The measurements of the car are 4 cm high, 14 cm long, and 5 cm wide. This stylish car is designed for children of 7 years and up, but it is popular among LEGO-enthusiasts and collectors of all ages. It is compatible with all original LEGO construction sets.
This set also comes with 31 stickers to embellish the car once it is assembled. The car can be made to look like a NASCAR vehicle or an ordinary road automobile. It takes typically two and a half hours to put together, and the steps are easy and straightforward. The roll cage can be easily lifted to place the Minifigure into the cockpit. The fuel canister adds to the imaginative intrigue once the car is completely assembled, encouraging creative play. However, it is a well-designed and durable collector's item that the whole family will enjoy.
2. LEGO Technic Bugatti Chiron 42083 Race Car Building Kit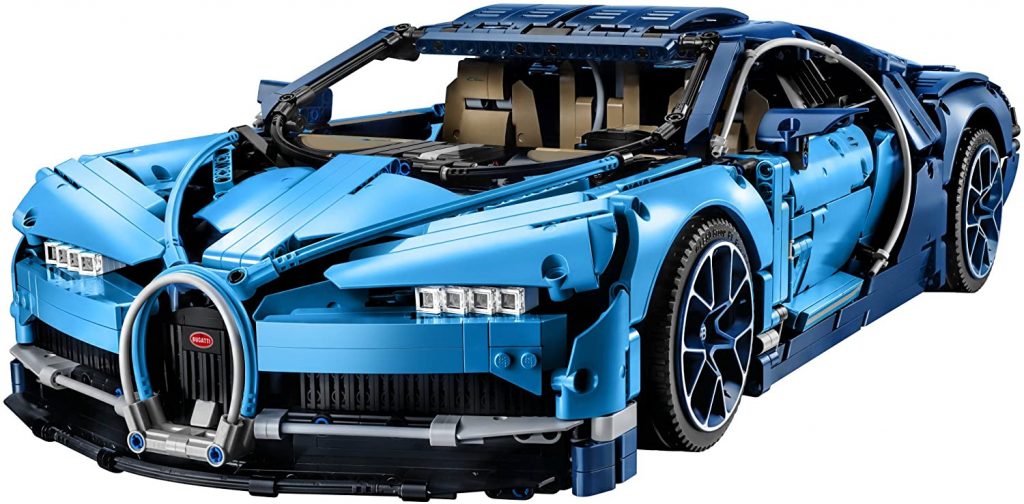 Pros
Popular collectible
Brilliant color scheme
Cons
Time-consuming construction process
May not suit younger children
This stylish Technic Bugatti Chiron race car kit features 3,599 individual pieces designed to construct a glowing blue Bugatti advanced motor race car. This set was designed in partnership with Bugatti Automobiles SAS to create an authentic mini-rendering of the real thing. Other features include an active rear wing, a W16 engine, an 8-speed gearbox with a paddle gear shift, suspension and spoked rims, and a steering wheel. The set, contained within an intriguing blue box, also includes a collector's booklet. It is perfect for imaginative play or professional display.
This kit is compatible with all LEGO Technic sets and LEGO bricks. The dimensions of the car are 5 inches in height, 22 inches in length, and 9 inches in width. Thus, it is considerably larger than other race-car toys. This fancy automobile also includes more sophisticated features, such as an elaborate cockpit with an 8-speed gearbox, an authentically designed interior that mimics the real vehicle model, and even a unique serial number. The set also comes with a tool for switching the active rear wing between handling and top-speed positions. Overall, this spectacular LEGO rendering of the stylish Bugatti model ranks high as both a collector's item and an intriguing toy for creative play and engineering fascination.
3. LEGO Technic WHACK! 42072 Building Kit with Pull Back Toy Stunt Car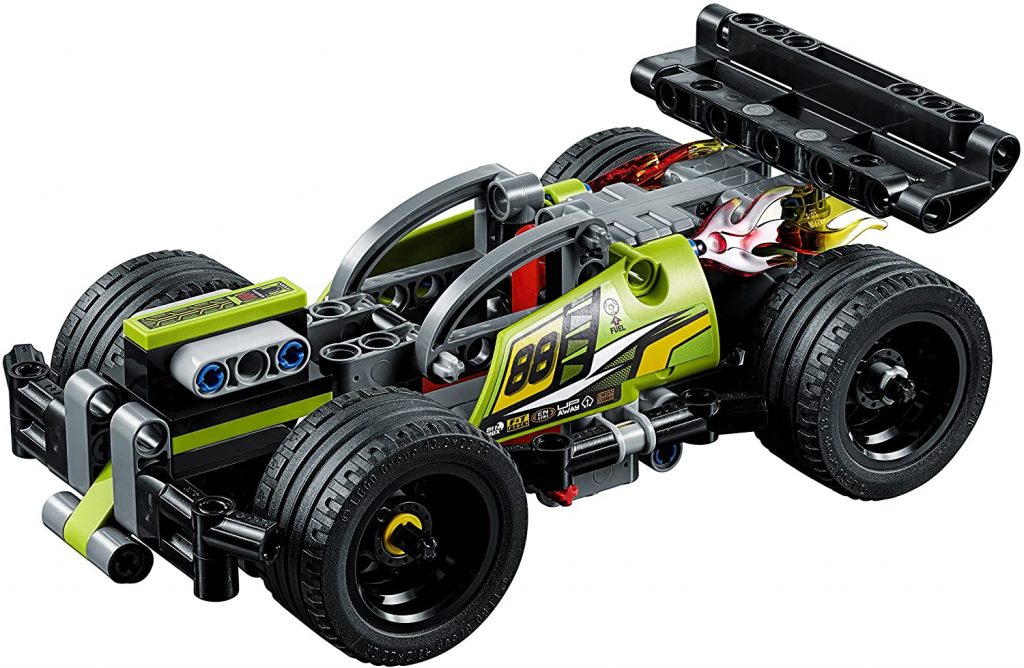 Pros
Aerodynamic, unobtrusive design
Highly durable for rough-and-tumble play
Cons
Pull-back function is prone to overuse injury
This intriguing Technic WHACK! kit builds a high-speed race car with a powerful pull-back motor, a robust front bumper, a large rear spoiler, wide black rims with sleek tires, and a decorative toy engine that pops out when pressed. The car is designed with an aesthetic color scheme of lime green, red, and gray. The building kit is advanced, but it is easy to assemble and suits kids of all ages and levels of expertise. Built to create an invincible crash car, the materials and construction design are strong and durable. This sturdy stunt car is a compact and powerful little automobile that is sure to occupy kids for hours. However, it is also a unique collector's item that will enhance any LEGO race-car showcase.
This compact, colorful crash car measures 6 cm high, 17 cm long, and 9 cm wide. The set includes 135 pieces, and it can take as few as 30 minutes to assemble. The product is recommended for children between the ages of 7 and 14, and the pieces are compatible with all models of LEGO building sets and bricks. The car can be combined with the LEGO Technic 42073 BASH! for fun group play. The motor of the WHACK! stunt car is activated by a pull-back function for powerful tactile stimulation. Overall, this speedy and durable vehicle is an ideal fit for imaginative play in a group setting.
4. LEGO Creator 3-in-1 Sunset Track Racer 31089 Building Kit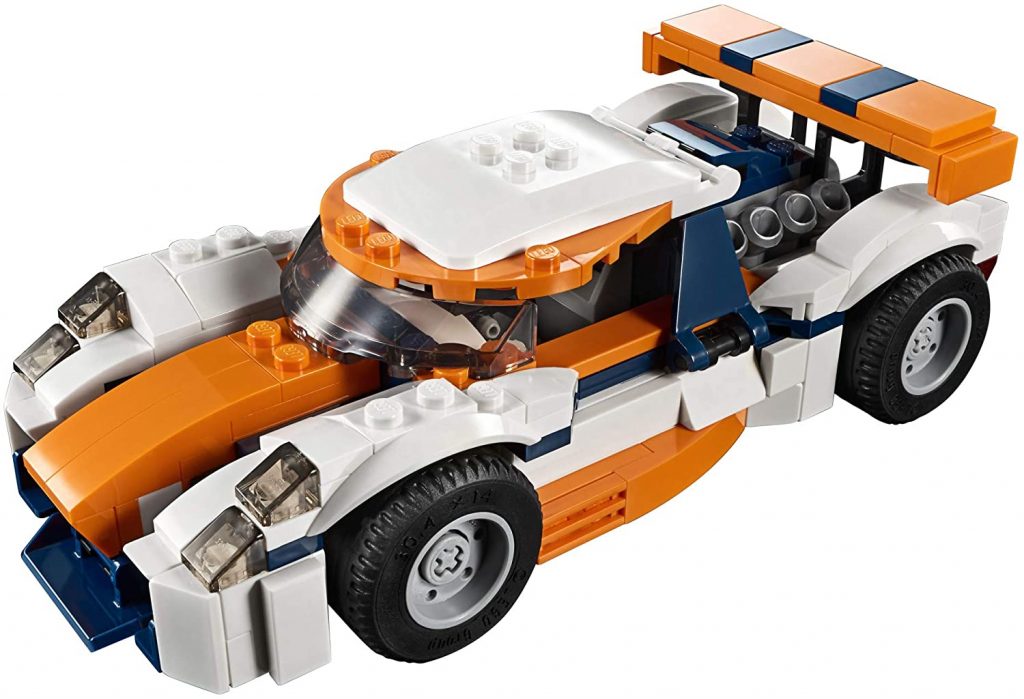 Pros
3-in-1 construction design for versatility
Bright color scheme
This bright and stimulating Sunset Track Racer features 221 individual pieces that construct an aerodynamic race car with a rounded and tinted windshield, a large rear spoiler, a visible rear-mounted engine, and sturdy tires designed to grip the ground. This race-car set is unique for its 3-in-1 building design, which facilitates the construction of three unique model variations: a Sunset Track Racer, a convertible-style Classic Race Car with a high-speed motor, and a sporty LEGO speed boat. The set is designed for children 7 years and up, but it is suitable for all ages.
The Sunset Track Racer measures 5 cm high, 16 cm long, and 7 cm wide; the Classic Race Car measures 4 cm by 14 cm by 7 cm; and the Speed Boat measures 4 cm by 14 cm by 7 cm. The Sunset Track Racer is designed for fast car-racing action, while the Classic Race Car captures the golden age of motor racing. Finally, the Speed Boat gives a whole new dimension to this versatile vehicle, making it just as speedy in the water as it is on the track.
5. LEGO Speed Champions Porsche 911 RSR and 911 Turbo 3.0 Building Set

Pros
Features two unique race cars
Comes with a lap counter
This sophisticated set features two different race car models: a Porsche 911 RSR and a Porsche 911 Turbo 3.0. Each unique vehicle features a Minifigure cockpit with a removable windshield and authentic design elements that mimic the life-sized models. The set also includes three race car driver Minifigures, each dressed in race-car suits and personalized helmets. One of these figures is a race marshal, decked out with a white cap, a matching race suit, and an authentic checkered flag. Also included is a female racing driver, encouraging little girls to play along.
This versatile set includes a total of 391 individual pieces and is fully compatible with all LEGO construction kits and bricks. The inclusion of two different race car models and three diverse Minifigures makes this set perfect for group settings. The set also features an authentic leaderboard to track laps and tally points. The cars are built with rubber tires, and each is designed with bright, unique color schemes. Race-graphic stickers are included to add an exciting flair. Altogether, this set is both a thrilling toy and an essential LEGO collector's item.
6. LEGO Porsche 911 RSR 42096 Race Car Building Set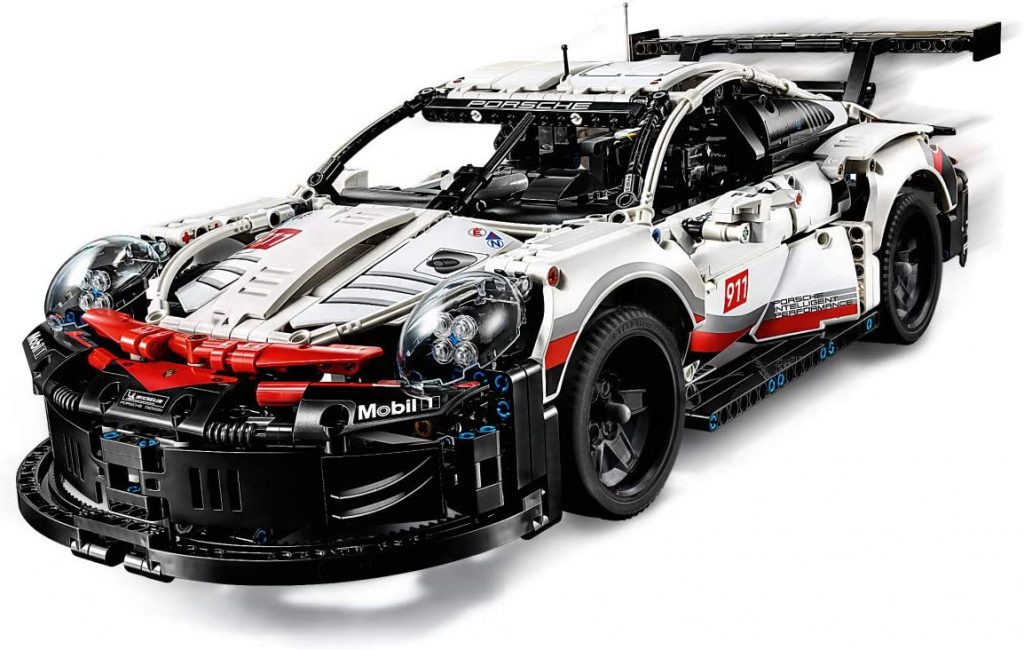 Pros
Unique LEGO collectible
Complex construction design for advanced builders
Cons
May not suit younger fans
This complex Technic Porsche 911 RSR race car building kit offers more than just imaginative play, aiding in the development of STEM skills through advanced construction details and cognitive thinking. It features a sophisticated Porsche vehicle with authentic design details, an aerodynamic structure, functional steering, and a complementary track map. The car also comes with a fully-functional toy engine, making it perfect for both kids and adults. Created in partnership with Porsche, this sleek automobile is a genuine replica of the Porsche 911 RSR race car model. Overall, this product encompasses the feel of a real NASCAR race.
This set is fully compatible with all original LEGO sets and bricks. With its advanced construction design, it facilitates both imaginative and analytical thinking. The set includes 1,580 total pieces, and the car measures 13 cm high, 50 cm long, and 20 cm wide – one of the largest LEGO race car models. Given its more advanced nature, this set is recommended for children aged 10 years and up. However, it is a great fit for adults as well.
7. LEGO Speed Champions McLaren Senna 75892 Building Kit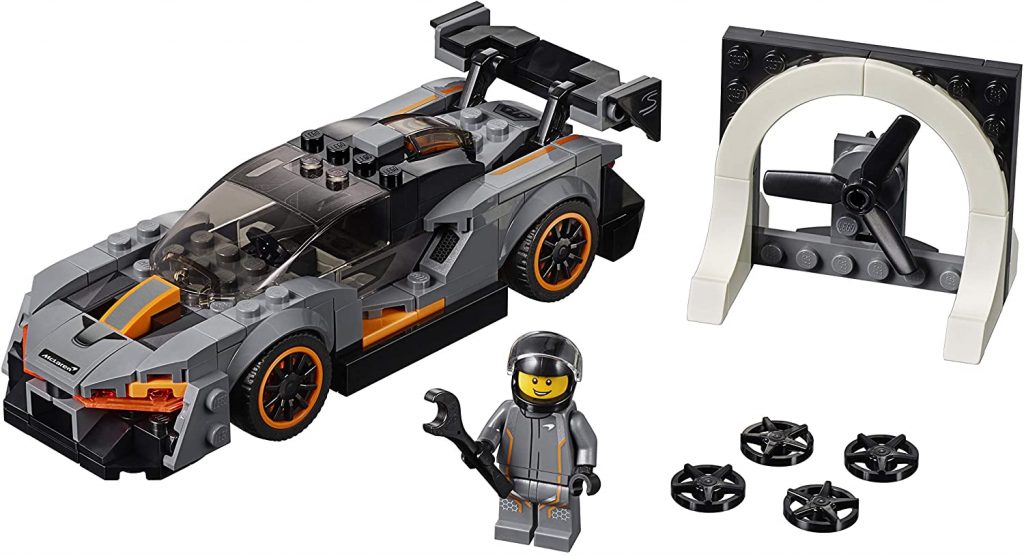 Pros
Authentic mini-replica of the real-life model
Features a matching Minifigure
Cons
Boxy, unsophisticated design
This rugged Speed Champions McLaren Senna race car features a Minifigure cockpit with an accompanying driver-mechanic Minifigure, a removable windshield, interchangeable wheel rims, and logo stickers with the genuine McLaren Senna designs. The set also includes a wind tunnel to replicate exciting outdoor race scenarios. The racing driver Minifigure is dressed in a gray racing suit with a matching helmet, bedecked in McLaren Senna and Pirelli logos. A mini spanner is also included. The wind tunnel features a fan to mimic a real wind drift, adding to the dramatic intrigue. This set is a great fit for anyone who likes fast cars, and it is an enjoyable toy and display item for both children and parents.
This set includes a total of 219 pieces, considerably fewer than other models. Thus, it is relatively easy and fast to assemble, suiting children aged 7 and up. The McLaren Senna mini-replica measures 4 cm high, 15 cm long, and 5 cm wide. The complementary wind tunnel measures 5 cm high, 6 cm wide, and 4 cm deep. This set is compatible with all LEGO construction sets, and it is a great choice for fans and collectors of all ages.
8. LEGO City ATV Race Team 60148 Building Kit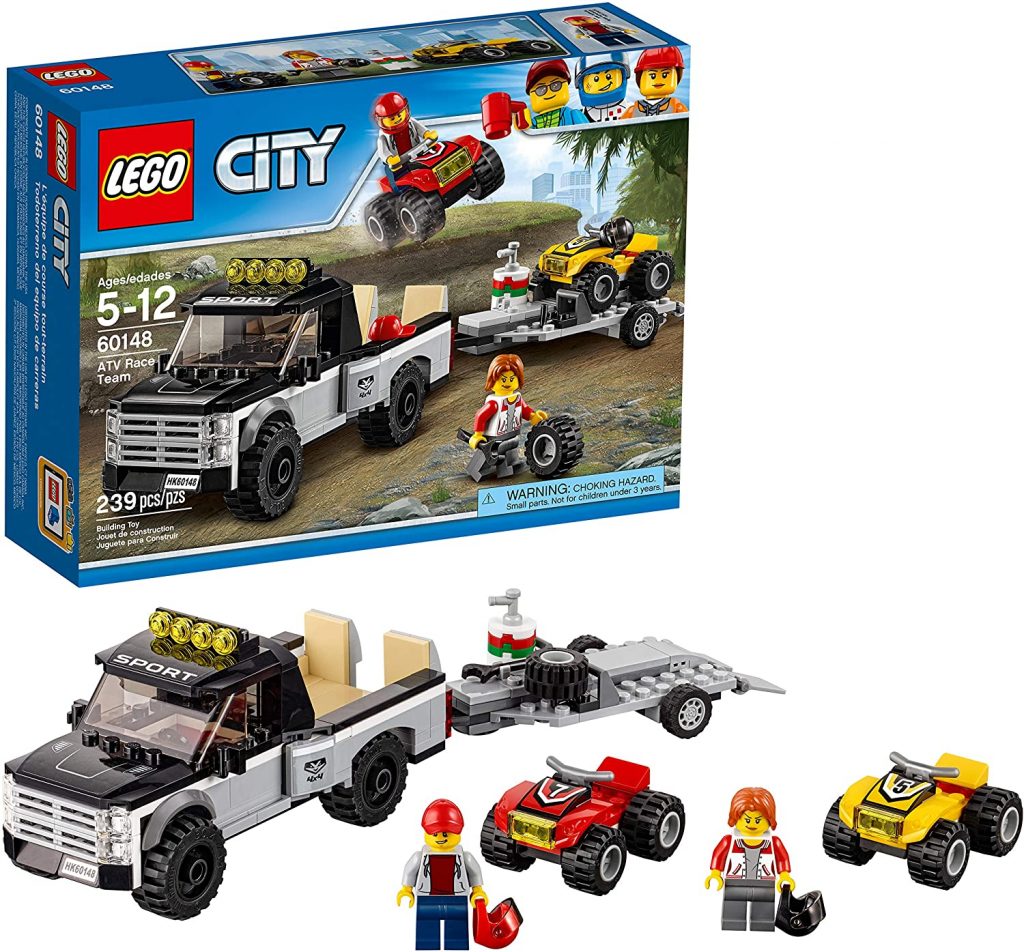 Pros
Diverse, multi-piece set
Facilitates imaginative play
Cons
Focused more on imagination than building
This exciting set features a diverse assortment of components. It includes a toy truck with an accompanying trailer built to transport two miniature race cars, which are also included. The set also includes mechanical tools for fixing and refining the race cars (and, of course, encouraging imaginative play). These include a wrench, a fuel barrel, and a spare toy tire. The set also features two ATV rider Minifigures: a girl figure with red hair, dressed in sporty street clothes, and a boy figure dressed in jeans, a red shirt, a gray jacket, and a red baseball cap. Both figures come with sleek racing helmets. This diverse kit is a great option for group construction and creative play.
The toy pickup truck measures 7 cm high, 15 cm long, and 6 cm wide; the accompanying trailer measures 3 cm by 14 cm by 6 cm; and each ATV race car measures 3 cm by 5 cm by 4 cm. The toy pickup also features a nifty pickup bed that can fit either of the race cars. The trailer features a pop-out ramp to easily pick up and transport the other automobile. This kit includes a total of 239 individual pieces and offers a unique combination of imaginative intrigue and engineering delight.
9. LEGO Technic BASH! 42073 Building Kit

Pros
Unique tactile elements
Combinable with another LEGO race cars
Cons
Pull-back motor is prone to overuse injury
This building kit features an ultra-fast race car equipped with a powerful pull-back motor, a tough front bumper, an ample rear spoiler, wide black rims with unobtrusive tires, and a sophisticated engine that pops out when pressed. This crash car is often combined with its twin model, the Tecnic 42072 WHACK! (see review #3). The BASH! model is a rough-and-tumble race car built for crashes, stunts, and everything in between. The vehicle is designed with a brilliant red, black, and gray color scheme, featuring gradient-colored flame decals for a thrilling touch. This car will inspire hours of creative and tactile play.
This stylish set includes 139 individual pieces and is recommended for children from 7 to 14 years of age. However, it is also an essential LEGO collector's item, especially when paired with its WHACK! sidekick. The car measures 7 cm high, 17 cm long, and 9 cm wide. Like all Technic sets, this kit is compatible with all LEGO construction sets. The rugged design of this race car makes it unbreakable amidst all types of crashes and smashes. This durable little car will last through generations, inspiring fans of all ages with its unique aesthetic and build.
10. LEGO Creator Expert Ferrari F40 10248 Construction Set

Pros
Convincing imitation of the real-life Ferrari F40
Polished, well-designed exterior
Cons
Less intriguing for younger fans
This sophisticated set features a sleek supercar with a genuine spoiler, pop-up headlights, an opening rear hatch and doors, and a unique, turbocharged 90-degree V8 engine. The design of this stylish race car imitates the real Ferrari F40 with compelling authenticity. The bricks themselves are built and curved in just the right way to construct a sleek, polished surface. While this kit is recommended for kids over the age of 14, it is a popular item for collectors and connoisseurs of LEGO cars and real model replicas.
This set includes 1,158 individual pieces, making it more advanced than other kits in terms of construction and engineering expertise. However, while it offers a unique challenge for older fans and builders, it is not too difficult for younger ages (aside from attention-span challenges). Like all LEGO Creator Expert building kits, this set is compatible with all LEGO construction sets and bricks. The car measures 3 inches high, 10 inches long, and 5 inches wide, making it one of the larger LEGO toy race car models. The car also features a convenient luggage compartment, cabled door handles, and two red racing seats. The steering wheel is embellished with the Ferrari logo. Altogether, this is a great set for all ages of fans, builders, and collectors.
Tips for Collecting LEGO
LEGO has grown into a large and diverse company with a variety of different models and subtypes – just within the race-car category alone. The company has been around since 1949, when the Lego Group, a company in Denmark, came up with the idea of tiny plastic bricks.
In essence, LEGO is huge – and starting a collection may seem daunting. However, it is also a lot of fun. Here are some simple steps to get started:
1. Choose a Category
From Harry Potter to famous architecture, LEGO has it all. Deciding on the main category of intrigue is the first step – and the more specific, the better. As the above reviews show, even race-car sets can be further subdivided into the categories of stunt vehicles (see the WHACK! And BASH! models), real-life model replicas, and convertible styles (even turning one into a boat; see review #4).
2. Understand LEGO Value Appreciation
Although it may not seem like a mini Ferrari would increase in value like its real-life counterpart, LEGO toys and construction sets do appreciate over time. Collecting LEGO, as it turns out, is a relatively lucrative investment strategy – even when compared to bank accounts and the stock market. However, like all investment approaches, this one requires a fair amount of research.
3. Have Fun
Most importantly, enjoy the process. Collecting LEGO is a sport just as much as a building game and an investment strategy. Personalizing the experience will make it worth the effort.
The Great Lego Race
Conclusion
Hopefully, this article has been a helpful guide – by not only reviewing LEGO race cars but inspiring new ways of thinking about the company altogether. Perhaps one of the greatest benefits of LEGO is its diversity; it is both a toy for children and a showcase item for investors. LEGO, at the end of the day, is what one makes of it.
IF you like this article, be sure to check out our other toy related articles: