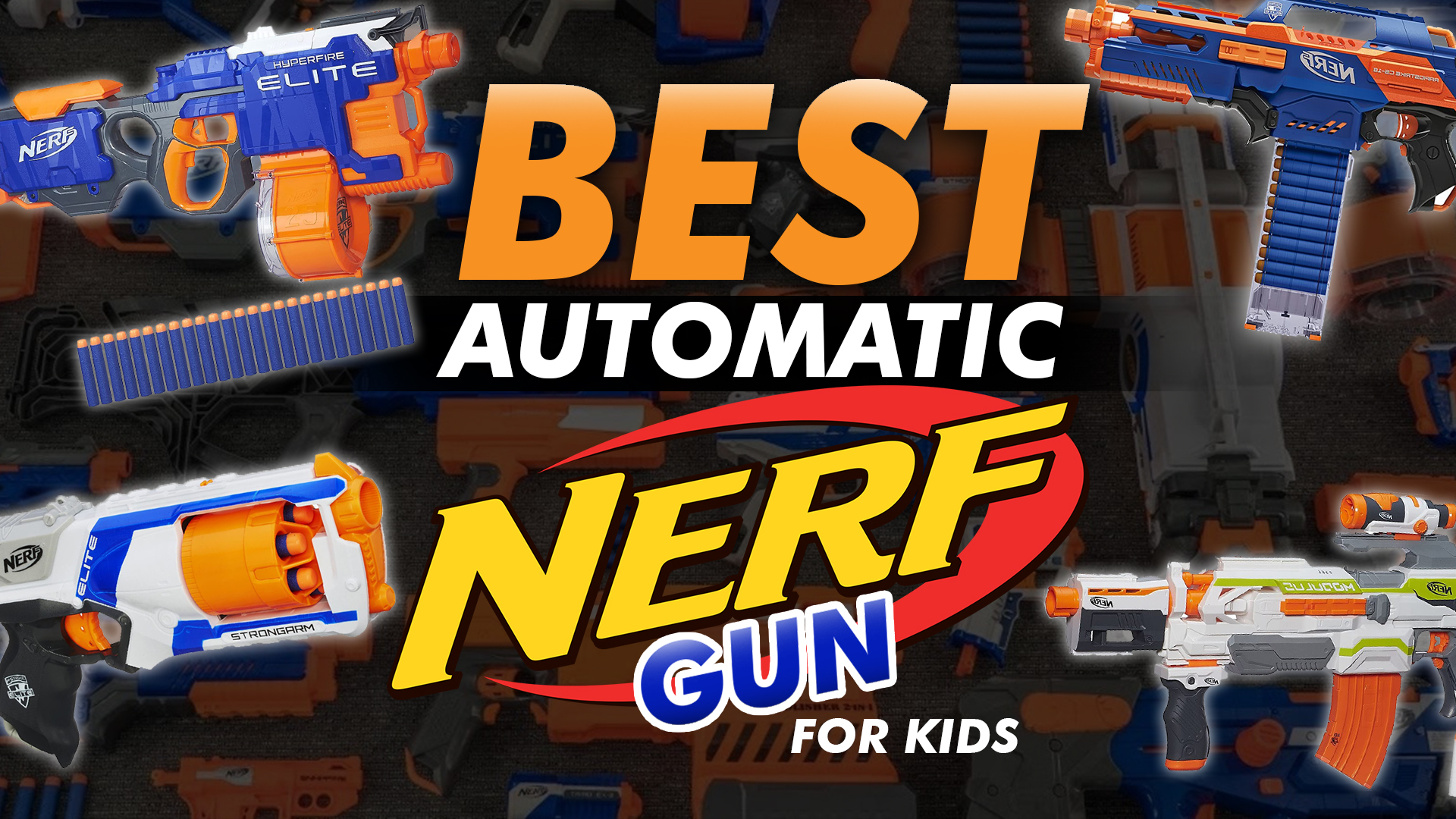 If you're looking for the best automatic Nerf gun, this list will tell you what you need to know. Who doesn't love Nerf guns? Though it may have the word "gun" in the name, everybody knows that these are a far cry from any kind of violence, but rather innocent fun to be had within the company of friends and family. They've been around since 1970, and you'll be hard-pressed to be able to find someone who doesn't know about them, and a little less so to find those who haven't played with them themselves at some point.
There are lots of different types of Nerf guns out there, and here, the automatic variety will be covered. These are battery-operated devices that can shoot much more and much faster than the traditional air-powered or plunger models. These are great for their ability to fire a rapid volley of shots to keep your opponents pinned down for longer. Not that the other versions are bad by any means; these are simply another method of enjoyment to be had.
The Best Automatic Nerf Guns for Kids 2020
1. Nerf N-Strike Hyperfire Automatic Elite Blaster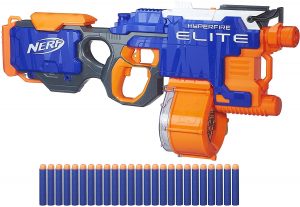 The N-Strike Hyperfire Elite is one of the best automatic nerf gun that can fire up to 5 darts per second. Having a 25-dart drum, this means you can fire for a good amount of time. The darts can reach a distance of up to 90 feet.
This is the fastest-firing dart blaster from Nerf, so if you want to put out darts blazingly fast, this is the nerf gun you want to have. There might be other faster-firing guns, but when it comes darts, this bad boy claims the title on speed.
With a drum capacity of 25 darts, there will be no shortage of ammo on the battlefield, meaning less time to stop and reload. This might just be the advantage you need over your opponents.
Pros
Firing speed of 5 darts per second
25-dart capacity
90-feet travel distance
Cons
Fast firing might leave you out of ammo sooner than you think
2. Nerf N-Strike Elite Strongarm Blaster Gun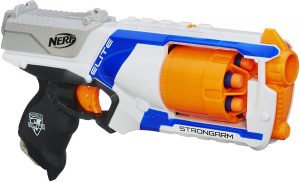 The Strongarm was one of the first blasters released as part of Nerf's Elite series. A very capable sidearm that's not too big and not too small, just the right size for a good, compact dart blaster.
It's a revolver-style barrel-loaded blaster with a button on the side to pop out the barrel so you can load it. The previous, pre-Elite version, the Maverick, had some jamming issues that have been rectified with this model. The problem was that the cylinder would rotate as the dart was being fired, whereas now it only rotates after the dart has been fired.
This one can fire up to around 70 feet away, so it's a great option for long distance.
Pros
Automatically darts loading into the drum
New model of older version blaster
Compact
Good beginner choice
3. Nerf CS-18 N-Strike Elite Rapidstrike Automatic Gun
The Rapidstrike is called that for a reason. Packing 18 Elite Darts with a clear clip, you will always be able to see exactly how much ammo you have left.
The acceleration button powers up the motor to shoot off the volley quickly if you need quick suppression, and they can shoot up to 90 feet so long distances are covered.
The large clip size might make the handling a little tricky if you're not used to such a large protuberance, but it's something that most people can get used to relatively quickly.
The streamlined and lightweight design makes this a great choice for fans of rapid-fire dart guns.
Pros
Clear clip to see current ammo stock
18-round capacity
Compact for a rapid-fire model
Cons
Large clip size could make it slightly unwieldy
4. N-Strike Fullly Automatic Modulus ECS 10-Blaster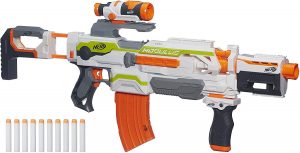 This bad boy comes with quite a few accessories, including a targeting scope, storage stock, dual-rail barrel, and more.
With all of the accessories it comes with, it can be customized in many different ways. The shoulder stock can be detached, you can add a barrel extension, and the five tactical rails offer a huge amount of personal customization. It's likely that there are few Modulus guns that are exactly the same given all of the ways you can modify it.
The firing method is an acceleration trigger with a clip size of 10. It can fire up to five darts per second. It might not sound like a lot, but when you take into account the many different options you have, it's definitely one to look into.
Pros
Best Nerf gun for personal customization
Automatic firing mode
Many different accessories
Lots of tactical rails for other, separately sold accessories
Cons
The abundance of accessories might be a little intimidating for some
5. Nerf Rival Nemesis MXVII-10K Gun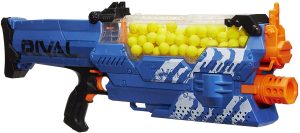 The Nemesis uses high-impact rounds so it gives a bit of a different feel from dart blasters.
The included hopper that feeds directly into the gun holds a whopping 100 rounds and is fully motorized. It's very easy to load, just slide open the hopper and feed the rounds in by hand. Afterwards, you're ready to go with rounds that can reach a speed of 100 feet per second.
There's also a tactical rail for the addition of an accessory of your choice.
As part of the Rival series, it can come in either Team Red or Team Blue versions, so make sure to coordinate with your team and ensure you are all properly equipped with the right gear before heading into battle.
Pros
 Incredibly large capacity
Color-coded gun and rounds make team battles more interesting
Hopper is good for storage
Cons
Hopper loading system might make the last few rounds a little difficult to fire from a stationary position
6. Rival Prometheus MXVIII-20K Gun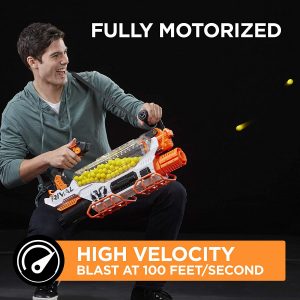 The Prometheus can be thought of as a supercharged Nemesis. Holding double the load, 200 high-impact rounds, it's almost too much ammo, some might say. It's also got one extra tactical rail over the Nemesis. It's almost like having two Nemeses in one.
As part of the Rival series, it comes included with a blue strap and a red strap so you can easily designate which team you're on.
Prometheus can fire up to eight rounds per second at a velocity of 100 feet per second, so you can really put the pressure on with this one.
The battery for this one is also rechargeable, so instead of having to replace the batteries when they wear out, you simply recharge it. Great for reducing waste.
Pros
30 secs to shoot all the bullets using full automatic
Huge capacity at 200 rounds
Rechargeable NiMh battery
Two tactical rails for accessories
Cons
Battery is specific to the Prometheus and other models cannot be used
7. N-Strike Mega Mastodon Fully Automatic Nerf Gun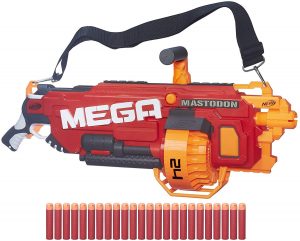 The Mega Mastodon is a chunky gun in the Mega range of the N-Strike series, which uses Mega Darts. Much larger than Elite Darts.
It uses a flywheel mechanism that holds 24 mega darts and has a total of three tactical rails. The firing distance is reported to be up to 100 feet. The mega darts also whistle through the air to give a nice imposing warning to your enemies about what's about to happen to them.
It's a little on the heavy side, at nearly 8 pounds, but this isn't surprising given that it's named after the extinct mastodon which was certainly an enormous mammal.
Pros
Large size can be quite intimidating to opponents
Mega darts make quite an impact
Three tactical rails for adaptability
Cons
Heavy weight might be hard to overcome for some
8. Fully Automatic Nerf Rival Khaos MXVI-4000 Blaster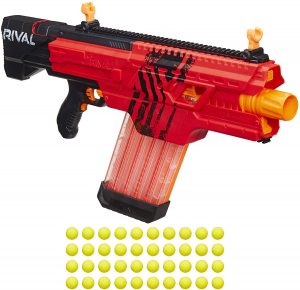 The Khaos features a lightweight design but boasts great firepower in the form of a capacity of 40 high-impact rounds.
It has two tactical rails; one long one on the top, and a smaller one on the bottom, just below the muzzle. The top tactical rail also has two flip-up sights for better accuracy.
Its clear clip is a great way to see exactly how many rounds you have left if you need to change tactics in the middle of a firefight.
Being part of the Rival series, they come in Team Blue or Team Red colors to differentiate between teams. Having a few of these in a team battle is a recipe for some great action.
Pros
Large capacity in a lightweight design
Integrated sights leave tactical slot open
Clear clip to always be aware of current ammo amount
Cons
Short tactical rail limits options for accessories
9. Nerf N-Strike Elite Rhino-Fire Blaster Gun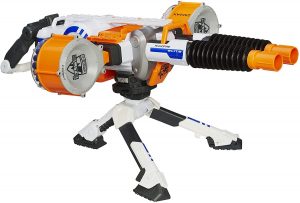 The Rhino-Fire uses a dual clip system with two loading bays, and is compatible with both clips and drums to load your ammo. It comes with two 25-dart drums. Using two 50-dart drums however, means you can have up to 100 elite darts ready to go.
The two barrels will fire shots alternatingly, one pulling back while the other one fires. This is great to see in action and can really get your blood pumping.
This also comes with a tripod in the case that you need stability in your battle. It's removable so you can remove it if it's not necessary for your current needs.
The darts fired from the Rhino-Fire can travel up to 90 feet. It also sports a whopping four tactical rails for extreme customization with your accessories.
Pros
Intimidating for opponents
Dual loading bays give large ammo count
Tripod support gives further customizability
Cons
Difficult to use hand-held, mainly designed for stationary firing
10. Fortnite AR-L Nerf Elite Dart Blaster Semi Automatic Gun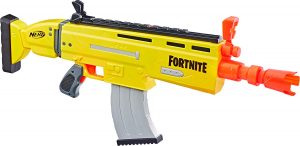 Based on the legendary assault rifle form the Fortnite video game, this dart blaster brings Fortnite into the real world. It features a tactical rail with two flip-up sights and a shoulder stock.
This gun comes with 20 Fortnite Elite Darts. They are similar to elite darts, but have special colors specific to this Fortnite version.
This is a fairly simple blaster with not too much going on, but sometimes simple is best. You don't need to worry about huge clip sizes or clunky drums, you just point and shoot. A 10-round capacity and fairly light frame makes it great for mobility and a wide variety of situations.
Pros
Perfect for fans of Fortnite
Simple design and color scheme, not too busy
Solid performance
Cons
Non-standard muzzle means barrel extension accessories may not work
Might appear too simple for some
Automatic Nerf Gun Buying Guide
So if you're looking to get a new Nerf gun, there are lots of things you want to consider. Depending on whether you plan to play with it by yourself or with friends, whether you're buying for yourself or as a gift for someone else, and you might even want to take into account your play area.
Here are some things to look for when deciding which Nerf gun to get.
Ammo Type
There are three main types of ammunition for Nerf guns. Traditional/Elite Darts, Mega Darts, and High-Impact Rounds.
Elite Darts are the most common and most iconic. Everyone knows what they look like, and most people have even been hit by them. Small foam cylinders tipped with soft rubber that feels mildly annoying to get shot with. There are also the suction-cup versions will can stick onto certain surfaces, though these are less common nowadays.
Mega Darts are, simply, larger versions of the regular darts. These pack a bigger punch, and the blasters that use them tend to be on the bigger side, also, so there's also a bit of a statement to be made with using the mega darts with a compatible blaster.
High-Impact Rounds are a little different; they're foam-shaped spheres which behave a little differently than darts do, so you might find these more fun to use than the darts. They tend to fly off and roll in several different directions after hitting their targets, so be prepared to collect them afterwards.
Size and Ammo Capacity
There are small guns and there are big guns. Likewise, some guns will have a small ammo capacity while others can go into the hundreds. But bigger doesn't always mean better. You could very well want a smaller blaster depending on the type of arena and game you're playing.
But then there's always something to be said about going out onto the battlefield with a huge gun and just firing off hundreds of Nerf rounds towards any unlucky opponent who happens to be in the way.