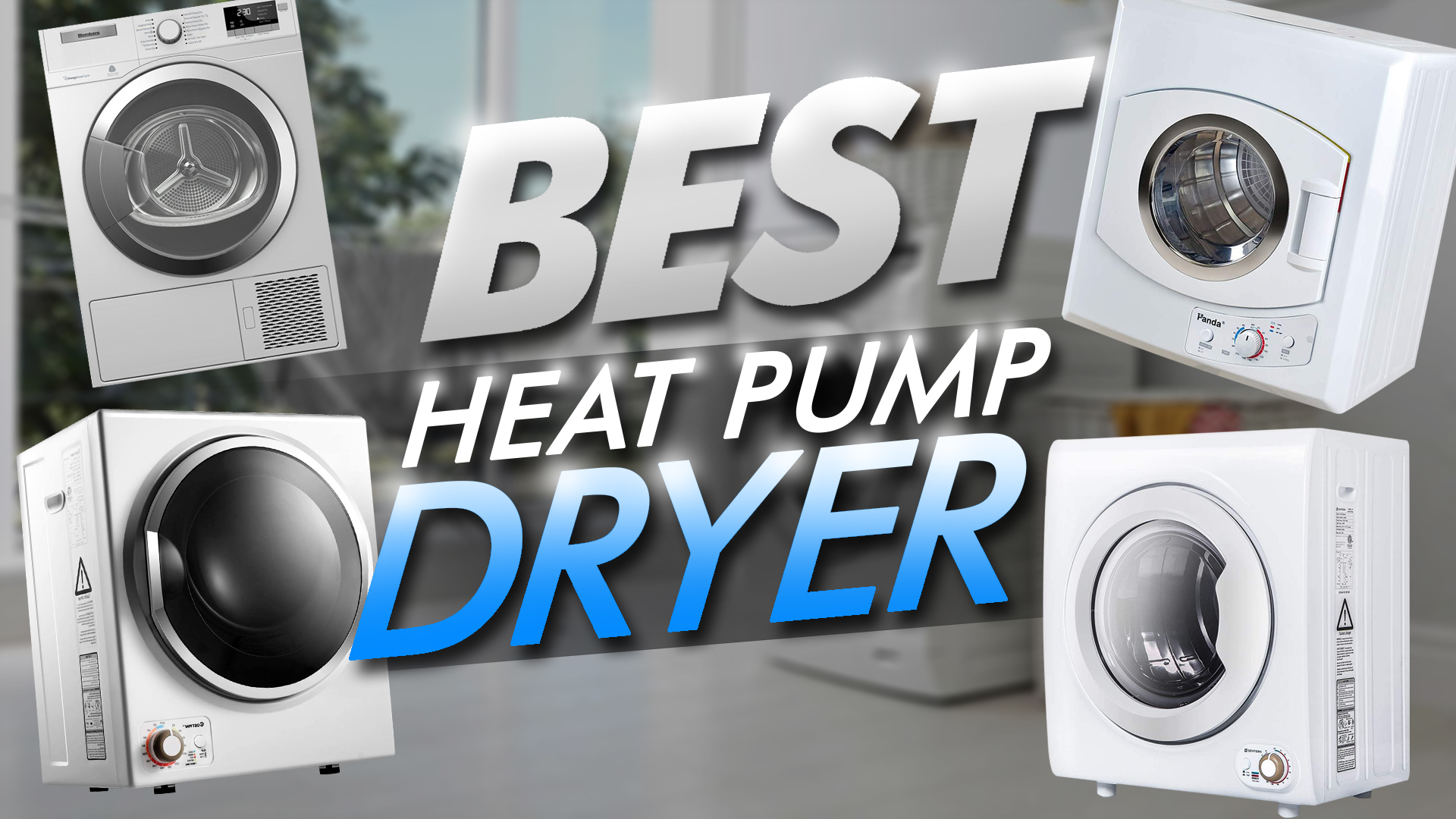 Also see: Best Tumble Dryers [Vented or condenser dryers]
Best Heat Pump Dryers
1. Blomberg DHP24412W 24″ Ventless Heat Pump Front Load Electric Dryer with 4.1 cu. ft. Capacity Bi-Directional Drum Action and Child Lock in
This ventless heat pump dryer is a friendly machine for your clothes. It allows retaining the moisture of your clothes and preventing them from getting dull after too many washes.
The machine comes with more than 16 functions to go with different types of clothing and drying techniques.
It is a soundless machine, with child lock. The bi-directional drum action drying prevents the clothes from getting too many fold lines which make it easier to iron them later.
Moreover, the users are quite satisfied with the performance of the machine, taken the price and admirable appearance.
pros
Bloombergs Heat Pump Dryers are energy efficient.
They cost considerably less money on bills
They are available in full-size
These are compact units to easily fit in your apartment rooms
They dry with adding a gentle touch to your clothes
Cons
Heat emitted within the surrounding needs an exhaust to dispose off
Bloomberg's product are less noisy but they can take overtime when it comes to drying clothes.
2. Panda PAN60SF-01 Compact Portable Dryer 3.5cu.ft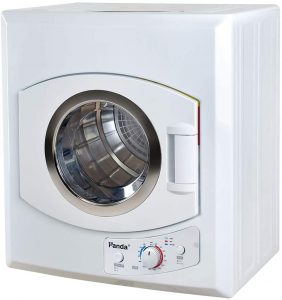 Panda dryers are known to be portable and small, but this model is the largest one at 3. 5 cubic feet capacity. This tiny dryer may be compact, but it is capable of quickly drying clothes, blankets, and other laundry. Due to its size, it is ideal for small homes, plus it is nicely designed so it will blend in perfectly in any room.
Aside from having a stainless steel drum, it also has a transparent porthole door, so you can monitor your laundry. It also utilizes different great selections for better drying. The package also includes a wall mounting bracket and a removable lint filter for easy cleaning.
pros
Compact and portable

Can be easily mounted on a wall

Stainless steel drum
Cons
A bit loud when drying clothes
3. LG WM3997HWA Ventless 4.3 Cu. Ft. Capacity Steam Washer/Dryer Combination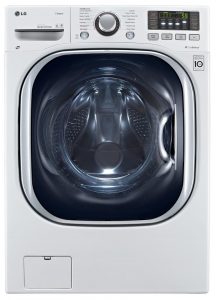 The LG WM3997HWA Dryer is the true definition of versatility and performance. Though it does have a space-saving build, this 27-inch washer and dryer combo is still capable of handling heavier loads. Thanks to its large 4.3 cubic foot tub, you are sure to wash your laundry loads in one go.
 This dryer is also equipped with LG's TrueBalance Anti-Vibration System. This feature minimizes the tub movement's noise so you can wash and dry in peace. It is also utilized LG's TurboWash technology that can save you over 20 minutes when loading massive loads.
Unfortunately, this dryer is expensive, but when you think about its features and its 10-year limited warranty, the price tag is worth it.
New Version Available

pros
Has an NSF-certified Sanitary cycle

Control panel has a dual LED display for ease of use

Comes with a 10-year limited warranty
Cons
Expensive

High energy consumption
4. Equator EZ 4400 All-in-One Combo Ventless Heat Pump Dryer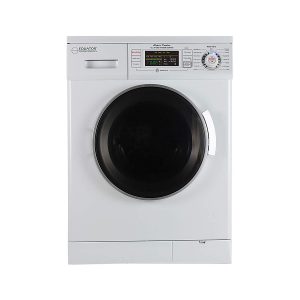 Equator Advanced Appliances has been a pioneer in the laundry appliance industry since 1991. This company has gained accolades from different awarding bodies, so the Equator EZ 4400 All-in-One Combo Washer-Dryer making to this list is not surprising at all.
The EZ 4400 N is one of Equator's advanced compact washer-dryer combos that sports upgrades like Quiet function and Dual Venting Fan for quicker drying.
This heat pump drying machine also boasts a user-friendly control panel that can be easily accessed via a 2-step operation. This dryer is also wide enough to take the laundry load as massive as 13 pounds.
pros
One year labor and parts warranty

Big tub to accommodate larger loads

Has dual fans for faster drying
Cons
It can't thoroughly dry big laundry loads like a queen size comforter
5. Whirlpool WHD5090GW 24″ 4.3 cu. ft. True Ventless Heat Pump Compact Dryer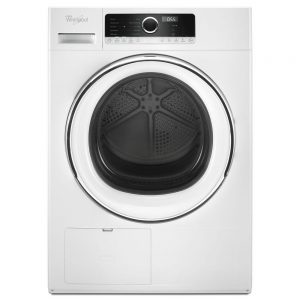 If you have limited laundry space at your disposal, then the Whirlpool WHD5090GW is one of your best best. Thanks to its space-saving design and ventless design, it is easy to set this dryer on limited space. Because this is a ventless heat pump dryer, it is also energy-efficient and gentle on the electric bill. What it does is that it recycles air while capturing moisture so your laundry sessions will be convenient and efficient. 
This 4.3 cubic feet compact-sized heat pump dryer though compact can still perform brilliantly. Thanks to its Wrinkle Shield Option, your laundry will have fewer wrinkles, so your clothes will come out fresh and crisp.
There is also the Refresh Cycle Refresh, Baffles Care, Wool Cycle Keep, Bulky Bedding Cycle, Air Dry Cycle, Gentle Dry, and the X-Dry cycle. Thanks to this cycle, you are sure to find the best setting in drying your laundry.
pros
Compact design so it can be easily fitted in your home

Different cycle setting for different kinds of loads

Stainless steel tub
Cons
A bit noisy while spinning
6. COSTWAY Compact Laundry Dryer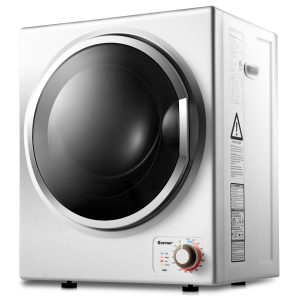 Perfect for smaller homes, COSTWAY creates compact heat pump tumble dryer solutions.
Though not as big as other dryers on this list, it still boasts a 10 pounds load capacity. Ideal for small families, this dryer utilizes four modes for better drying. By choosing the right drying mode according to the type of load, you are sure to get the most of its drying capabilities.
The tub itself is made of durable stainless steel while the door is see-through so you can monitor your loads. It also has an anti-wrinkle so you won't have to worry about wrinkled clothes.
There is also no need to worry about waking the whole household during late-night laundry as it spins quietly at only 44dB.
pros
Anti-wrinkle function

Stainless steel tub

Compact design

Quiet during spins
Cons
High power consumption

Can not accommodate bigger loads
7. Sentern 2.65 Cu.Ft Compact Laundry Dryer with Wide Heating Selection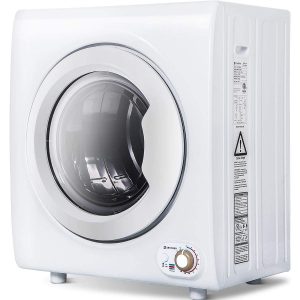 The Sentern Compact Laundry Dryer is a convenient addition to your household appliances, especially if you are particular with practicality. Its key features are designed to offer all of the basic capabilities of a standard size dryer on a smaller package.
It has a wide heating selection to ensure that your loads are adequately dried. Just choose the correct mode according to the type of laundry you are loading, and you are good to go. It also features an Anti-Wrinkle setting, perfect for clothes that are prone to crumples.
pros
Temperatures can reach up to 140 degrees Fahrenheit

Quiet spinning operation

Compact design
8. Kenmore Electric Dryer with Steam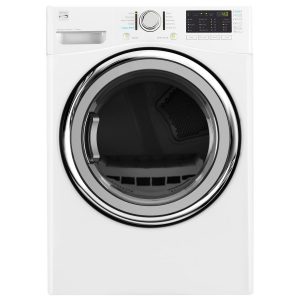 The Kenmore White Electric Dryer with Steam has gone great lengths to ensure that doing your laundry is hassle-free. This dryer is designed to handle all sorts of laundry, from delicates to heavy bedding. Thanks to its dual-sensor system, this dryer can monitor moisture levels for efficient drying.
Another great feature of this dryer is its Steam Refresh mode. This feature uses hot steam to clear wrinkles and lessens odors without running the load in full cycle.
There is also the Wrinkle Guard function and the Touch Up Cycle for removing those pesky crumples. Now you can be sure that your clothes will be kept in pristine condition even after the laundry.
pros
Express dry cycle for immediately needed clothes

Has a Dual Sensor Dry feature

NSF-certified Sanitize Cycle
Cons
Not that compact

Installation is not that convenient
What is a Heat Pump Dryer?
How Heat Pump Dryers Work?
We hope this review will help you in identifying the basic functions and essential features of a heat pump dryer.