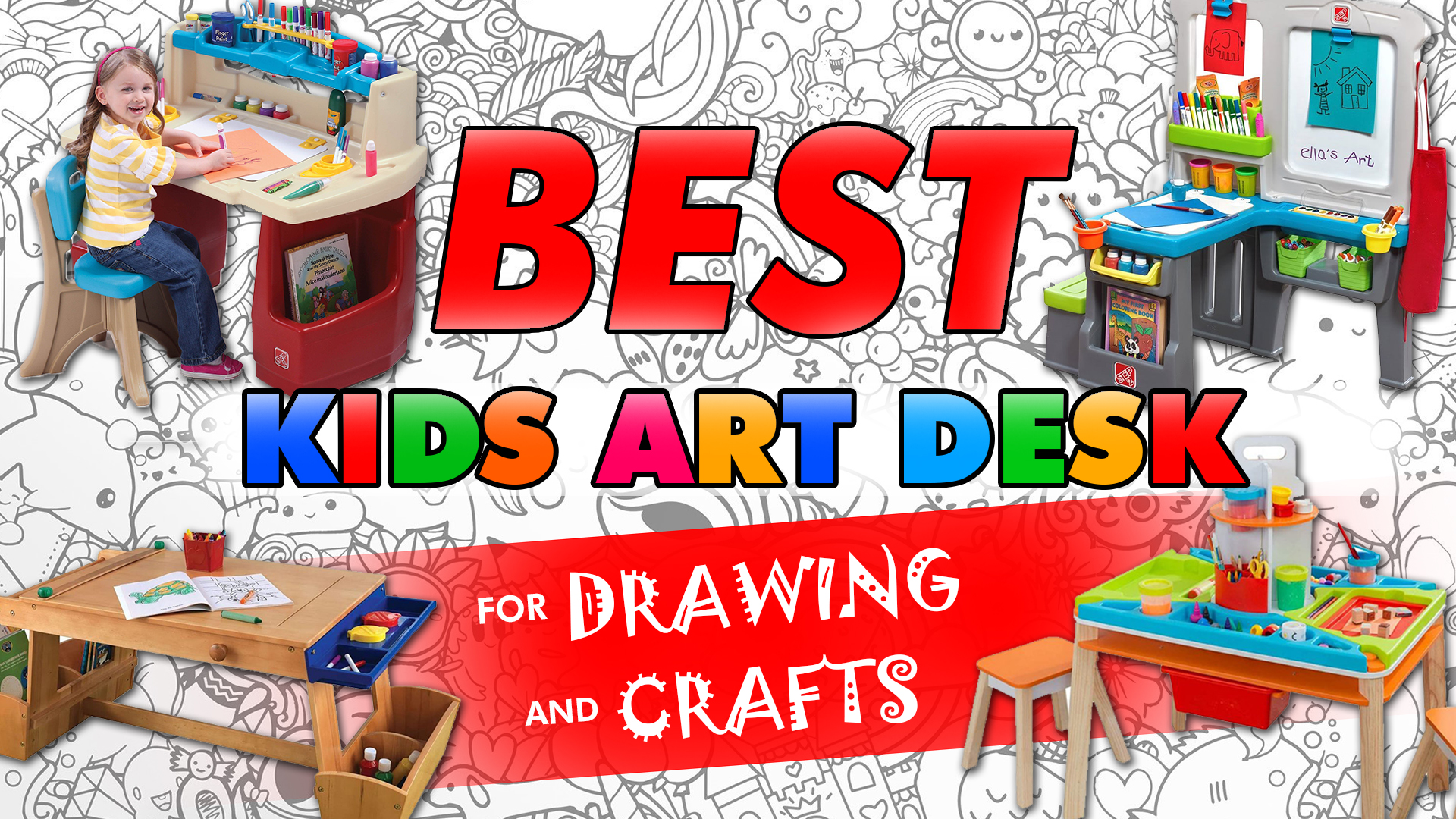 It's important to introduce art to your kids as early as possible. You can do this by introducing them to various art materials like crayons, colored pencils, molding clay, and crafting paper. But sometimes, you need to exert more efforts. This is where the best kids' art desk comes in.
If you're planning to buy an art desk for your kids, here are some options to begin with:
1. Step2 Deluxe Art Master Kids Desk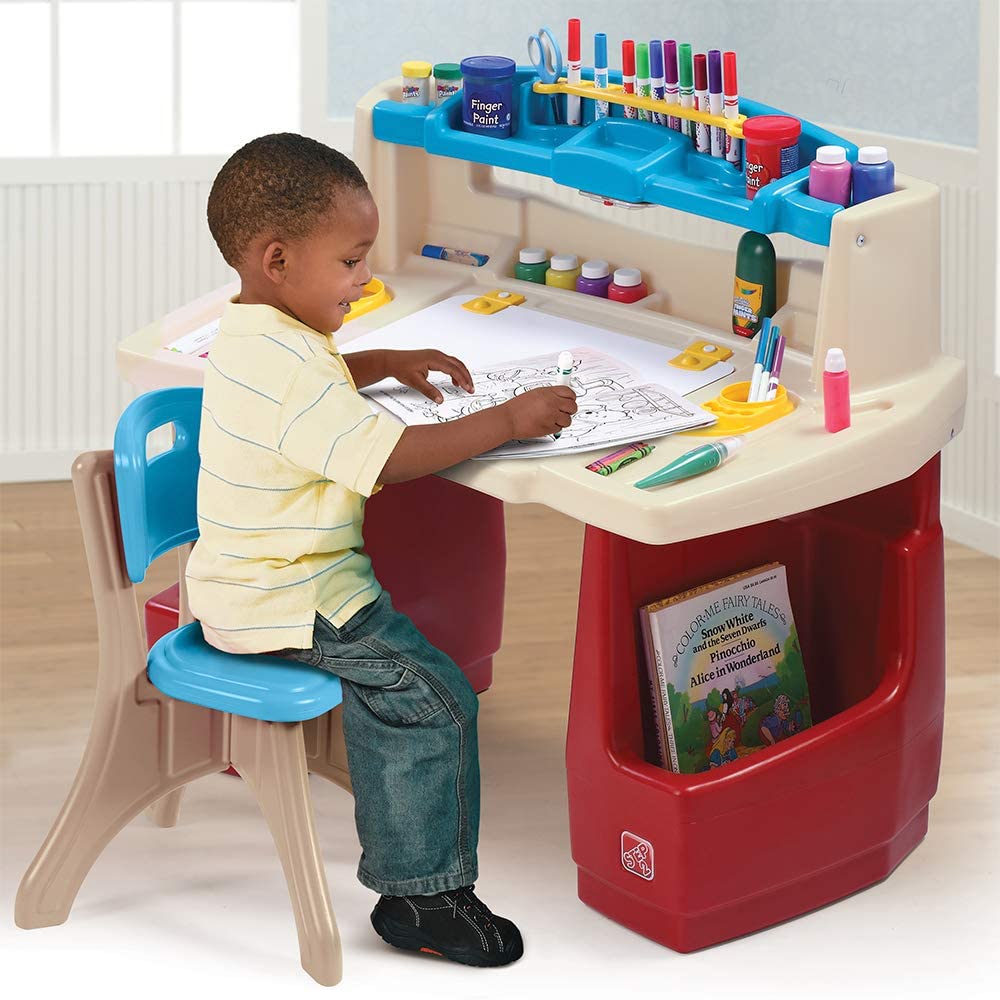 Pros
Compact, all-around art desk for kids
Equipped with a working light for night time sessions
Has dual storage bins and a hidden compartment
Cons
Longer assembly time
Meant for one kid only – siblings must take turns
Creating art starts with big leaps, such as irregular doodles and colors that stretch the boundaries of the paper. If your kid draws stuff in the bed, he or she might accidentally ruin the sheets. The solution: get a decent-sized art desk like Step2 Deluxe Art Master.
The Deluxe Art Master looks like a professional art desk meant for kids. It has a large white art station, along with molded compartments to hold art supplies. This simply means that you don't need additional containers placed on top of the table.
What separates the Deluxe Art Master from common desks is a working light to assist your kid during his or her projects. With this Step2 art desk, evening crafting will always be fun, easy, and tolerable. On both sides of the Deluxe Art Master desk, you will find molded open spaces which serve as immediate storage bins for kiddie books, pencils, and crayons. Beneath the flappable whiteboard surface is a hidden storage for securing special artwork or other essential items. Try leaving treats here and watch your kid beam in delight!
Cleaning the Step2 art desk will take less than a minute because of the smooth and easy surfaces. Just take a wet cleaning cloth and you're good to go.
2. KidKraft Heart Table & Chair Set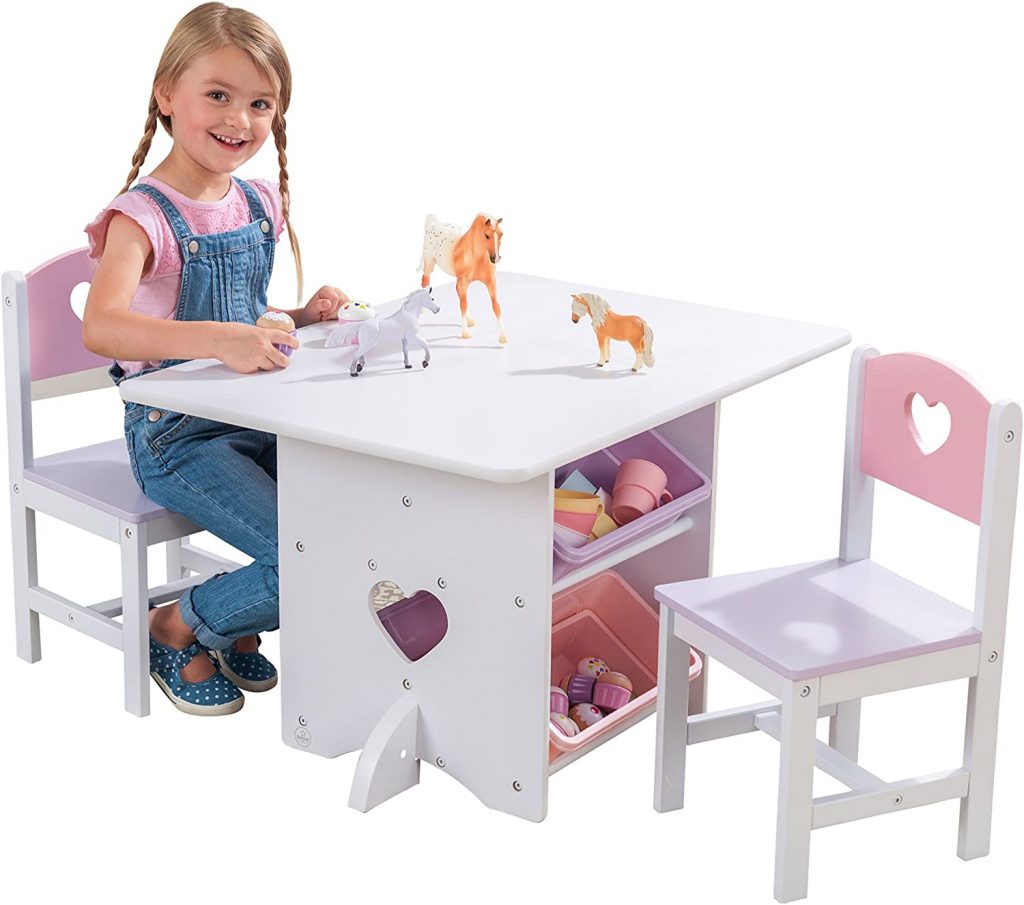 Pros
Appealing purple and pink heart design
Package comes with two adorable stools
Cons
Just a simple table with storage bins and chairs
Not made of total 100% wood
More often than not, spacious tables are great for art projects. You can put as many containers as the table would fit, and there are extra spaces for food. This is the main advantage of KidKraft's special heart and table chair set.
At a simple glance, you will think that KidKraft's desk is just another basic kiddie table for assembly. But its simple style can be a long-term delight for your kids. This KidKraft table has a pink/purple design combination accentuated by a white overall foundation. It's easy for the eyes, helping your kids enjoy their art sessions more.
KidKraft heart table package also offers two purple and pink stools. Siblings or best friends can bond over artistic sessions, thus empowering deeper creativity. Four storage bins are also attached beneath the table, and they can be used to store art supplies or stuff collected by your kids. As you know, kids love to collect things!
Assembling the KidKraft table is easy because there are no complicated parts. You just need to follow the instructions included with the package. The table is durable enough, but it's not made of 100% wood – just medium density fiberboard. Simply avoid bumping the table with extremely hard surfaces.
3. Kids Desk and Chair Set with Height Adjustment and Metal Hook for Schoolbag

Pros
Good ergonomics
Sturdy steel frame
Pull drawer to keep school supplies organized
Metal hook for schoolbag
Cons
There are only two colors available
This desk and chair set come with two colors, blue and pink. The vibrant colors look fun and will surely trigger the creativity of your kids. It is also safe around kids, as the material used is environmentally friendly. Reinforced with a steel frame and made with high-quality medium-density fiberboard, this table set sturdy and durable. It is also quite big and will surely accommodate all your children's learning materials. The desk measures at L26.97″ xW19.29″x H (32.68″-39.37″), while the dimension of the chair is W15.75″ X D14.96″ X H (28.74″-31.89″).
If you want to adjust the table set, it is relatively easy to do, just tweak its tilting mechanism, and you are good to go. This feature is paramount to ensure that your kids maintain a good posture and decrease slouching habits. For additional safety, this desk also has anti-pinch stoppers, leg reinforcement, and an anti-slip mat.
The table set is also furnished with a sliding drawer. Perfect for keeping your kid's school supplies organized. Now you won't have to worry about scattered crayons or papers lying around in their room.
4. Delta Children Minnie Mouse Kids Easel & Play Station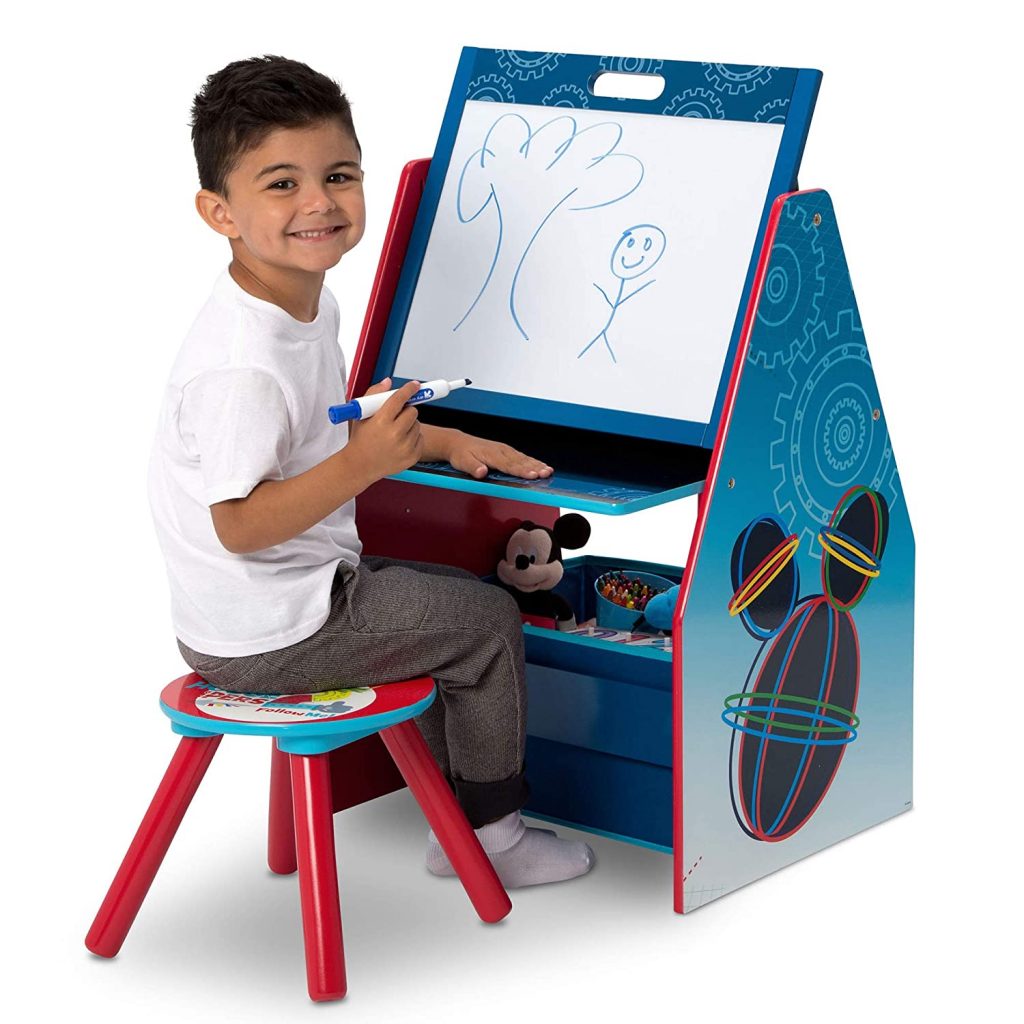 Pros
Cute and appealing Disney Mickey Mouse design
Portable and easy to assemble
The table comes with a small bin for toys and art supplies
Has a magnet board easel for doodling
Cons
A bit smaller than standard kids' art tables
Only one stool is included
Featuring a cute Disney Mickey Mouse design, Delta Children Easel & Play Station is set out to win the hearts of your children – particularly boys. This table looks like a simple foldable easel but it can be turned into a play station in less than a minute.
Easel boards are great for children who want to make doodles of all kinds. With the Delta Children table's retractable magnetic easel, your kids won't be bored. They can draw for thirty minutes then switch to an hour (or more) of regular table playtime. With simple tables, you need to bring a new easel or a pile of blank papers. Just imagine the clutter!
Beneath the Delta Children table's space, you will find the storage bin. The bin has the same color as the table, effectively contributing to the motif. A stool is also included, and it has the capacity to hold up to 50 pounds in weight. Assembling and cleaning the table is easy enough – perfect for your tight schedule. The Delta Children table met all the safety standards set by CPSC regulations.
You might find the table a bit small compared to other options in the market, but it's just a minor hiccup. On a better side, storing and moving the table won't be a hassle!
5. KidKraft Ultimate Creation Station Kids Activity Art Table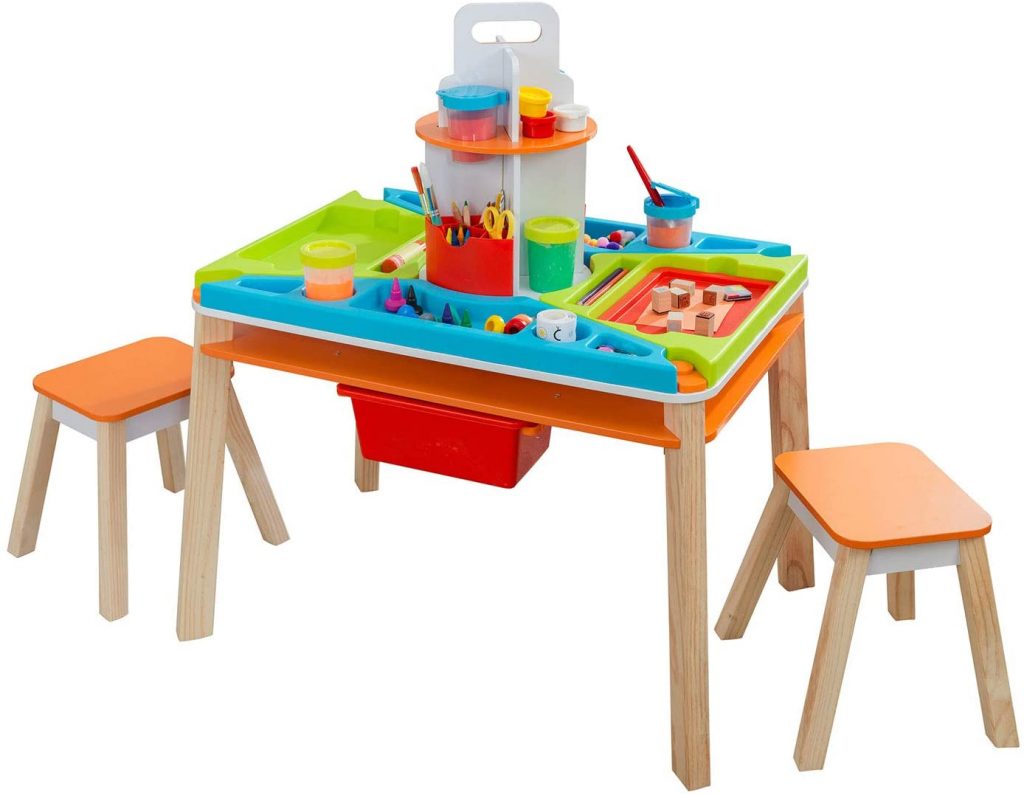 Pros
Beautiful-looking table
Multi-functional and can encourage teamwork
Has a convenient rotating center tower
Cons
Parts come off easily once bumped
Only two stools are included
An art desk with multiple activity stations will bolster the creativity of your kids. Such table is flexible enough, allowing you to dedicate playtime and learning sessions. If you're looking for that kind of desk, KidKraft Ultimate Creation Station is your best shot.
Featuring four stations, your kids will have a wonderful cooperative artistic playtime as long as they please. They can play with blocks, draw figures, mold slime, or even make paper origami. Playtime will be messy, but your kids will cherish the fun moments that you've introduced to them. You can do that with regular tables, but KidKraft Creation Station brings a different level for your kids.
The four stations of the KidKraft table are uniformly colored with green and light blue. The light colors will trigger your kids' creative passion even before they sit down. Another remarkable feature of the KidKraft table is a rotating center tower which includes plastic cups, storage cups, utensil holders, and various dispensers. Beneath the table is a small, convenient storage where you can keep art supplies. Two stools are even included with the package so your kids can start playing immediately. Now, you only have to worry about additional stools.
Regarding durability, you won't have any problems with the Ultimate Creation table. It can withstand continuous usage but the parts come off easily once they're bumped. You can always connect the removed table parts within seconds.
Kids Art Desk With Storage
1. Delta Children Chair Desk With Storage Bin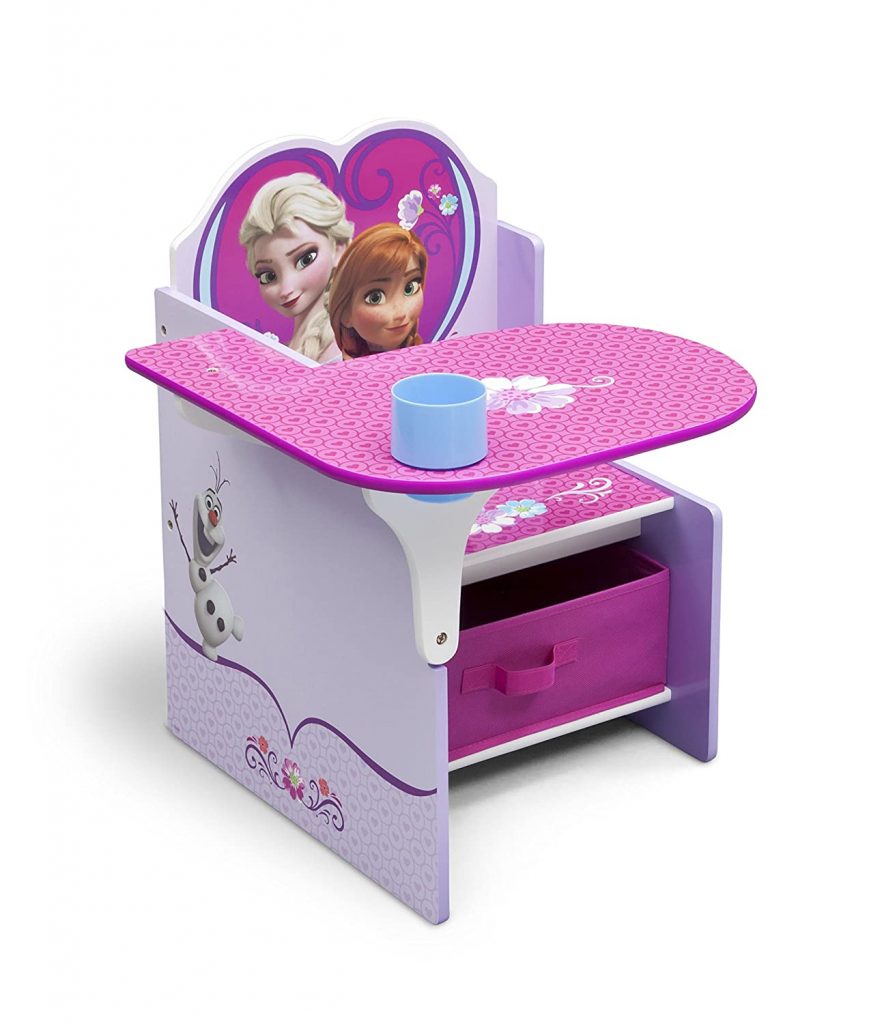 Pros
Simple, comfortable, and multi-purpose deck
Attractive designs
Spacious storage bin
Cons
No easel – just a plain armrest
Doesn't fully encourage cooperative playtime
Disney Frozen has become influential enough to meld into various ways of life. In kiddie art creation, for example, Frozen-inspired desks can be found anywhere. The prices of these desks vary, as well as their quality. If you have a limited budget and you want to get one of the best, Frozen Delta Children desk is acceptable.
This Delta Children table is small and meant for a child between 3-6 years of age. The armrest has a soothing purple color, as well as the seat and the storage bin. On the other hand, the backrest has the figures of Elsa and Anna. The supporting foundation of the desk is white, and enhanced by Olaf's happy figure.
Near the armrest is a cup holder that can fit your kid's pens, crayons, and colored pencils. The desk would've been better with additional visible compartments, but the cup holder does the job. The storage bin beneath the seat is spacious enough to hold toys and other crafting supplies of your kids.
Also, if you don't want the Frozen design, Delta Children offers other options like Cars, Teenage Mutant Ninja Turtles, Paw Patrol, Ultimate Spiderman, and Minnie Mouse.
2. KidKraft Wooden Art Desk With Drying Rack & Storage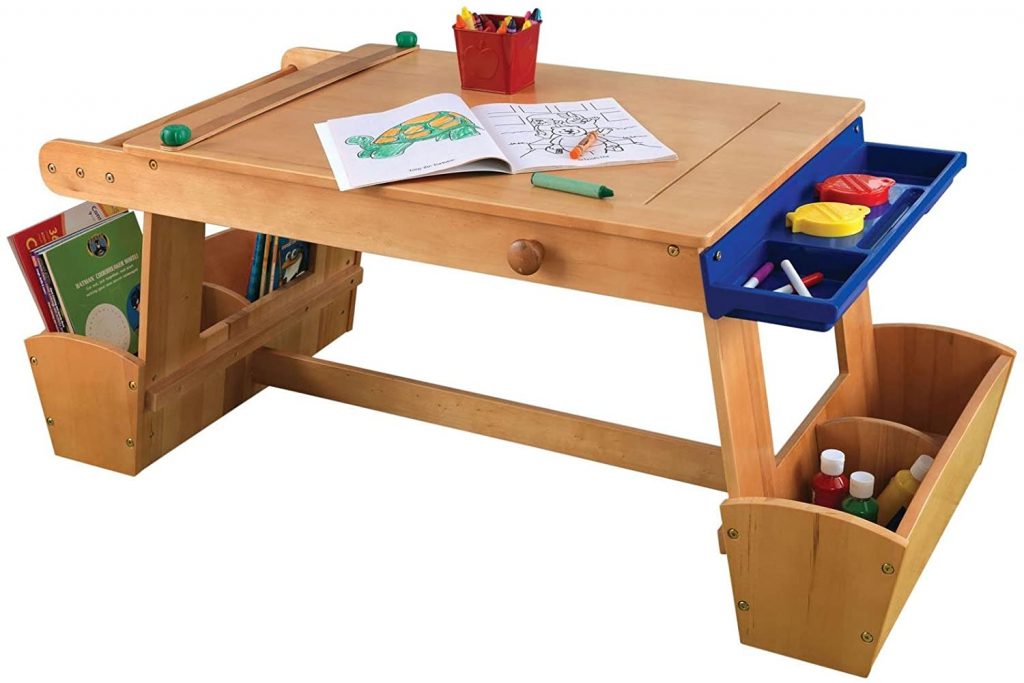 Pros
Has a drying rack and paper roll
Has four separate storage bins and containers
Appealing wooden style
Cons
No standing or retractable easel
Nearly challenging assembly method
Wooden-styled tables are always pleasing to the eyes. A wooden kids' art desk is even more appealing because of color combination and the burst of creativity that it can bring. Don't settle for low-quality wooden art table for kids. Rather, take it up a notch by choosing the KidKraft desk with drying rack & storage.
Best for long-term kiddie art projects, the KidKraft wooden table is a real must-have. Since it has a drying rack, your kids can make different artworks and flaunt them to everyone within 30 minutes or less. This is a unique spin because not all tables have drying racks. The table also feels complete because of its large side containers and four storage bins. With the versatility of this KidKraft table, your kids can work on a big art project simultaneously.
Another unique feature of the KidKraft table is a built-in paper roll. Simply turn the slot to secure any paper on top of the table. This makes any creative session as seamless as possible. Assembling the table is somehow easy as long as you follow the included manual thoroughly.
3. TOP BRIGHT Wooden Art Easel for Kids With Storage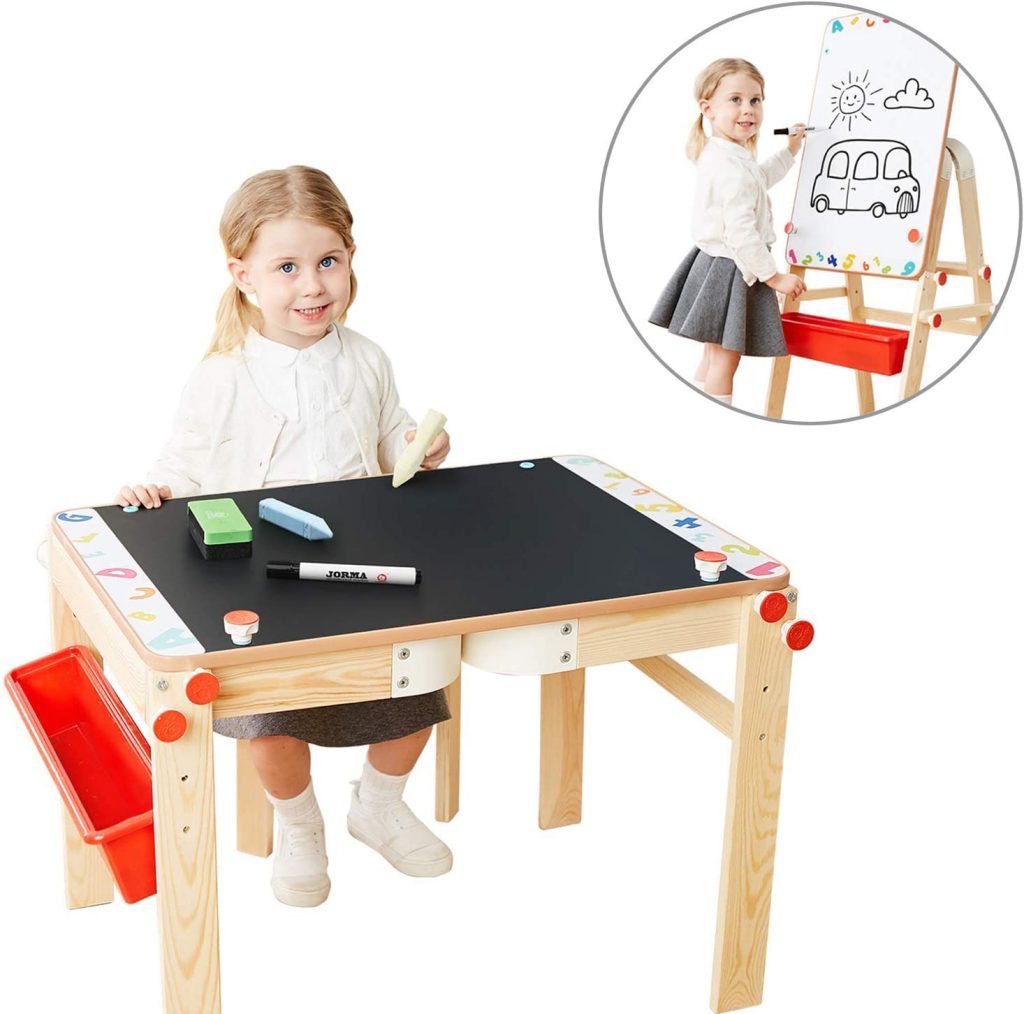 Pros
All-around table and easel
Adjustable height – ensuring ease of access
Cute and useful magnet straps
Cons
The storage bin is a little small
It looks bland, almost like a normal wooden table
A decent cross between a large easel and a convenient table, the TOP BRIGHT wooden art desk is as beautiful as it is useful. Many parents love this TOP BRIGHT art desk because of its usefulness and affordability.
While some tables have only one easel type, TOP BRIGHT has dual options – a chalkboard and a whiteboard. This empowers a multiple creative approach and gives way to many art possibilities. Your kids will also have the option to draw while standing up or sitting down, since the easel is highly adjustable. The adjustment range is between 40.5 and 45.5 inches.
Flexible magnets are also included to hold the paintings of your kids. These magnets look cute and contain some numbers and letters.
TOP BRIGHT's art easel table also has a movable storage bin that can adjust with the table's style. The storage bin's color complements the overall style of the easel desk. The desk's materials are strong enough but they're safe for your kids. Cleaning the TOP BRIGHT desk is also easy and will take only a few minutes.
What if your kids don't want to do any project? Well, you can simply turn the easel desk into a snacking table. Its surface is strong and can handle multiple snack plates and juice glasses. Just watch out for crumbs and food stains!
4. Step2 Build And Store Block & Activity Desk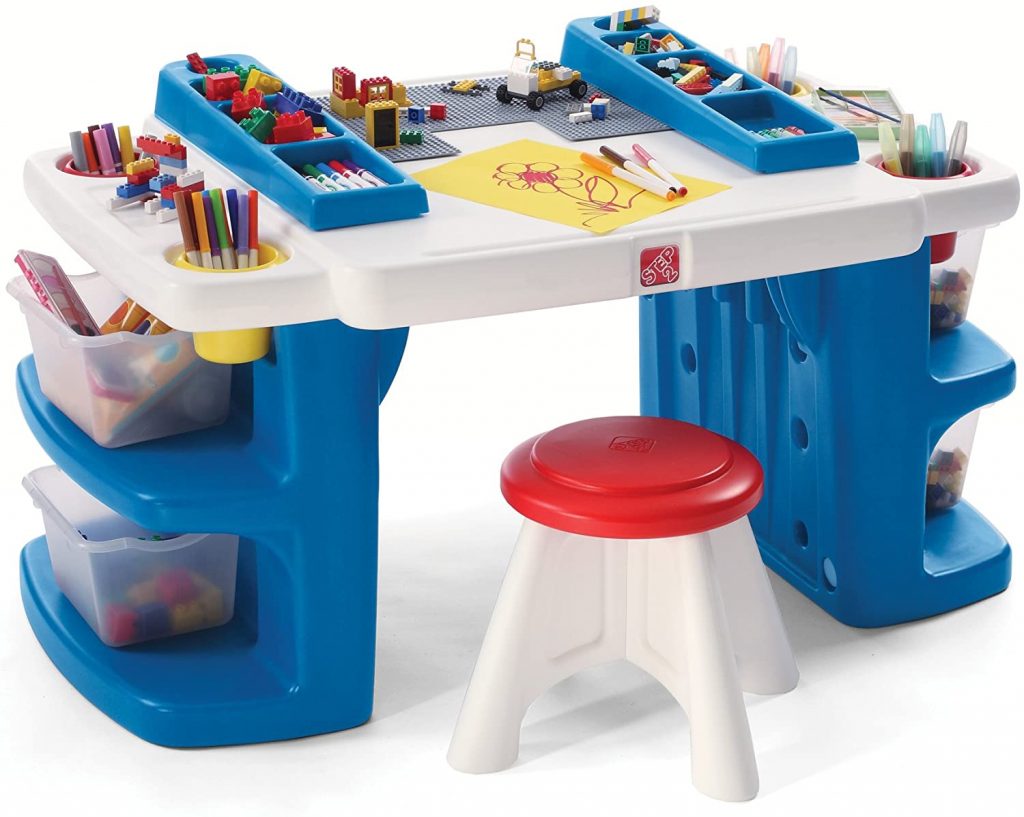 Pros
Easy to assemble
Has numerous storage areas and containers
Has a block building plate for LEGO
Another entry from Step2, the Build & Store Art Desk is a compact table which contains many spaces for your kids' crafting supplies. While other tables appear lacking in space, Build & Store desk worked on such disadvantage.
Featuring four storage areas and multiple containers, this Step2 desk is a nice option for kids with imaginative minds. Additionally, if you bought many art supplies, you can just put them in the table's allotted containers. The cups can hold dozens of coloring pencils, sharpies, and pens at the same time. The containers on top of the table itself are meant to hold small toys like blocks or even some erasers and pencil sharpeners. One downside is that the working space of the desk is somehow small. If you want to make the working space large enough, you can just remove the desk trays.
Step2's Build & Store desk uses simple color schemes like blue, white, red. The table's foundation is mainly blue, while the working space is white. The included stool is red, effectively complementing the whole motif.
The desk also has a base building plate for LEGO blocks. As you're aware, LEGO blocks are useful for fuelling children's creativity, patience, and sense of logic. Now, your kids can alternate between drawing, painting, reading, and playing.
Assembling the Build & Store desk is easy – perhaps one of the easiest tables around. Just make sure that you have a handy screwdriver to fit all of the pieces.
5. Milliard Kids Table With Storage Baskets & Shelves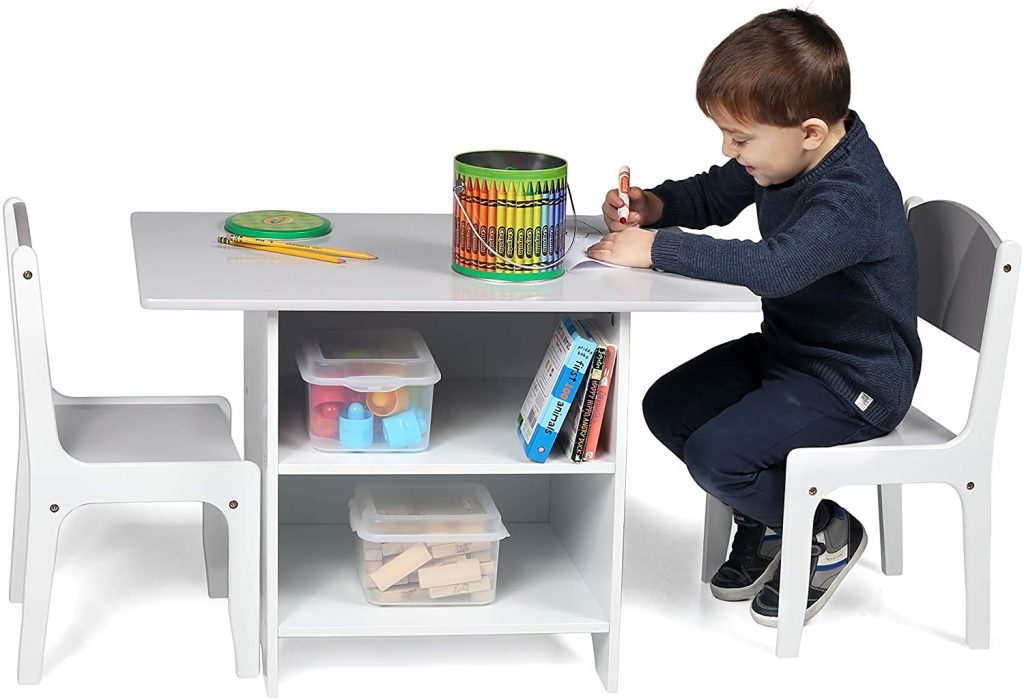 Pros
Sturdy, clean-looking table
Made with strong and safe materials
Has two stools and two storage drawers
Cons
Almost a boring-looking table – your kids might look for extra designs
In this list, the Milliard Kids Table is probably the most 'serious-looking' desk that you'd encounter. Aside from being a dedicated kids' desk, Milliard can function as an extra table for adults.
The Milliard desk has a general white motif that's easy for your eyes. All art supplies placed here by your kids will contribute to the desk's general style and further inspire creativity. The size of the desk is also perfect for kids within the ages 3 and 6. You kid can draw, paint, and play without worrying about cramped spaces and bumps.
The desk's double storage is also a nice place where your kids can stash their finished works, toys, collectibles, and art supplies. Since the table is made of composite wood, you don't have to fear scratches and minor, occasional bumps. The desk was lab-tested, and all materials used are safe.
Milliard desk also comes with two complementing stools to help your kids jumpstart their playtime as soon as possible. The stools are tough but they might feel wobbly at times. Simply remind your children not to jump on the stools. Assembling the whole table is not that hard, but always have your tools ready to save time.
BONUS: 5 Additional Tips to Make Art & Playtime Interesting
Gifting a fancy art desk to your kid is a great leap of parenting. But everything boils down to active participation. You can further brighten your kids' playtime by following our quick tips.
Don't be Afraid to Roleplay
Roleplaying is an important part of playtime. You will notice this as your kids form stories of their own. Why not be a part of the story? Try to set aside one hour of your day for building a story session with the help of your kids. They will truly appreciate the effort.
Consider roleplaying as a form of story-based bonding for your kids. Supplementary materials are everywhere, such as toys, drawings, plushies, and even your kids' favorite characters.
Try Using Clay or Kinetic Sand
Clay is a great playtime material because it can be molded into different things. It's essential for improving the creativity of your kids. Be sure to pick hypoallergenic and high-quality clays so that your kids will be safe during playtime.
Kinetic sand is also a big hit among the kiddie demographic. There are many colors of kinetic sand, and they can spell hours of fun for little tikes. Adults can even use the sand for relaxation. Nowadays, it's easy to order kinetic sand with different varieties. Just check the reviews of the sellers that you want to contact.
Create Unique Surprises
Children love surprises, especially if these surprises are related to toys and colorful things. One surprise that you can do is to leave them a brand new picture book or a brand new art set.
Creativity is important in building unique surprises. You can make surprises every now and then to create spontaneity without rendering the kids bored. Simply do a quick web search to find new tricks related to kiddie surprises.
Offer Points and Achievement Stars
Rewards mean a lot for children. A proper rewards system will encourage competitiveness, creativity, and a great deal of satisfaction. However, you need to use reward systems under the right context. Art is a great example.
A point-based system is a simple way to motivate your children in making art. You can do this by offering custom stickers which pertain to specific achievements. Do this sparingly until your kids learn how to appreciate art wholeheartedly.
Utilize Music & Kiddie Art Shows
Music is influential to art, and vice versa. While the kids are busy with their art projects, try to play a slow yet beautiful music – especially the one that touches the heart. Sometimes, your kids will request lively music for inspiration. Just give what they want, but make sure that the music is kid-friendly.
Art shows are also fun to watch. They can inspire wonder among your kids, and help them develop respect for a specific art style. In Youtube, you'll find dozens of art channels with varying specialties. Start searching!
Recap: Kids art desk at a glance.
Your kids' passion for art is determined by their environment and your influence as a parent. But then again, your kids will be happy if they have a beautiful and functional art desk meant to last for a long time. Just check our kids art desk list – we got you covered!