Question yourself? What makes a Beyblade better than any other on the market? The one sole thing that matters is the strength of the device and the agility with which it moves. While strength, speed, and performance play an important role, the aesthetics of the spin top along with its customizable feature matters likewise.
And, for all those Beyblade lovers out there, this article is going to be a true treat for their eyes. Behold! We assemble some of the most widely accepted Best Beyblades on the market. Take your time and check which of the best Beyblades are missing out on your shelf.
The Best Beyblade in the Whole World for Kids 2020
1. Beyblade Burst Revive Phoenix 10 Friction

Revive Phoenix 10 Friction is one of the best defense-type Beyblade in the world with a highly effective gimmick. It has a two-piece energy layer that can burst twice.
The outer layer known as the Revive Armour is attached to the rest of the layer by a different mechanism than what connects the inner layer to the performance tip.
When the Revive Armour gets detached, the energy layer becomes much lighter and has a smoother perimeter to reduce recoil.
Furthermore, the Revive Armour remains in the stadium to interfere with the performance tips of your opponents, making them break patterns and lose stamina. 
The forge disc on the Revive Phoenix 10 Friction is symmetrical, with five jagged feathers on each side. It has a high outward weight distribution to increase stamina potential. The sheer heft of this disc also grants high attack and defense potential.
When it comes to performance tip, the Revive Phoenix 10 Friction has a ball-like design made of Polyoxymethylene (POM) thermoplastic that dramatically reduces friction. This material is excellent for stamina or defense.
Additionally, it has an outer rubber layer that kicks around the Revive Armour when it is left in the stadium to interfere with your opponents. On the other hand, this tip performs poorly in spin equalization and opposite-spin combinations. 
For a defense type, the Revive Phoenix 10 Friction generates a crazy amount of movement because of its driver. It is very effective against attack types and should be a great addition to your best Beyblade collection.
Information

Type
Defense
Product Code
B-117
Series
Beyblade Burst Turbo
System
Cho-Z Layer System
Parts

Energy Layer
Revive Phoenix
Forge Disc
10
Performance Tip
Friction
pros
Functional gimmick

Great against attack types

High stamina potential

Excellent performance tip
2. Cho-Z Valkyrie Zenith Evolution Beyblade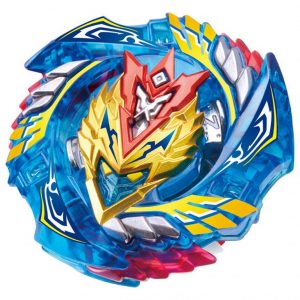 Cho-Z Valkyrie Zenith Evolution has long been renowned as the best attack Beyblade because of its incredible knock-out power and burst blocker gimmick.
It has a bulky energy layer that is fitted with three spring-loaded sub-wings that pop out if you launch it at a high enough spin velocity. One of the wings activates the burst blocker tab that makes it nearly invincible.
However, this Beyblade has higher attack power when the sub-wings are not activated since it maintains a more acute point of contact. 
The forge disc on the Cho-Z Valkyrie Zenith Evolution is composed of plastic, metal, and rubber. Each component is secured by rivets and cannot be separated. The rubber outer frame has gaps that inflict significant damage and is excellent for increasing recoil and attack potential. 
For the driver, the Cho-Z Valkyrie Zenith Evolution features a spiked rubber tip that starts at average height. The Beyblade becomes more and more aggressive as the spikes wear down.
The downside of this tip is that as it starts to act more violent, the Beyblade gets challenging to control, and stamina worsens. 
With its impenetrable burst blocker and impressive attack potential, the Cho-Z Valkyrie Zenith Evolution makes a strong case for the best Beyblade in the world.
Information

Type
Attack
Product Code
B-127
Series
Beyblade Burst Turbo
System
Cho-Z Layer System
Parts

Energy Layer
Cho-Z Valkyrie
Forge Disc
Zenith
Performance Tip
Evolution
pros
Immense attack potential

Burst blocker

Gets more aggressive over time
Cons
Stamina worsens as tip wears down
3. Beyblade B-122 Geist Fafnir 8′ Absorb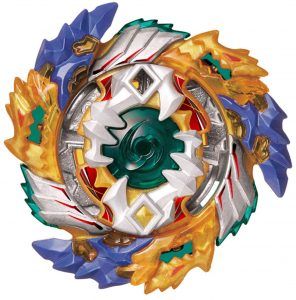 Geist Fafnir 8′ Absorb is one of the few stamina-type Beyblades that can go toe-to-toe with the Revive Phoenix Friction.
It has an energy layer with a triangular perimeter and three side profile dragon heads that retract upon impact.
Moreover, the layer has rubber parts that help in spin-stealing against right-spin opponents.
The only downside to the energy layer is that it is not very effective against left-spin opponents. In this case, the rubber acts as brakes and makes the Beyblade prone to self-bursting or severely losing stamina. 
The driver on the Geist Fafnir 8′ Absorb has a sharp spring-loaded tip surrounded by a free-spinning ring.
It is excellent at reducing friction against the stadium for impressive stamina potential and high burst defense.
The spring-loaded tip has a couple of functions. Firstly, it prevents harsh impacts during launch to avoid self-knockouts. Secondly, it locks in place when fully depressed to create aggressive movement early in a battle.
Overall, the Geist Fafnir 8′ Absorb is one of the most powerful Beyblades available and is an excellent addition to any enthusiast's collection.
Information

Type
Stamina
Product Code
B-122
Series
Beyblade Burst Turbo
System
Cho-Z Layer System
Parts

Energy Layer
Geist Fafnir
Forge Disc
8′
Performance Tip
Absorb
pros
Aggressive at launch

Spring-loaded tip prevents self-bursts

High stamina potential
Cons
Ineffective against left-spin opponents
4. Beyblade B-100 Spriggan Requiem 0 Zeta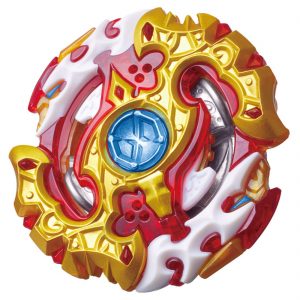 Spriggan Requiem 0 Zeta is a highly versatile balance type Beyblade.
Aside from having a dual-spin energy layer, it features an adjustable performance tip at a standard height with an attack, defense, and stamina modes.
The best way to take advantage of its dual-spin attribute is to set the energy layer to spin opposite to the opponent to maximize defense and stamina potential.
It also features rubber and metal parts on the energy layer to give you spin-equalization as well as an increase in weight. 
One issue with the Spriggan Requiem 0 Zeta is that it can get a bit too aggressive regardless of the performance tip setting. Even on defense mode, it will create a semi-aggressive motion early in a battle.
However, this is addressed by the superior locking mechanism that makes for excellent burst resistance.
With such a versatile energy layer and performance tip paired with excellent burst resistance, the Spriggan Requiem 0 Zeta is the best Beyblade Burst Evolution set up by far.
Information

Type
Balance
Product Code
B-100
Series
Beyblade Burst Evolution
System
God Layer System
Parts

Energy Layer
Spriggan Requiem
Forge Disc
0
Performance Tip
Zeta
pros
Great burst resistance

Highly versatile

Dual-spin energy layer
5. Beyblades Archer Hercules 13 Eternal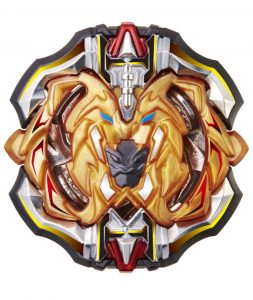 Archer Hercules 13 Eternal is a top-tier stamina-type Beyblade with an unconventional shape. Its energy layer features two bows on either side, which are lined with metal.
At high spin velocity, these bows extend outward to create a more elliptical shape. This gimmick is supposed to increase outward weight distribution and stamina potential.
However, the effects of the bow movement are barely noticeable since it does not extend enough to improve weight distribution. It also has too many contact points for a stamina-type Beyblade. Nevertheless, the shape of the payer is effective at reducing recoil.
Despite being a stamina-type Beyblade, Archer Hercules 13 Eternal has a powerful attack disc. It is an asymmetrical disc that is elliptical and not very well-balanced.
Each side has four protrusions that increase its burst potential, but it rarely makes disc-to-layer contact with your opponents. The height of most burst performance tips is of the same height, so such contact is rare.
The most exciting part of the Archer Hercules 13 Eternal is the driver. It is made of a sharp tip that is standard for most stamina-type Beyblades.
What makes it stand out is the free-spinning dish made of POM plastic that increases stamina potential even further. This feature makes the Beyblade even more challenging to get off-balance.
Information

Type
Stamina
Product Code
B-115
Series
Beyblade Burst Turbo
System
Cho-Z Layer System
Parts

Energy Layer
Archer Hercules
Forge Disc
13
Performance Tip
Eternal
pros
Outstanding stamina potential
Low recoil energy layer
Underrated attack potential
Cons
Too many contact points on energy layer
Ineffective gimmick
6. Hades Kerbecs BD145DS Japanese Metal Fusion Beyblades
Hades Kerbecs BD145DS was featured in Beyblade: Metal Masters. It was used by Damian Hart to defeat Julian Konzern in the final round of Team Starbreaker vs. Team Excalibur.
The face bolt depicts the three-headed hound Cerberus as it takes inspiration from Greek and Roman mythology. It was once popularly known as the best Beyblade because of its stamina and versatility. 
Aside from having one of the broadest energy ring and fusion wheel, the Hades Kerbecs BD145DS also has a unique ability to switch modes. Attack Mode creates a gap between the fusion wheel and spin track where opposing Beyblades could get caught.
However, the gap can cause it to lose balance and spin. On the other hand, Boost Mode gets rid of this gap and is excellent for stamina battles and stealing spin. 
The Defense Sharp is an effective stamina performance tip that has a spike on the bottom. You can make the Hades Kerbecs BD145DS attack furiously if you tilt it slightly at launch. The only downside to this tip is that the spike wears down very fast.
Information

Type
Stamina
Product Code
BB-99
Series
Beyblade: Metal Masters
Parts

Face Bolt
Kerbecs
Energy Ring
Kerbecs
Fusion Wheel
Hades
Spin Track
Boost Disk 145
Performance Tip
Defense Sharp
Cons
Performance tip wears down quickly

Attack Mode is not very effective

Older generation
7. Twisted Tempo 145WD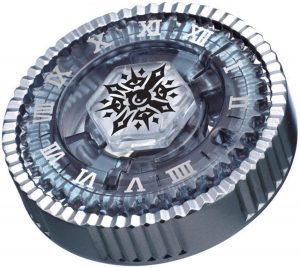 Twisted Tempo 145WD is known for being one of the best Beyblades for defense. Ziggurat first introduced it in Beyblade: Metal Masters.
What makes it stand out is its chunky fusion wheel that can weigh more than an entire Beyblade. The other parts are mediocre at best, but together, they form an excellent defensive Beyblade.
The face bolt and energy ring on the Twisted Tempo 145WD take inspiration from the constellation Horologium, the Latin word for clock. As such, the energy ring has Roman numerals printed on them to emulate a clock. The launcher it comes with also has the same logo on the face bolt printed on it.
While the fusion wheel is excellent for defense, the track and performance tip are very common. These parts may be decent, but they are outclassed by many of their contemporaries.
The Twisted Tempo 145WD also wobbles as it spins since the weight is not evenly distributed in the fusion wheel. Nonetheless, it is still considered by many as the best Beyblade for defense.
Information

Type
Defense
Product Code
BB-104
Series
Beyblade: Metal Masters
Parts

Face Bolt
Tempo/Horogium
Energy Ring
Tempo/Horogium
Fusion Wheel
Twisted/Basalt
Spin Track
145
Performance Tip
Wide Defense
pros
Great for defense

Excellent fusion wheel
Cons
Other parts are standard

Lacks other attributes

Wobbles

Older generation
8. Xeno Xcalibur Magnum Impact Beyblade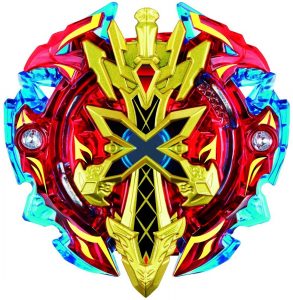 Xeno Xcalibur Magnum Impact is an attack-type Beyblade with a ton of burst power. It features a sword running down the length of the energy layer that protrudes from the bottom to act as a primary contact point.
Although this drains stamina, most of your battles won't even last long. The forge disc is bizarre since it is a combination of metal and plastic. This mix is meant to distribute weight on three corners, but the plastic limits the effects of this weight distribution. 
Another unique thing about the Xeno Xcalibur Magnum Impact is the included launcher. The sword launcher has a long handle for better handling during launch and is claimed to have about the same power as a string launcher.
The included ripcord has two sides, with one having more teeth than the other. One downside on the launcher design is that you have to pull the ripcord outwards.
Typically, a launcher would have you pull backward for more power. Otherwise, it is a stable launcher that provides a good grip. 
The most disappointing aspect of the Xeno Xcalibur Magnum Impact is the impact driver. Since the tip is made of alternating pieces of plastic and rubber, it is tough to control and perform maneuvers. Two different surfaces contacting the stadium simultaneously effectively worsen the friction.
Nonetheless, it has outstanding attack power that can burst your opponents into defeat.
Information

Type
Attack
Product Code
B-48
Series
Beyblade Burst
System
Dual Layer System
Parts

Energy Layer
Xeno Xcalibur
Forge Disc
Magnum
Performance Tip
Impact
pros
Powerful burst attacks

Unique launcher
Cons
Hard to control

Low stamina

Ineffective weight distribution
9. Beyblade Model B-104: Winning Valkyrie 12 Volcanic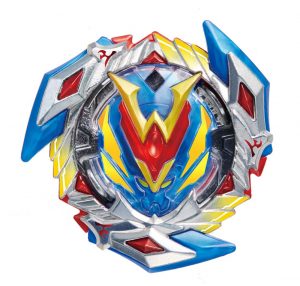 Winning Valkyrie 12 Volcanic is an ultra-aggressive attack-type Beyblade that can deal a ton of damage to your opponents.
It features three large wings on the energy layer as the primary contact points for high knock-out and burst attack potential.
Additionally, it has a very secure locking mechanism that significantly increases its burst resistance. You can also choose to fit a level chip underneath the energy layer to improve balance further. 
The forge disc on the Winning Valkyrie 12 Volcanic is another exciting piece. Although it is incredibly light, it has a very aggressive design that is capable of damaging layers that make contact with it.
However, it has a meager attack, defense, and stamina potential because it is so lightweight.
With regards to the performance tip on the Winning Valkyrie 12 Volcanic, it is a super tall driver that features a tilting, free rotating, and a textured flat tip design. The broad surface of the tip makes it move around the stadium violently for massive attacks, but it also puts it in danger of self-knock-outs. 
Despite its drawbacks, the Winning Valkyrie 12 Volcanic is arguably the best Beyblade Burst Turbo attack-type set up.
Information

Type
Attack
Product Code
B-104
Series
Beyblade Burst Turbo
System
Cho-Z Layer System
Parts

Energy Layer
Winning Valkyrie
Forge Disc
12
Performance Tip
Volcanic
pros
Great burst resistance

Very aggressive

Massive attacks
Cons
Very low stamina

Prone to self-knock-outs
10. God Valkyrie 6Vortex Reboot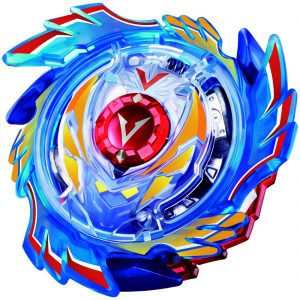 God Valkyrie 6Vortex Reboot is a mildly aggressive attack-type Beyblade with spring-loaded primary points of contact to ideally increase strike force.
Another one of its gimmicks is the removable god chip that you can replace with the Strike God Chip to enhance spring-loaded attacks. The shape of the energy layer is also designed to boost knock-out power early in a battle.
The forge disc and disc frame of the God Valkyrie 6Vortex Reboot add extra protection towards the bottom.
You can also assemble the Beyblade without the plastic disc frame and only the metal forge disc to increase stability.
The weight distribution of the disc is ideal for attack-types. However, its attack potential is hindered by the thinness of the protrusions.
The God Valkyrie 6Vortex Reboot also has a gimmick in the driver. It has a plastic flat-tipped performance tip that automatically switches later in a battle. This tip change is meant to provide a last-minute attack burst.
However, the low spin velocity during the tip switch reduces stamina, resulting in weak hits. You have to launch hard for the Reboot driver to be most effective.
Information

Type
Attack
Product Code
B-73
Series
Beyblade Burst Evolution
System
God Layer System
Parts

Energy Layer
God Valkyrie
Forge Disc
6
Disc Frame
Vortex
Performance Tip
Reboot
pros
Upgradeable

Spring-loaded attacks

Good knock-out power
Cons
Low stamina

Weak attacks late in a battle
Beyblade Launch Tutorial
Should You Buy a Beyblade Battle Set?
If you're new to Beyblades and have no clue about their parts and the different Beyblade types, a battle set is an excellent place to start. These battle sets offer a complete experience right out of the box.
The contents of a battle set usually include a stadium, two Beyblades, and two sets of launchers. Some even have bonus content like collectible cards and interactive features. The best thing about battle sets is that you can keep the stadium while you stack up on Beyblades.
6 Best Beyblade Burst Evolution Battle Sets on the Market
1. Beyblade Burst Turbo Cross Collision Battle Set
The Cross Collision Battle Set is the latest box set from Hasbro. It has a broad base with two sets of rails that make your battles unpredictable and energetic battles.
Since the stadium has a large plate, it can accommodate up to four Beyblades at once for battle royales with your friends. Assembling it is straightforward, and you can choose not to install the top plastic piece.
Another great thing about this box set is that the included Beyblades are customizable. You can combine the fusion layer pieces to create an eclipse with up to eight possible combinations. You can mix and match Left Astro A4 10 Needle-S (Defense Type) and Right Artemis A4 6 Jaggy-S (Attack Type) to find a combination that works best for you.
Their twist performance tips are also capable of battling mode and SlingShock mode. The latter makes them more unpredictable while affecting their stamina.
Overall, this box set has excellent Beyblades and is the best option if you often have friends over to have intense battle royales.
Pros
Customizable layers

Amazing stadium

Unpredictable rails

Excellent Beyblades
2. Beyblade Burst Turbo Rail Rush Battle Set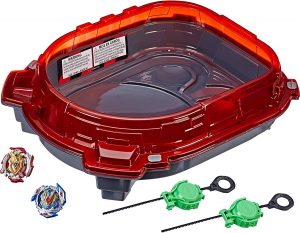 Hasbro released the Rail Rush Battle Set as part of the Beyblade Burst Turbo series as well as the Burst System and SlingShock System.
It includes the unique Rail Rush Beystadium that has a large launch area with rails that whip he Beyblades around the stadium for fast-paced battles. You will surely appreciate the large red piece that protects you from the bursting Beyblades.
The Beyblades included are the Wonder Valtryek V4 12 Volcanic-S (Attack Type) and Z Achilles A4 11 Xtend-S (Balance Type). These are great starter Beyblades, but the ones in this set are different from their Takara Tomy counterparts.
They have an all-plastic energy layer that makes them weigh significantly less. On the other hand, Hasbro may have done this to make the set safer. A metal Beyblade that flings out the stadium towards you is a scary thought.
Nevertheless, they are a great pair that can produce some intense battles in the Rail Rush Beystadium. Also included in the set are two SlingShock Right/Left-Spin Launchers that are exclusive to the SlingShock System.
Overall, the Rail Rush Battle Set is an excellent bundle to kick off your Beyblade collection.
Pros
Intricate stadium

Dynamic battles
Cons
Beyblades have all-plastic energy layer
3. Beyblade Burst Evolution Star Storm Battle Set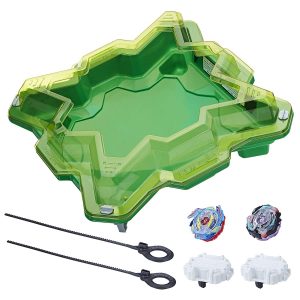 The Star Storm Battle Set was launched as part of the Beyblade Burst Evolution series. It comes with a star-shaped stadium with a broad base to give you plenty of space to work with if your Beyblade is going in an attack motion.
The pockets in this stadium are also smaller, so you won't get knocked into them as much.  With regards to the included Beyblades, they are beautifully designed and complement each other well.
The Genesis Valtryek V3 6Vortex Reboot (Attack Type) has a spring-loaded switch strike for intense attacks. On the other hand, the Satomb S3 2Glaive Loop (Defense Type) reflects these attacks with its spinning wheel ability. Another great thing about this set is that the launchers included already have left spinning and right spinning abilities.
If you want a less complicated stadium and more balanced battles, this bundle is for you.
Pros
Beyblades complement each other well

Launchers have left spinning and right spinning abilities
Cons
Too simple for some players
4. Beyblade Burst Evolution Avatar Attack Battle Set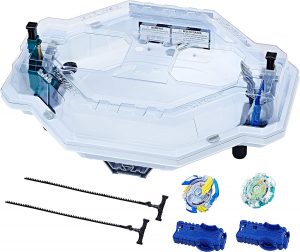 The Avatar Attack Battle Set is an excellent bundle that makes for some interactive battles. It comes with avatars that you can control to smack the opposing Beyblade and burst them, giving you more ways to win.
The set comes with a top plastic piece that has two holes for launching. This piece can take some time to get used to and get in the way of your launch for the first few battles. You have to be very accurate with your launch.
Moreover, this set comes with a lot of parts, so it requires a decent amount of assembly. 
The Beyblades included in this set are the Valtryek V2 Boost Variable (Attack Type) and the Kerbeus K2 Limited Press (Defense Type). As an attack-type Beyblade, the Valtryek V2 Boost Variable tends to move around the stadium. It is easier to smack with the avatar. The Kerbeus K2 Limited Press spins to the center of the stadium, making it hard to reach. 
All in all, the Avatar Attack Battle Set is a good option if you want to participate in unconventional battles that require more than just good Beyblades.
Pros
Unconventional battles

Provides more ways to win
Cons
Takes time to assemble

Plastic piece on the stadium gets in the way of launch
5. Beyblade Burst Epic Rivals Battle Set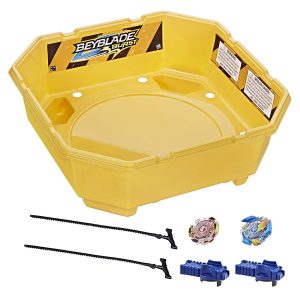 The Epic Rivals Battle Set is the first-ever box set released by Hasbro. It includes a simplistic yellow square base stadium that requires no assembly. You can start playing right out of the box!
Although the stadium is quite large in its entirety, the playing area is rather small. Your Beyblades won't have as much space to work within this stadium compared to the other options.
Moreover, it has four corner pockets that can take momentum off of your battles as Beyblades always get caught in them with a bad launch. That being said, you can expect fewer burst finishes.
The launchers included in the Epic Rivals Battle Set can be combined. This feature is useful if you want to play alone or partake in team battles. The Valtryek V2 Boost Variable (Attack Type) and the Spryzen S2 Knuckle Unite (Balance Type) in this bundle are great Beyblades. They may not look exactly like the Takara Tomy or anime versions, but they have nice looking colors.
Pros
No assembly required

Launchers can be combined
Cons
Small playing area

Beyblades always get caught in the corner pockets of the stadium
6. Beyblade Burst Evolution Battle Tower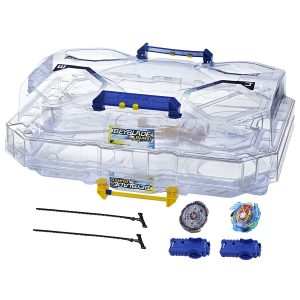 The Evolution Battle Tower is a multi-level stadium that can cater to up to four players. This stadium can also be flipped if you only want two launch holes when playing with a friend.
Since this set has so many parts and layers, the assembly can be a bit tricky. It also includes score counters that double as a stand to keep the stadium stable. 
One of the downsides of the Battle Tower setup is that the Beyblades can be challenging to remove, especially when a battle is on-going.
The four-player side is also much more playable. The reason for this is because the first level has a larger playing area, and the transitions to the second level are much more natural. If you are playing in a battle royale and one Beyblade gets stuck in one level while the others battle it out in the other, the outcome becomes predictable. It is also more suitable for stamina type or defense type Beyblades as they don't move around as much compared to attack types.
However, both of the Beyblades included in the bundle are attack types. They are namely the Noctemis N3 2 Jaggy and the Strike Valtryek V3 6Vortex Reboot. These Beyblades move around too much and often get caught in the pockets of the tower. Nevertheless, they are excellent Beyblades, with Strike Valtryek having switch strike ability and Noctemis capable of switching modes from downslope to upslope.
Pros
Unique setup

Great addition to collection
Cons
Complicated assembly

Difficult to take Beyblades out

Battles can get predictable

Included Beyblades are not best-suited for the tower
The 10 Best Beyblades of 2019
1. Galaxy Pegasus W105R2F
Do you know what they say about the Pegasus, it holds the strength of a thousand suns! And the exceptional design proves it.
It is a blade which is not only stable but it also guarantees to survive longer than expectations when matched with a worthy opponent.
Everything about this Beyblade is precisely accurate. What adds stability to its spin cycles? The W105 spin track feature and not only does it add stability but also fortifies the spin so the blade does not topple off easily.
The tip is performance oriented as it is enhanced using an R2F material. The blades are designed with the specific mentality to give the ultimate hook capability.
With ready hooks and perfect spin, this spinning top Beyblade perfectly outlasts and pushes all sorts of opponent out of the stadium within no time.
pros
Incredible Attack Power
Good Spin Speed
Specialized Tip to Add Stability to Spin
Easy Assembly for Kids
2. Meteo L Drago
Featured in the anime and Manga series (Beyblade: Metal Fury), the all-new Meteo L Drago is the ultimate destroyer and destructor of Beyblades around the world.
It is the evolution of the LW105LF model which is owned by Ryuga within the respective series. What makes L Drago any different than other Beyblades is the inner core energy ring.
It is made up of rubber which provides the perfect stability, enhance performance and adds great defense to the device.
The unique flow spin of this spinning top keeps left spinners away from getting hooked up with the blade altogether.
pros
The Beyblade comes in Two Function Modes: Attack Mode & Absorb Mode
It is 4D Performance Tip Beyblade
When the Stamina is Low; The Tip shifts from HF to S
It comes with a Metal Frame Fit over Energy Ring
Great Stamina as it Steals Energy from Other Beys
Cons
Mostly Spins in the Centre Due to the Strong Design
3. Phantom Orion B.D
This is a Type – Stamina Beyblade which has previously appeared in Beyblade: Metal Fury anime and manga series. This unique Beyblade is controlled using a ball bearing.
The method implies a lot of similarity in functioning just as the Wolborg MS secured within a hard metal shell.
All thanks to the ball bearing design, the Phantom Orion B.D holds a place as one of the top-notch designs which prove to be extremely defensive against all odds.
The metal frame of this Beyblade is crafted with exception to outlast all other Beyblades when it comes to measuring strength.
pros
Very satisfying customer reviews
A high quality durable product
A reliable mechanism which functions on free spin
The machine offers great stamina and incredible stability
Cons
Spin time is limited and up to 4-5 minutes instead of 7 as proclaimed
4. Beyblades Metal Fusion Death Quetzalcoatl 125RDF 4D
If you are looking for a tool of destruction with perfect balance, then the Metal Fusion Death Quetzcoatl is one such product that may sweep you off your feet.
This device has not only appeared in the animated series but has also been discussed many times in manga episodes as well.
The Beyblade is perfect among its kind and includes a performance enhanced tip. Its tip is protected with Rubber Defense Flat (RDF) material which enhances the attack and defense system of the Beyblade overall.
On the other hand, the spinning top represents the planet Venus and comes with a Stamina aptitude. Combining all that and more, this Beyblade becomes the ultimate champion among similar competitors.
pros
This is a great product and comes with an excellent price tag
It is an attractive device with a sophisticated look and feel
The blade spins hard and fast and can easily topple out enemies
Creates an amazing buzz for the audience
Cons
The tip can observe a couple of power rips after continuous use
5. Takara Tomy BB124 Metal Fusion Kreis Cygnus Starter Set
Have you recently begin Beyblading? Are you searching for a product which can help you gain upper hand among competitors? Well the Metal Fusion Kreis Cygnus is the product for you.
This device earned its gratitude from the ultimate Beyblade animated series, "Beyblade:Metal Fury." Not many recognize it, but this is one blade that can twist and turn using two movement patterns.
Based on the angle with which it takes spin cycles, the Beyblade is considered to slide up to 60 degree and give maximum deflection against oncoming attacks. This toy was rumored to be a free-spin top design; however, with its official release, it turned out to be a device not much in support of a free-spin mechanism. In functionality, it does imitate the legendary Diablo (Ultimate Balance Mode).
pros
This is a quality blade capable
It gives devastating blows to opponents
Slides up to 60 degree for easy deflection
It has great defense, power and stamina
Cons
Assembly takes time to put the device together
6. Takara Tomy B-97 Beyblade Burst Nightmare Longinus Destroy Starter Set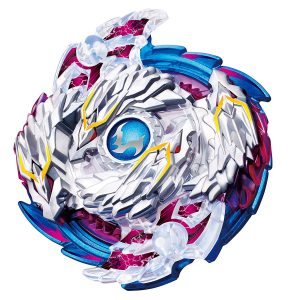 This starter set from Takara Tomy contains one of the strongest attack-type Beyblades you can get today. The Nightmare Longinus Destroy is a two-part Beyblade known for its absurdly high knock-out and burst potential.
Its gigantic energy layer has a built-in disc comprised of a plastic base and two metal dragon heads. These dragon heads move independently from the rest of the layer and increase the attack potential of the Nightmare Longinus every time it clicks closer to bursting. 
To accommodate the attack gimmick, the teeth on the Nightmare Longinus is rather short and take on a unique shape. While short teeth may imply weak burst resistance, the sheer weight of the energy layer compensates for this problem. You can also attach a disc frame as the plastic base on the layer has notches for this purpose.
The two protruding wings on either side of the Nightmare Longinus serve as its primary contact points. Since this Beyblade has a relatively round perimeter, it is capable of creating high recoil.
The Destroy driver on the Nightmare Longinus features a free-spinning bottom plate that grants high life after death potential and improves the overall stamina of the Beyblade. This driver also allows for very aggressive drifting movement patterns owing to the star-shaped tip. Additionally, the free-spinning plate preserves the speed of the driver when it hits the edges of a stadium.   
The Nightmare Longinus isn't an ideal layer when faced with a right-spin opponent. The reason for this is that they will spin together like gears and significantly reduce the recoil and rate of bursts. You can only take full advantage of the high recoil shape and strong knock-out power of this Beyblade in same-spin matches.
pros
High knock-out and burst potential

Aggressive movement pattern

Decent stamina
Cons
Weak burst resistance

Ineffective against right-spin opponents
7. Diablo Nemesis BB-122 X:D 4D System
If you are looking for an ideal Beyblade then The Diablo Nemesis is indeed a treasure. The best thing about this Beyblade is that offers both, strength and defense at the same instance.
The device contains a heavy metal ring located within the center. Due to high recoil, the blade spins faster than customers' expectation.
It becomes a device which lays strong attacks against all type of opponents. The X:D Sharpy tip provides a maximized g force up to 6.16g ultimately making it quite difficult for an opponent to knock out this device off balance
pros
Durable and Reliable Beyblade
Spins Faster and is Highly Performance Oriented
Contains a lot of Stamina
Built on a high recoil system
Cons
Incredible Attack but low Endurance
Performance Limitation: For Exceptional Performance (keep in Ultimate Mode)
8. Beyblade Model BB106: Metal Fusion Starter Set Fang Leone 130W2D
Now most Beyblades aren't specifically designed on a Defense Type system but Fang Leone Fusion Star is one that is optimized to keep you safe within a battleground.
You may have seen this spin top quite a many times in various manga series and anime episodes. What makes this Beyblade any different from other Defense – Type Beyblades is the mode changing capability.
Now you can rearrange your Beyblade as per preference. To activate this bey, one may only require flipping the Metal frame. The base is supported with a W2D bottom and can assist the blade to spin with stability.
Also, it comes in two unique modes; Defense and Counter Attack Mode. It will be noteworthy to mention here that this blade is an evolution of Rock Leone 145WB.
pros
These spin tops are designed for ultimate defense
Comes in two different defense modes
Includes a 4D fusion wheel
This Beyblade is also known as the antagonist of Metal Masters
Cons
Have a plastic screw instead of a metal screw
Stickers may come off soon
9. The Scythe Khronos T125EDS 4D Metal Fusion Starter Set
The ultimate Scythe Khronos is the only Beyblade on our list specifically designed with ultimate stamina.
The Scythe has appeared countless times on the TV show and has proven itself a winner of admiration. The product is one of a kind because of its free-spinning capability.
It also makes up for the perfect Stamina – Type Beyblade on the market list. One of the awesome things about the Khronos is that it function both ways, attack or defense. It has multiple attack modes which makes it a lucrative product to purchase.
Also, the tip is enhanced and the scythe in blade offers great balance to the device.
pros
The Tip is supported with EDS (Eternal Defense Sharp)
The Beyblade comes with different attack types
This Beyblade is tough and durable
The Twisted Tempo offers perfect balance to the device
Cons
Not easy to set up by kids; needs adult involvement
Beyblade is good but launcher needs a bit more work
10. Metal Fusion Flash Sagittario Starter Set BB126
Although licensed as one of the top brands, the Flash Sagittario Starter set is one such blade which can be added to your personal shelf.
Why is that? Because this Beyblade is a limited edition and a standalone product in the market.
The Flash Sagittario is a Defense – Type metal fused high quality top which is designed to resist high impact forces.
It comes in a brand new box and is a very limited collectible. Rumors has it that it was originally owned by Kenta Yumiya but the chances are high that some of you may end up purchasing the wrong one. To make sure, you are not buying a fake device, purchase it only from the Amazon web store.
pros
Adjustable to go into offensive and defensive modes
A rare choice of Beyblade for customers
The Beyblade has the really strong stamina and attack power
Mostly taller as compared to other beys
Cons
Creates stiffly noises upon each spin
A reliable brand name in the line of spinning tops gained fame back in 1999. A guy named Takara Tomy first manufactured and developed a creatively alluring spinning top termed as the Beyblade. As the name of the creator suggests, the main premises of its origin is Japan. The toy relates to a concept of a board game (Battling Tops) developed in 1968 by Ideal Toy Company. However, Beyblade spin tops came into existence later on with the official launch of the mind captivating animated TV series, Beyblade.
2001 marks the date of the official licensing of the animated series by Korean toy makers and by the year 2002, Hasbro stepped into the market with the first Beyblade toy only to be sold internationally. Inspirations pushed Takara Tomy to take a step further and by the year 2008, he released the first Beyblade: Metal Fusion, the first ever identical Beyblade toy.
Most of the credit for the immense popularity secured by Beyblade is due to the fame and recognition it received from the amazing animated series and the remarkable characters involved. A name worth remembrance was the Ultimate Kai. As the fan dome of the spin top toy became internationally publicized, every other fan created a collection of their own. In result, many other toy manufacturers emerged into the market offering highly customized Beyblades.
Check out this website Worldbeyblade.org if you want to host or find a beyblade tournament near you.