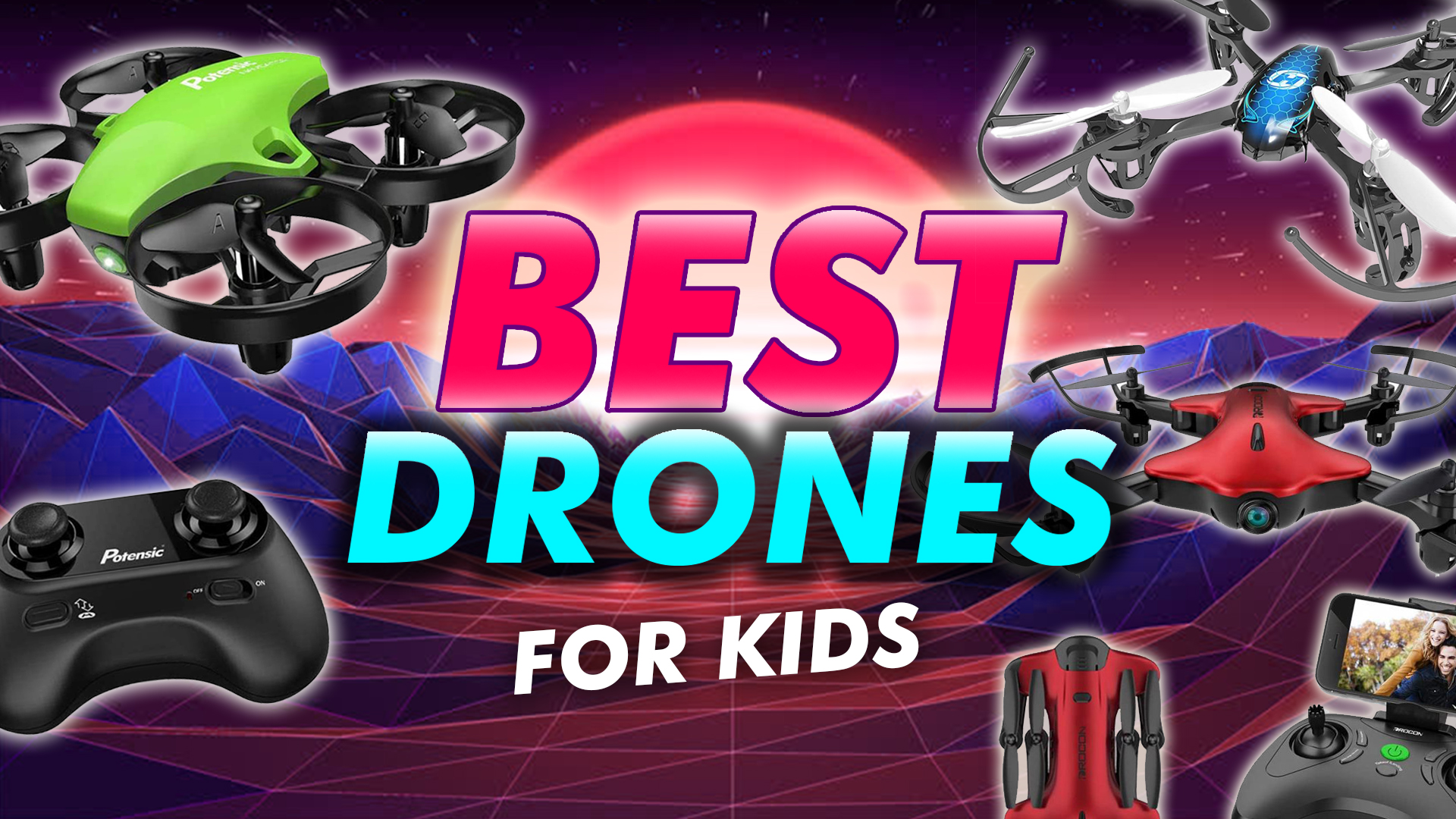 Nowadays, kids are becoming more and more interested in flying drones. If you have a camera drone, then most likely, your kid has asked you for the chance to try it out. Most likely, you're nervous about handing over a pricey gadget to an "inexperienced pilot." But with the persistence and nagging kids have, you'll probably end up giving it to them and hoping they won't break it.
Why don't you get your kids a drone explicitly made for them instead of running the risk of losing an expensive drone? They are much cheaper, and the controls are so easy that it won't take them a minute to figure it out.
Kid's drones make awesome birthdays, Christmas presents, or any other reason or occasion for that matter. They are great for playing outdoors, and, depending on the model you choose to go with, they can also be flown indoors.
If you know a bit about business, then you understand the laws of supply and demand. The rise in drones' popularity has caused a significant increase in the number of kids' drones' manufacturers. With each manufacturer releasing a different model every other day, choosing the perfect drone toy for your child is becoming increasingly daunting.
Safety and ease of use are crucial factors to consider when buying any toy for your kid. Unfortunately, when it comes to drones, the list doesn't end there. To ensure that your kid together with everyone and everything around them is safe while they are playing with the drone, there are several factors that you need to consider. We will discuss the factors that you need to consider when buying the finest drone toy for your children later in the article, but first, let us check the best drone for kids on the market.
Best Drones for Kids: Top 10 Kid Friendly Drones on the Market
1. Holy Stone HS170 Predator Helicopter Drone – The best choice for drone training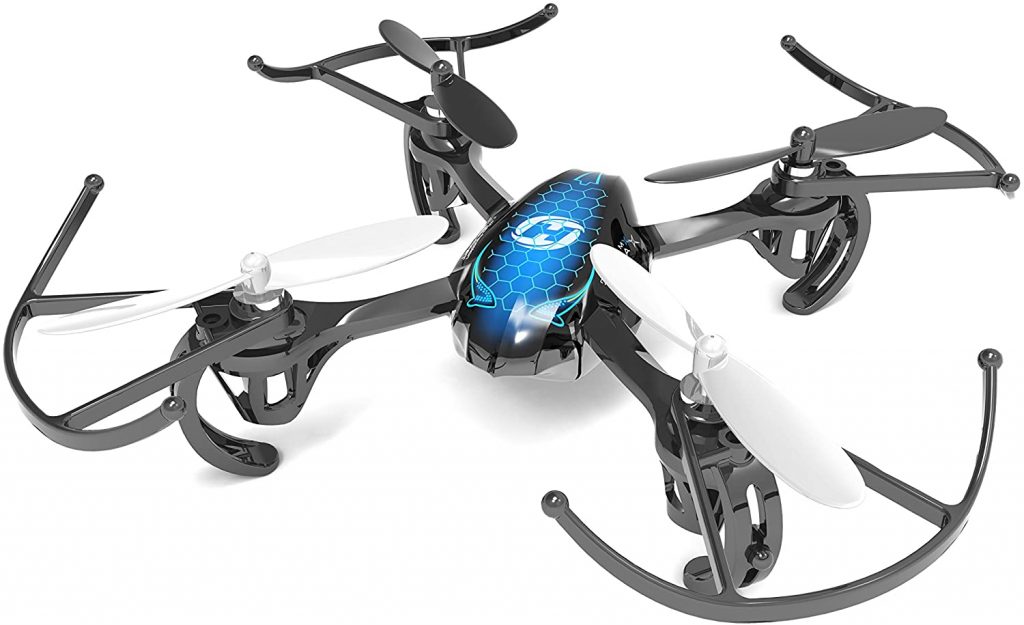 Pros
Cool 3D flips and rolls
Hard to lose
Steady flight
Headless mode
Cons
Limited stability and speed
Has motor control issues
This drone is the best pick for older kids between the ages of 14 to 17. It features a 720 HD camera so your kids can record their drone flight in high resolution.
It features four-speed control modes and a one-key engine start, making it exciting for both experts and beginner pilots. It is also installed with LED lights that are reliable and assist the pilot see it while flying at night. Its batteries are also pretty powerful, so your kid won't have to charge it after every short flight.
The controls are pretty impressive too. With a single keypress, your kid can do amazing (acrobatics) rolls and flips. The 360-degree four-way flip key allows the pilot to effortlessly turn in any direction. Also, if your kids get a little clumsy and lose it, you don't have to worry; this helicopter quadcopter drone comes with a one-key return feature. This feature returns the drone to the position it was launched from by one simple key press.
It has a headless mode control that allows it to be controlled no matter the direction it is facing. In addition to that, it has a cool hovering mode feature that enables it to hover at a stable height. This feature is beneficial when recording videos.
On the downside, some users claim that it is not as classy and fast as other drones of its class. Also, the fact that it is made of plastic, which is a very light material, makes it challenging to fly on a windy day. It also has issues with the motor, making it difficult to pilot and land. That being said, the company has excellent customer support. Whenever you report any issues with the drone, they respond in time.
2. Force1 UFO 3000 LED Mini Drones for Kids – Best small RC drone for small kids.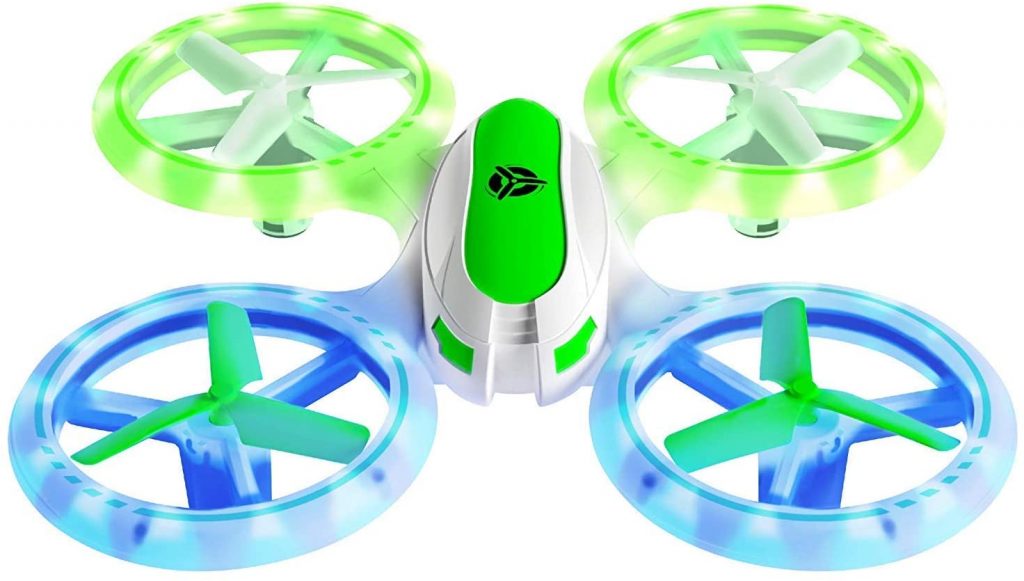 Pros
Easy to control
Great for playing with friends
Cons
Has a low battery efficiency
The propellers are not sturdy
This drone is designed for small kids, and the easy controls can attest to that. It features a joystick that makes controlling its direction seamless and one-key start/stop.
Whether its day or night, your kids will always have an easy time flying this mini drone since it comes with radiant LED lights that make it easy to spot in the dark.
Another awesome thing about this drone is that you don't have to worry in case of a coalition or crash. It comes with strong propeller guards that safeguards its copter blades in case of a crash or when bumping into objects.
This drone is incorporated with an altitude hold feature so your kids can keep it hovering at an unwavering height. The headless mode makes the drone effortless to control no matter which direction it is facing. If your kid likes team playing, then they will appreciate the four-channel remote transmitter. This remote can be used to control several drones, which makes it very convenient in a drone race.
On the downside, some users claim that the drone's battery is not efficient and takes too long to recharge. Also, although it is fitted with propeller guards, messing around with them could cause them to break.
3. Potensic Upgraded A20 Mini Drone – Most fun drone for beginners and kids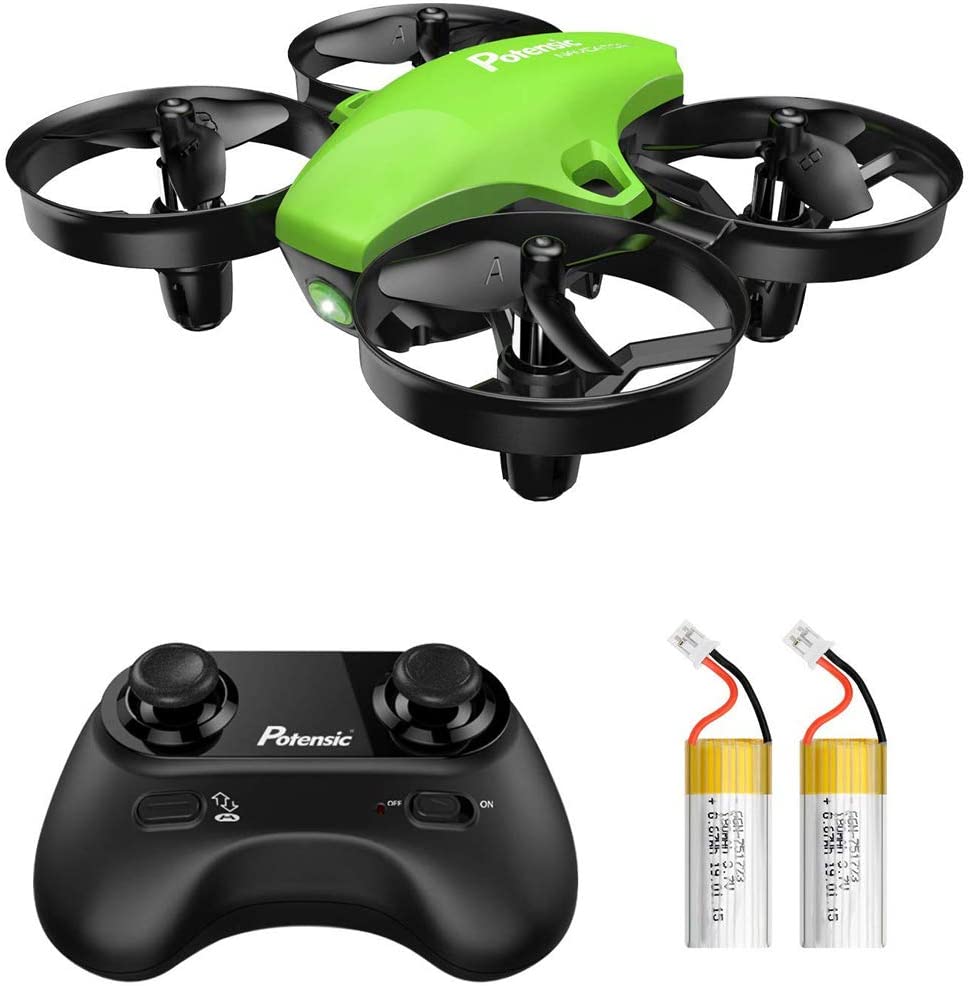 Pros
Stable flight
Easy to fly
Perfect for small kids and beginners
Cons
Hard to swap batteries
Low battery life
This drone is very easy to fly, not to mention the fact that it can reach fast speeds; thus, offering an exhilarating flight experience for both experts and beginner pilots.
One of the most loved features, both for parents and kids, is its altitude hold function. This function enables the drone to maintain a stable altitude, thus making it easier to fly.
Like the other two drones that we have discussed, this one also comes with propeller guards that protect them in case of a collision or crash. It also features an emergency halt button that functions to land the drone quickly in case it develops any issues when in flight.
It has a one-key control for landing and takeoff, which comes in handy for small kids and beginners. Its headless control feature also makes it very easy to fly. All this, coupled with its excellent durability, makes it a pretty awesome drone.
It also comes with two rechargeable batteries and a USB charger. However, some parents complained that the battery charge does not last very long. It is also quite hard to swap the batteries because they have a small plug that is challenging to insert. Its motors can also lose their greasing after a long period of use.
4. Spacekey FPV WiFi Drone – Best drone with camera for kids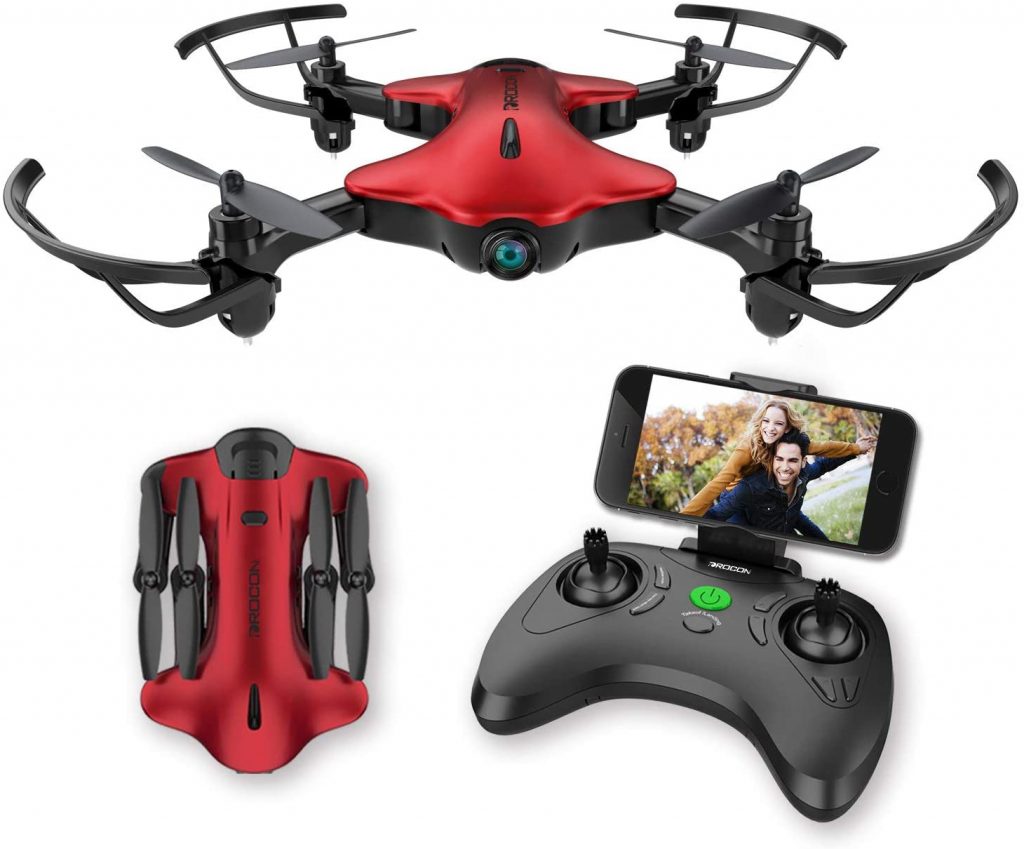 Pros
Compact with foldable blades
Easy to control
Captures high-resolution images
Can link to a smartphone through an app so the pilot can see videos in real-time
Cons
Limited battery life
Slightly unstable when in flight
If your kid loves taking pictures, then they will love this drone. It features a 720P, and 30fps HD camera which boasts a 120-degree angle lens. This camera is perfect for capturing high-resolution panoramic aerial photographs. Your kid can also shoot videos or take photos and view them in real-time through a connected smartphone app.
For small kids and beginners, you don't have to worry about them struggling with the controls. It comes with a one-button takeoff/landing feature, altitude mode, and headless mode, which makes controlling the drone even easier.
The blades on this drone are guarded with prop guards. They ensure that it doesn't get damaged or injure someone in case of a collision or crash. It also comes with three-speed modes, making it easier for beginners who want to start slow as they get the hang of it.
Its blades are also foldable, making it easier to transport and store. It has a low-battery alarm so it won't catch your kid off-guard when the battery starts running low. Once your kids learn to fly it, they can even do mid-air stunts like flips and rolls.
5. Force1 Drones with Camera for Adults and Kids – Best camera drone for beginners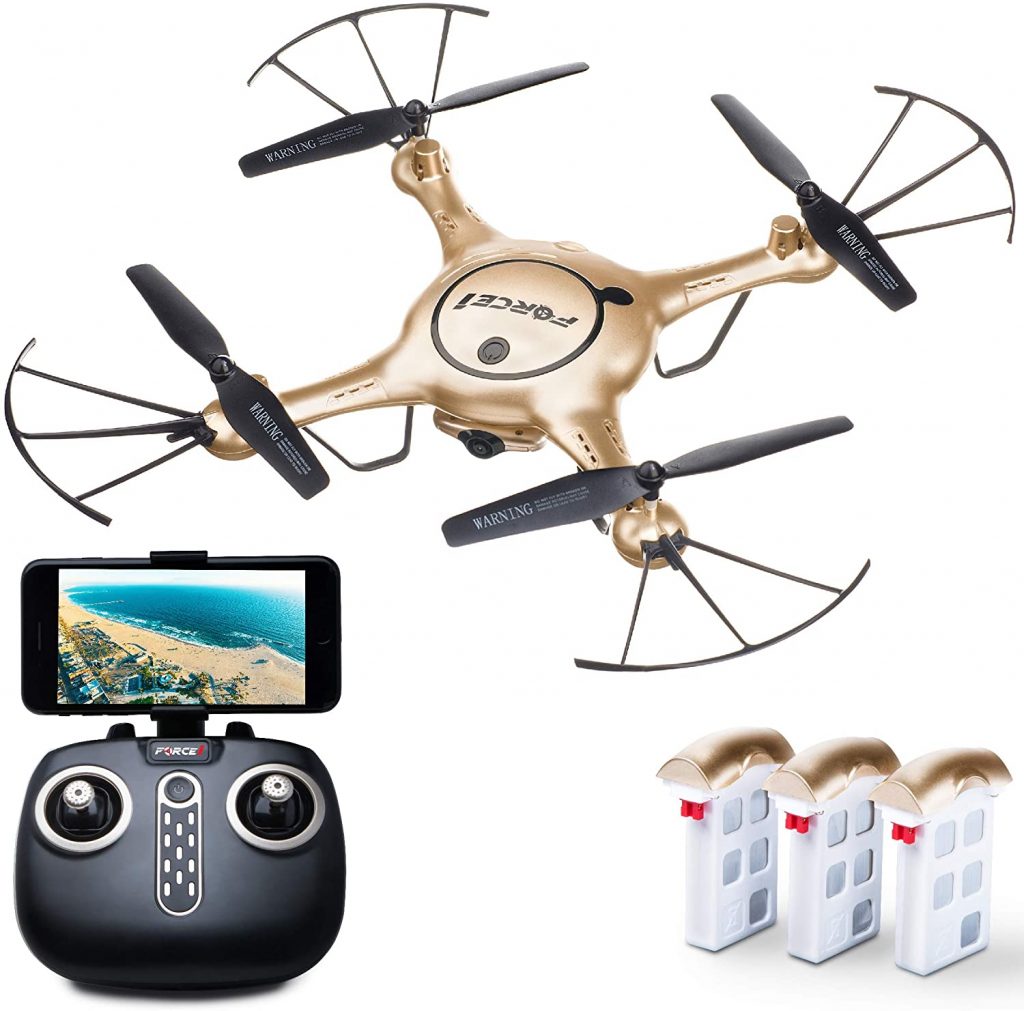 Pros
Affordable
Comes with a total of three batteries
Can be flown using a smartphone
Easy to fly
Suitable for young kids and beginners
Cons
Short flight time. It, however, comes with two extra batteries
Does not fly well in the wind
At first glance, this drone doesn't impress as much, but it comes loaded with lots of cool features. The features on this mid-priced drone are similar to those found in pricier models.
It does not matter if your kid is a beginner or a pro; they will enjoy flying this finely crafted drone. It comes with a one-key takeoff feature, but its more impressive perks are witnessed once it is in the air. Apart from the remote control, your kid can also pair it with a smartphone for easier control. This drone can also perform mid-air stunts like 360 degree flips with the simple press of a button.
This drone also comes with a headless mode, which makes it even easier to fly because the pilot doesn't have to worry about the direction the drone is flying when steering it.
The 720p camera is one of its most impressive features. It takes high-resolution videos while in flight. It can also be used to take aerial pictures. Although the battery lasts only eight minutes when the drone is in flight, it comes with two extra rechargeable batteries so your kid can switch them easily and enjoy more playtime.
6. Holy Stone HS160 Shadow FPV RC Drone – Best budget drone for kids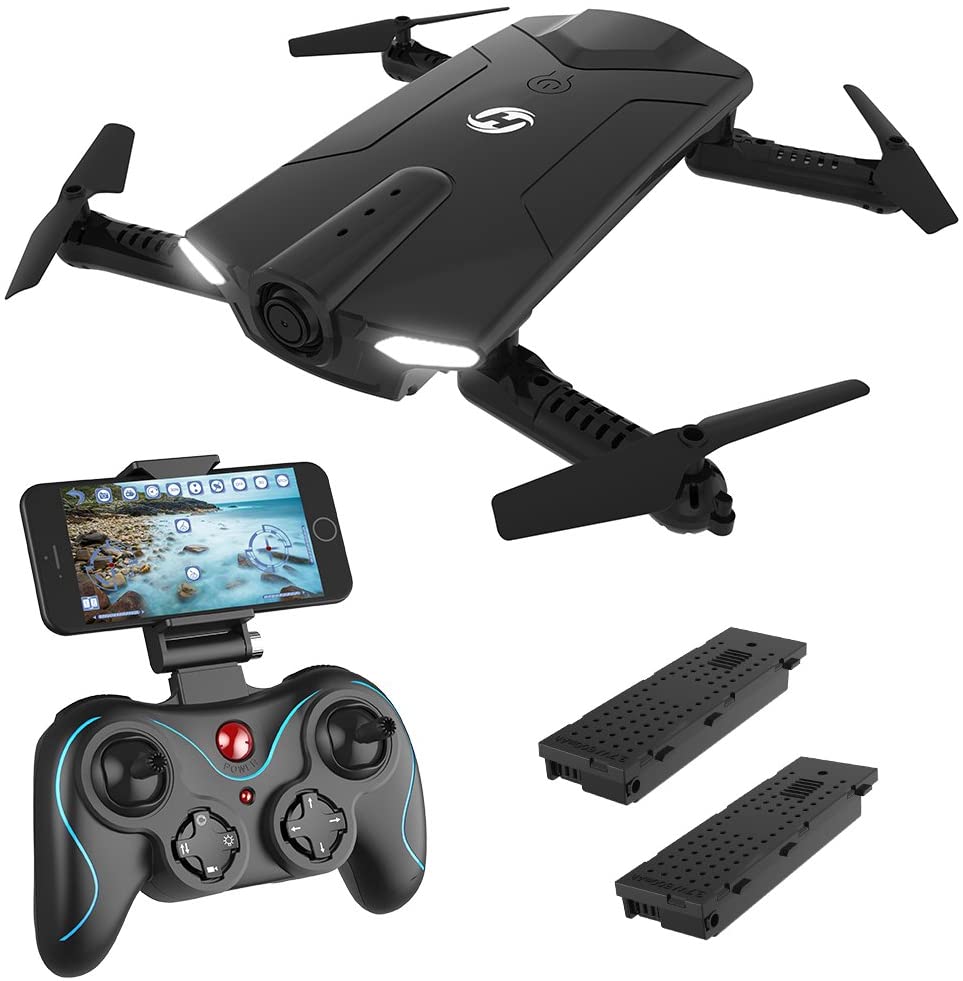 Pros
Easy to control
Can be paired with a smartphone and VR headset
Wide operating range of about 50 to 70 meters
Its camera offers high-resolution images
Made of strong, durable ABS plastic
Cons
Landing issues
Some users claim that it gets easily disconnected from the remote. Also, the app has a 1-second delay, so it's not suitable for navigation.
One look at this drone's design, and you're sure to be impressed. It has a futuristic-looking body, made of sturdy, durable plastic material. It features a front powerful camera, rear and front LED lights so that the pilot can know the direction the drone is facing when flying in the dark.
It comes with 6-axis gyros that improve its stability. It can also connect to a smartphone via WiFi. When connected to a smartphone, the pilot can use the gravity sensor mode to control the drone by tilting their phone. They can also use a VR headset when the drone is paired with an app.
The altitude hold function and one-key start and landing feature make it very easy to operate. That, coupled with the fact that it comes with four-speed modes, makes it perfect for beginners and small kids. They can practice at low speeds while they get the hang of it.
When outdoors, the operating range of this drone is 50 to 70 meters, with a WiFi range of about 30 meters. Its batteries provide a flight time of seven to nine minutes.
This drone also comes with a pretty powerful camera. Rated at 720P HD/30 frames, this camera provides high-resolution images that can be recorded and viewed in real-time on a smartphone.
7. SNAPTAIN H823H Mini Drone for Kids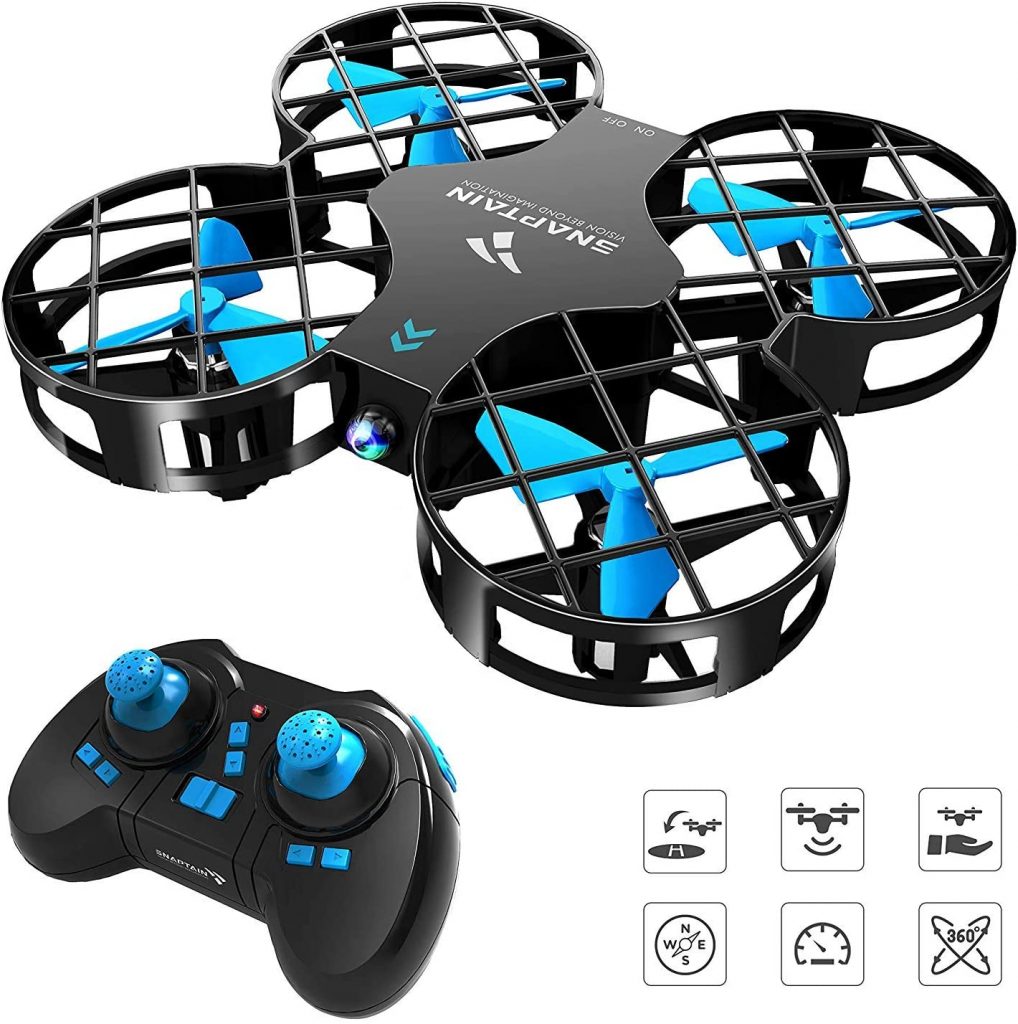 Pros
Can easily fit into a pocket
Outer shell cover for impact protection
Longer battery life
Cons
A bit challenging adjust to ensure a stable flight
The SNAPTAIN H823H Mini Drone is another great pick for your kids. The controls are friendly for beginners and support different modes. It has a Headless Mode and Altitude Hold. For easy start-up flight, the One Key is easily accessible on the fly. This multifunctional drone lets kids experience the fun of flying a drone without complicated controls.
However, before handing the drone to your kids, make sure to adjust the setting first, as it proves to be a bit challenging. But once you get it up and running, it will fly like a breeze.
The H823H also supports longer flight time, powered by three removable and chargeable batteries, your kids will be able to enjoy a total of 21 minute flight time. In the case of a flight mishap, this drone will still survive as it has a full outer case cover that decreases the impact of a fall. Overall, this drone is a cool looking mini drone that fits rights into your child's pocket.
8. Syma X5C 4 Channel 2.4GHz RC Explorers Quad Copter with Camera – Best explorer camera drone for kids
Pros
Quite affordable
Removable 2MP HD 720P camera
Crash resistant
Headless flight mode
Easy to control
Cons
The battery recharge time is pretty long (90 minutes)
Short flight time (minutes)
This drone is great for kids and beginners. Although it looks quite large at first glance, it is lightweight and pretty easy to fly both outside and indoors.
The 6-axis gyro stabilization feature on this drone helps keep it steady when in flight, even on a windy day. Its control sticks are spring-loaded and feel pretty nice when touching them. The controller also has an LCD screen, which displays status and drone orientation.
The camera has nine fine-tune options and a control range of 30 meters. The camera itself is a 2MP HD 720P camera. It is not very clear but still gets the job done. Your kid can also remove the camera when flying just for fun. The battery offers about seven minutes of flight time and takes 90 minutes to recharge.
9. Holy Stone HS200 FPV RC Drone – Best for video fanatics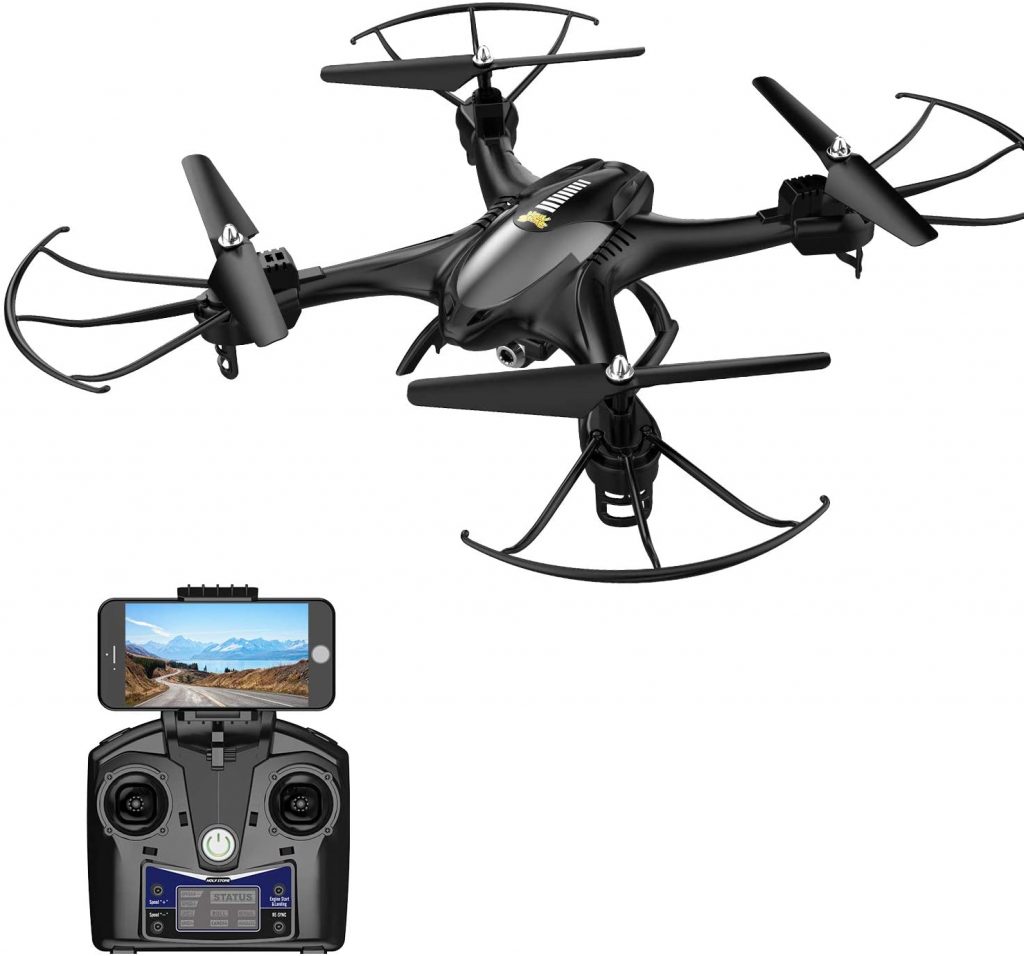 Pros
First-person view
Gravity sensor mode
The camera is compatible with VR headsets
Cool LED lights
Cons
Extremely lightweight
Long charging time
If your kid is interested in taking videos and pictures, why don't you get them a drone that can help them take their hobbies even further?
This drone comes with a real-time transmission feature with first-person view streaming. The camera on this drone is a 720P HD camera with a 120-degree wide-angle. It can also be paired with Virtual Reality headsets that enable the pilot to view the world in a new amazing way.
The drone is easily controllable with a smartphone. All your kid has to do is pair it with a smartphone and activate the gravity sensor mode. When activating this feature, the phone should be held in a horizontal position.
Like the other drones we have reviewed in this list, this one also comes with LED lights, making it easier to spot during night flights.
On the downside, its light construction makes it hard to fly on a windy day. The battery also overwhelming when it comes to charging.
10. Altair 818 Hornet Beginner Drone with Camera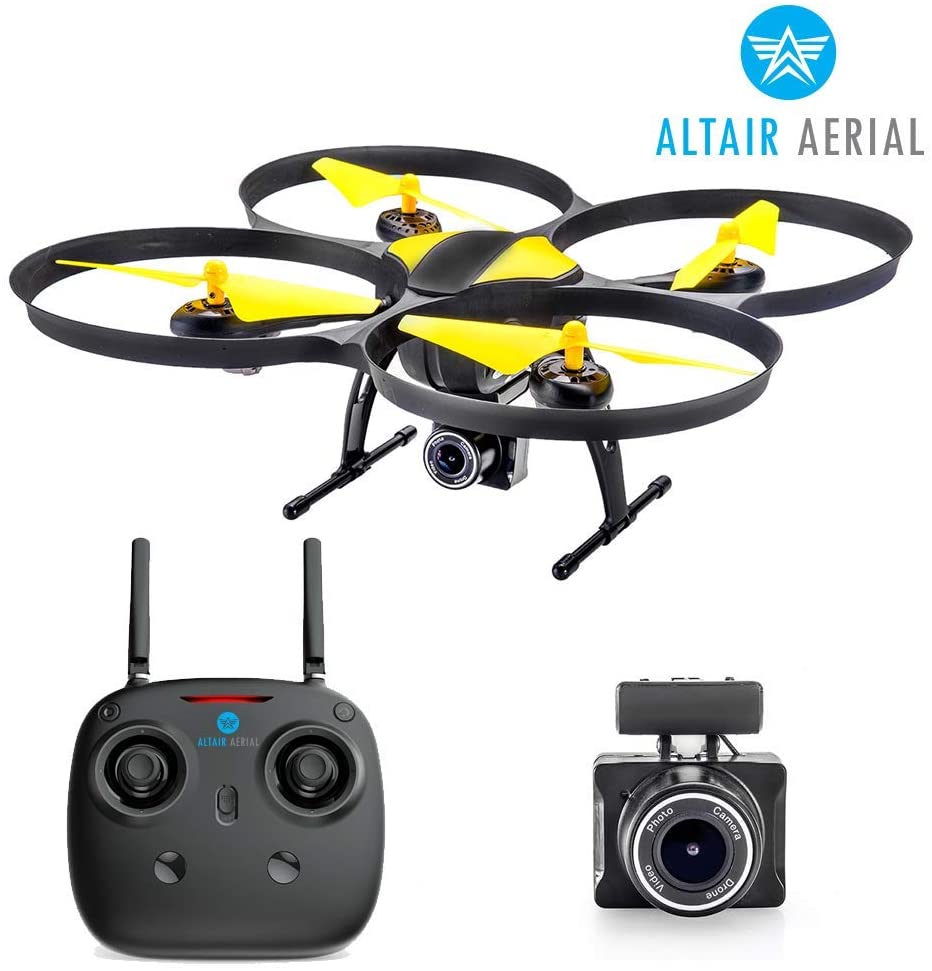 Pros
The package includes two batteries
Equipped with a camera
Three controller skill settings
Cons
No home function, as it does not support GPS
The Altair 818 Hornet beginner drone is fitted with a camera. Your kids will surely enjoy the excitement of taking live video in-flight without breaking the bank. It is affordable and takes decent video and photos in first-person or FPV. Your kids can also see the live feed on a phone or tablet! How cool is that? Unfortunately, the SD Card is not included, so you need to purchase it separately. In its price range, the Altair 818 Hornet camera is a bang for your buck.
This drone also comes with two batteries, each with 15 minutes of flight time. This means that you get to enjoy 30 mins of drone flying fun before needing to juice up again. Flight wise, your kids will get to enjoy a stable flight. It is equipped with altitude hold and has a one-button switch take off. The landing is also easy, just hit the same button, and your drone will proceed to land safely. For controls, it is easy as well and supports three controller skill settings. This feature allows you to adjust the drone's setting, depending on the pilot. It is also safe for indoor use, so the fun will never stop.
Drone Flying Tips
Getting a new drone is very exciting. All one wants to do is take it outside and give it a test run. But before you get to all that, you have to understand how it works. You also need to know the functions of each button on the controller. Here are a few tips to get you started.
1. Read the manual
Most drones come with a hard copy manual in the form of a small booklet. If your drone does not have one, you can download it on the official manufacturer's website. While at it, you should also watch a few tutorials to ensure that you understand it clearly.
2. Practice with a flight
You can download a flight simulator on the manufacturer's website. If the manufacturer has not provided one, you can search for a drone flight simulator on an AppStore. A drone flight simulator enables you to familiarize yourself with the controls and learn basic flight control skills.
3. Avoid obstacles
Some pricier drones come with an Obstacle Avoidance System (OVA). However, you should not over-rely on it. Transparent objects ropes and telephone lines are hard to detect using an OVA. You should, therefore, pay close attention to any obstacles on your flight path.
4. Inspect the drone before takeoff
Before you start the drone, check to see the propellers, battery and all other hardware are correctly installed and working correctly. Do not fly it if you spot any damage, especially on the propellers.
5. Let it hover a bit before heading out.
After starting the drone, it is advisable to let it hover a bit at a low altitude. Hovering the drone enables you to check if it is functioning correctly. It also minimizes the chances of damage in case the drone crashes due to a malfunction.
6. Start at low speeds
Flying the drone at low speeds minimizes the chance of collision or crash. It also allows you to familiarize yourself with the controls.
Buying Guide: Factors to Consider
1. Age
You should get your kid a drone once they are past the stage where they enjoy breaking things. Also, some drones have complicated controls that are not suitable for very young kids.
2. Location
Where will your kids be flying the drone? This is a significant factor to consider since most kids' drones are very small and lightweight. Lightweight drones don't do well in windy areas. You should also ensure that your kids don't fly the drone near overhead wires, trees, and airfields.
3. Camera
An onboard camera is an amazing feature on kids' drones. Some kids' drones don't come with cameras. If you decide to buy your kid a drone with an onboard camera, you should check the camera's specifications on image and video quality.
Some drones feature first-person view (FPV) transmission. FPV transmission enables your kid to see what is happening in the air in real-time. Drones with this feature can connect to a smartphone, which comes in handy when your kid wants to record their flight session. When you buy your kid a camera drone, you should ensure that you teach them about privacy rights.
4. How easy is it to fly?
This question comes down to one thing, the controller. Kids' drones come with relatively simple controllers, which enable kids to perform basic drone functions with the press of a button. The best kids drones have controllers with both starters and advanced modes along with several speed modes.
5. Hover mode
Hover mode enables the drone to maintain a steady altitude when in flight. This feature is very helpful to beginners and also comes in handy when taking aerial photographs.
6. Headless mode
In this mode(headless), there isn't a front or back designation. It enables your kid to control the drone regardless of the direction it is facing. This feature also comes in handy when flying the drone is invisible. It is very convenient for beginners. Kids have enough time to enjoy, not only focusing on the direction of interest.
7. Return to home feature
The return-to-home feature makes use of the drones GPS to return it to the point it was launched from. This feature is beneficial when the drone goes out of sight.
8. Flight time
You should get your kids a drone that offers long battery life and short recharge time. Most kids' drones have a flight time of between 7 and 20 minutes.
You should also get one that has a USB charger. USB chargers enable you to charge the drone in many places, so your kids can continue playing with the drone, no matter your location.
The idea to have Rechargeable batteries is remarkable. They are more cost-effective and last longer than regular batteries. Drones that come with spare batteries are the best since your kids don't have to charge it after every few minutes.
How to fly a Drone – A to Z Beginners Course
Seeing a big smile on your bundle of joy is every parent's delight. Drones make good presents and excellent toys. They enable your kid to have fun and explore the world in a different way. Drones could also help your kid perfect their photography skills.
In the article, we have reviewed ten of the best kids' drones on the market. All the drones on the list are of high-quality and safe for kids. We have also provided you with some drone flying tips, so your kid does not struggle with the controls the first time they use it.
If you choose to go drone shopping physically at your favorite store, remember to keep all the factors we have discussed in the buying guide in mind. Taking those factors into consideration will enable you to buy the best drone for your kid. Good luck in your search and we hope the drone you buy your kid puts a big smile on their face.
Recap: 10 of the best kids' drones on the market.