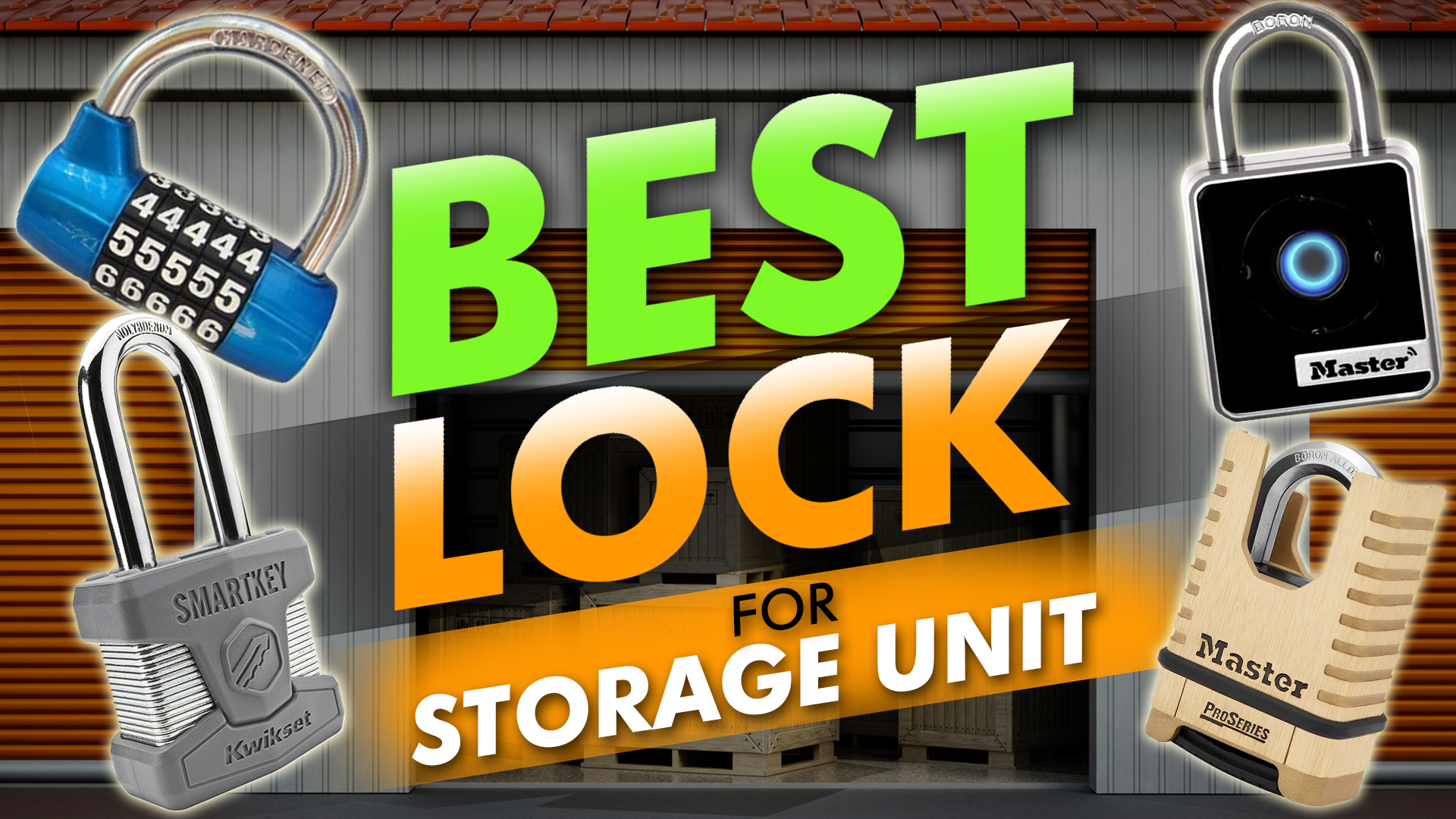 Getting a storage unit for your valuables is a wise move, especially if you have a growing family. In fact, a large household requires multiple storage units. Securing these units is another concern, and this can be solved by purchasing padlocks.
To help you find the best lock for storage unit, we've prepared a comprehensive list.
1. Master Lock 930DLHPF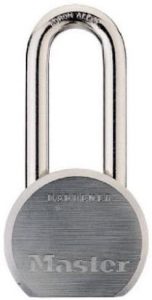 Pros
Excellent lock for indoors or outdoors
Strong security and great locking mechanism
Cons
Prone to scratching and weathering effects
Weak padlocks that break apart easily are not worth your time. If you care about your budget, you need to go straight and choose a reliable and durable padlock immediately. One padlock that doesn't skimp on long-term toughness is the Master Lock 930DLHPF.
Unlike other standard security locks, the 930DLHPF lock has a durable shackle made of boron alloy. Additionally, the lock's advanced locking mechanism is excellent for securing any storage unit. You can even use this lock for cabinets or outdoor storage areas.
The Master Lock 930DLHPF is secured enough to withstand drilling and prying from undesirable fellows. It's advisable to get a couple of Master Lock padlocks if you have outdoor sheds. Price isn't a problem because Master Lock is known for its affordability. Upon purchase, you will also receive a set of two keys.
The only manageable downside with 930DKHPF padlock is its low average resistance to weathering. There are no protective creases in the padlock's base, so you might notice a bit of scratching over time. But don't worry, this is a small factor completely overshadowed by Master Lock's effectiveness!
2. BaouRouge 5-Digit Resettable Padlock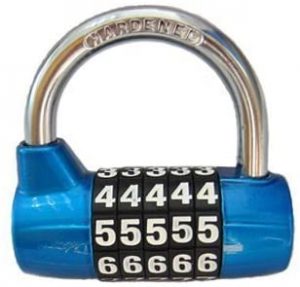 Pros
5-digit combination dial for high security level
Reinforced shackle
Cons
The padlock's body is less tougher than medium-level padlocks
Below average weather resistance
Combination padlocks are tough to break, unless you brute-force them with a strong tool. What if you have a combination padlock that starts off with 5 digits? With such capability, you don't have to worry too much about your valuables. That's what BaouRouge Resettable Padlock can offer.
BaouRouge padlock's wide metal build can withstand varying levels of blunt and cutting damage. You can fit this padlock over storage boxes, cabinets, and important drawers. Since the shackle is wide, you can also attach small cords or chains. The padlock's 5-digit combination system is even more reliable than 4-digit PINs. Just don't forget your personal combination. In the event that you do, the padlock is resettable. Simply follow the instructions provided by the BaouRouge manual.
Despite its effectiveness, the BaouRogue combination padlock falls short in weather resistance. Long outdoor exposure can wear down the padlock's shackle and small body. To increase the padlock's longevity, you should limit its usage to indoor storage boxes.
3. Stanley Hardware Shrouded-Hardened Padlock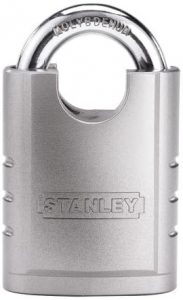 Pros
All-around padlock with a high security level
Dynamic ball bearing system with anti-drilling function
Cons
Suboptimal weathering resistance
Doesn't look as stylish as other security locks
Padlocks with large bases and thick shackles are meant for high-level security. You can use these padlocks to secure a garage or even an important shed. Stanley Hardware S828-160 padlock is one example. It's best for outdoor security but it's also great for indoor use.
The S828-160's thickness contributes to the lock's overall effectiveness. You don't have to worry about security issues with this Stanley Hardware lock. However, you need to consider the size of the storage unit. If the unit is small, the Stanley Hardware padlock might create minor angling problems. The best way around this is to reposition the storage box in a less intrusive area, like beneath a desk. You won't encounter angling problems if you intend to use the padlock on large doors.
Stanley Hardware S828 padlock is built for long-term usage. You might see a few scratches and dents after a few years, but that's just a simple weathering hitch. Regarding its quality and durability, you won't have any problems.
4. Master Lock 178D Set Your Own Combination Lock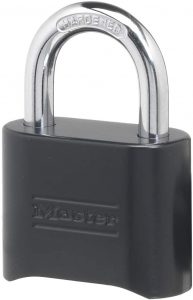 Pros
Heavy-duty protection and cut resistance
You can set a personal combination
Excellent weathering resistance
Cons
Combination dial is fragile in cold weather
Sometimes, the simplest looking padlocks are the ones with premium-tier quality. Others probably have a ton of features but they don't last a long time. If you're looking for a simple yet effective padlock, the 178D variant from the Master Lock Series is your best bet.
Banking on the trusted Master Lock standard, the 178D steel padlock is a versatile option for indoor and outdoor security. You can use the padlock for shelves, cabinets, and kitchen storage units. If you want to lock down a shed or an outdoor tool box, the 178D will do the job. Since the padlock is made of strong yet safe materials, you can always rely on its security level. It's even highly resistant against cutting and brute-forcing.
Setting your own personal code with the Master Lock 178D is easy. You can start opening the lock at 0-0-0-0. Afterwards, you're now free to set a new 4-digit combination code. Always check out the included manual if ever you're confused.
While the base of the 178D padlock is weather-resistant, the combination dial tends to freeze up easily during a cold streak. This is manageable – simply wipe the dial with a dry cloth. Or better yet, swap padlocks whenever you have the chance. Preserving the dial is important because it will determine the overall capability of the padlock.
5. AmazonBasics Keyed Padlock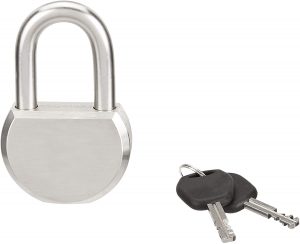 Pros
Durable padlock with double locking mechanism
Best for your budget
Cons
Dull-looking – no other noticeable designs
Within a few minutes of scouring the Web for padlocks, you might encounter dozens of brands featuring interesting designs and capabilities. Some are known for their durability, while others have strong weathering resistance. It's easy to get overwhelmed with these many options. If you want to snag an effective and hassle-free padlock, the Amazon Basics Keyed Padlock is your humble superstar.
Equipped with a double locking mechanism, the AmazonBasics padlock will guarantee top-notch security for any storage unit. Its shackle is made of pure stainless steel – thicker than common ones you'd see in the market. The padlock's body is also made of the same material, so there's no inconsistent level of quality. Two keys are also included in the package.
Design-wise, AmazonBasics padlock doesn't have much to offer. The padlock is plain stainless without other accentuating colors. Still, this minimal design doesn't limit the padlock's reliability.
6. Kwikset 50MM SmartKey Padlock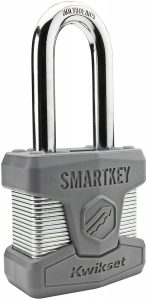 Pros
Dual bearing lock standard and heavy-duty base
Hardened shackle with extreme cut resistance
Above average weather resistance
Cons
Rekeying can be a drag – be sure to read the manual properly
The Kwikset 50MM SmartKey padlock looks tough enough to mean serious business. At first glance, you might think that the SmartKey is built for rugged outdoor security. Somehow, you're correct. This padlock reflects the well-known Kwikset high-security standard.
The SmartKey's base is where the action is. It's loaded with weight and texture, thus offering maximum security. The long reinforced shackle is also meant to resist cutting tools and balance out the weight of the padlock's body. Aside from that, the Kwikset SmartKey padlock features a double ball bearing system which can prevent prying and lockpicking assaults.
Another ace factor of the SmartKey padlock is its weathering resistance. The base is designed to withstand exposure, as well as the thick shackle. Even if the weather is cold, the Kwikset padlock parts won't turn brittle. Now, you don't have to stress over padlock replacements anymore.
If you have Kwikset house keys, they can work effectively with the 50MM padlock. You might encounter slight rekeying difficulties at the start. At this rate, the Kwikset technical manual is your friend.
7. American Lock A5200GLN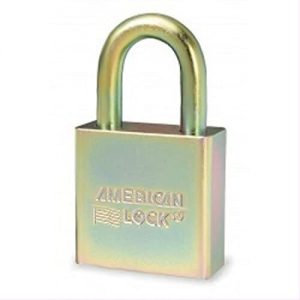 Pros
Hardened steel, military-grade protection
Weather-resistant and nearly damage-proof
Cons
Bland-looking – no other prominent designs
American Lock is a common, well-trusted brand when it comes to home security. Even though the company's padlocks look simple, they are effective in deterring burglars and protecting home valuables. An affordable American Lock starter set that you can buy is A5200GLN.
One pack of the American Lock A5200GLN contains four padlocks. This is a good sign for your budget because you no longer have to buy multiple brands. The A5200GLN is made of hardened steel, resulting into a thick base with a remarkable shackle. Eight keys are included in the pack to help you set up home security right away.
Even though the A5200GLN padlock looks simple for any homeowner's taste, its long-term quality is nearly unmatched.
8. Master Lock Pro Series Wide Brass Padlock 1177D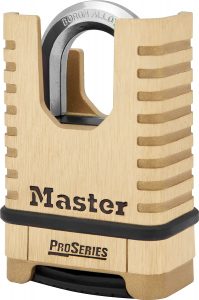 Pros
Strong material with a reliable shackle seal
Easy-to-use combination dials
Only the best brands can launch their own product series, and Master Lock is one example. The best entry among the Master Lock Pro Series is the 'brass beast' known as 1177D. This closed shackle padlock offers the best protection in any security setting.
The 1177D Master Lock padlock has a solid brass body protected against corrosion and exposure. Aside from having a strong main body, the padlock comes with a boron-carbide shackle – effective against cutting and brute forcing. The shackle is also thick enough, particularly at the U-bend. This prevents any sawing effort and potential weakening due to the cold.
For advanced security, the Pro Series padlock allows you to set your own 4-digit PIN. The dials are ergonomic, and you can set them easily. There's even a blind dial feature if ever you need to lock something while under total darkness.
Due to 1177D's advanced protective capabilities, it's best for outdoor usage. At first, you might feel awkward using the huge Pro Series padlock inside your home. But if you really value security, you should try the padlock anyway!
9. Master Lock 4400D Bluetooth Smart Padlock
Pros
Absolute protection with Bluetooth functionality
Thick base and Boron shackle
Cons
Mild synchronization problems with the app
Technology catches on with everything – even padlocks. Master Lock is here again with a fresh entry: the 4400D Bluetooth Smart Padlock. It allows easy setup and opening without diminishing the trusted Master Lock security standard.
The Master Lock 4400D padlock has a resilient body that protects the Bluetooth mechanism, as well as other parts. The shackle is small, making the padlock suitable for indoor usage. Activating the padlock's Bluetooth system is easy. Through your smartphone, you can set up the combination and synchronize the padlock properly.
And like everything else in technology, there are some minor glitches. Occasionally, you might encounter situations where the Master Lock app is not working. This can be problematic, since the Bluetooth function can open the padlock within seconds. To get past the problem, you need to enter the manual combination. Also, try to reinstall the Master Lock app and configure the settings based on the tech manual.
10. SESAMEE K436 Combination Padlock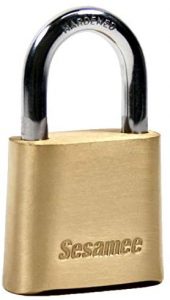 Pros
Simply stylish lock for all storage units
Has a layer of combination setting for greater security
Prevents rust buildup due to a weep hole
Cons
Small combination numbers (use any light source to see them properly)
Almost nothing can beat a padlock that offers style and usefulness at the same time. It's like buying one product that can accomplish multiple functions. In this case, the SESAMEE K436 padlock is the best option for your budget.
Made from durable hand-polished brass, you can always be sure of SESAMEE K436 padlock's quality. For many years, this padlock has been the 'go-to' option of homeowners far and wide. The padlock has the right size, so you can fit it on any storage units or lockable areas. In terms of locking mechanism, the K436 has a double-layer standard – both ends of the shackles are firm enough to withstand pressure. It will take tremendous force to wear the shackles off.
But even the best metal locks in the world face a common enemy: water. This is especially true if you're fond of using padlocks outdoors. SESAMEE K436 circumvents this by having a small weep hole. The weep hole's purpose is to drain moisture and lessen the instance of rust buildup.
Security is a remarkable feature of the K436 padlock. Aside from the double-locking mechanism, it allows you to set a personal combination. This makes the SESAMEE padlock useful for securing personal items like jewelry and expensive art materials.
The K436 padlock is even a great match for any kids' art desks and crafting tables!
Important Tips for Choosing the Best Storage Security Lock
Many homeowners don't spend much time improving the security of their valuables. Some don't buy locks, while others choose substandard locks over high-quality ones. If you want to safeguard your valuables in the best way possible, you need to find a sturdy and reliable lock from the get-go.
But how are you going to pick the best storage lock? What factors must be considered?
Check out the following options to begin with:
Prioritize Important Stuff
You don't need to buy padlocks for everything in your home. Basically, you just need to determine which assets must be safeguarded at all times. These can be expensive jewelry, collectibles, art materials, tools, and medicine. This is important because not all padlocks are built for the same storage units. Some are sturdier than others – just like high-security padlocks with additional hardening materials. General security padlocks are usually made of brass and aluminum. They do the job properly, but they're not advisable for outdoor security.
Proper security management at home requires you to make an inventory of your important stuff. Doing this won't take more than 30 minutes, unless you have a large home. While doing this, don't forget to gather the opinions of other family members. They probably have special cases or boxes that need to be secured.
Think About Space
Space is another factor that's typically left out by many homeowners. They simply purchase padlocks with an all-in-one mindset, only to return a few days later to look for a new one. If the storage unit that you want to secure has a large space, then you need a bigger padlock. Small padlocks will barely do the job because they're not heavy-duty.
For desk-sized boxes or storage units, medium thick padlocks are essential. As much as possible, you mustn't pick padlocks with long shackles unless they have excellent reviews.
Managing Replacements
Padlocks are not meant to last forever, even if they remain functional for many years. Over time, padlocks will become weak and eventually loosen. To avoid hassles, you need to replace padlocks before they give out.
Try to check all of the padlocks within your property as often as you can. Replace damaged ones immediately. Or better yet – you can just buy packs that include multiple padlocks with discounted rates. But don't settle for low-quality ones even if you can get them through bargain sales!
Don't Forget Complexity
Padlocks may look simple but they have variable degrees of complexity. Small padlocks are simple – you just need to snap them and use the assigned keys. High-security padlocks, usually large ones, are somehow more complicated. Their securing mechanisms are also tougher, and they might even allow numeric combinations.
Industrial level padlocks are known for their peak security level. Their key retention function is more reliable. As such, the only way to get back the key is to lock the shackle. Bluetooth padlocks are also interesting. They can be opened through a special app that only you or close family members can access. For many homeowners, using a Bluetooth padlock is complicated. But if this works for you, then embrace what technology has to offer!
By fully understanding the mentioned tips, you will have an easier time buying the best storage lock.
Understanding the Different Types of Padlocks
Buying many padlocks without understanding their types is a wasteful effort. Even if you've allotted a sizable budget for security, having proper knowledge can help you save money. You don't have to read a huge book about padlocks to learn about their different types.
Check out our simple overview of common padlock types:
Combination Padlock – For Advanced Security
The combination padlock has been around for years. Next to the average padlock, it is considered as the most popular. Basically, combination padlocks allow you to input your own PIN through several dials. On average, you can find combination padlocks with four-digit dials. Padlocks with 3-digit dials are optional but they're only effective for lockers and small boxes.
A combination padlock's strongest factor is its security level. The shackle won't open unless the PIN is inputted. Durability, however, is almost always questionable. The dial is exposed to residue accumulation and weathering, and the base is usually not thick enough. The best course is to choose tried and tested padlock brands.
Discus Padlock – Specialized Against Cutting & Sawing
Are you looking for a padlock designed to maximize outdoor storage security? The discus padlock is the answer. This padlock is circular, unlike the semi-rectangular style of other common padlocks. Because of the discus padlock's circular thickness, there's additional protection against cutting or sawing tools. Discus padlocks also have thick shackles to complement its strong build.
You can use discus padlocks for outdoor sheds and garages. Nowadays, smaller discus padlocks are available – best for storage units inside your home!
Long Shackle Padlock – Maximizing Function
What if you need to secure a large area with chains and additional padlocks? Or perhaps you need a strong padlock that offers tremendous leeway in terms of space? By all means, you should get a long shackle padlock and spare yourself from headache.
Long shackle padlocks, as you probably guessed, have long shackles. Typically, the shackles are even longer than the padlock's base. These padlocks are commonly used outdoors, like secured yards and off-limit structures. If you feel the need to lock down an important shed away from your kids, the long shackle padlock will do.
Just keep in mind that padlocks with long shackles sacrifice a portion of their durability rate. Brute forcing can weaken long shackle padlocks, as well as continuous outdoor exposure. Always settle for trusted brands to get maximum effectiveness!
Closed Shackle Padlock – Covering Vulnerabilities
Padlocks are downright reliable but they have some vulnerable spots. The lower part where the shackle connects to the base is prone to blunt and cutting damage. At the same time, the U-bend wears down easily due to weathering. The answer to these vulnerabilities is the closed shackle padlock.
As implied by its name, the closed shackle padlock extends up to the length of the shackle, just ending near the U-bend. Because of this improved protection, the closed shackle padlock is commonly chosen by insurance companies and financial establishments.
Closed shackle padlocks typically cost more than normal padlocks. Keep this in mind before you start shopping!
Weather-Resistant Padlock – Meant for Long-Term
Weather resistance is a common problem among padlocks, yet it's easily overlooked. This is because homeowners are more concerned of immediate security other than long-term advantage. If you care about weather resistance now, you can avoid the hassle of buying new padlocks later on.
A weather-resistant padlock is a considerable home security investment. It's made from high-quality materials with additional layers of protection. You will notice that weather-resistant padlocks have thicker shackles and reinforced bases. They even have weep holes built for combating moisture buildup. Moisture is a threat against padlocks because it can initiate rust formation over time.
Most weather-resistant padlocks have medium-level security functions. Only some of them are highly specialized against brute-forcing attempts and intended prying. Weather-resistant padlocks are affordable, and you can even buy sets instead of single pieces.
Bluetooth Padlock – Techie Security Assurance
Bluetooth padlocks offer a balanced degree of convenience and security. By inputting your digital personal combination, the padlock will open without any problem. Since the padlock is linked to your smartphone, only you can open it. Compared with traditional padlocks, Bluetooth padlocks can help you save time.
But for what it extends in technology, the Bluetooth padlock loses out on durability. It's common to see a Bluetooth padlock wearing out after just a few months of usage. Many factors play out in the equation. Chief among these factors is the base of the Bluetooth padlock. The base is not made of pure stainless steel – other materials are involved, and they're potentially weaker. While the Bluetooth padlock leaps ahead in basic security, it's not totally reliable with damage resistance.
Still, there are dozens of Bluetooth padlocks with excellent reviews. Do your best to check out the reviews, as well as common denominators.
Novelty Padlock – Just for Style, Perhaps
Amidst the heavy-duty padlocks in the market today, you can find a few gems with a pure novelty appeal. While novelty padlocks are not generally bad, their quality is somehow questionable.
If you're eager to buy novelty padlocks to match the accents of a room, try to choose products with well-defined bases and shackles. The base must be thick enough, and the shackle – at least – must be made of steel.
But keep in mind that most novelty padlocks are for style and collection purposes only. Don't spend a big chunk of your budget on novelty padlocks!
Conclusion
Instead of wasting money on low-quality security locks, you can just settle for the best options. The locks that we've suggested are excellent starting points. Feel free to go over their features, strengths, and weaknesses. After that, you can now take your pick!