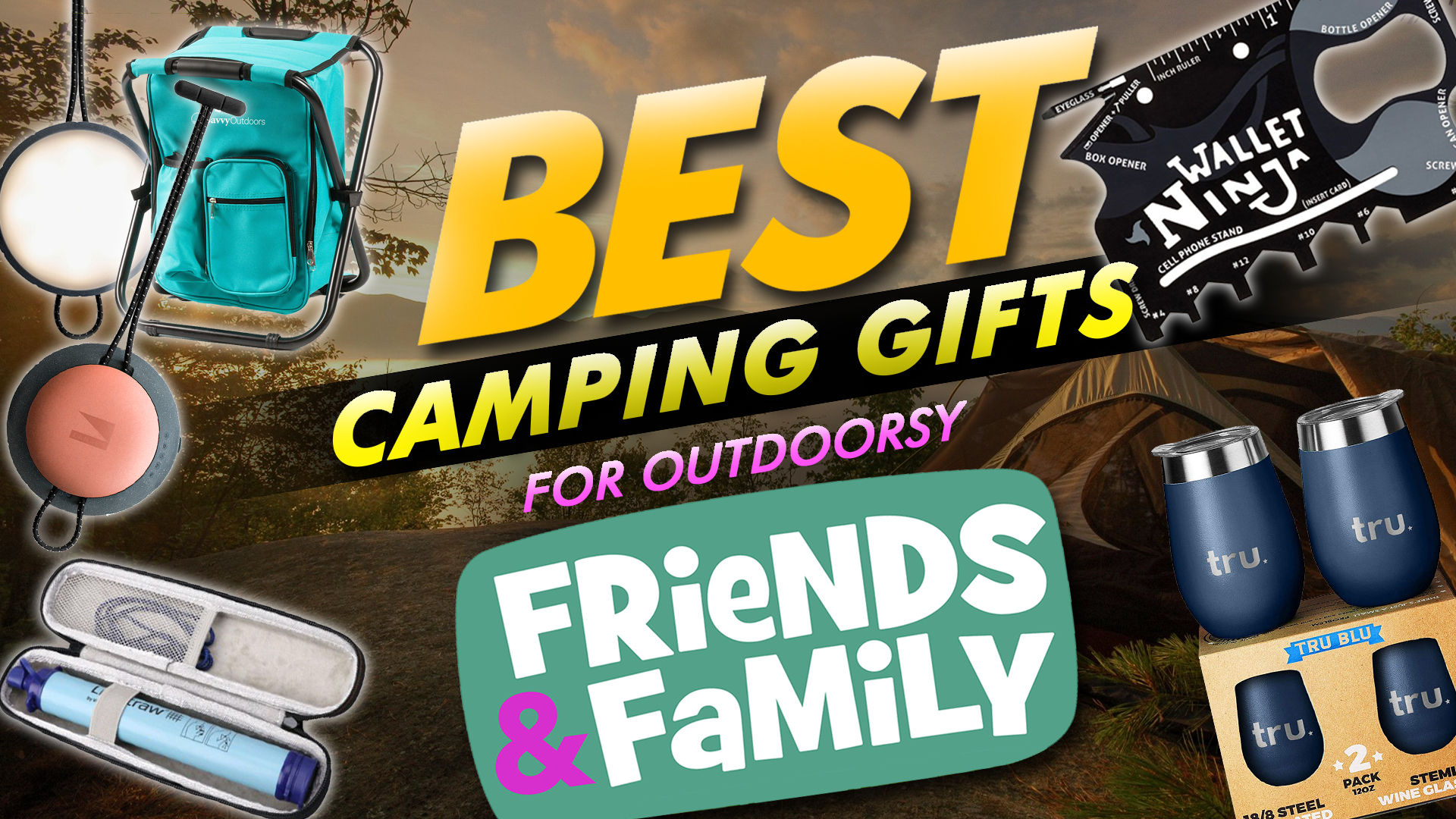 1. Cairn Lantern + Power Bank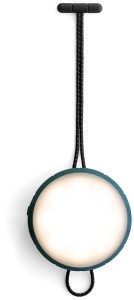 The Cairn Lantern + Power Bank is a nifty device that solves two camping problems in one compact package. It flaunts a highly portable and versatile design, featuring a multi-axis elastic tether that allows you to attach it to trees, tent poles, and even small branches. You can even place it on a table or nightstand since the lanyard is stiff enough to prop up the light.
This lantern has an IP65 rating, making it waterproof and dustproof. It is extremely robust, with crush zones and impact protection to withstand accidental drops from several feet off the ground. 
The light emitted by this lantern is noticeably warm, providing a cozy ambiance rather than a harsh blue light. More impressively, there is no detectable flicker, even at the lowest brightness setting. It can illuminate an entire small cabin or tent, which is remarkable, considering its size. 
Although this lantern is designed for outdoor use, it has an extensive brightness variation ideal for other activities such as reading. Even without the power bank functionality, you will appreciate the versatility of this device. 
It should be noted that this product is significantly dimmer than the average propane lantern, but it is well within the range of products based on the same technology.
This lantern has a built-in battery that can handily last a couple of days of trekking. At maximum brightness, the light can endure up to three hours of uninterrupted use and still have well over ten hours at the lowest brightness setting. It can also fully charge a smartphone at least once. 
Overall, this lantern is perfectly suited for camping settings where it can be used to illuminate tents and areas for preparing and cooking food. The only knack we could point out is the lack of solar panels for passive charging, but it is a luxury at this price point. 
2. Diamond Head Equipment Eco-Chill Gaiter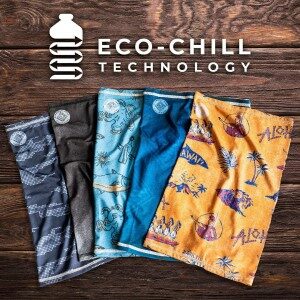 The Eco-Chill Gaiter is geared towards conscious outdoorsmen. It was designed by Diamond Head Equipment, a mission-driven brand based in Hawaii, looking to make a positive impact on the widespread ocean plastic problem. The company donates a portion of its revenue to fund beach cleanups and technology development in stopping the flow of plastic into the oceans.  
The Eco-Chill Gaiter keeps you cool and comfortable under any camping condition. It is a versatile garment that you can wear in over nine ways. You can even convert it to a three-layer mask. If you hate the warm and musty feel of a traditional mask, this comfortable and breathable gaiter is what you need. 
Each gaiter is composed of recycled polyester and spandex to deliver a soft, wicking, and stretchy feel. Moreover, they are meticulously hemmed to prevent the edges from rolling. 
The Eco-Chill Gaiter protects you from the sun, wind, insects, and other harmful particles. The performance fabric can give you immediate cooling relief by simply wetting the gaiter down and wringing it out!
If you want to keep your long hair under control when out camping, this gaiter is an excellent solution. It even works great underwater!
3. Tru Blu Vacuum Insulated Wine Tumblers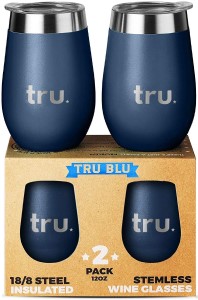 The Tru Blu Vacuum Insulated Wine Tumblers are the perfect gifts for campers who like to indulge in cold wine or warm coffee outdoors. They feature an ergonomic and shatterproof stemless design that makes them ideal for adventures in the wilderness. 
These tumblers have spill-resistant lids that feature rubber gaskets for better insulation and seal. The cap can be easily removed with a flick of your thumb. You can take these tumblers practically anywhere and not have to worry about accidentally spilling your drinks. 
These tumblers are also remarkably easy to clean. They are made of food-grade stainless steel that won't rust or tarnish, making them safe for dishwashers. If you're conscious about your health and the environment, these tumblers are free from toxins, offering a safer alternative to fragile glass and inferior cups.
4. One Savvy Girl Ultralight Backpack Cooler Chair
The One Savvy Girl Ultralight Backpack Cooler Chair is a chic and durable gift for anyone who loves the outdoors. Whether they enjoy camping, hiking, beachgoing, fishing, or tailgating, this versatile piece of equipment has something for everyone.
This backpack features a lightweight design and plenty of storage space for your gear to make outdoor trips with friends and family relaxing and convenient. It is made of waterproof oxford fabric to hold against the elements. The cooler has plenty of room for bottles and cans to keep your drinks at ideal temperatures. 
When not in use, this backpack folds to a compact size for easy storage in the trunk of your car. It only takes a moment to set it up, allowing you to take a seat anytime and anywhere.
The portability and convenience offered by this backpack make it a worthwhile gift for any outdoorsman!
5. LifeStraw Personal Water Filter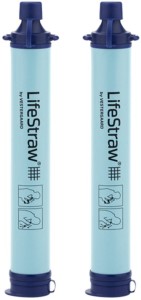 The LifeStraw Personal Water Filter is a godsend for people who love immersing in nature. It is essentially a straw that traps bacteria, parasites, and microplastics to turn dirty water into clean water. It can filter more water than the average person can drink in a year and has no expiration date, making it an excellent addition to car emergency kits. 
The LifeStraw doesn't use chemicals like iodine to purify water. Instead, it employs membrane microfilters made of hollow fiber membranes with microscopic pores to remove bacteria such as e-coli and vibrio cholera from water. It is a practical survival gift for your family and friends who enjoy camping, hiking, and backpacking. 
6. Wallet Ninja 18-in-1 Multi-Tool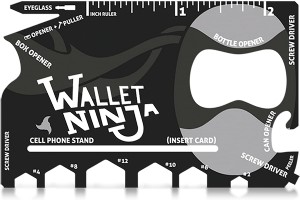 The Wallet Ninja is a handy credit card-sized multi-tool. In an incredibly compact frame, it manages to cram six hex wrenches, a can opener, a fruit peeler, a bottle opener, a standard and metric ruler, a letter opener, a box cutter, a phone stand, and a variety of screwdrivers. It is made from heat-treated steel, giving it a rigid metallic feel similar to conventional tools. 
The Wallet Ninja is a great gift for campers, repairmen, mechanics, carpenters, hobbyists, and boat owners. It is the quickest and most portable way to have dependable tools anywhere you go. With it, you can randomly open beers for friends or help someone without a screwdriver handy, making it a great conversation starter. 
7. Legit Camping Portable Parachute Hammock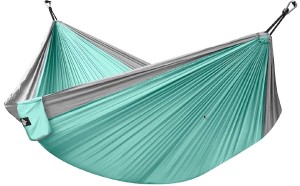 The Legit Camping Portable Parachute Hammock provides everything you need to get some rest on your next camping trip. It has enough space and carrying capacity for two people, making it an ideal gift for outdoorsy couples. 
This hammock is made from military-grade nylon fabric to ensure durability and comfort. Every seam is triple stitched to endure the rigors of wear and tear and outdoor survival. 
When in its attached stuff sack, this hammock has a minimal footprint, making it easy to pack in a bag or store in your car. You no longer have to take along a bulky pad and a heavy sleeping bag on your next camping trip with this trusty hammock. All you have to do is find a suitable spot and set it up within minutes using the reliable steel carbines and tree-friendly straps. 
Give this hammock to nature-loving friends for a unique gift they will surely appreciate!
8. Kershaw Brawler Folding Pocket Knife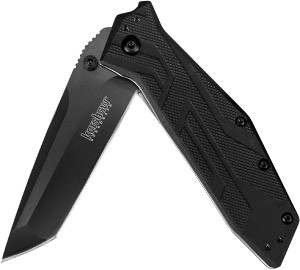 The Kershaw Brawler is a three-inch folding pocket knife that makes an excellent gift for hunting and camping enthusiasts. It features a heat-treated steel blade composed of carbon and nickel for hardness and edge retention. 
The Brawler is coated with black oxide for mild corrosion resistance and minimizing light reflection. The coating also gives the blade an attractive and tactical surface that makes it desirable to carry. One glance at this knife, and you can tell it was made with intensive craftsmanship. 
The Brawler features a glass-filled nylon handle for enhanced durability, heat resistance, and dimensional stability. It also has remarkable stiffness to provide a secure and stable grip. 
If you were given the arduous task of gifting an outdoorsman, you can't go wrong with the Brawler. 
9. I GO Compact First Aid Kit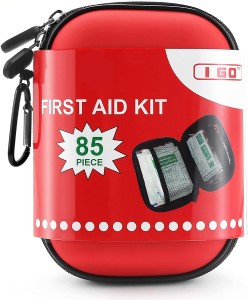 The wilderness is unpredictable, so it's best to prepare an emergency kit when out camping. This compact first aid kit from I GO contains essential supplies for treating common and minor cuts, scrapes, aches, and injuries. It helps you stay ready for potential emergencies when enjoying the outdoors with friends and family. 
The kit comes in a portable, water-resistant pouch with clear mesh lining and two-way zippers, giving you quick access to first aid supplies in case of emergencies. It can easily fit in your pocket, backpack, boat, car compartment, or desk drawer. It even comes with a robust aluminum carabiner to hang the kit in accessible places for immediate retrieval when camping, hiking, backpacking, boating, fishing, or cycling. 
10. Coletti Bozeman Coffee Percolator Pot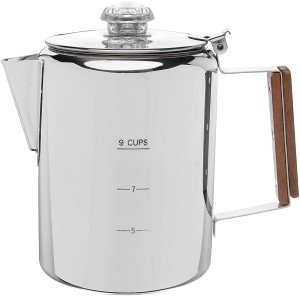 The Coletti Bozeman is an outdoor percolator pot that lets you brew coffee the old-fashioned way. It is must-have camping equipment for coffee lovers as it is designed to withstand the harshest conditions. 
The Bozeman is made of solid stainless steel with a glass knob and a heat-resistant rosewood handle, giving it a rugged and dependable appeal. It promises to extract a fuller and richer flavor than a drip pot for the ultimate outdoor coffee experience. 
The Bozeman includes filters in the package, but they are not necessary for operation. They are ideal for those who don't want finely ground coffee from falling through the percolator basket.
Quick Recap of the Best Camping Gifts
Conclusion
That ends our roundup of the best camping gifts for your outdoorsy family members and friends. Which products are you picking up for the holiday season? Share your favorite ones in the comments section below!