Having a pet is a full-time job. Fur pets like cats and dogs need special care, attention, and cleanliness. A lot of parasites live in the areas where dogs like to go; for example shrubs and trees. These parasites can become a cause of a number of diseases for your pet, some of them may be fatal. So, to protect your dog from all of these harmful parasites, you need to get him a flea collar.
There are two types of flea collars, both of which perform different tasks. One type of the flea collar emits a certain type of gas to repels the pests, and they won't come anywhere near your dog. The other type is the flea collar which emits active ingredients to kill fleas when they try to bite the dog. Before they even bite, they are killed by those active ingredients, and your dog remains safe even if he goes to a parasite prone area.
Following is the review of the best flea collars for dogs. All of them are ranked according to their features and benefits. We hope you will find the reviews helpful in making the right choice.
Here are the top 10 flea collars for dogs. We have mentioned the features in detail, along with pros, cons, and FAQs.
Top 10 Flea Collars for Dogs
1. Bayer Seresto Flea and Tick Collar for Large Dogs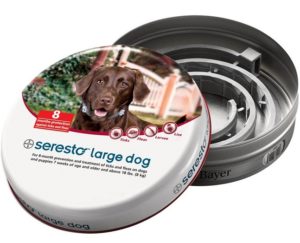 Insect and tick medications can be quite hectic. You have to visit the vet every month and get medication for your dog so he can be safe from all the parasite bites and diseases.
Seresto flea and tick collar for dogs is the ultimate solution of all the hustle of paying routine medical tours to the vet. If your dog is more than six weeks of age, you can get him this flea collar. Seresto not only repulses but kills the fleas and ticks. It is a simple to use neckline. There is no stretching or suffocating to the dog's neck as there is enough space to pass by two fingers. This flea collar by Seresto releases sustained technology and provides a protection of 8 months to the dog.
A lot of veterinarians recommend this tick prevention collar. The owner of the dog will not even know that his dog is wearing a preventive medicine. It is completely non-greasy and odorless tick and flea prevention insecticide. It repels all kinds of disease-causing organisms. Seresto is based on the innovative delivery system, where the active ingredients are well blended in nominal doses to provide complete protection.
Pros
It is based on sustained release technology.
It is odorless.
It is a non-greasy preventive insecticide.
Numerous veterinarians recommend this flea collar.
FAQs
Q: How many sizes are there?
A: There are three sizes; small, medium and large. The smallest is 13.25 inches.
Q: Can I sleep with my dog if it's wearing this flea collar?
A: Yes, veterinarians say that it is completely safe and there are no harmful fragrances that can cause difficulty in breathing.
Q: Do I have to remove the little plastic nipple looking thing before putting the collar on my dog?
A: It is not necessary. Taking it off or leaving it as it is, both won't change the performance of the collar.
2. Preventic Tick Collar for Dogs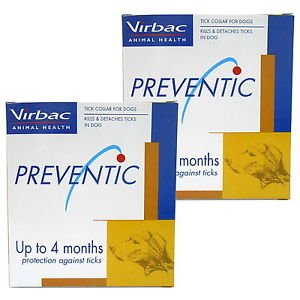 This dog collar is the most common among all the other flea collars. The reason behind being common and preferable is because it just only deals with the fleas and ticks but also does not utilize other substances by any stretch of the imagination.
Unlike other dog collars, this neckline can also be used on felines. It provides protection to your dog for 90 days. With 9% amitraz as an active constituent, it is very effective in killing and detaching ticks.
Your dog is going to be fully protected from all the ticks that feed on him. However, if your dog is younger than the age of 12 weeks, you must consider other options for parasite protection. It is virtually odorless, so the people around it will not be irritated. Amber neckline does not contain any chemicals, so there is no need to stress over the dog's neckline. The size of the collar is 25 inches which mean it can be adjusted to any dog. You can always cut off the extra part.
Pros
It does not utilize other substances to deal with fleas and ticks.
It provides 90 days protection.
It is odorless.
The collar size is adjustable, and you can always cut off the extra part.
FAQs
Q: Is the collar adjustable?
A: Yes, the collar is long enough to adjust on dogs of ages above 12 weeks.
Q: Does the collar work the same way for as long as 90 days?
A: Yes, the collar works fine for a long time; however at the end, the collar may only repel the fleas rather than killing them as well.
Q: How long does the collar take to start working initially?
A: The collar starts performing within an hour you put in on your dog.
3. Seresto Flea and Tick Collar for Small Dogs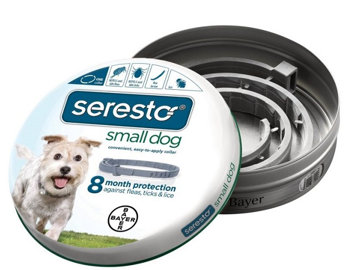 Seresto offers a breakthrough in tick and flea protection to the dogs. Here is another product from them. This collar is designed for smaller dogs, so the collar size is small as well. However, the technology and the performance remains the same. Your small dog will be protected from the fleas and ticks for as long as eight months.
If you visit your veterinarian, he will suggest you get this flea collar for your dog. This is a completely odorless and greaseless collar which does not cause discomfort on your dog's neck. Seresto carefully combines a set of active ingredients which does not bother the dogs and the people around them. It can detect unwanted organisms from quite a distance and repel them by the neckline. Meanwhile, other flea disturbances can easily be managed.
Pros
It is easy to use.
It is preferable for small breed dogs.
It not only repels but also ticks.
Cons
You may find dead ticks on the face and lower body parts of your dog.
FAQs
Q: What is the size of the collar?
A: The size of the collar is around 13 inches, which is why it can only be used for small breed dogs.
Q: What kind of pesticides are there in the product?
A: There are flumthrin and imidacloprid in the product.
Q: Why is there no expiry date mentioned on the package?
A: There is no expiry date because there is no expiry date. You just have to remember the date you got the collar and replace it after eight months.
4. Arava Flea & Tick Prevention Collar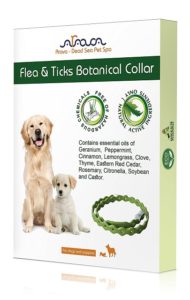 You would want to make sure that your dog is safe from all the fleas and ticks with something that is coated in natural and botanical chemicals. Arava flea and tick control collar are one of the advanced natural insect repellents. This dog collar contains 11 natural ingredients, which are not only safe for the animal but also for the humans around them.
If your kids are playing with the dog wearing a flea collar, there is no harm in it. It does not emit any harmful chemicals that can mess with the breathing of your kids or cause any skin infections. There is no scent of this collar, a lot of people even do not notice something hanging with the dog collar when it comes to Avara flea collar.
It has a comfortable design which ensures that it can be used for a dog of any size. There are higher concentrations of safer essential oils like cinnamon, peppermint, and lemongrass. All of these components collectively block the airway of insects, and they die. The design of this collar is environment-friendly, yet it repels more than 500 species of insects.
The collar does not only work for the dog but also for the surroundings. If there are unwanted insects in your lawn, it will repel them or kill them, so they do not produce further. It has a light scent, but it is hardly noticeable. You do not have to take it off while you are giving a bath to your dog, as it won't lose its effectiveness. It can last for as long as five months.
Pros
It is free of hazardous chemicals.
It is safe for dogs of all ages and sizes.
It is made of natural essential oils.
It lasts for five
Cons
The light scent may bother your dog for a while in the beginning.
5. Ultraguard Flea and Tick Dog Collar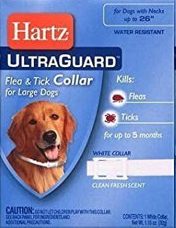 The Ultraguard flea and tick dog collar kill the unwanted species for more than seven months of time. These are one of the most reasonable dog collars in the market. These are waterproof collars, so if you worry about the effectiveness and viability of the collar once it's wet, there is nothing more to worry about now. It is safe to use on a puppy that is older than six weeks of age.
If your dog has ever suffered from Lyme disease or mountain spotted fever, then it is the right time to buy this collar and protect your dog for as long as seven months. There is a clean and crisp fragrance in the collar, which should not cause a lot of trouble.
The collar uses electricity from the friction created from around the neckline to kill the fleas and ticks. This is quite an uncomfortable situation for the ticks, and they do not hold on to the dog's hair or skin for a long time. They let go before even they can bite and be of any harm to the dog. It can be a good choice if you are looking for a reasonably priced dog flea collar.
Pros
There are two collars in one pack.
It is recommendable for larger dogs.
It offers long-term
Cons
The crisp smell might be troublesome.
Fleas are difficult to deal with this dog collar.
6. Adams Flea and Tick Collar For Dogs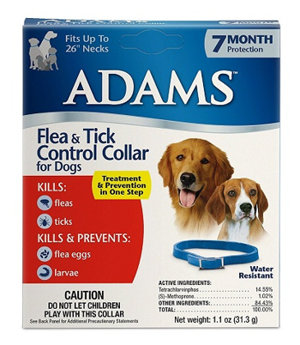 This collar intends to kill fleas and ticks. It also works on the eggs and hatching of fleas in the surrounding. For instance, if your dog goes to a place where fleas have laid eggs; the collar will kill the eggs as well. It provides a seven-month long protection from all kinds of fleas and ticks. Its flexible size works fine for all the dog sizes and ages.
Adam flea and tick collar provide fast acting treatment along with prevention. There are numerous active ingredients that work their way to the surface of the collar and rub on the dog fur. These ingredients travel through the oils to the dog hair and cover the whole body. There is no chance of the viability of the collar even if it is exposed to an excess amount of water. All you have to do is to stretch the collar carefully before putting it on your dog. This activity activates the ingredients, and they start working right away.
Pros
It also works on the flea eggs.
It has a flexible size.
It is made of natural ingredients and oils.
Cons
It does not work efficiently if you do not stretch it before putting it on the dog.
7. Flea Tick Collar – ProGuard Plus II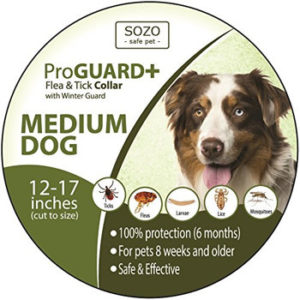 Here is another flea and tick control collar by Avara. They are working on different chemicals and pesticides that are least harmful to the dog but are extremely dangerous for the fleas and ticks.
This collar is free of concoction pesticides; which means that this collar is not coated with a blend of various elements. This is made from crucial oils which are unique but effective enough to get rid of fleas and ticks. This collar can be used for dogs of all ages and sizes.
However, if you are using some other means of dealing with fleas and ticks, then it is not advisable to use a collar as well. The reason behind this is that the chemicals in both the items can mix and lose their viability. The collar works for whole body, but there is higher concentration around the neck area. Other than being useful on dogs, you can also put the collar in your vacuum to prevent from all kinds of unseen fleas and ticks.
Pros
It has an adjustable size.
The collar covers the whole body.
It is free of concoction pesticides.
Cons
There is higher concentration around the neck are only.
It does not work if you are giving other kinds of prevention to your dog (drops or tablets).
it is expensive than other dog collars.
8. Seresto Under 18LBS Flea and Tick Collar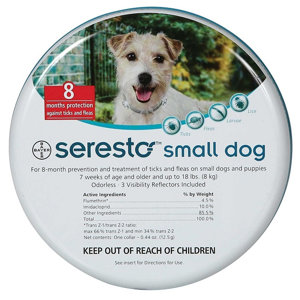 Seresto is working hard to make life comfortable for your dog. They are well aware of the fact that fleas and ticks can become a cause of a lot of diseases and infections in dogs. Here is another flea and tick collar for small dogs less than 18lbs. If you want to spare your dog from all the discomfort and health hazards, then it is the time that you get this collar for your dog.
It performs well in managing the fleas and ticks. Seresto dog flea and tick collar offers eight months of protection from all kinds of unwanted insects. The collar is not at all greasy or smelly, and these are the only two things that can cause irritation in dogs. There are three reflectors for security in the collar.
Pros
The collar has three reflectors.
It provides eight months of protection.
It is non-greasy and odorless.
Cons
It is only for smaller dogs.
It starts working after 2 hours when you put it on the dog.
9. Rolf Club 3D FLEA Collar for Dogs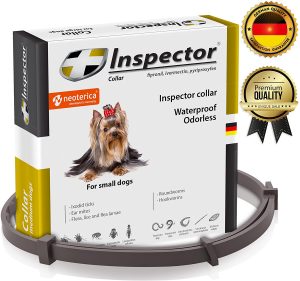 If your dog has sensitive skin and prone to allergies, then the Rolf Club 3D flea collar is the perfect pick. This flea collar is hypoallergenic, so it is recommended for dogs with allergies or sensitive skin. Now you can be sure that your dog is protected from fleas and ticks while warding off mosquitoes as well.
This collar is easy-to-use, offers six months protection, and has a non-greasy formulation. It does not matter whether you have a small or a big dog as the collar is adjustable and offers a custom fit. You also don't have to worry if your dog loves playing on puddles or whatnot as this collar is water-resistant. It is also odorless safe yet effective ingredients for excellent flea protection.
Pros
Can works as fast as 24-48 hours upon usage

Water-resistant

Hypoallergenic
10.  Scalibor Protector Band for Dogs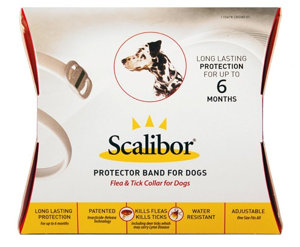 Last but not the least, there is Scalibor Protector Band for Dogs. It provides a six-month protection to your dog from fleas and ticks. Some say that it also works to manage mosquito bites and fly irritability.
However, this can be used for dogs that are older than 12 weeks of age; there are other bands for smaller dogs. This cannot be used along with other insect repellants because it will decrease the viability of both the protectors. Try not to experiment using it on your dog if it is younger than 12 weeks; the results can be horrifying. It does not lose its effectiveness if it is exposed to water, but somehow taking it off helps retain the functionality for a longer period.
Pros
It is cheaper than the other flea collars.
It provides six months
There is no change in effectiveness if exposed to water.
Cons
It can be harmful if you put it on the dog younger than 12 weeks of age.
We hope our review will be helpful for you. Feel free to share your reviews and experiences.