Choosing a cooktop depends on a number of factors. You have to consider the power sources and your personal preferences while you are looking for a cooktop. Another thing that is important to keep in mind is if you want to use it for personal use or commercial use. Between the choice of electric and gas cooktops, gas ones are given priority because they are better for use in the personal kitchen. This is because they come in different sizes and have a number of features that electric cooktops do not offer. They also offer customization as per your requirements.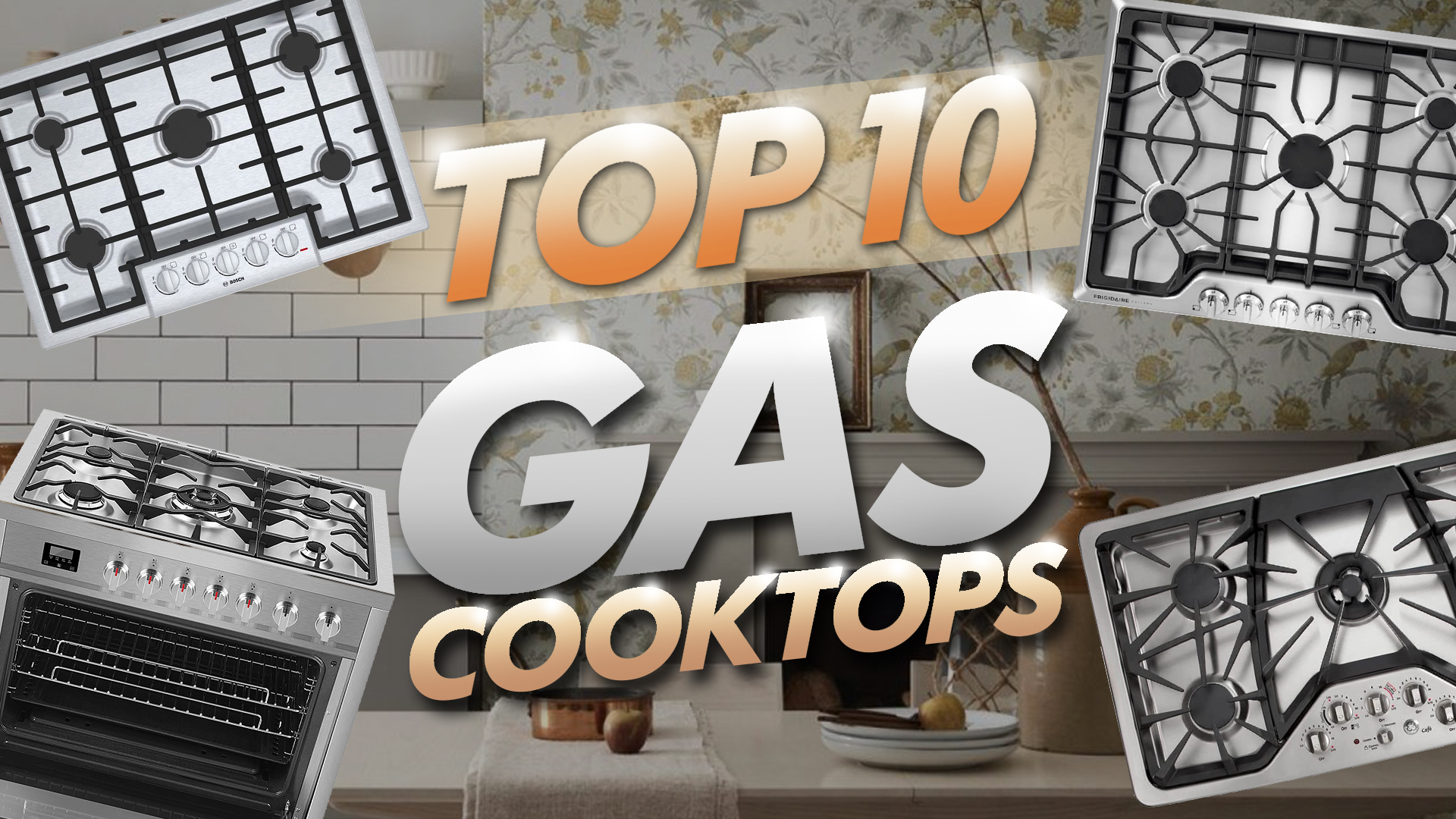 In the later parts of this post, we are going to review the best gas cooktops as per their features, specialties and pros and cons. Most of the cooktops we are going to discuss are made by different companies, which will give you an idea of how a certain company is working in this regard. We hope this review will be helpful for you when looking for the most suitable and the best gas cooktops for your personal kitchen.
Top 10 Best Stainless Steel Gas Cooktops
Let us have a look at the top ten cooktops individually.
1. GE Cafe CGP650SETSS 36″ Built-In Gas Cooktop
The GE Cafe CGP650SETSS is a great cooktop with easy cleaning and a unique design. It has five sealed burners that give the liberty of cooking more things at one time.
It has a number of features that are enough to attract potential customers. The heavy-duty knobs and integrated griddle is not something you find in all gas cooktops. All the knobs are logically placed with LED light which makes it easier to use.
With these lights, you can know the usability of the burner. It comes with a child lock as well, which makes it safe when kids are around. GE gas cooktop has a center tiered burner and a doughnut-shaped outer burner with three heat settings.
This cooktop has a fine stainless steel finish giving it a desirable look and feel. The continuous grates allow easy placement of oversized pans. There is enough space between the grates making it easier to move the pans.
FAQs
Q: Is it easy to clean stainless steel? Without leaving any scratches?
A: You must not use anything hard to clean the cooktop. You can spray the window the cleaner after removing the grills of cooktop and clean it using a paper towel. There are different products in the market that help clean stainless steel without leaving any scratches.
Q: What is the length of the power cord of cooktop?
A: The power cord is around 36 inches in length. It is sufficient enough to hook up under the cabinet.
Q: Are the grills included in the package?
A: Yes, the grills are a part of the whole cooktop package.
2. 

Frigidaire FGGC3047QS Gallery 30 Gas Cooktop in Stainless Steel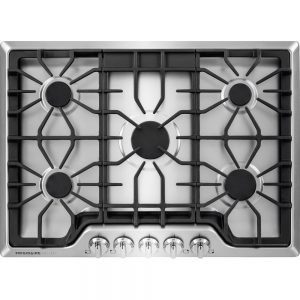 If you are looking for a 30-inch four-burner gas cooktop, the Frigidaire FGGC3047QS is an excellent choice. You can use it for either natural gas range or propane, though it is for natural gas use straight from the box.
However, this model is bundled with a conversion kit and instructions. But don't attempt to do it yourself as it should only be done by a qualified technician. Safety first!
For your convenience, this cooktop is equipped with Express-Select Control Knobs so you can quickly select options and control your cooking temperatures. The control knobs are also color-coordinated, so you can conveniently identify each burner.
It also features an electronic pilotless ignition, so you are sure to save more energy, if there is no electricity, you can still ignite it manually so don't worry. This cooktop is also mess-free thanks to the sealed gas burners, so cleanup is easier than ever.
FAQs
Q: Is there a gas regulator in the package?
A: Yes, a gas regulator comes with the unit.
Q: There are red and gray logos on GE products I see in the market. Are they all the same?
A: Yes, GE changed their logo from red to gray. The cooktops you see with gray logo are the latest ones.
Q: Gas connection is on the left or right side of the cooktop?
A: It is on the right side of the cooktop. But, the cord is long enough to reach under the cabinet even if you have the connection on the other side.
3. Bosch NGM8055UC 800 30″ Stainless Steel Gas Sealed Burner Cooktop
There are numerous valuable advantages that are offered by this gas cooktop. It comes with five burners that can also work freely to help you with all your cooking needs.
It is fitted with a nonstop solid metal that ensures you don't need to collaborate intimately with the flares. The knobs are made of metal and are placed on the front for easy access.
Bosch NGM5655UC 500 is an excellent model that functions admirably for both infrequent and overwhelming cooking. It gauges 36-inches which is an ideal size for a gas cooktop.
The rust-free stainless steel ensures that you do not have to worry about the damage controls. Furthermore, it has the capacity of 18,000 BTU. It also comes with LED indicators on the knobs, so you can know which burner is left on.
FAQs
Q: Does the cooktop come with a conversion kit?
A: Yes, a conversion kit it added to the cooktop.
Q: Can I convert this cooktop to propane?
A: Yes, you can. You just to understand how the conversion kit works and you will be able to do the rest.
Q: How do you recommend cleaning the grills?
A: The grills are dishware safe, but it is always better to soak them in soapy warm water for a few minutes to get all the grease off.
4. GE PGP986SETSS Profile 36″ Stainless Steel Gas Sealed Burner Cooktop
Culinary specialists use this cooktop all over the world. It is a stainless steel made cooktop with five burners. All the burners are placed carefully so you can use all of them at a time in case of a big cooking challenge.
It comes with 20,000 BTU tri-rings burner. The heavy cast grates ensure that your cookware is safe and the heat will not harm it as well.
There is a child lock added on the cooktop, so you can go outside leaving your kids at home without any fear of them accessing the cooktop without any supervision.
It also has conversion nipples with the gas regulator, which means you can also use it with LPG gas. It is an easy to use cooktop that can enhance your cooking experience in everyday life.
5. Bosch NGM5655UC500 36″ Stainless Steel Gas Sealed Burner Cooktop
Bosch NGM8055UC 800 is a five-burner stainless steel gas cooktop with a steady 30-inch outline.
It has fixed burners that ensure proficiency and convenience. It has a capable yield of 16,000 BTU which is sufficient for commercial and personal cooking. This burner also comes with a conversion kit for liquid propane gas fuel.
So, in case the flame goes out while you are cooking, the auto-ignition kicks in and keeps you cooking. There are heavy duty metal knobs in the cooktop that do not rust or break. The cast-iron grills are easy to clean when you soak them in soapy water.
People who have already been using this gas cooktop are quite happy with the usability and appearance. It is a unique model and agrees with all the usability modes. This gas cooktop has a power of 16,000 BTU.
6. Ships from CA, USA 23″ Elegant Curve Stainless Steel 4 Burners Stove NG/LPG Gas Hob Cooktop Cooker
With this gas cooktop, you get to enjoy personal cooking just like professionals. It has a sleek yet professional design, and it fulfills all the requirements of professional and personal cooking.
It has four gas burners that allow you extensive cooking. It has an elegant curved stainless steel design which gives you precise control for some serious cooking.
This gas cooktop is a must have for a modern kitchen. The cooktop has a triple ring wok burner and an optional wok holder. Top construction is easy which leads to proper and detailed cleaning. The cast iron burner grates are durable and easy to clean with shelf cleaners.
The knobs are finely brushed to give proper grip. It comes with electronic ignitions with a standard 110V plug. The cord is included in the package, so you won't have to spend anything extra to get a sufficient cord.
7. WindMax 23″ Stainless Steel 4 Burner Stoves Gas Hob Cooktops Cooker Gas Oven 11259Btu/H
This cooktop by WindMax has four burners that are sufficient for everyday cooking. You can use this for a cooktop for boiling, frying or searing.
You can also prepare all kinds of sauces on this cooktop with the easy to control knobs. It is made of stainless steel which is easy to clean with the help of window cleaners.
Make sure you do not use anything hard on the cooktop for cleaning; otherwise it will damage the surface and leave scratches. The burner cap is made of iron, which does not harm the surface of any of your cookware.
The dimensions of the cooktop are easy to fit in the space you have in your kitchen. It may look like any other cookware, but it is really fun to use with lots of accessibility and convenience. You can also use propane as an alternative, but you will need a good quality conversion kit.
8. GE Profile 30″ Black Built-In Gas Downdraft Cooktop
With 11,500 BTU, this is an all-purpose gas cooktop. It has a sleek design with easy to clean options. The sealed cooktop burners ensure safe cooking with the least chances of accidents and leakages.
The knobs are removable, which means you can clean them by soaking them in warm water or use a sponge to get the hard grease.
The cooktop burners are sealed, so there is no way you can damage the bottom of your cookware. There is a powerful exhaust system in the cooktop, which does not let any heat to store under the cooktop.
This exhaust prevents the grease from developing under the stove or on the shelf on which you have placed the cooktop. There is a propane conversion kit in the unit so you can also convert the usability to propane.
9. KITCHENAID KCGS350ESS 30″ Gas Cooktop with 5 Sealed Burners, 17K BTU Multiflame Burner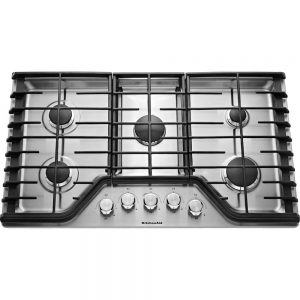 Those who are very passionate about cooking, owning state of the art equipment is important. That is why the Kitchenaid KCGS350ESS, with its 30-inch surface and five sealed burners are sure to make cooking more fun. The surface itself is built using three heavy-duty cast-iron grates so you can switch to one burner to the next with ease.
Now, if you find yourself sauteeing vegetables, simmering soup, and pan-frying at the same time, you can do so in a breeze.
Cleaning up is also easy as the grates and knobs are dishwasher safe. Overall, it is an excellent range of burners that are groomed to be your best kitchen buddy. It offers a balanced heat for optimal cooking. The design is also suitable for the modern kitchen, so it is not just functional but stylish too.
 10. Cosmo VA-S950M Stainless steel gas cooktop
This is an easy to clean and easy to manage cooktop with a stainless steel body. It has a very simple design with cast iron grates.
There are five burners on this cooktop. The burner is the center is said to be the main burner with highest heating capacity. The other four are one on each corner of the cooktop.
They have equal heating capacity but with smaller burners. It has the capacity of up to 14,000 BTU. You get an electronic start for the burners, which spare the vitality. It is an easy to use cooktop and can be used for all kinds of personal use.
However, it does not have a child lock so make sure you do not leave kids alone in the kitchen to avoid any accidents.
Finding a suitable cooktop might be a difficult task. You have to keep in mind the usability and the additional features f a cooktop when you make the final decision. We hope out review will be helpful for you.
Recap: Best Gas Cooktops in 2020