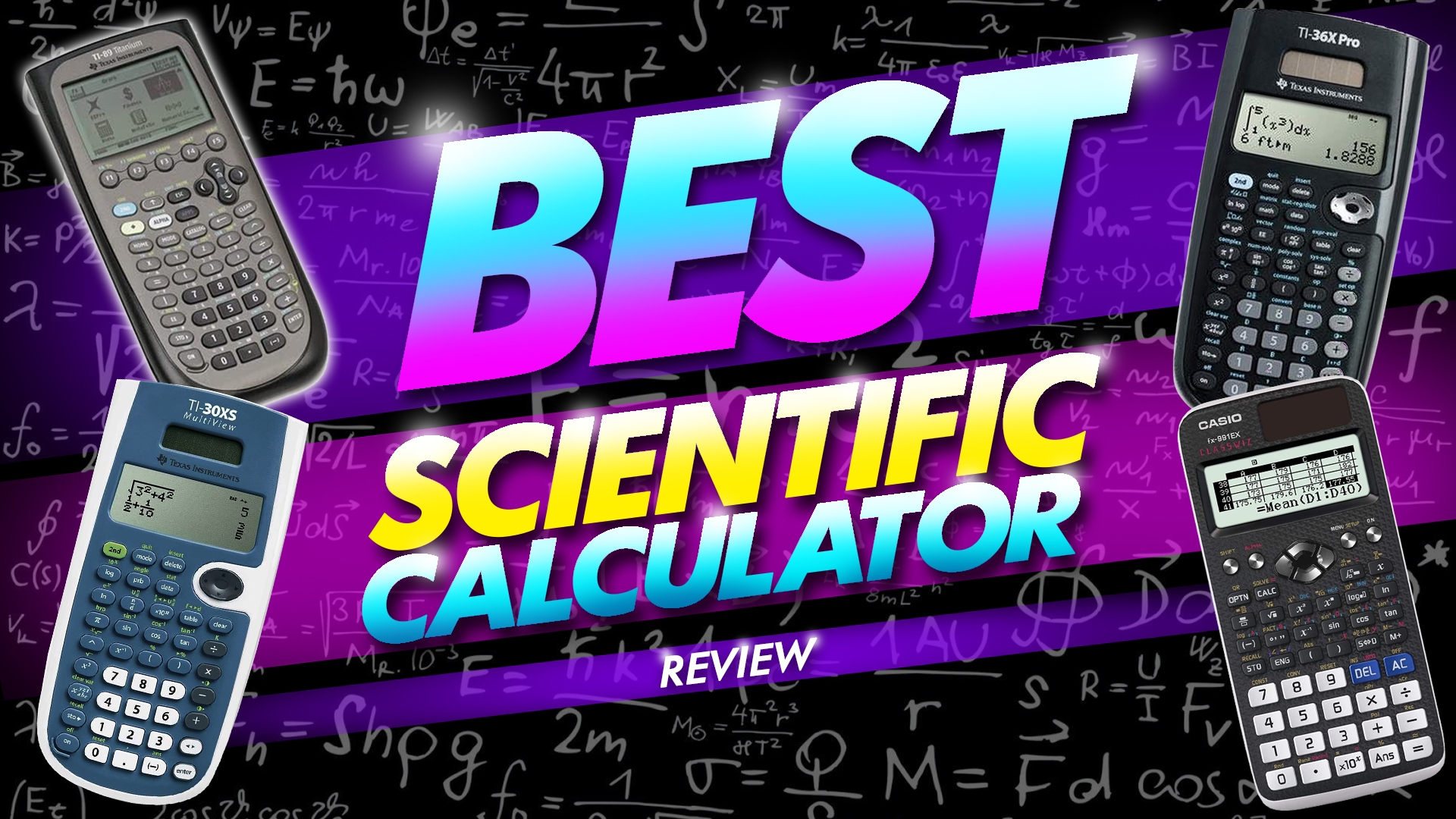 Permitted On Tests
SAT, AP, PSAT/ NMSQT, IB Diploma Programme
SAT, AP
SAT, ACT, AP
SAT, ACT, AP
SAT, ACT, AP
A scientific calculator is one of the basic tools for students of mathematics, engineering, and sciences. There are numerous functions in it that facilitates calculations and other requirements of subjects. There are quite a few companies in the market who are working on designing scientific calculators, but not all of them are said to be preferable choices. You have to be wise while making a selection. You have to understand the functionality, usability, and clarity of a calculator before you buy it.
To help you with choosing the right scientific calculator, here are reviews of the best choices in the market. The list is not in any particular order. However, you have to keep in mind your requirements as well.
The Top Scientific Calculators Available Today!
1. Texas Instruments Ti Nspire CX II CAS Graphing Calculator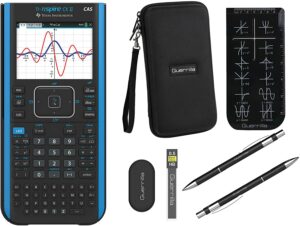 Pros
Graphing calculator bundled into a package.
Allowed on the SAT.
Computer Algebra System (CAS).
Straightforward graphing capabilities.
Cons
Not allowed on CAT.
Interface isn't user-friendly.
Wobbly buttons.
Permitted On Tests: SAT, AP, PSAT/ NMSQT, IB Diploma Programme
This is one of the most advanced calculators created by Texas Instruments. Putting calculations aside first, the Texas Instruments Ti Nspire CX II CAS Graphing Calculator comes in a bundle with a zipper case and an accessory kit.
Test acceptance includes the SAT, AP, PSAT/ NMSQT, and IB Diploma Programme. However, if you're taking the CAT, this isn't the scientific calculator for you, since it isn't allowed for the said examination.
Although it doesn't have a user-friendly interface, it doesn't mean performance is subpar. You might use the Graph and Calculate sections of this calculator often. These parts are easy to understand, as it looks like what you'd see in a normal calculator. You can access the advanced functions through the [doc] or [menu] keys. The [doc] key will display the settings, while the [menu] key will show up functions.
Using this calculator can be overwhelming at first. But once you get the hang of it, you'll notice that everything has been logically laid out. Functions are divided into various areas of mathematics.
Its Computer Algebra System (CAS) is the highlight of this scientific/ graphing calculator. You can use it for symbolic math problems and you will get the exact answer you need. It can factor, expand, solve polynomials, and work with various algebraic equations.
In terms of design, it's very similar to its predecessor, the TI-Nspire CX II. The functionalities are present, however, the build doesn't feel like it's top-of-the-line. Its buttons wobble quite a bit. The screen has a resolution of 320 x 240 and measures 3.2 inches diagonally. The display is not like smartphones. However, it's great for looking at thin lines, texts, and graphs.
2. Texas Instruments TI-89 Titanium Graphing Calculator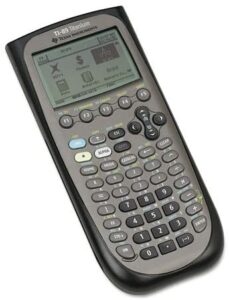 Pros
Built-in Computer Algebra System (CAS).
Great option for calculus.
Intuitive drop-down menus.
Durable build.
Cons
Isn't allowed for ACT.
Irregular updates to its OS.
Permitted On Tests: SAT, AP
The Texas Instruments TI-89 Titanium Graphing Calculator is preloaded with sixteen applications including CellSheet, NoteFolio, and EE*Pro. It's a great calculator for students in college, especially those taking calculus.
The built-in Computer Algebra System (CAS) is used to solve equations, algebraic problems, trigonometric expressions, and more. It is permitted for SAT and AP tests, however, it's not allowed in the ACT.
The highlight of the Ti-89 Titanium is the robust set of features you get with it. Plus, it comes with a lot of free applications, some of which you can download from TI's website. The user interface is pretty easy to understand as it uses a drop-down menu system. This is similar to what we see in most computers today. It has an excellent build that looks and feels durable. Once you hold it, you'll notice that it feels solid.
We're assuming that this calculator will be replaced soon. Although, it hasn't been discontinued by Texas Instruments yet. We noticed that there are irregular updates to the operating system of the TI-89 Titanium.
One notable feature of this calculator is the ability to measure motion, light, temperature, sound, force, and more. This is done through the compatible sensors from Texas Instruments and Vernier Software & Technology. Data can be imported through the CBL 2 System.
Overall, the Texas Instruments Ti-89 Titanium Graphing Calculator is a great option to calculate with precision. It even allows you to display expressions in proper notation. Its Pretty Print feature is a great enhancement to display equations and results that contain stacked fractions, radical notation, and superscript exponents.
3. Texas Instruments TI-30X IIS 2-Line Scientific Calculator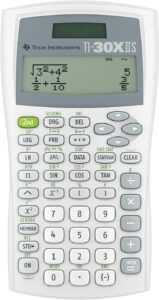 Pros
Dual batteries.
Good for general mathematics.
Easy to perform trigonometric functions.
Cons
Doesn't have a colored display.
Permitted On Tests: SAT, ACT, AP
This one is another robust professional and easily one of the best scientific calculators by Texas Instruments. The two-line display of the calculator shows the entry and the calculated result at the same time.
This enables the user to go through his calculations once more before he can press enter to get the result. It also makes it easier to catch your mistakes in the calculations. This calculator can easily handle 1 and two-variable statistical calculations, three angle modes, scientific notion modes and engineering notion modes.
There are two colors in the calculator; the front is black while the back is dark grey-blue. TI-30X IIS is ideal for general math, geometry, general sciences, statistics, algebra 1 and 2. It has solar energy batteries as well as AAA batteries.
It is very easy to perform trigonometric functions on this calculator. The great thing is that these calculators are allowed in entry tests of different institutes.
4. Texas Instruments TI-30XS MultiView Scientific Calculator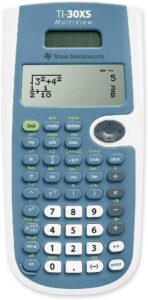 Pros
It has a sleek design.
It has a four-line display.
It works on the MathPrint
It has a dual battery system.
Cons
Calculus students may find it useless.
You cannot find a vector on this calculator.
Permitted On Tests: ACT, SAT, AP
With a four-line display, this calculator by Texas Instruments is a recommendable choice for middle school students. The design of this calculator allows the user to enter more than one calculation at a time and compare the results. The user can explore the patterns on the screen.
With the help of MathPrint mode, the user can enter and view the calculations in common Math notion. You can view the fractions and decimals in alternate forms by using the Toggle key on the calculator.
Due to the four line display, you can scroll through the previous entries and investigate any mistakes. It has dual power resources; one is the built-in battery, and the other is solar power. You can edit, cut and paste your entries from one place to the other.
The students who are in the field of chemistry, biology, general math, algebra, geometry, and statistics can use this calculator to solve their calculations. The blue and white color of the calculator gives it a soft look along with sleekness.
5. Texas Instruments TI-36X Pro Engineering/ Scientific Calculator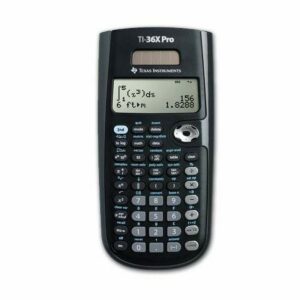 Pros
It has a four-line display.
It can deal with metric conversions.
Cons
It has a small LCD.
It's hard to read when set straight on a desk.
Permitted On Tests: SAT, ACT, AP
This calculator is another advanced four line scientific calculator with high-level math and science functionality. It can be very helpful for computer science and engineering students, or other courses where graphics technology is not permitted.
All the math students will love its ability to perform fractional equations and calculate angle units. Users find this calculator's metric conversions very helpful for their studies. For this price range, there is nothing better than you can find in the market.
It is the best scientific calculator that can fulfill high-level science and math requirements for students from junior high school to college level.
6. Casio FX 260 Solar II Scientific Calculator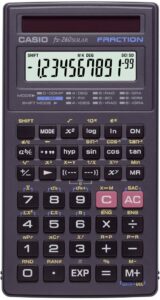 Pros
Hard slide case.
Great for day-to-day calculations.
Solar power for dependability.
Easy-to-use interface.
Cons
Not a good choice for calculus.
Permitted On Tests: PSAT/ NMSQT, SAT, ACT, AP
The Casio FX 260 Solar II Scientific Calculator is great for courseworks on General Math, Pre-Algebra, Algebra I & II, Trigonometry, Statistics, and Science. However, it's not made for more complex problems involving calculus.
It has a 10-digit display with two extra digits for various calculations. Apart from the normal input and output functions, this scientific calculator allows variance, prime factorization, SIGMA, vector, matrix, and base-N, among other things.
The advantage of using this scientific calculator is its ease of use. Compared to other calculators, the Casio FX 260 Solar II has a user-friendly display and design. As stated in its name, it's powered by solar energy, but you can also place one triple A battery to make sure it works all the time. Having two energy sources ensures reliability, especially during your dreaded examination.
7. Casio FX-991EX Engineering/ Scientific Calculator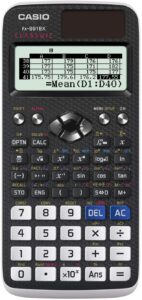 Pros
12 different applications.
High-resolution screen.
Exact answers.
Easy to get decimal approximations.
Multiple display options for readability.
Permitted On Tests: PSAT, SAT, ACT, Math AP Exams
The Casio FX-991EX Engineering/ Scientific Calculator offers exact answers as opposed to a decimal approximation. This removes the need to simplify radicals or reduce fractions. Plus, Casio has made it easy to get a decimal answer by pressing [SHIFT] and [=] keys simultaneously.
Once you use this scientific calculator, you can access apps by pressing the [Menu] button. The most basic app is "Calculate" where you can do simple calculations. You can also work with complex numbers using another app. Other apps are made for matrices, vectors, data, distribution, spreadsheets, and tables, among others.
In terms of display, the screen has more pixels when compared to other corresponding scientific calculators. Thus, the lines and numbers are easy to read. Customizable screen options are available too. For instance, you can let expressions appear in the classic calculator mode or in a textbook-type mode. There's also the option to get four or six lines of display on the screen. Plus, you can choose to put a space in between three digits for readability.
Solar-powered, you can also add one LR44 battery to have a back-up. This makes it reliable in various settings. It's made for different courses such as General Math, Pre-Algebra, Algebra I & II, Trigonometry, Calculus, College Algebra, Chemistry, Physics, and Engineering.
The drawback of this calculator is it doesn't have a graphic function. It does have a compromise for it. The Casio FX-991EX Calculator can generate a QR code you can scan with your smartphone. Your phone will direct you to Casio's website where you can view your graph.
8. Casio fx-9860GII Graphing Calculator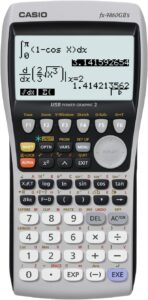 Pros
Supports standard and advanced courses.
Fifteen powerful icon menus.
High-speed CPU.
USB connectivity.
200 hours of battery life.
Cons
No built-in Computer Algebra System (CAS),
Bulky.
Permitted On Tests: PSAT/ NMSQT, SAT, ACT, AP
The Casio fx-9860GII Graphing Calculator is for intermediate users. It's best used for courses such as Pre-Algebra, Algebra I & II, Geometry, Trigonometry, AP Calculus, AP Statistics, Biology, Chemistry, Physics, Business, and Finance.
It can be used in AP, ACT, SAT, and PSAT/ NMSQT. This graphing calculator boasts of a high-speed CPU for accelerated processing speed that's about 3x to 5x faster compared to conventional models. It'll take fewer keystrokes and steps to solve complicated calculations and graphics.
In terms of display, the Casio fx-9860GII offers a high-resolution LCD screen for sharper images of formulas, graphs, and graphics. USB connectivity is superb. The package comes with a unit-to-unit cable, USB cable, and Program-Link Software. These cables enable data communication between units or between the unit and a PC.
Functionalities include dynamic graphings, spreadsheet application, pre-loaded geometry application, natural display, dual graph display, and table display, etc. All of these functions can be found in the icon menus for easy access and use. Plus, it has 200 hours-worth of battery life for long-term reliability.
The drawback we can find is its lack of the Computer Algebra System (CAS). This is not a dealbreaker, but is a great option for those who want a more authentic experience and application of mathematics. It's quite bulky as well, since it makes use of four AAA batteries. Other than these, it's still a great calculator for beginner to intermediate users.
9. Texas Instruments TI-34 Scientific Calculator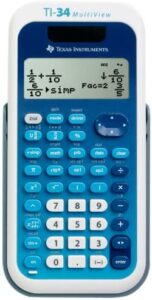 Pros
There is an option to review the previous entries.
It is run on dual battery options.
You can view scientific notations.
There is also a table feature in the calculator.
Cons
It is not made for statistics and calculus problems.
Permitted On Tests: SAT, ACT, AP
Here is another creation of Texas Instruments. TI-34 is a scientific calculator that supports all kinds of mathematical and scientific calculations.
It has a four-line display that helps the user to scroll and edit easily. It enables you to review the previous entries and look for reliable patterns and possible mistakes. It has a menu similar to a graphing calculator, pull out menus make it easier for the user to understand the variety of functions in the calculator.
Being a student, you can view the scientific notation with the proper superscripted exponents and see the output. There is also a table feature in the calculator that enables easy exploration of table values. You can also view fraction computations and explorations in textbook format.
This scientific calculator is made for Middle School Mathematics, Pre-Algebra, Algebra I & II, General Science, and Geometry courses. However, it's not the best option for Statistics, Calculus, and Physics, etc.
10. Sharp EL-W516TBSL 16-Digit Advanced Scientific Calculator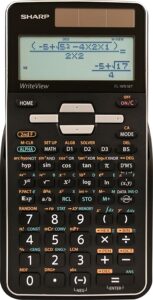 Pros
640 individual functions.
Large, 16-digit, 4-line LCD display.
Home key to start fresh from any screen.
7 modes.
Cons
Complex and very hard to use.
Permitted On Tests: SAT, PSAT/ NMSQT, AP Chemistry, AP Physics, Mach IC & IIC Exams.
The Sharp EL-W516TBSL 16-Digit Advanced Scientific Calculator boasts of 640 individual functions. Its WriteView feature shows answers in the form as you would see in a textbook (as opposed to decimals). This feature also shows, by default, exact simplified answers. The calculator can handle radicals, fractions, exponents, or a mix of the three.
It has an easy-access button to convert decimal degrees to degrees, minutes, and seconds (DMS). The mode menu allows you to find the various apps and functions built into this Sharp scientific calculator. Seven modes include Normal, Stat, Complex, Drill, Equation, List, and Matrix.
It is approved for tests such as SAT, AP Chemistry, AP Physics, PSAT/ NMSQT, Mach IC, and Mach IIC. It can perform advanced scientific functions such as logarithms, powers, roots, reciprocals, and more.
One major setback of this scientific calculator is its usability. It's very difficult to understand and use. For instance, it can be annoying to scroll through menu pages just to find the specific category you're looking for. Plus, the screen is too cramped up and it can take a lot of time for you to find the function you want.
However, the Home key can help you go back to its starting point. This is a great feature, especially when you find yourself lost in the pool of menus and functions. In terms of durability, this scientific calculator is "built to last." The package comes with a hard case for protection and increased lifespan.
Buying Guide: How To Choose The Best Scientific Calculator
Scientific calculators are necessary to pass high-school and university-level courses. That's why almost everybody will have to buy one at some point. Let's take a look at some of the things you should know before purchasing a scientific calculator.
Purpose
When it comes to buying any type of product, the question you have to ask is, "What will I use this item for?" Are you going to use it for examinations? For instance, if you're using it for the SATs, then you must make sure it can be used for the said exams.
Are you going to use it for a particular class? Are you going to use it for work? Knowing this ahead of time will help you get a scientific calculator with all the functions you need. The key here is to understand your exact needs and preferences.
You may even want to consider your future needs. If you plan on taking more advanced mathematics, engineering, and science courses in the future, it may be cost-effective to purchase a more advanced calculator now. This is better compared to purchasing two different calculators for different purposes.
User
This is somewhat tied to "Purpose." Who is going to use the scientific calculator? Are you a beginner or a student? Are you an experienced engineer? The scientific calculator you will purchase will depend on its actual user.
Test Permissions
Some scientific calculators are allowed on standardized tests, while others aren't. If you're taking the SATs or the AP exams, you must ensure your calculator is allowed by its policies. To double check whether your scientific calculator is permitted, you can visit the official website of the examinations on the web.
Power Source Or Battery Type
Generally, there are two power sources for scientific calculators, batteries and solar energy. Solar power can give your calculator that much-needed boost in case your batteries run out. The reverse is also true.
It's also good to know whether the batteries are replaceable or not. You wouldn't want to buy a calculator that doesn't have replaceable batteries, thus obliging you to buy a new one again. That's a serious waste of money.
Functions
Some functions to look for include probability, fraction calculations, and fraction to decimal conversions (and vice-versa). These three are just tiny tips of the iceberg. A lot of calculators have hundreds of functions. A larger number of functions signifies how much the scientific calculator can do. In addition, when you have more functions, it means you have a universal calculator that's useful for different subjects and classes.
Display
With regards to scientific calculators, display is quite broad. We're referring to display digits, number of lines, display size, and even its clarity. Display digits refer to the scientific calculator's number of spaces dedicated to showing numbers and symbols. Larger display digits are best for complicated equations such as those solved in trigonometry and calculus.
The number of lines refer to the number of rows the display can show. For complex calculations, the higher the number of lines, the better. Display size also matters if you want easy viewing and readability. The same goes for clarity.
Size
This isn't much of an issue for most users. Scientific calculators are very portable at this day and age. It's still good to know if you can carry it around your pocket. Take note that there are slim scientific calculators, and there are bulky ones as well.
Extra Features
These extras can actually help to make your life more convenient. Extra features may include the following:
Ability to brighten or dim the display as necessary.
Ability to store past calculations.
Ability to turn decimals into fractions, and vice-versa.
Larger screens compared to conventional models. This allows easier viewing of graphs and calculations.
Ability to input specific notations as they appear in a textbook (i.e., proper notation).
Package Inclusions
What are included in the package that you're purchasing? Is there a hard case or a soft carrying pouch? Are the necessary cables included? Are there other accessories that may help you in using your scientific calculator optimally?
Price
Of course, price is always something to consider. Generally, scientific calculators are more expensive than basic calculators. A larger display, a higher number of functions, and a more robust build all lead to an increase in price. We recommend that you take all courses (present and future) into consideration, so you only have to purchase a scientific calculator once.
Warranty
This will help protect you from wasting money in case your calculator is defective. If your scientific calculator breaks down due to a manufacturing error, for instance, you can have it replaced or refunded by the company.
Frequently-Asked Questions (FAQs)
Which brand of scientific calculator is the best?
Like most products, there is no such thing as a one-size-fits-all scientific calculator. Different companies manufacture different models of scientific calculators. And all of these models vary in features and limitations. However, the most popular brands of scientific calculators include Texas Instruments, Casio, Sharp, Hewlett-Packard, and Radio Shack.
What is the best calculator for calculus?
We can't say it in terms of a specific brand and model. However, you should go for graphing calculators, instead of scientific calculators. The functionalities you will need to make it the best calculator for calculus will depend on your requirements and preferences.
Is it worth buying a graphing calculator?
If you're in a technical field, graphing calculators are necessary. They last for a very long time and are a good option for Algebra, Trigonometry, Calculus, and a whole set of subjects. If you don't need it now, you may need it in the future. Thus, it's better to purchase an expensive graphing calculator today compared to buying a cheaper one that you'll soon replace in the future.
Can a graphing calculator be used as a scientific calculator?
Yes, a graphing calculator can be used in place of a scientific calculator. Technically, a graphing calculator is a scientific calculator. The difference is that a graphing calculator has a high-resolution screen. It also allows you to graph functions and plot coordinates.
Recap: The Best Scientific Calculators
You cannot negate the importance of a scientific calculator in the life of a student. Make sure you get a calculator that fulfills all your requirements. It is not a wise decision to buy an advanced calculator when you need a basic one, so make sure you do not get yourself confused with so many functions. They will be useless for you if you cannot use them. Get a calculator by the reviews given above. They will surely help you to judge your demands and end up with the best scientific calculator.