It is nice to see the world is becoming more conscious and aware of environmental changes. With technology evolving so fast the world needs to minimize the impact to nature as much as possible. But we are living in a "plugged" world, so this is harder than we think.
The demand for real-time communication and data transfer is greater than ever. With smartphones always in our pockets, the need to have it fully charged whenever we are is stronger. It is nice if we owned something like the Moto G7 Power with its massive 5,000 mAh battery or the 4000 mAh fast charging BLU Vivo XL5, but if you don't then you need to be always ready.
However, though we rely on technology, the environment must be taken into consideration too. Good thing that there are Solar Power chargers to the rescue. Not only are they environment-friendly but are also highly portable. If you don't know what to look for then you came to the right place, read on to know The 5 Best Solar Phone Chargers On The Market Right Now!
Five Best Solar Phone Chargers
1) Dizul Portable Solar Phone Charger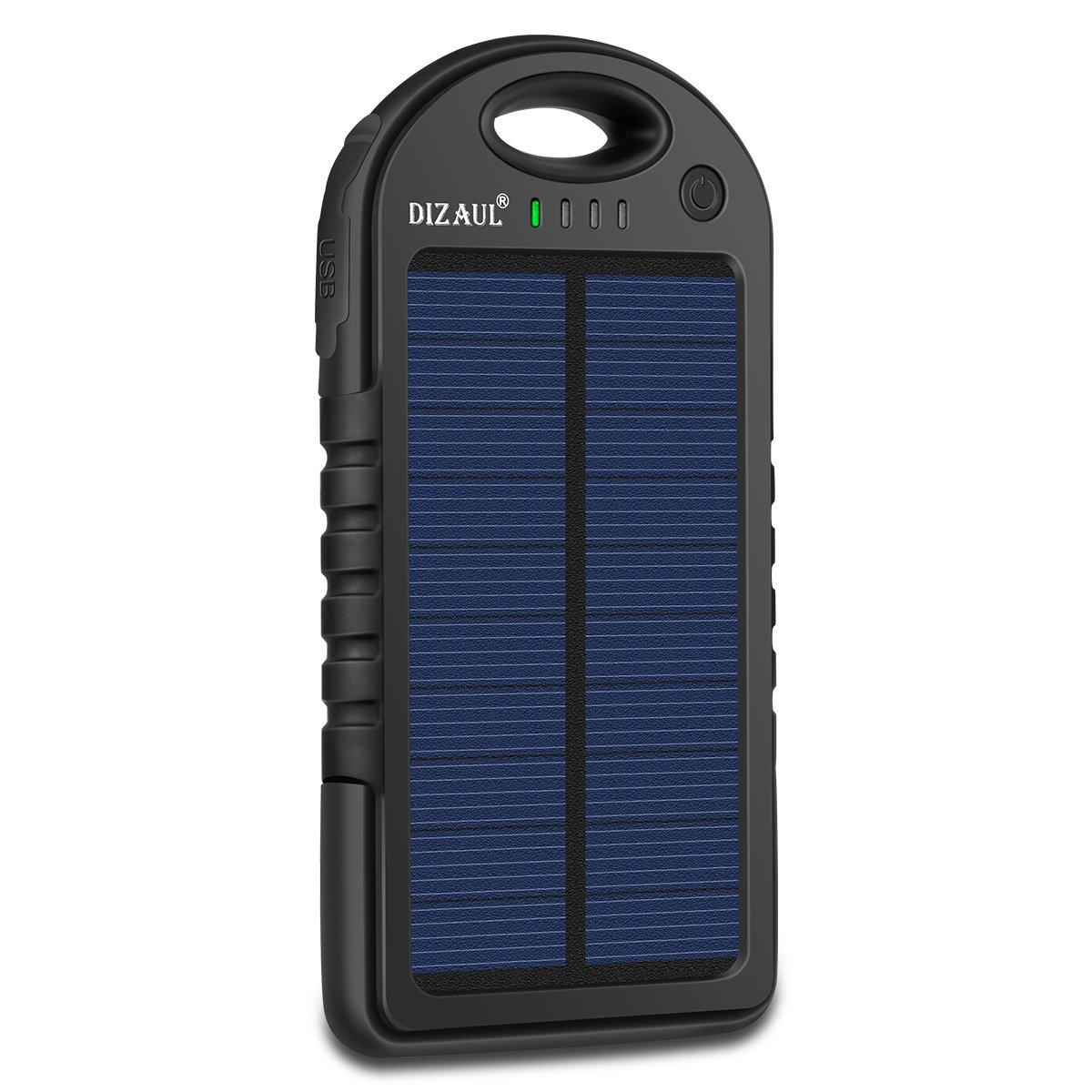 Appealing to a broad market, the Dizul Portable Solar Phone Charger doesn't just target the tech-savvy, but hikers, and even those who worry about their phone dying while they're out on the town and can't find a single outlet anywhere. Designed with an integrated hook, the Dizul Portable Solar Phone Charger can be hung on any backpack or purse, allowing for a stress-free time when your phone is hanging on to the last few bars of its life. It comes with two USB ports that are protected by rubber caps, making this product waterproof. The design of this product doesn't just protect it from water leakage, but with the football-style design and the waterproof panel, it allows for water to run off of it, protecting the exterior and interior of the product.
Crafted with AB plastic and other materials, this product can withstand shock and falls from any high and material. With a low cost of $19.95, Dizul not only delivers and insanely cheap product despite the care and attention that have gone into the product.
2) Jetsun Solar Power Bank LED Torch Light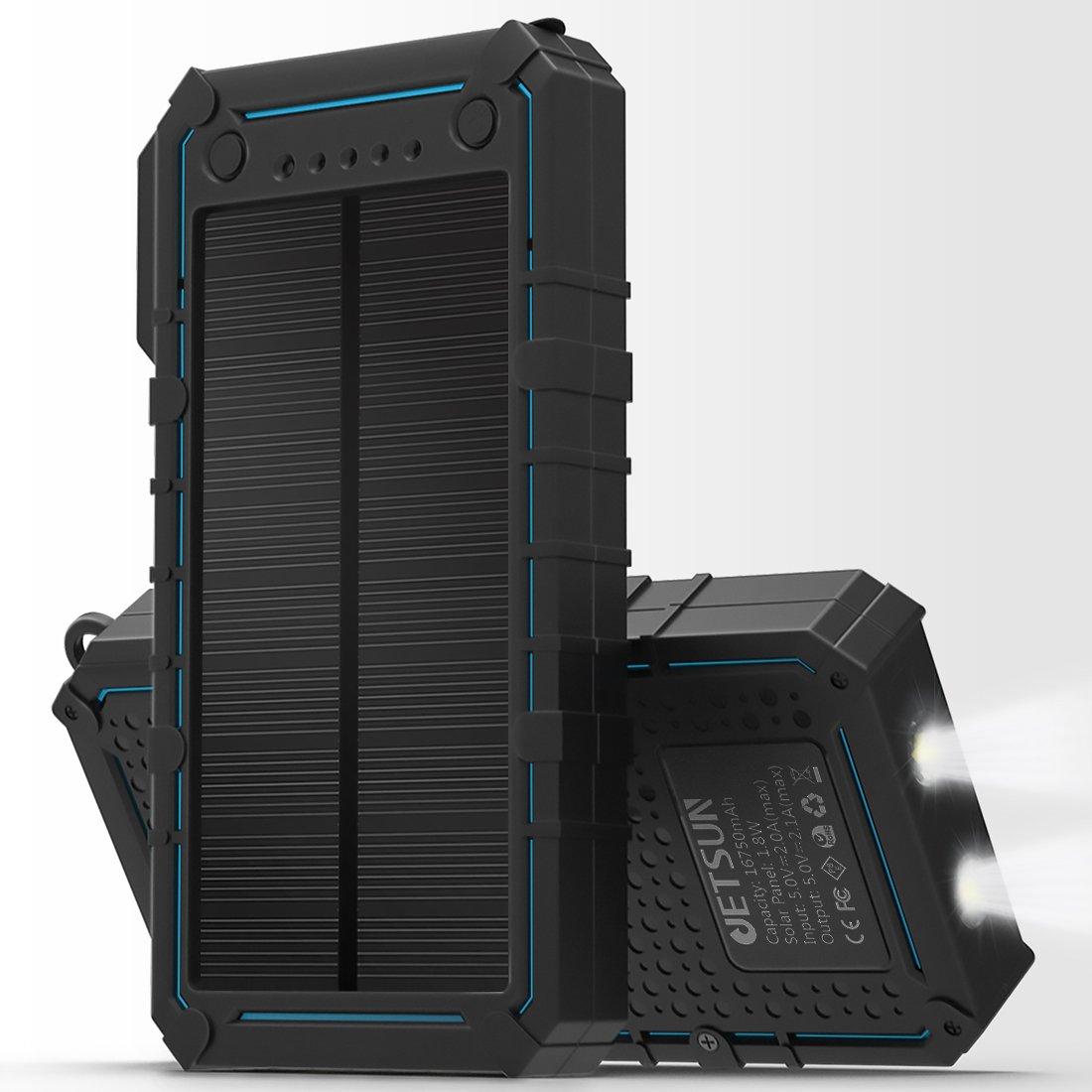 Considered the perfect companion for any hiker or survivalist, the Jetsun Solar Power Bank comes with two ultra-bright LED torch lights that give you the same power as a lower-end tactical flashlight. Allowing you to light up your way and giving you maximum visibility. The power bank on the product gives you the best longevity out of most devices, as this one allows you to charge your phone up to three times on a single lengthy charge.
3) BigBlue 3 Solar Charger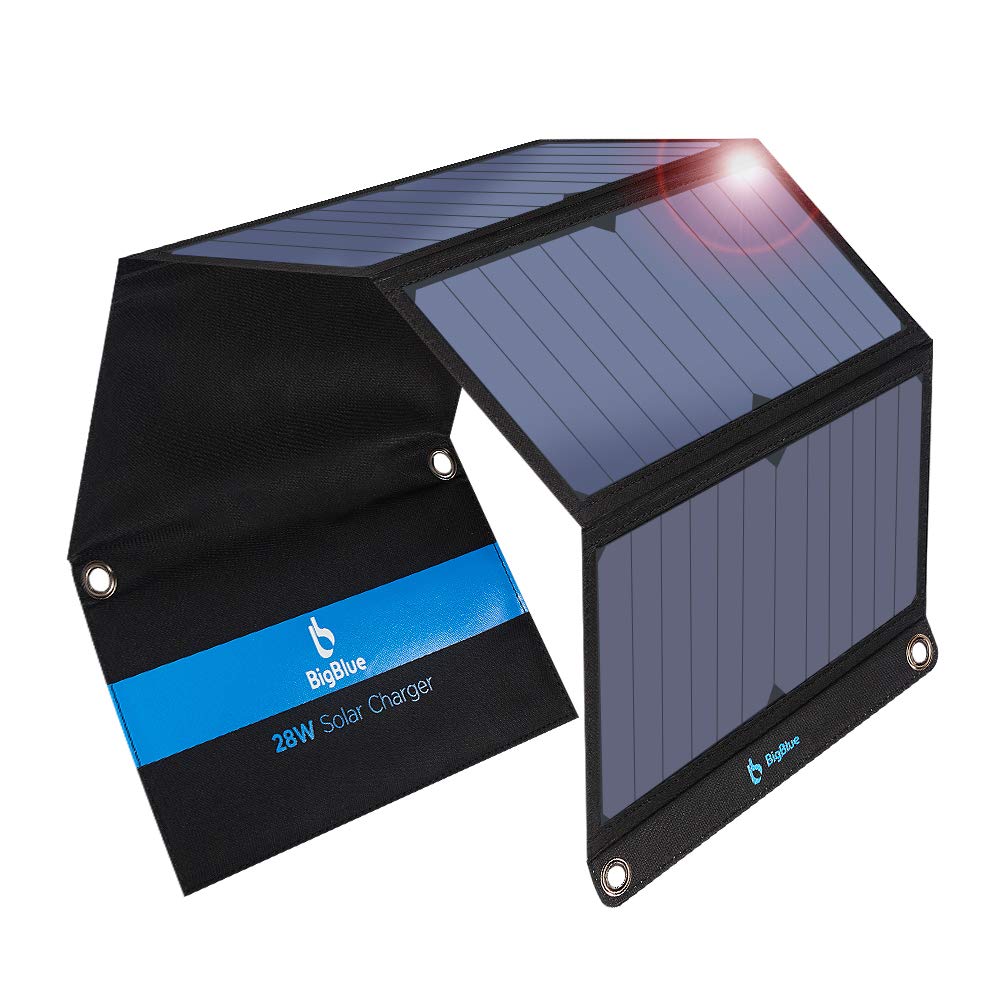 The BigBlue 3 Solar Charger is ideal for family camping trips as it is compact, portable, and lightweight. As a matter of fact, it is small enough to fit inside a tiny bag. This solar charger guard against overcharging, overheating, and is equipped with short circuit protection.
It also offers a high energy conversion and converts 21.5-23.5% of solar power into free energy. This charger is also waterproof thanks to the special PET polymer surface rubber cover that protects the slots.
4) BEARTWO Portable Solar Charger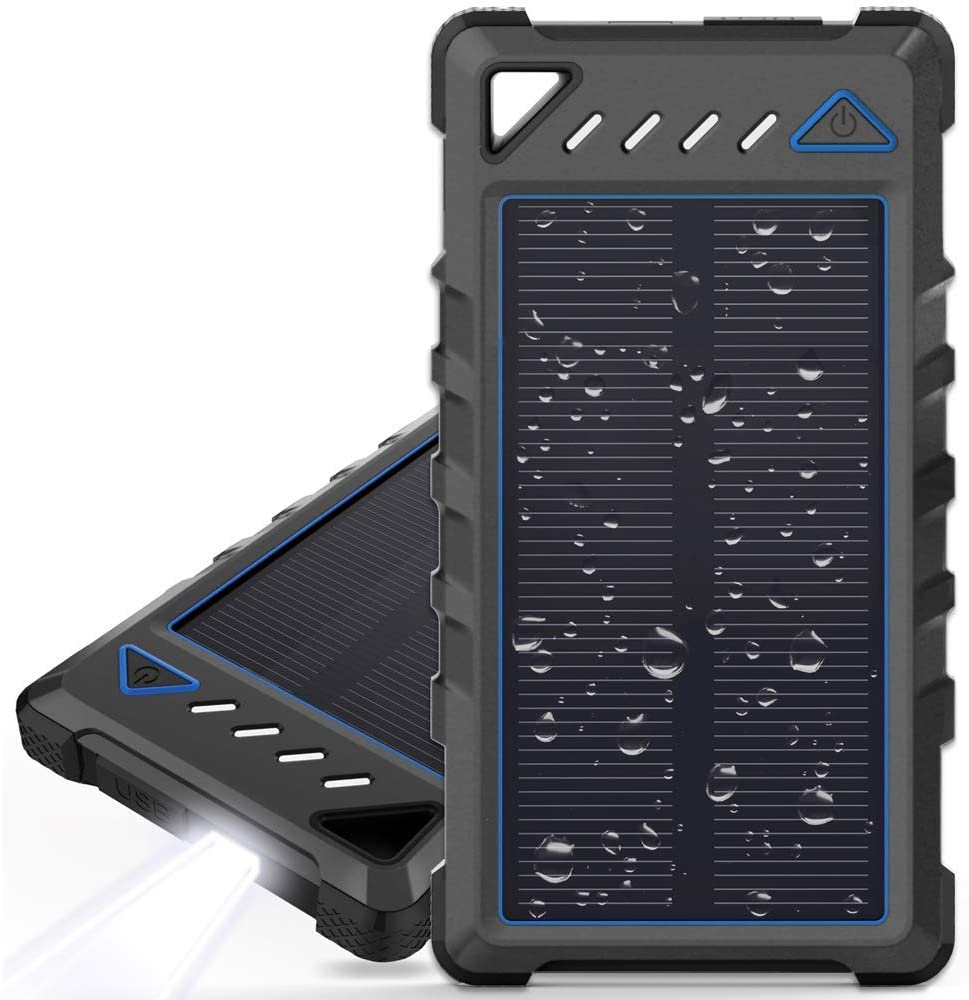 The BEARTWO Portable Solar Charger is a high-capacity power bank especially designed for outdoorsmen. It is one of the most compact solar chargers on the market, suitable for camping, hiking, and other outdoor activities. It even comes with extra features like a hanger for your backpack and a mini flashlight in case you need light in dark environments. 
If you bring multiple devices on your trips, this power bank can charge up to two devices simultaneously without sacrificing maximum output. With a remarkable 1000mAh battery capacity, it has enough juice to charge your phone four to five times fully. It is also integrated with intelligent security protection to ensure stable power output. 
When considering this power bank, you must keep in mind that charging it through the solar panels provided is only intended for outdoor emergencies since it will take considerably longer. If you want a charger that can rely solely on solar energy, choose an alternative with larger panels. 
5)RAV Power Solar Charger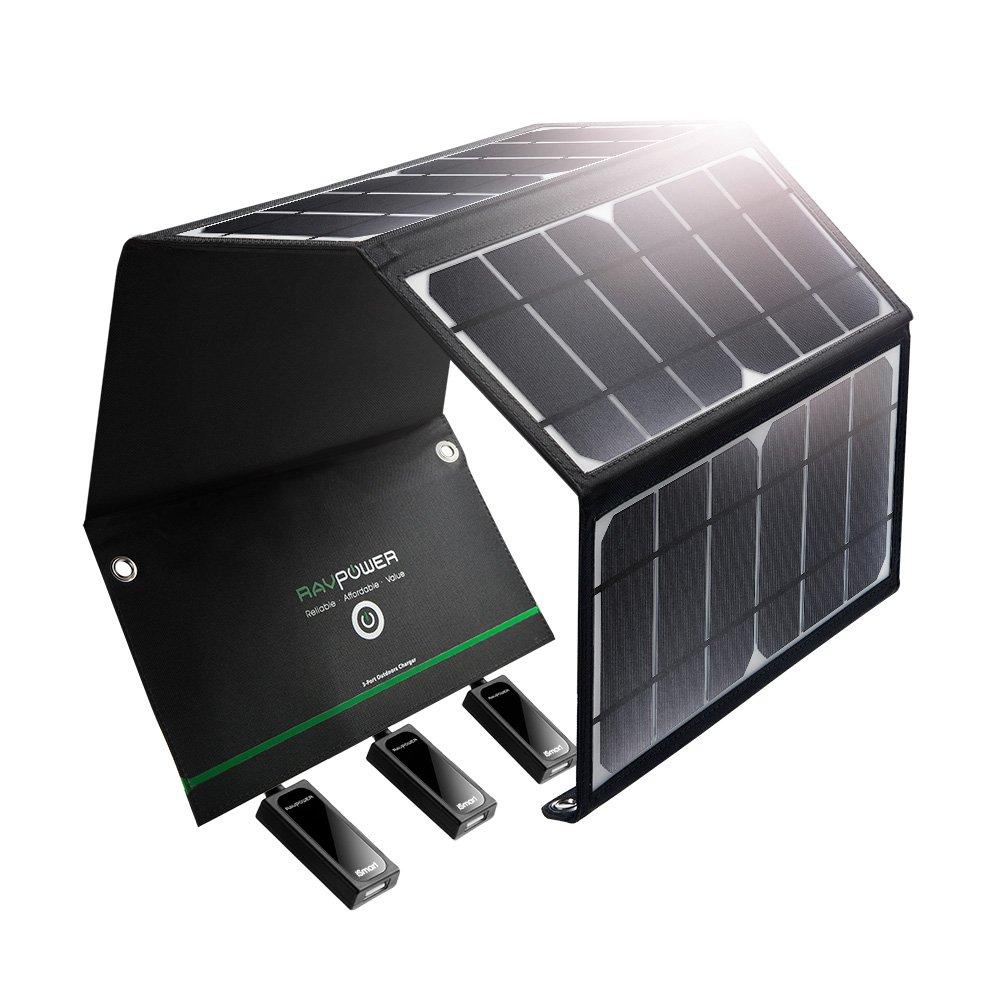 Not the best looking of devices, this one was built with campers and commuters in mind. It can be used on the dash of a car while being portable and powerful. It's foldable and waterproof as well. Making the device well rounded in nature.
Now that you've read through some of the best solar phone chargers out there, it'd be beneficial to go out and pick one that'll not only be suitable for your life but give your phone the best charge it can get.