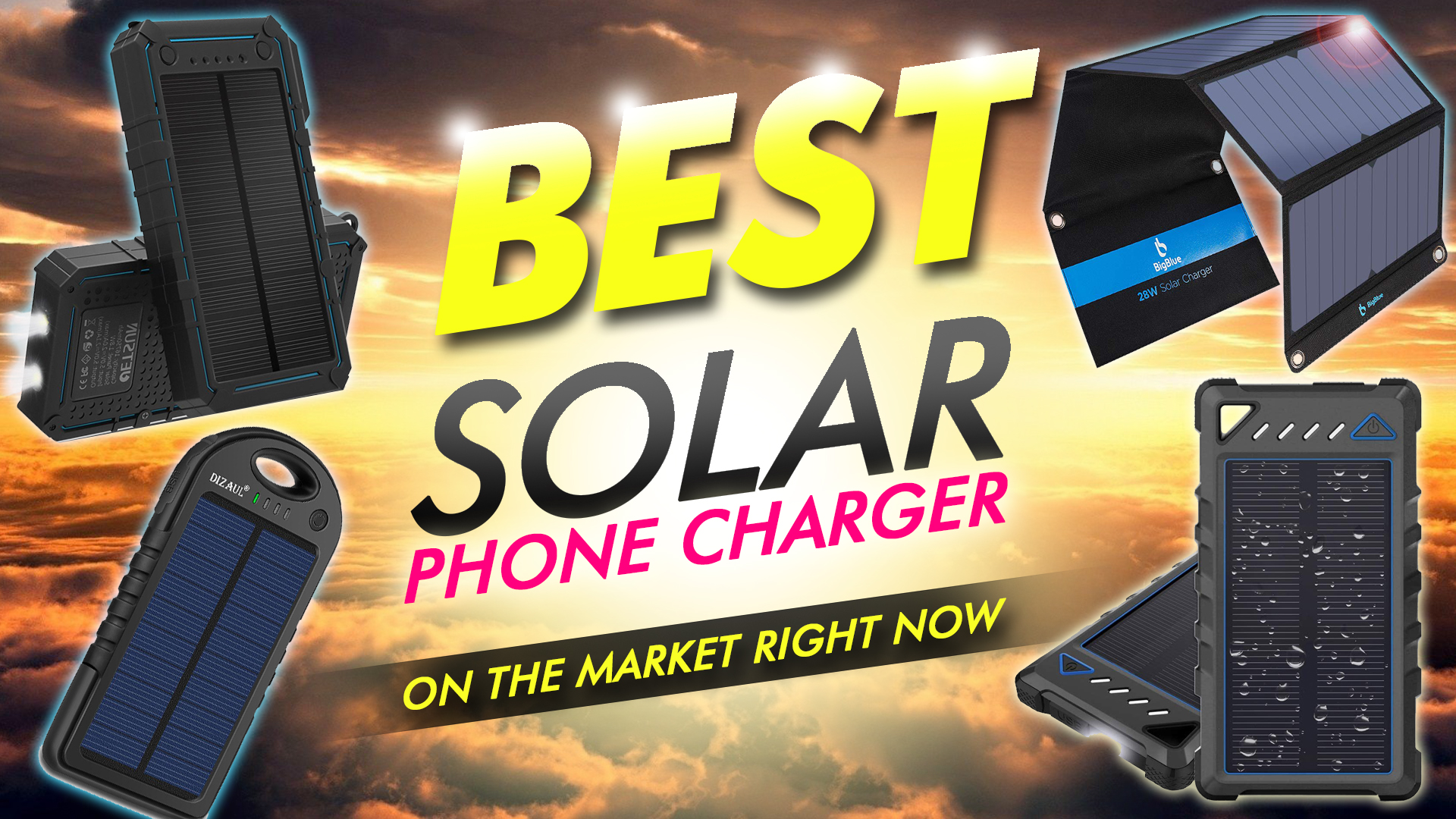 Title
Dizaul Solar Charger
BigBlue 3 USB Ports 28W Solar Charger
BEARTWO Portable Solar Charger
Nekteck 21W Portable Solar Panel Charger
BLAVOR 10,000 mAh Qi Solar Power Bank
Capacity
5000mAh
250Wh
10000mAh
800~1000mA
10,000mAh
It is nice to see the world is becoming more conscious and aware of environmental changes. With technology evolving so fast the world needs to minimize the impact to nature as much as possible. But we are living in a "plugged" world, so this is harder than we think.
The demand for real-time communication and data transfer is greater than ever. With smartphones always in our pockets, the need to have it fully charged whenever we are is stronger. It is nice if we owned something like the Moto G7 Power with its massive 5,000 mAh battery or the 4000 mAh fast charging BLU Vivo XL5, but if you don't then you need to be always ready.
However, though we rely on technology, the environment must be taken into consideration too. Good thing that there are Solar Power chargers to the rescue. Not only are they environment-friendly but are also highly portable. If you don't know what to look for then you came to the right place, read on to know The 5 Best Solar Phone Chargers On The Market Right Now!
Five Best Solar Phone Chargers
1. Dizul Portable Solar Phone Charger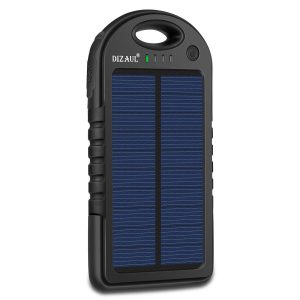 Appealing to a broad market, the Dizul Portable Solar Phone Charger doesn't just target the tech-savvy, but hikers, and even those who worry about their phone dying while they're out on the town and can't find a single outlet anywhere. Designed with an integrated hook, the Dizul Portable Solar Phone Charger can be hung on any backpack or purse, allowing for a stress-free time when your phone is hanging on to the last few bars of its life. It comes with two USB ports that are protected by rubber caps, making this product waterproof. The design of this product doesn't just protect it from water leakage, but with the football-style design and the waterproof panel, it allows for water to run off of it, protecting the exterior and interior of the product.
Crafted with AB plastic and other materials, this product can withstand shock and falls from any high and material. With a low cost of $19.95, Dizul not only delivers and insanely cheap product despite the care and attention that have gone into the product.
2. Jetsun Solar Power Bank LED Torch Light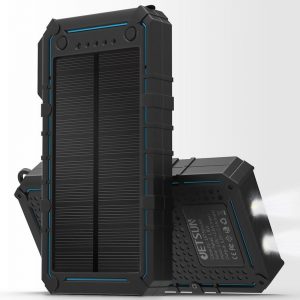 Considered the perfect companion for any hiker or survivalist, the Jetsun Solar Power Bank comes with two ultra-bright LED torch lights that give you the same power as a lower-end tactical flashlight. Allowing you to light up your way and giving you maximum visibility. The power bank on the product gives you the best longevity out of most devices, as this one allows you to charge your phone up to three times on a single lengthy charge.
3. BigBlue 3 Solar Charger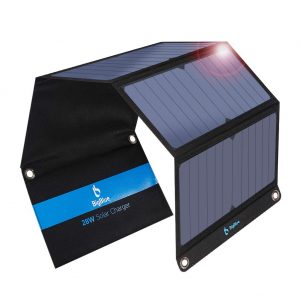 The BigBlue 3 Solar Charger is ideal for family camping trips as it is compact, portable, and lightweight. As a matter of fact, it is small enough to fit inside a tiny bag. This solar charger guard against overcharging, overheating, and is equipped with short circuit protection.
It also offers a high energy conversion and converts 21.5-23.5% of solar power into free energy. This charger is also waterproof thanks to the special PET polymer surface rubber cover that protects the slots.
4. BEARTWO Portable Solar Charger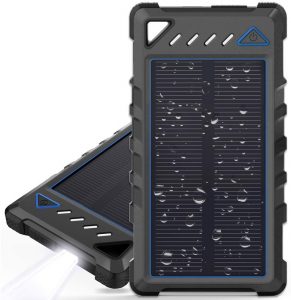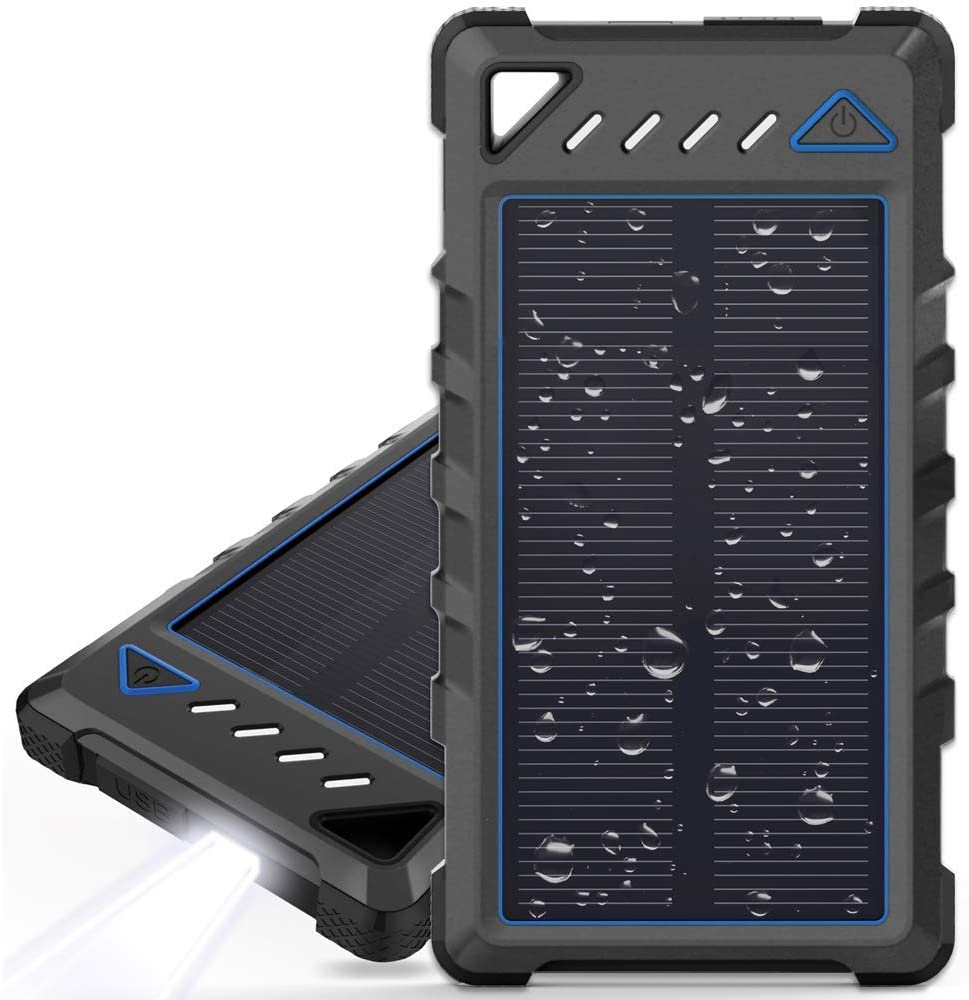 The BEARTWO Portable Solar Charger is a high-capacity power bank especially designed for outdoorsmen. It is one of the most compact solar chargers on the market, suitable for camping, hiking, biking with cruiser bikes and other outdoor activities. It even comes with extra features like a hanger for your backpack and a mini flashlight in case you need light in dark environments. 
If you bring multiple devices on your trips, this power bank can charge up to two devices simultaneously without sacrificing maximum output. With a remarkable 1000mAh battery capacity, it has enough juice to charge your phone four to five times fully. It is also integrated with intelligent security protection to ensure stable power output. 
When considering this power bank, you must keep in mind that charging it through the solar panels provided is only intended for outdoor emergencies since it will take considerably longer. If you want a charger that can rely solely on solar energy, choose an alternative with larger panels. 
5. RAV Power Solar Charger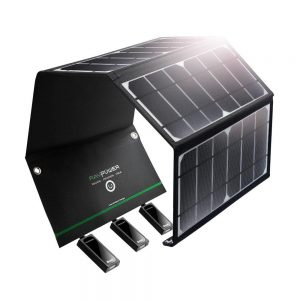 Not the best looking of devices, this one was built with campers and commuters in mind. It can be used on the dash of a car while being portable and powerful. It's foldable and waterproof as well. Making the device well rounded in nature.
Now that you've read through some of the best solar phone chargers out there, it'd be beneficial to go out and pick one that'll not only be suitable for your life but give your phone the best charge it can get. 
6.  Nekteck 21W Portable Solar Panel Charger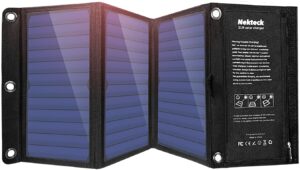 The Nekteck 21W portable solar panel charger is highly efficient. Made of three solar monocrystalline panels, it boasts of a conversion efficiency of 21% to 24%. Microchip support allows this product to charge multiple devices without overheating.
Best for hiking or outdoor adventures, Nekteck's Portable Solar Panel Charger weighs 17.3 ounces which can be squeezed in your backpack when folded. Plus, it has an attachment hook you can connect to anything (e.g., backpack) while you're walking or hiking.
It's also designed with precision stitching and canvas surface making it a great option for outdoor use. It has an IPX4 waterproof rating to prevent water, dust, and other types of debris from getting into the panels.
Overall, this should be your choice as a portable solar phone charger when going for an adventure outdoors. The package comes with the solar charging panel, a microUSB cable, and a user manual.
7) Anker 21W 2-Port USB Portable Solar Charger With Foldable Panel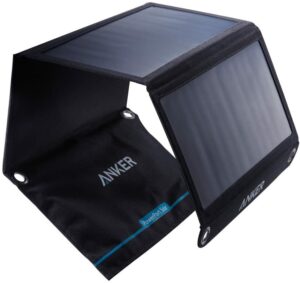 Anker is a leading brand that manufactures chargers, charging cables, and powerbanks to power up your mobile devices. The Anker 21W 2-Port USB Portable Solar Charger With Foldable Panel boasts of the company's PowerIQ technology. Charging speed is up to 2.4 amps per port. Under direct sunlight, this ramps up to 3.0 amps per port.
This Anker portable solar charger has an energy efficiency of 21.5% to 23.5%. This ensures that you have enough power when charging two devices simultaneously. Durability won't be a problem with it as well. Solar panels (of industrial strength) are sewn into a rugged polyester canvas. This means it's weather-resistant and can be used outdoors.
Eye holes made of stainless steel allows you to attach it to tents, trees, and backpacks. Because it's highly portable, ultra-thin, and lightweight, the Anker 21W 2-Port USB Portable Solar Charger With Foldable Panel is best for long treks.
8) BLAVOR 10,000 mAh Qi Solar Power Bank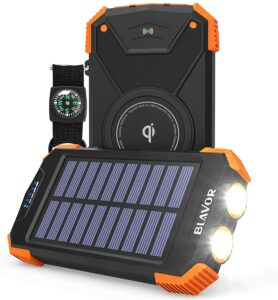 Advertised as the best choice for climbing, hiking, camping, and long adventures, the BLAVOR 10,000 mAh Qi Solar Power Bank supports both solar and wireless charging. These give you a lot of options in terms of ensuring that your power bank is full.
It offers extended charging times where the traditional makes your power bank fully-charged at around 6 hours. This is true when you use a 5V/2A adapter. Durability-wise, it's designed with premium ABS materials and lithium polymer battery.
Connections include a USB Type-C and two standard USB ports. Extras include a compass kit for adventures and dual flashlights for dark environments (e.g., caves). These accessory features are handy during camping, cycling, traveling, hiking, and more.
9. YOESOID 2000mAh Portable Solar Charger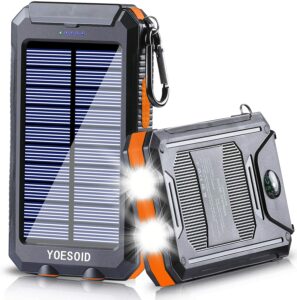 Composed of durable ABS + PC + Silicone Material, the YOESOID 2000mAh Portable Solar Charger is protected from dirt, rain, drops, bumps, and other forms of shock. Because of its security protection, you can avoid over-voltage, overload, over-current, short circuit, and more.
Extras include a compass and two bright LED flashlights — again, a feature important for outdoor activities. This solar phone charger is compatible with iPhones, Samsung, tablets, GoPro, and other electronic devices.
You can use it to charge two devices simultaneously because it has dual USb ports. Five pilot indicators show the status of your battery charge. The light is colored green when you're charging using solar energy. On the other hand, it's color blue when you're charging with the conventional USB.
This portable solar phone charger comes in a package that has a carabiner, user manual, USB charging cable, and the 20000mAH solar chare.r The YOESOID 2000mAH Portable Solar Charger also comes with a 12-month warranty. Plus, it offers 24-hour after-sales customer support services.
10. Hiluckey Solar Charger 25000 mAh Outdoor Portable Power Bank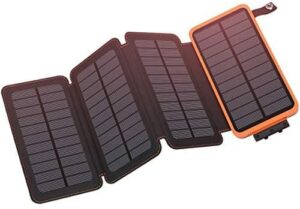 Because of its high capacity, the Hiluckey Solar Charger 25000 mAh Outdoor Portable Power Bank can charge your phones at an average of nine times. Tablets can be charged at an average of three to four times. With these, you get an average of 9 days of usage per charge.
The portable charger is made out of four solar panels that boast of high efficiency. In addition, you can use the conventional method of using a standard USB cable to charge the power bank. With its rugged construction, you can use it outdoors. It's designed to be waterproof, dustproof, and shockproof.
The Hiluckey Solar Charger 25000 mAh OUtdoor Portable Power Bank has a built-in LED flashlight with SOS mode. It's perfect for emergencies, especially when you are outdoors. The package comes with the main solar charger, user manual, and a micro USB cable.
Buying Guide: Choosing Solar Phone Chargers
Solar phone chargers differ in features and limitations. Thus, it makes sense to know the right factors to consider when purchasing one. Below are the details to take into account when finding the right solar phone charger for you.
Factors To Consider
Type
There are three main types of solar chargers, Monocrystalline, Polycrystalline, and Thin-Film Panels. The first type covers the least surface area but compromises on charging capabilities. It is designed with a single large cell (that's why it's called mono) that takes in solar energy. Polycrystalline, on the other hand, has solar cells made up of silicon substrate. Panels of this type have multiple cells that absorb energy.
Thin-Film Panels are composed of solar cells that are significantly smaller than traditional silicone panels. They're the lightest, durable photovoltaic cell available today. There are different types of thin-film solar panels depending on the technologies they're made of.
Gallium Arsenide (GaAs) is very expensive. Of course, it's not made for solar phone chargers. They're actually used in spacecraft and large-scale installments of photovoltaic energy. Copper Indium Gallium Selenide (CIGS) is another thin-film solar panel that has a max efficiency of 22.4%.
Amorphous Silicon (a-Si) is another thin-film option, which, when compared to CIGS and CdTe is better in terms of durability and toxicity. However, it's less efficient and is popularly used in small requirements such as consumer electronics. Finally, Cadmium Telluride (CdTe) is the most popular of all thin-film solar technologies. It is composed of large amounts of Cadmium that is relatively toxic.
Weight And Portability
Since you're going for solar "phone" chargers, your choice should be something that's portable. Most panels range from 18 to 25 ounces. CIGS (a type of thin-film panel) is very portable. Other types can be quite heavy.
Connections Or Ports
This is very obvious. You should check out which ports or connections the solar phone charger has. Standard solar chargers have standard USB and microUSB ports. How many devices will you use it for? This will help you gauge the actual ports you need in it.
Efficiency Percentage
The average solar panel has a maximum efficiency percentage of 29% (as of the moment). But, it has come a long way from the initial 1% statistic. Monocrystalline types have a higher efficiency compared to polycrystalline cells. Plus, the former is known to perform 10% better than the latter, especially in high ambient temperatures. With regards to power production, thin-film solar chargers are the least efficient. This type makes up for it by having very efficient materials necessary to produce the same power.
Watts
Monocrystalline types come in higher wattage modules of 300 watts. This can reach up to more than 400 watts of power capacity. Polycrystalline types produce less electricity because they have lower wattages. In terms of power capacity, thin-film solar panels have the lowest stats. The power capacity per square inches of monocrystalline and polycrystalline solar chargers are better compared to thin-film technologies.
With that being said, look for a solar phone charger with a minimum of 7 watts. If you want to charge multiple electronic devices, go for the 15-watt mark. It's important to note that lower wattage stats also equate to slower charging rates.
Backup Battery
At night (or during cloudy weather), the sun wouldn't be as powerful as in broad daylight. Thus, you may want to go for a solar phone charger that can store power through a rechargeable battery. Compared to one that charges your phone directly, these energy storage options can help you charge your phone even without ample sunlight.
Convenience
Convenience is another thing to consider. It wouldn't be practical to take a complex solar station everywhere. Select a model that's user-friendly and doesn't require a complicated setup process. You can also opt for solar phone chargers with design elements (e.g., special grommets) to help you attach it to a backpack (for instance).
Durability
If you're going on an adventure, it's best to opt for monocrystalline types because they're rugged and durable. Polycrystalline are quite durable as well. These two types are made of silicone which is a very abundant and durable element. The least durable of all are thin-film panels. They tend to degrade faster than the first two.
Price
Because of its durability, efficiency, and power capacity, solar phone chargers made from monocrystalline are the most expensive. Generally, the least expensive are thin-film types. Of course, in terms of price, you have to consider your budget and actual requirements. Check out the top eight specs to consider to gauge if the solar phone charger model provides value.
Things To Avoid
Solar Cellphone Cases
Do not purchase solar cellphone cases because they shorten the lifespan of your lithium-ion batteries. This is due to the heat generated by solar cell phone cases. Placing it side-by-side with your Li-ion batteries will lead to disaster.
Thin-Film Solar Chargers
We mentioned a lot about thin-film solar chargers. However, we do not recommend it because it has a lower efficiency compared to other types. When deployed, they take up a larger surface area to get the same amount of wattage. Thus, they're not convenient in terms of portability, setup, and convenience. Plus, they're not recommended for camping, hiking, and other adventurous activities.
Frequently-Asked Questions (FAQs)
What is the best solar phone charger to buy?
The best solar phone charger to buy depends on many factors. First, you have to consider what you want from a portable solar charger. Then, you take into account attributes including durability, energy efficiency, wattage, portability, price, ports, type, weight, and convenience. You can check out our buying guide to learn what these features mean.
Do solar phone chargers really work?
Fortunately, solar phone chargers do work. However, they have slower charging speeds compared to traditional chargers. Most will work only under direct and strong sunlight.  However, there are some models that can work even on cloudy days. The principle behind solar phone chargers is they harness solar energy and turn it into electricity.
What should I look for in a solar phone charger?
It's important to consider different elements when looking for a phone charger. These include type, weight, portability, wattage, energy efficiency, convenience, durability, ports, and price. You may also consider extra features such as a LED light and an apparatus to attach it to your backup, for instance. We've discussed this in our buyer's guide to help you understand each of these factors.
How long do portable solar phone chargers last?
Portable or phone solar chargers typically last for 300 to 400 charge cycles. Thus, its life expectancy will depend on usage frequency. Obviously, it also depends on how you handle or maintain your solar phone chargers.
Do portable solar phone chargers work on cloudy days?
A solar phone charger does work on cloudy days. However, they don't perform as well as they do on sunny days. With that being said, solar phone chargers won't work at night when there is complete darkness. That's why it's highly recommended to buy a solar phone charger that comes with a power bank or any sort of backup battery.
Recap: Best Solar Phone Chargers in 2020
The best solar phone chargers available in the market today vary from one model to another. You should consider all the factors we have placed in the buying guide to help you choose the right option for your needs. Don't forget our section on "things to avoid" when looking for the best portable solar chargers around.
It's important to note that charging with solar panels is significantly slower than doing so with traditional methods (cable wires or wireless). However, they do make a great option for emergency situations. You can also opt for these portable solar phone chargers during outdoor adventures.