Case Diameter
1.73 in
1.45 in
1.65 in
1.73 in
1.70 in
Wooden watches are the norm. The fashion industry of today is inclined towards eco-friendliness and they are indicative of that. There are many kinds of watches in the market carved out of different types of wood. These can even be personalized according to varying preferences.
The 8 Best Wooden Watches For Men
1. BOBO BIRD Mens Wooden Watch Stylish Ebony Wood & Stainless Steel Combined Chronograph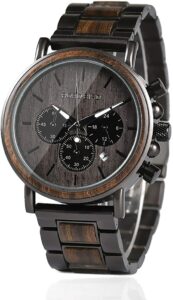 Pros
Highest standards of craftsmanship.
Sony SR920SW battery.
Handmade natural wood material.
Date display dial.
Non-toxic and hypoallergenic.
Specifications:
Display Type: Analog | Movement: Japanese Automatic | Case Diameter: 1.73 inches | Case Thickness: 0.44 inches | Band Width: 0.89 inches | Band Material: Stainless Steel + Wood
BOBO BIRD is a company that specializes in wooden watches. The look of this men's accessory is very elegant because it was made with the highest standards of craftsmanship. The battery included is the Sony SR920SW which is very lightweight and reliable.
Because it's made of handmade natural wood material, it feels very comfortable on the wrists. It also feels very smooth to the touch. Wristbands are adjustable ensuring the perfect fit for any individual. In addition, this BOBO BIRD product has a date display dial so you can easily track the current day.
Because it's made of wood, it's non-toxic and hypoallergenic. This makes it a great alternative for people allergic to other watch materials. The package comes with a unique bamboo wooden gift box, which also makes it a great gift. One drawback is the band is very fragile and easily breaks. This item is not that durable compared to other wooden watches for men.
2. Wilds Dual Wheels Automatic Movement Transparent Dial Men's Wooden Watch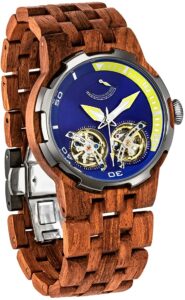 Pros
Stunning design.
Excellent craftsmanship.
Premium movement.
Open-heart dial.
100% handmade.
Tempered glass making it scratch proof.
Cons
Unique design may be a turn off.
Specifications:
Display Type: Analog | Movement: Automatic | Case Diameter: 1.45 inches | Case Thickness: 0.53 inches | Band Width: 1.1 inches | Band Material: Zebra Wood, Stainless Steel
Wilds Dual Wheels Automatic Movement Transparent Dial Men's Wooden Watch has a stunning design, making it a great conversation starter. Each watch is 100% handmade. It's also hand sanded and polished to make it smooth. Thus, it feels great on your wrists.
Premium movement is an automatic, dual-wheel, engraved, self-winding 47 Jewels bearing. Plus, it comes with a 40-hour power reserve in case your battery runs out. The package comes with a premium gift box and a band adjustment tool, making it a perfect gift for men.
The unique design can be stunning for most people. But we find it very distinct that it can be a turn off for some. Aside from the unique style, the highlight of this watch is its scratch- and scrape-resistant dial that's protected by a tempered glass.
3. Ovi American Walnut Wooden Watch For Men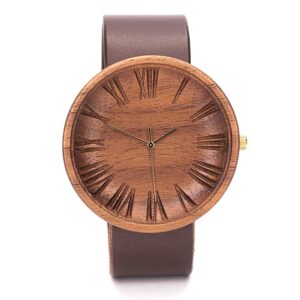 Pros
Natural and eco-friendly look.
Handmade.
Swiss quartz movement.
Sapphire crystal glass.
Specifications:
Display Type:  Analog | Movement: Swiss Quartz | Case Diameter: 1.65 inches | Case Thickness: 0.39 inches | Band Width: N/A | Band Material: Pure Vegetable Tanned Leather Strap
The Ovi American Walnut Wooden Watch For Men has a stunning, minimalistic design. Draped in brown color, it has a natural, eco-friendly look that will catch people's attention. Aside from its unique design, it's made of sapphire crystal glass which makes it durable and scratch-resistant.
Handmade to perfection, this watch is powered by Swiss quartz movements to ensure that time is always precise and accurate. The leather strap is made out of dark brown vegetable tanned leather, making it vegan-friendly. This strap is also burnished, dyed, and waxed by hand.
The creative look behind the watch stands, and it stands out very well. This is due to its composition of walnut wood. Plus, walnut wood is durable, elegant-looking, and has a dark, rich color to match. The catch is it looks very fragile and thin which makes it more suited to women than men.
4. Original Grain Wood Wrist Watch | Alterra Collection 44MM Chronograph Watch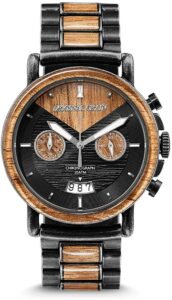 Pros
Scratch-resistant mineral crystal glass.
5-Hand Japanese Quartz.
Company focused on environmental sustainability.
Roughened finish.
Water-resistant casing.
Cons
Calendar only displays the date of the month.
Specifications:
Display Type:  Analog | Movement: 5-Hand Japanese Quartz | Case Diameter: 1.73 inches | Case Thickness: 0.43 inches | Band Width: 0.90 inches | Band Material: Stainless Steel
Original Grain's Alterra Collection 44mm Chronograph Watch is made of 5-Hand Japanese Quartz Movement for precision and accuracy in terms of telling time. The mineral crystal glass is scratch-resistant for minor drops and bumps.
You'll be delighted to know that the Original Grain is focused on helping the environment. They promise to plant one tree for every watch sold. In terms of design, the watch is remarkably distinct with a roughened finish. This hides fingerprints and scratches. Thus, the watch requires little maintenance.
The calendar displays the date of the month, but doesn't include the year. It isn't perpetual as well. However, this isn't a dealbreaker. It compromises by offering a stopwatch, which can be very handy in some situations. Finally, it's made of a water-resistant casing for everyday use, but not for swimming or other water-based sports.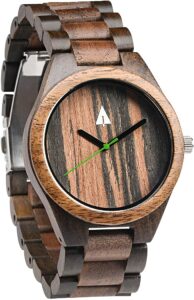 Pros
Made from real wood.
Miyota Japanese Quartz movement.
Versatile, stylish look.
5-year battery life.
Cons
Genuine leather band material not for vegans.
Specifications:
Display Type: Analog | Movement: Miyota Japanese Quartz | Case Diameter: 1.70 inches | Case Thickness: N/A | Band Width: 1 inch | Band Material: Genuine Leather
Treehut's Wooden Watch For Men is made from 100% real black ebony wood using no paints or chemicals. It looks rugged and masculine, making it a perfect gift for men. Plus, the style is very versatile and can be worn on any occasion.
This watch is equipped with precise Miyota quartz movement which is developed in Japan. This reliable movement is one of the most reliable, precise, and accurate. Wooden link bands are customizable and expand up to 8.5 inches.
The movement is powered by a Sony battery with a 5-year lifespan. Thus, you don't have to worry about replacing them every now and then. We love this men's wooden watch but finds the genuine leather band material to be an issue for animals rights advocates.
6. BOBO BIRD Digital Watch Mens Luxury Brand Design Night Vision Ebony Wooden Watch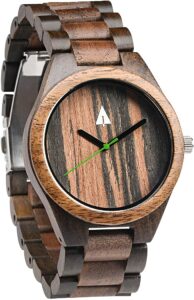 Pros
Displays date.
Very unique style with its digital LED display.
Non-toxic and hypoallergenic.
Uses Sony battery.
Cons
Display can be confusing.
Specifications:
Display Type: Digital | Movement: Quartz | Case Diameter: N/A | Case Thickness: N/A | Band Width: N/A | Band Material: Ebony
BOBO BIRD's digital wooden watch makes use of Sony batteries for an extended lifespan without the need for frequent replacement. Because it makes use of a digital LED display, time precision is kept intact.
Wristband is made from ebony with an attractive-looking finish. This is hypoallergenic and non-toxic, which is made for those who are allergic to metal. It uses a folding clasp with safety that's made out of ebony wood and metal.
We find this watch great for people who love digital versions as opposed to analog ones. However, it appears as if there's "too much going on" in its display. Thus, it can be quite confusing for some individuals.
7. WeWood Men's Analogue Quartz Watch With Wood Strap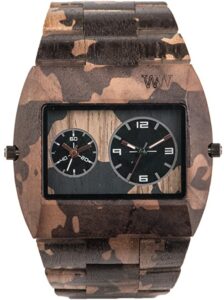 Pros
Mineral glass.
Japanese quartz movement.
Wood bracelet.
Made of 100% walnut wood.
Six removable links.
Specifications
Display Type: Analog | Movement: Japanese Quartz | Case Diameter: 1.85 inches | Case Thickness: 0.51 inches | Band Width: 1.06 inches  Band Material: Wood
Wewood has been in the industry for a number of years and is experienced in making the right wooden watches. These are functional eco-friendly watches. It's particularly made from Walnut which can vary in color. It is a beautifully crafted watch which is made stylish for the users. It can suit any type of setting, whether it is casual or formal. For those who want a scratch-proof glass, this product truly delivers.
It is made of Japanese quartz movement for precision and accuracy. The wood bracelet ensures it's non-toxic and hypoallergenic. Made from 100% walnut wood, it has a distinct, eco-friendly style that can be a conversation starter.
Wooden links are removable to make sure you have the perfect fit for your wrists. However the clasp is frail, thus, the watch easily drops from your wrist. But, we truly love the design of this men's wooden watch.
8. CUCOL Men's Bamboo Wooden Watch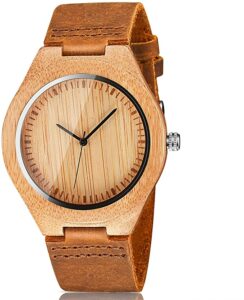 Pros
Real bamboo case.
Japanese quartz movement.
Casual design.
Cons
Cowhide leather strap can be a dealbreaker.
Specifications
Display Type: Analog | Movement: Quartz | Case Diameter: 1.73 inches | Case Thickness: 0.39 inches | Band Width: 0.83 inches | Band Material: Leather
This watch may be the most important piece out of a gent's whole wardrobe. This is a major fashion statement in this day and age. This watch is a complete design. It features an authentic bamboo case with a brown leather strap. It is a top timepiece with a modern design. Given the popularity of wooden watches , CUCOL Wood Watch is the right product to purchase.
Made of natural materials, this watch has a real bamboo case with no emblem on the face. Minimalistic in design, it captures the essence of a real bamboo while offering a subtle aroma. The quartz movement operates on batteries that can be used for years without replacement. Plus, it ensures accurate and precise readings without the need for winding whatsoever.
Top 10 Wooden Watch Brands
Now that you've learned about the top wooden watch products to grab, we'll give you a look of brands committed to providing these high-quality items. These companies usually specialize in wooden watches while supporting environmental causes. Check out the top 10 wooden watch brands below.
Jord
This company specifically makes wooden watches and they're on the top spot. Styles are very diverse. They even offer wooden sunglasses, so you can pair wood with wood! Every wooden watch is handmade from scratch. They use unique wood types as materials and even incorporate steel to make the watch more aesthetically pleasing to the eyes.
Plantwear
Plantwear started in 2013 and initially wanted to make accessories out of wood. Handcrafted to perfection, they use natural raw materials. Wooden watches from this brand are beautiful, durable, and practical.
One thing distinctive about Plantwear is they make watches that are almost 100% composed of wood. They have products that embody a full wood band and body making them look gorgeous and quirky in a nice way.
Spinnaker
This watch company is well-known in the industry. They have decided to manufacture wooden watches after years of being in business. Their implementation is superb! Compared to Plantwear, who utilizes almost 100% wood composition, Spinnaker goes for wooden accents. Thus, the durability of their watches is significantly improved.
Verhoj
Headquartered in Denmark, this watch company couples stainless steel and hardwood to form minimalistic-looking products. You'll notice they produce elegant designs. We personally love their black and gold watches that exudes the feel of professionalism and power.
They have a tagline of "wood, steel & a bit of Nordic minimalism." It's a great company founded by Janus Aarup. He is passionate about design, timepieces, and craftsmanship. Thus, came Verhoj. They even partnered up with Bo Bonfils to develop a watch that combines steel and wood.
Kerbholz
Kerbholz is a company based in Germany. Wooden watches and accessories are part of their offers. They make sure the wood is sustainably sourced. Manufactured in China, their products offer timeless styles that will suit your personality.
Ovi Watch
Ovi Watch never fails to amaze us. The company aims to provide unique, high-quality wooden watches. Their roster of products are typically minimalistic in design. In addition, it highlights the wooden attribute that's very distinctive and appears "earthy," in a good way.
The founders of this company combined design, quality, comfort, and functionality, all in one piece. The idea behind their designs is to form something that's unique, has a touch of nature, and an in-house feel.
Lux Woods
This small business is geared towards building a more sustainable environment. Their wooden watches are handmade. You can tell that every watch has a story. Their lineup of products will be something to brag about.
Original Grain
Another environmental-conscious brand, Original Grain ensures that wood waste is reduced to a minimum, especially when making watches. For every watch you purchase, they will plant one tree.
Original Grain utilizes materials that are sustainably sourced to manufacture their watches. Plus, they pride themselves in helping an organization, Trees For The Future, to plant hundreds of thousands of trees.
Treehut
This is run from California and utilizes natural materials for their wooden watches. Most watches are minimalistic, water-resistant, durable, and of high quality. Their pieces are stunning and utilizes the Japanese quartz movement which is a great attribute to look for when buying a wooden watch.
Treehut is run by a married couple, Juliah and Joh. The company started as an idea during a trip to Bali. They started with watches ensuring each of their customers get intimate engravings to serve as a memento.
Bobo Bird
Watches from Bobo Bird are created out of recycled and reclaimed wood. They're dedicated to giving you stylish and unique wooden watches. Traditional and modern methods of craftsmanship were coupled together to produce great designs. Gorgeous and slick.
Buyer's Guide To Choosing The Right Wooden Watches
Now that we've given you the best wooden watches, there's a big question we have to answer. How do you choose the right wooden watch to purchase? We'll help you understand the features, materials, and specifications to look out for. Check them out below.
Type Of Wood
Obviously, you have to consider the wood material which makes up the watch. Not all wood watches are created equal. Thus, it's best to consider those made of carved wood such as walnut, sandalwood, oak, and dark black ebony wood. These are softer types of wood that feel good on your skin. Plus, they're usually more aesthetically-pleasing. You can also look for options that are eco-friendly and are designed for sustainability.
If you have an allergic reaction to standard types of watches, then one made out of wood will be a better choice. However, you should ensure that it's non-toxic and hypoallergenic, or it will beat the purpose of getting wood watches.
Design
After you have chosen a specific type of wood, anothing thing you have to consider is aesthetics. There are a lot of elements to take into account here. For instance, let's say we want to check out grain quality. Lighter wood grain has a higher degree of consistency. Usually, this is a muted style great for professional environments. On the other hand, coarser wood grain stands out and is best for fashion purposes.
Colors
Watches made from wood will have a ton of color options even without being painted over. Popular colors include oak, black, and other dark shades. The oak color tends to be a muted shade and looks very natural. Less muted colors are available as well. For example, white oak or red cherry wood. These color types usually stand out.
Case
There are wood watches composed entirely of wood. However, other watches use metal cases which results in a less consistent look. It compromises by being more durable and damage-resistant compared to cases made purely out of wood.
Apart from wood, case materials include stainless steel, metal, and brass. Stainless steel is regarded as the "cream of the crop" with regards to metal cases. This is due to the fact that it's scratch- and damage-resistant.
Another thing to consider is the material protecting the case. Pay attention to the glass used. Is it of good quality? This is important, especially if you constantly bump or drop your wood watch. The average user can go for basic mineral glass. But we recommend those made from sapphire or ruby because they're incredibly resistant and durable.
Don't forget to consider the diameter and thickness of the case. The average number to look at is 45x10mm. Variances do occur, though. Men will love bulkier and more rugged-looking watches because they have bigger wrists. On the other hand, women should pay attention to dimension because their wrists are smaller.
Bracelet Or Band
We believe that the bracelet or band is important in terms of aesthetics. Typically, the most popular one available are in the form of leather straps or are crafted from wood. Bracelets made from wood will look seamless and consistent. However, they're less comfortable compared to leather bands. The wooden band can be composed of links you can add or remove to ensure it fits you perfectly.
Leather bands will fracture the "wooden look" of the watch. However, they're more comfortable and most will be available in 100% leather. They're softer compared to wooden bands and offer different color shades.
Movement
Movement refers to the tiny metal gears and parts inside the watch. These are responsible for the "ticks." Most wood watches come in Japanese Quartz. This means it utilizes internal batteries as opposed to automatic movement. It is best to go for wood watches that incorporate the Miyota movement because it's very popular and highly-regarded in the world of Japanese movements.
Features
Wood watches tend to have basic features compared to conventional ones. For instance, you can go for those with luminous hands and date windows. Some models have dedicated chronographs. You may also want to go for water resistance features. But expect it to be less resistant compared to dive watches. After all, it's made of wood.
You may also opt for an engraving. Is it free and comes with the purchase? Plus, you may want to know if the package comes with an aesthetically-pleasing and durable box. Since watches are great to use as gifts, you may want these bonuses.
Warranty
You need to ensure that your wood watch has a warranty. Typically, it's best to go for brands or companies that have been in the business for decades. These give them better credibility and reliability.
In addition, you should know where to take the watch in case it needs servicing. What does the warranty cover and "do not" cover? Make sure you read and understand the warranty that comes with the wood watch.
Customization Options
Sometimes, brands give you options for customization. Consumers can select their dial, case, and strap or band. You can even customize the look of the engraving. And, you can choose a box that fits well with the look of the wood watch.
Budget
Budget is another thing to consider when purchasing items including a wood watch. There's no clear-cut formula for this. However, we suggest setting a budget (that wouldn't break the bank) to stick to when shopping around for wood watches.
Frequently-Asked Questions (FAQs)
1. Are wooden watches stylish?
Fortunately, YES. They're becoming popular these days because they're a unique set of accessories that can match different fashion styles. They are also durable without letting you break the bank. You can purchase a wooden watch if you want something out of the conventional.
2. Are wooden watches durable?
Wooden watches are very durable, the degree of which will depend on the material used. They're typically resistant to different weather conditions. The most durable out of all wooden watches are composed of stainless steel cases. You can also opt for those with mineral cases that are of high quality.
3. Are wooden watches waterproof?
It typically depends on the actual watch. A lot of them are "splash-proof." However, because they are made mostly out of wood, they can be damaged when submerged in water. Take note of the water resistance features of a particular watch to learn more about how resistant it is to liquids.
4. Are wooden watches good?
Although they're built to last for years, they're not as durable as metal watches. Faux wood is the least durable of all because they're actually made of plastic. If you want a good wooden watch, pay attention to factors including type of wood and case material.
Recap: The Best Wooden Watch Products + Brands
Wooden watches are the new norm as discussed earlier. There are many benefits of wearing this watch. From being unique and rare to eco-friendly, there is a lot associated with this accessory. However, it makes it difficult to choose the right wooden watch given the countless options available. Above is a non-exhaustive list of wooden watches available. Each is different in its own way. Choose any of them according to your preferences.