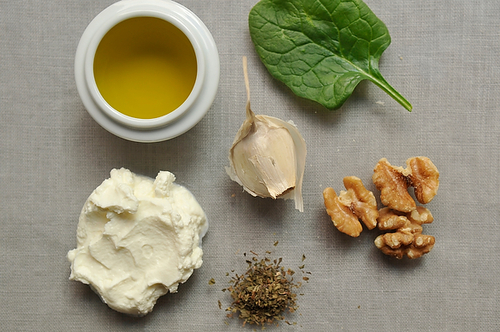 This quick and easy recipe is adapted from the Persian dish Borani Esfanaaj. It's made entirely from ingredients found in the Perricone anti-inflammatory kitchen, so each ingredient has a beauty benefit:
Garlic: high sulfur content in garlic helps to firm the skin and make hair more lustrous.
Chives/Scallions: the high levels of flavanoids, calcium, vitamin C, B6, germanium, potassium, and magnesium make this an ideal food for fighting dry skin.
Dill: helps to for maintain healthy mucus membranes and skin.
Spinach: zinc content helps to keep skin clear of breakouts.
Lemon juice: clarifying and acts as a diuretic.
Greek Yogurt: excellent source of probiotics and protein. Dr. Perricone recommends selecting a low-fat version for enhanced calcium absorption.
Feta: a high protein, lower calorie cheese, excellent source of calcium for bone health.
Walnuts: rich in Omega-3's for glossy hair and supple skin, studies have also shown that walnuts increase endothelial blood flow, thereby improving and preventing the look of broken capillaries.
Ingredients
2 large cloves garlic, minced
1/4 cup chopped chives or scallions
1/4 cup chopped fresh dill
16 oz package of fresh spinach leaves (if using frozen, defrost and drain excess water)
2 teaspoons fresh lemon juice
8 ounces plain Greek yogurt (non-fat or low-fat)
a handful of crumbled feta cheese (optional)
a handful of crumbled walnuts for the top
Salt and pepper to taste
Directions
1. Steam your spinach and cook it with the ½ minced garlic clove in a little olive oil until fragrant. Set aside and drain water.
2. When the spinach has cooled, add the remaining raw garlic and the rest of the ingredients. Mix thoroughly with the yogurt.
3. Serve in a flat dish appropriate for dipping. Sprinkle with walnut pieces.
4. Optional- add salt and pepper to taste, and drizzle with a little olive oil just before serving.
Serve with crudités, flax-seed bread, or as the filling for stuffed chicken breasts.