There is hardly a woman in this world who doesn't like to wear jewelry. Most of them love wearing it since it increases charm and elegance. In fact, it is in high fashion these days. Contemporary jewelry has taken over the global landscape. There are new designs with new brands every season. One of the most dominant features of the new trend is its huge size and bright shine.
Jewelry trends change with time. Even we get tired of wearing the old pieces. The new pieces elevate the character of the individual wearing it. Now we have multiple brands in the market that are playing a major role in the jewel industry. Ed Marshall Jewelers are one of the players in the industry.
Top Jewelry Trends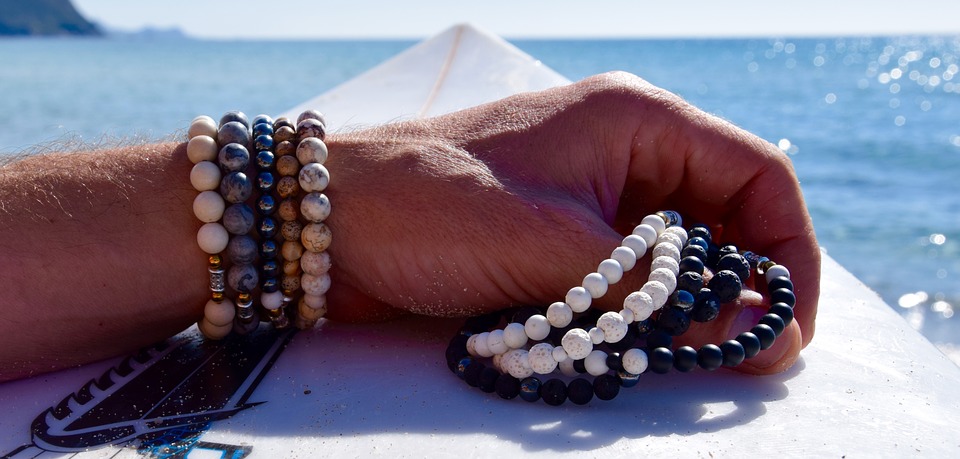 As mentioned above, the changes are dramatic in the industry. Every now and then, there is a development in the field. Individuals tend to cope up with the trends in order to avoid looking outdated. If you are one of them, here are the top ten jewelry trends of 2018 that must be followed:
Anklets
Anklets have made a comeback this year. Many have considered this as an outdated trend, but it has made its entry again this year. Before taking it as something ancient, it is imperative to know that many celebs have embraced it again.
It perfectly suits grown-up people. Think about delicate and neat chains enhanced with metallic and pearl beads. It can be embraced as well to add more texture. In fact, it complements different kinds of dressing as well. It can be worn over plain shorts and tees in the well. With its popularity all around the world, it well deserves a top place in the jewelry trends of 2018.
Asymmetry
Asymmetrical baubles are highly popular right now. Necklaces that swing slightly angled to inconsistent earrings sound hard to implement but it is one of the most anticipated jewelry trends that individuals are looking forward to. This norm has been here for good reasons.
However, there is finesse required for pulling off this trend with earrings. If you want a more cohesive look, then make sure the base metal is the same for both the earrings. Ensure that both of them complements each other. In a nutshell, asymmetrical bauble is a trend that every individual must try in the fashion-oriented world of 2018.
Long earrings
Yes, it is true that very long earrings are the new trend now. Some may consider it to be a gaudy and cheesy appearance but it has been hot nowadays. This extravagant look is something that has been appreciated by a wide range of women remarkably.
These shoulder grazing earrings can be enhanced with beads and tassels. In fact, the bigger the better applies in this scenario. Unique textures are now available in this category where earrings of different looks are available. Make sure you rock this style with the right kind of apparel.
Updated pearls
The new take on pearls is entirely different than it used to be in earlier time. We have seen a multitude of dresses and shoes adorned with pearls, but the contemporary fashion with pearls is something that ladies cannot miss at all. It is considered to be the staple of jewelry.
Break free from the mainstream choices of pearls and perceive it in a whole new way. A simple chain can be enhanced along with adding a single pearl on the anklet. Earrings are even enhanced with the addition of pearls. Pearl updates this year are phenomenal taking the jewel arena to a whole new level.
Layered necklaces
It is high time to say goodbye to the traditional way of utilizing necklaces. The layered necklaces are the new trend now. This new fashion is a combination of delicate chain that is fitted like a choker and the longer chains hang down. With this trend, delicate and simpler options look better.
When multiple chains come into play together, make sure it is kept as minimal as possible. However, some stones must be added in order to elevate its charm and personality. Keep it simple but don't make it plain.
Pinky rings
Wearing a ring is a must for every woman who is a jewelry-fanatic. Ring-free hands do not even appear good. Pinky rings have been kept out of the trend for a pretty much long time but it has returned with a bang. Many celebs have embraced it again as one of the most popular trends.
Brass or tiny gold rings appear to be cute on the smallest fingers. It works as a finishing touch on the finger jewelry. It is an easy and contemporary way to be more modernized in this current day and age. Make sure you rock this trend whenever going to parties.
Pendants and brooches
Brooches are now back in the industry and it is not going anywhere soon. It is something that most of us didn't expect in 2018, it has been welcomed by many celebrities. It appears that the trend-setters have accepted brooches excitedly with an easy way to enhance a plain collar, hat or a lapel. Alongside the trend, comes pendants as well. It is now not considered as a 'grandma jewelry'. Choose for a bright look if you want to find yourself submerged in the current trend.
Enamel and plastic
These are the staples of the 1980s, but the slogan 'what goes around comes around' works perfectly in this category. Enamel-based pendants and acrylic hoops have made their entries again in 2018 after 30 years. However, when it comes to this trend, make sure you avoid bright colors or it will ruin the entire look. Instead look for a black and white, tortoiseshell or clear Lucite. However, this fashion has not been considered desirable as many due to its tackiness. Regardless of the choice, it has made to the list.
There is an ongoing pattern with the contemporary trends of 2018. It has been more focused on earrings. Earlobes are made the focal point. Button earrings are popular nowadays which is a perfect way to add more look and character to minimalist appearance. Slightly mismatched pairs and luxe stones can add more personality to the already enhanced appearance.
Vintage
Vintage is the new trend now. Women are more into vintage jewelry rather than the modern pieces. This is why vintage is now considered to be towards more contemporary look. Old school gems and vintage-inspired pieces are the happening pieces in this category. It comes in a wide variety.
How to wear new jewelry trends?
It is true that jewelry brings a smile to the faces of women. For instance, a jangly necklace or a pretty ring can take our happiness to a whole new level. It lifts our spirits. Nevertheless, it must be worn in the right manner. Jewelry trends wouldn't look good if not worn in the right way. Here are some ways in which it can be worn:
Loading up the sparkles is necessary, but that doesn't mean not knowing where to stop. Make sure the jewelry is worn in the right amount. For instance, an arm full of bangles never looks good. Keep it minimal and classy.

Beware of any jewelry that is too cheap. Avoid imitations. Go for the real deal in order to get the best pieces in the market.

When it comes to necklaces, there is a lot to choose from. There are many directions that can be taken. From wearing to subtle options to going for bold pieces, there is a lot to take into account. Keep it simple and fancy at the same time.

Earrings can have a big impact on the outfit, as mentioned above. Irrespective of the options you like, whether a simple and plain stud or a gaudy and fancy drop, make sure you have the vision to wear it. Consider how it is worn.

It is not necessary to have an expensive rock on the ring in order to make it eye-catchy. There is a wide range of price when it comes to selecting a rock. From exotic stones to classy bands, there are different styles. It may come in different budgets. Choose something that comes in your affordability.

Bracelets can stand out if different materials are used together. Bare wrists don't look good. Wear different kinds in conjunction to make it appear good. Even one wide cuff can make a significant impression. Make sure everything is a word in a chic manner to keep it simple and elegant at the same time.
Above were some of the most popular trends in the industry. However, one thing must be kept in mind. Make sure each and everything purchased is of optimal quality. Given there are hundreds of brands to choose from, get your hands the best pieces in the market. Consider different brands, do comparison shopping and get the right jewelry in order to elevate your visual appeal.