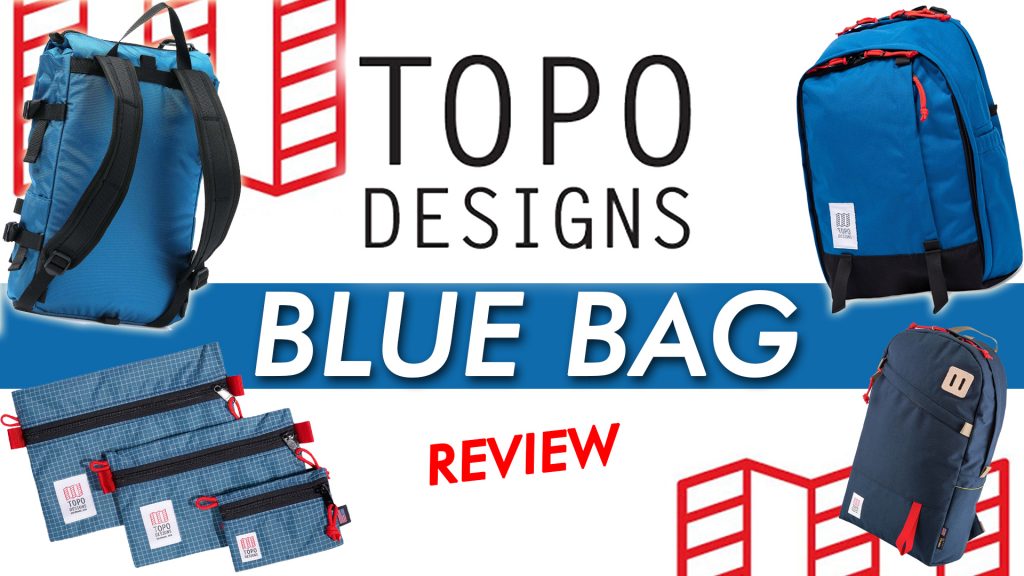 Serious About Versatility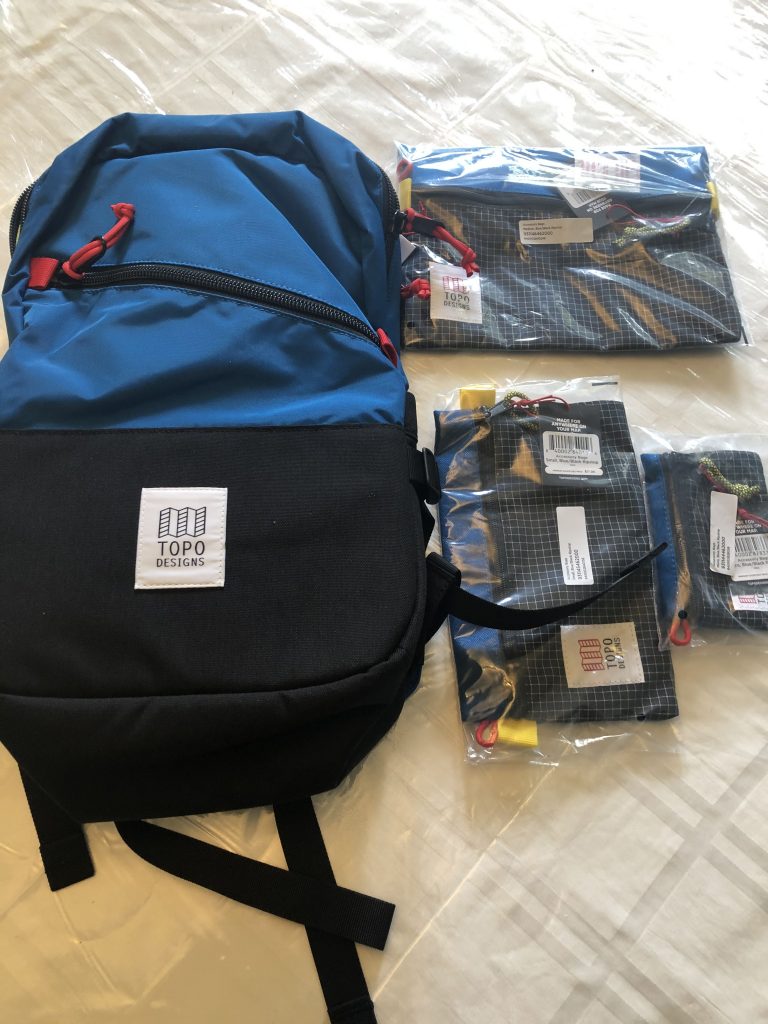 Pros
An easily appealing backpack with a minimalistic style
Versatile – it can be used for work, leisure, or long outdoor travels
High-quality, impact-absorbing interior meant to protect your items
Useful and stretchable zipper guards
Bonus: three smaller Topo Designs bags
Has a convenient frontal pockets for pens and essentials
Cons
Smaller space compared with other robust backpacks
Only a few 'secret pockets'
Topo Designs is known for their high-quality and versatile bags. The company's special blue backpack is one of their top products. Versatility is the main reason that makes the bag highly popular. At first glance, you may think that this blue bag is not sturdy for rugged travels. It produces this vibe meant for the office setting. This is a misconception. Just like most Topo Designs backpacks, this blue version is versatile enough for all purposes.
Take the bag's exterior as an example. It has a single, large space meant for most types of travel items and basic things. Now, if you're a busy person, you know how useful this is. Using this backpack will accentuate your sense of style, making your friends envious.
You will also notice the three identical Topo bags that can fit inside the backpack. These bags are useful for smaller items like jewelry, credit cards, souvenirs, bills & coins, or some knick-knacks that you usually bring.
Appealing and Minimalistic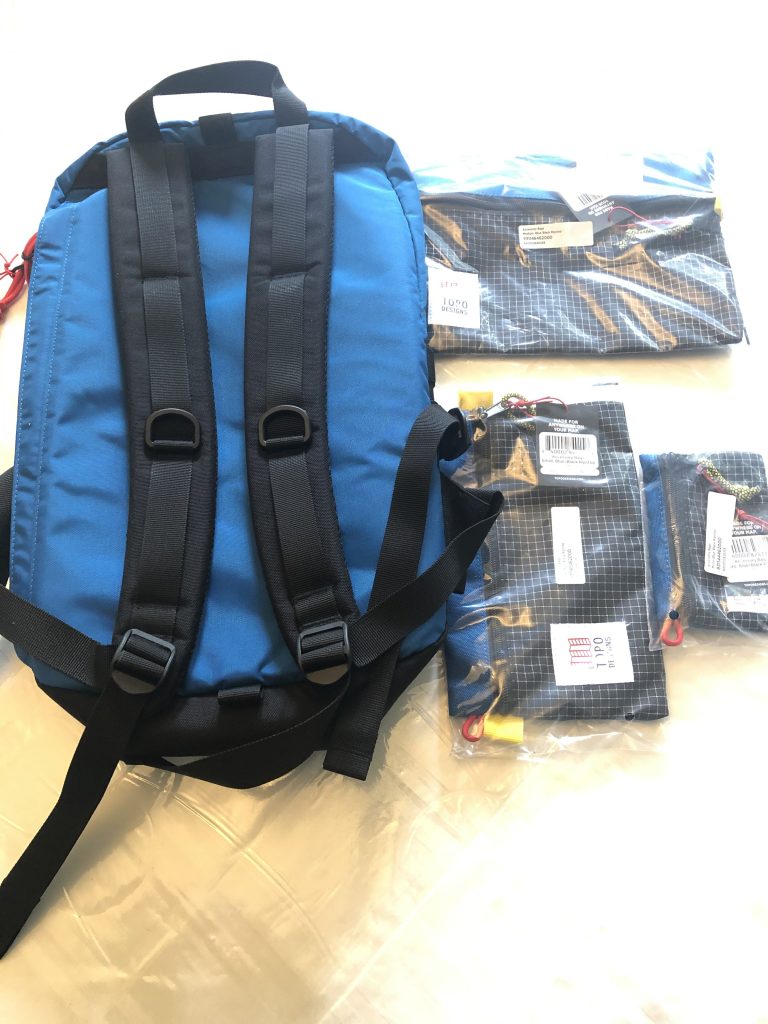 The most noticeable quality of the Topo Designs blue backpack is its simple yet appealing design. The blue exterior gives the bag a professional style, allowing it to blend in a corporate setting. And at the same time, you can use the backpack for outdoor adventures.
If you're a minimalist, the Topo backpack is an excellent option. There are only a few noticeable colors like blue, black, red, and yellow (interior). The colors are distributed evenly throughout the backpack, creating a better impression. You won't see obtrusive designs or unnecessary rubber patches and logos. Only the Topo Designs logo is prominent, and it doesn't take too much visual space.
The smaller Topo bags included in the package are also beautiful. They have a basic white grid pattern against a black exterior. While this design doesn't match the backpack's motif, it's still a nice touch.
Due to the backpack's simple elegance, it can be a perfect gift for your best friend or special someone. If you're not using it, you can even let it hang around your room wall as a minimalistic décor piece.
Need More Room? Small Topo Bags Included
The Topo Designs blue backpack has enough space for important stuff like a working laptop, a smartphone, chargers, batteries, supplies, and grooming kits. However, you just can't fit many items in the bag and expect it not to be bulky. To solve this problem, you can try folding cloths in a space-saving manner.
The backpack's frontal pocket is an impact-absorbing mesh, but you shouldn't push its limit. Try to put non-essential items in the frontal pocket. Pens will find a convenient home on this frontal pocket, as there are specific holed areas for them.
Even though the bag has a small room, it compensates by having free smaller Topo Design bags. These mini-bags have different sizes and can fit inside the larger bag.
Secured for Long Travels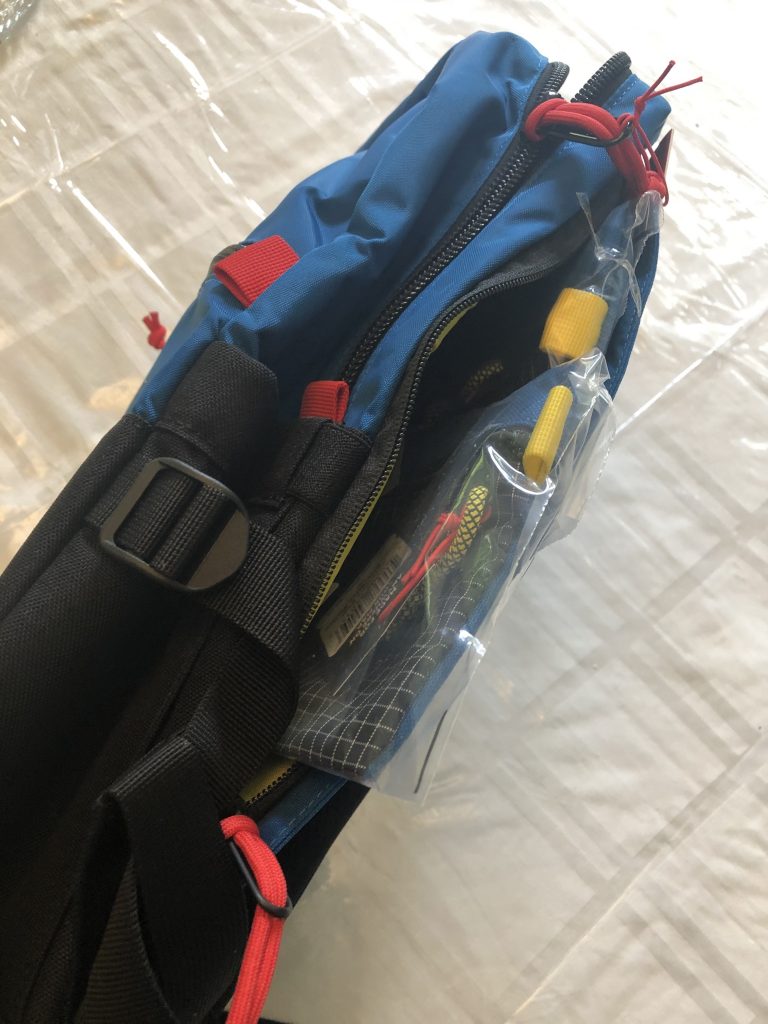 If you're planning to have a vacation for a few days or even a week, the Topo blue backpack is essential. Its main zipper lining is made from high-standard materials and wouldn't budge easily. Thus, the contents of your bag are safe. An additional security measure is the red stretchable zipper guard. You can lace this around the zipper handles if ever you're planning to commute. The zipper guard is also important if you're entering a highly populated area. Without zipper guards, someone might pull the zipper up and snag one of your belongings.
The Topo bag's shoulder straps are also sturdy yet flexible – you can adjust them easily and they won't slide off during hectic moments. In a crowded bus, you will realize the usefulness of Topo's durable straps. Feel free to adjust them if you ever you're having difficulties.
The included small Topo Design bags are also secured. Their zipper linings are tough, as well as their exteriors. You should try to divide your essential items among these bags.
The Verdict
The Topo Designs Blue Backpack is a minimalistic backpack that does the job. It's handy for short and long travels, though you might wish for a bigger space. Still, this backpack emphasizes the real balance between simplicity and usefulness!