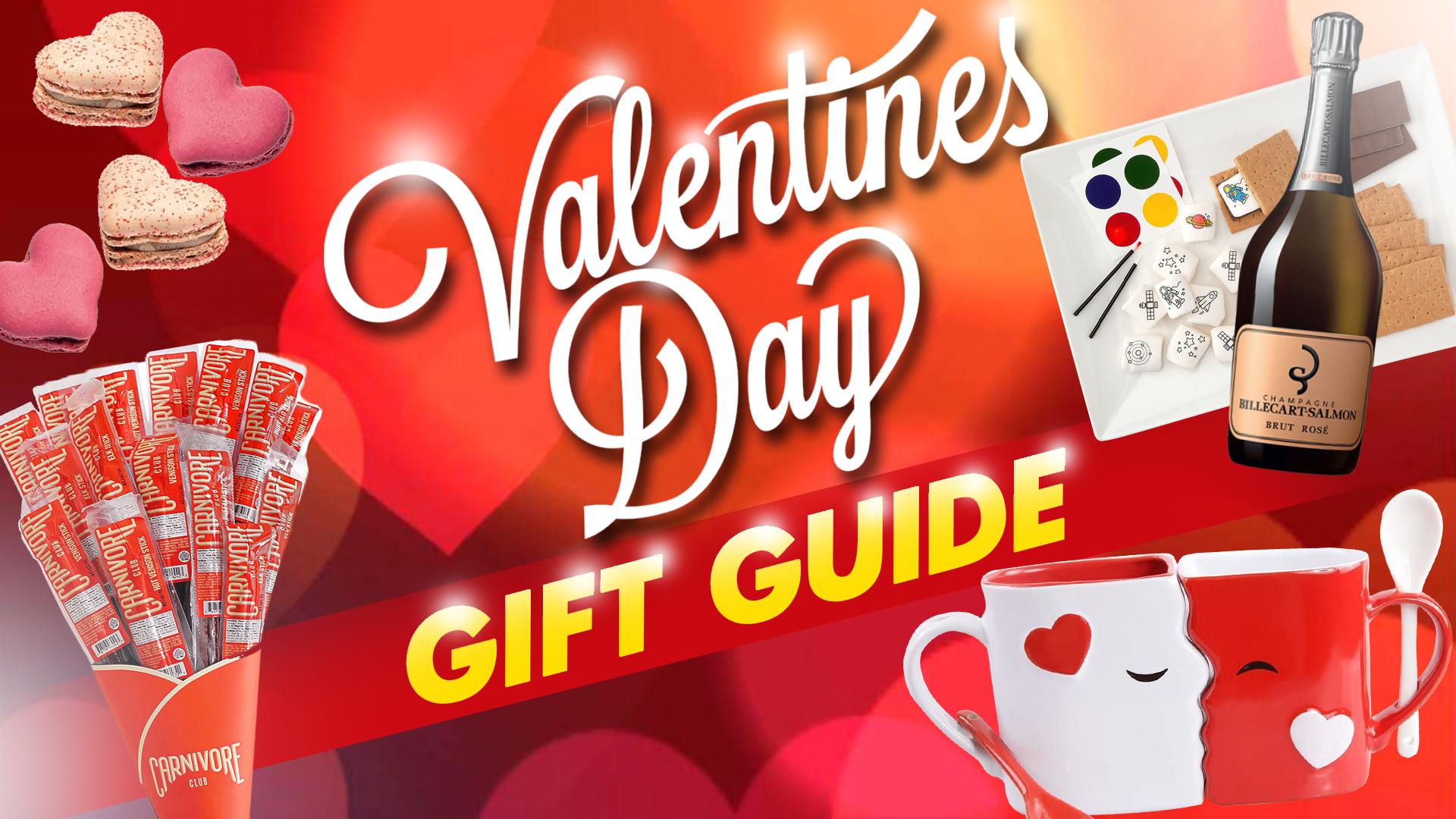 Valentine's Day is going to be a smidge different this year. However, that doesn't mean it can't be as special as in previous years. Now more than ever, it is important to show the ones we care about how much we love them. The five love languages are as follows: words of affirmation acts of service, quality time, physical touch, and gifts.
While love languages like physical touch during this era of our lives may be difficult, it allows you and your dearest people to reach out in other areas. Giving a personal gift can show those special people how much you think about them even separated by miles, computer screens, and circumstances beyond your control.
Below is a curated list of perfect gift ideas for everyone on your list. Whether it's your mother, uncle, partner, or best friend, you're sure to find something on this list to make them smile this Valentine's Day.
Keep in mind that weather and covid related delays are possible, so order soon to avoid complications.
Baby Rose Bear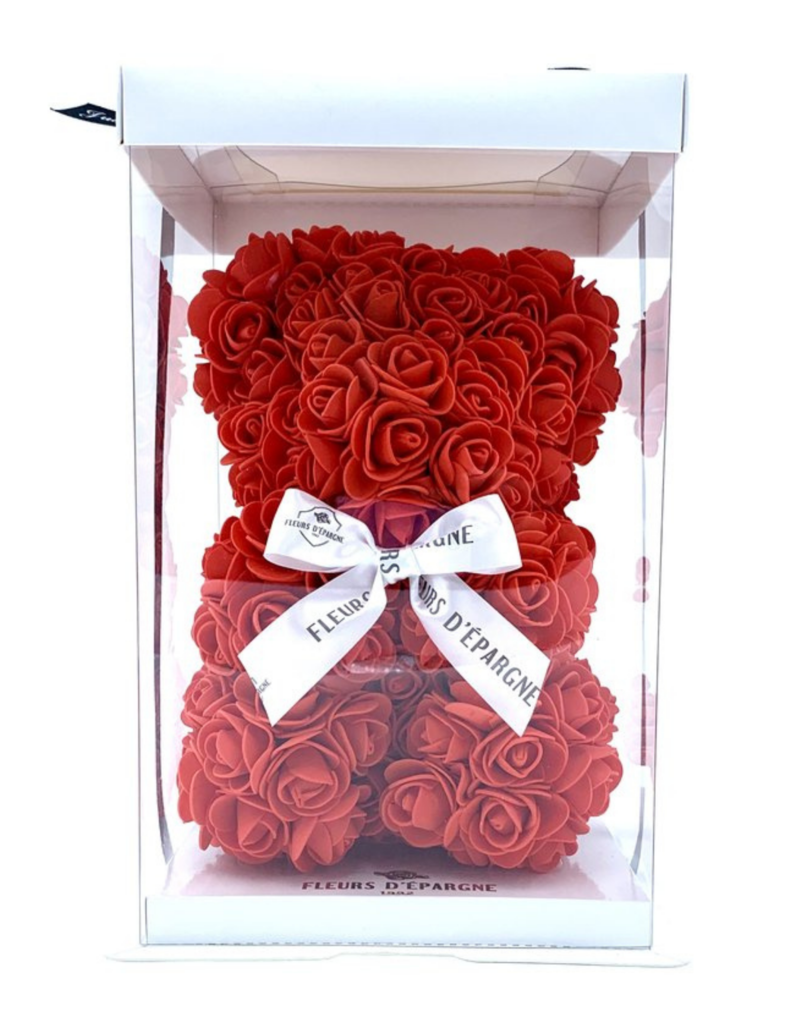 So here we are talking about preserved flowers, Eternity Roses. Roses that last 1 year or 3 years. Also called '1 year rose'. Anyway, it's all about the arrangements and the creative side.. all round an amazing valentines gift.
Romance Helpers Romantic Night in a Box
Surprise your true love this Valentine's Day with a unique romantic gift from Romance Helpers selection of themed romance decoration boxes and romantic gifts. Their Romance-in-Box collection is a packaged solution of curated romance decor products assembled to create picture-perfect romantic at-home experiences. From romantic dinner at home, a bubble bath, a breakfast in bed, or an all-out romantic decor. Romance Helpers offerings make great gift ideas to share year round. Check out gifts like the Essential Romance in a Box
Heart Box of Macarons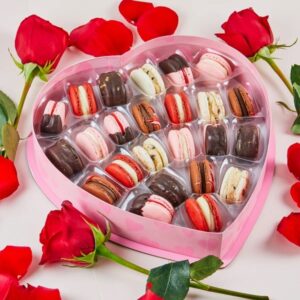 Macarons are a delicate, delicious treat that is fancier than the average cookie. Macarons are french confections that contain almond flour, egg whites, and powdered sugar. Dana's Bakery has perfected macarons and offers them in a special Valentine's Day heart box. Dana's Bakery treats are gluten-free, kosher, and come in unique flavors such as fluffernutter and strawberry shortcake. Yum!
Heart Succulent from Harry and David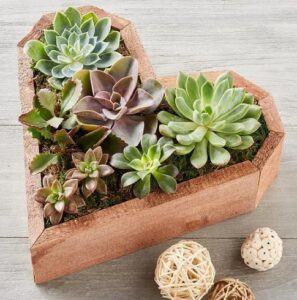 Someone once wisely said, "flowers are for a week…but succulents are forever…" Okay, maybe that's not the quote, but you get the idea. Succulents are low maintenance and can live anywhere. They're a great idea for friends and family near and far. Succulents will keep the recipient's air cleaner and brighten their space with a little bit of green. Succulents need plenty of sunlight and drainage, and they last a very long time, just like your love.
Carnivore Club Exotic Jerky Bouquet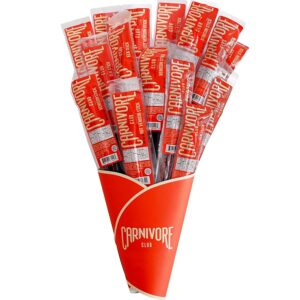 So your Valentine isn't a fan of flowers. How about a bouquet of meat sticks? Featuring flavors elk, buffalo, and venison, this gift is sure to leave a lasting impression on the carnivore in your life and make you the coolest partner ever.
AMOUR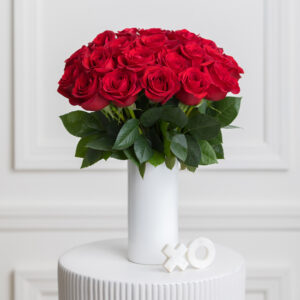 A symbol of everlasting love and devotion, give this seductive and iconic bouquet of premium red roses, inspired by the first-ever Valentine.
Divine Chocolate 70% Dark Chocolate Hearts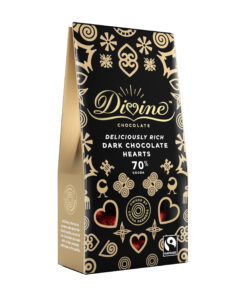 This Valentine's Day, show your love with Fairtrade Chocolate from Divine Chocolate. Divine honors the farmers that cultivate their ingredients. The Solid 70% Dark Chocolate Hearts are smooth, rich, dark chocolate vegan friendly hearts wrapped in red foil
Keel Farms Blueberry Wine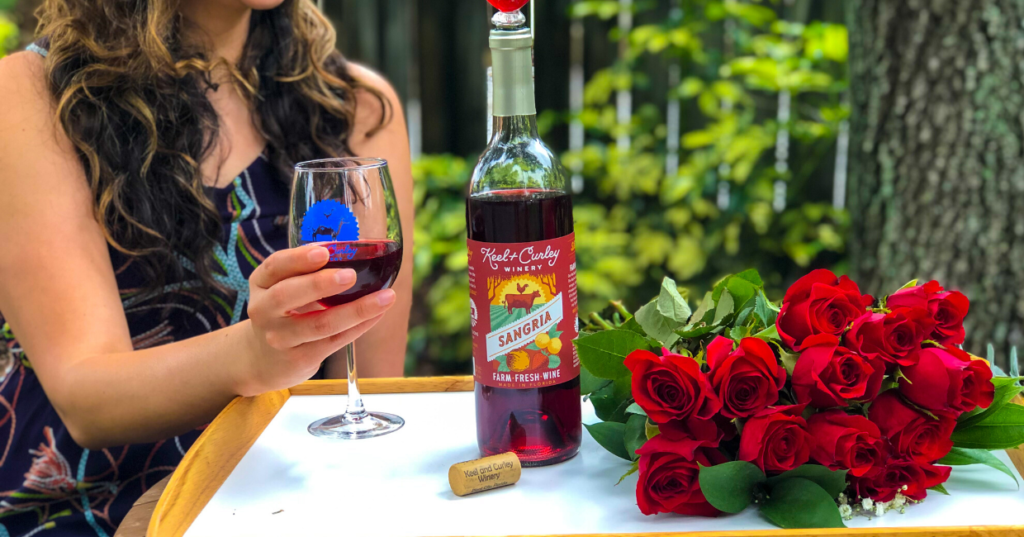 Keel & Curley Winery produces three types of Blueberry wines, all are made from 100% blueberries, all with a distinct taste. From dry to sweet, there is a wine that pairs well with your Valentine's Day meal. The deep red color and the aroma of the sweet blueberries will make any evening elegant.
Johnson's Popcorn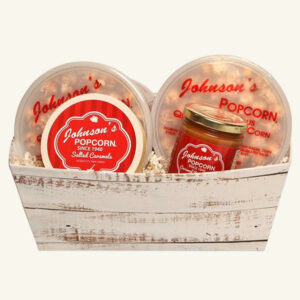 Johnson's Popcorn helps you treat and share delicious popcorn gifts from the beautiful Ocean City, New Jersey Boardwalk! Select your favorite flavors and gift ideas from tubs and tins of delicious sweet and savory popcorn and make a list for Corporate Gift Giving as well. All products are gluten-free and you can choose from Caramel Corn, Salt-n-Sandy, Cheddar, Peanut Crunch, Chocolate Drizzle, Platinum, Butter and Tri-Flavor. There are sweet and thoughtful gifts for "Caramel Lovers," the "Popcorn Lover's" Gift Set and more! Check out the site to pick your favorite flavor, variety of flavors delivered in a tub, tin or gift basket.
A Bar Above Bell Jigger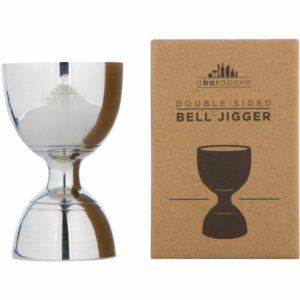 The A Bar Above bell jigger is the perfect piece for your bar cart or home bar, and an easy way to make your partner a fancy drink this Valentine's Day without breaking the bank! Just think – you can stay home, use your new barware to whip up some cocktails, and maybe even pair it with a delicious, home-cooked meal. I'm thinking… dirty martinis and steaks? But the options are endless. The polished finish of this bell jigger looks gorgeous on any home bar or professional craft bar setup (or on the countertop!) and its ergonomic shape/feel is so easy to use. Enjoy V Day with the ones you love without spending a fortune.
JulieOriginals Colorful Floral Art Prints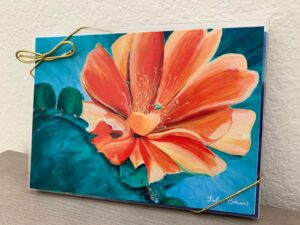 Give heart-warming flowers that will never fade to your loved one! These signed art prints are matted to 11×14 and are perfect for home or office decor. Choose from many bright and colorful images painted by artist, Julie Bonner that are only $19.95.
Homesick Love Letters Candle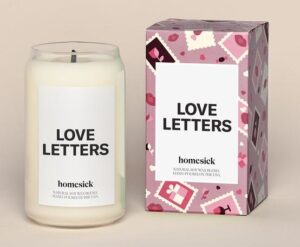 Notes of lemon and sandalwood softened by rose petals and peonies make this a sophisticated candle experience. The appropriately named "Love Letters" candle is the perfect Valentine's Day gift, and it isn't just a candle. You can personalize the candle with a message of your choice to make it a keepsake that the receiver can look at and think of you fondly. To kick this idea up a notch, buy a candle for yourself and a candle for your friend and burn them simultaneously. Every time you light the candle, the scent will make you think of each other.
Kissing Mugs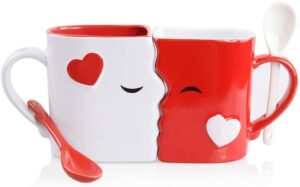 These adorable mugs will make you think of your sweetheart every time you take a sip! These chip-resistant mugs are microwave and dishwasher safe, so you can use them daily and for years to come.
Bath Tea Blends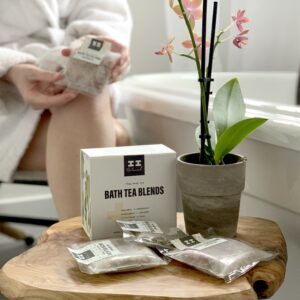 Bath Tea Blends are the perfect gift for your bath-loving Valentine! Each gorgeous box contains 3 different, individually-wrapped Bath Tea blends (with favorites like lavender + chamomile). Just like making a giant cup of tea— drop the tea sachet in the warm bath water, and let the blend of botanicals melt away the day's stress. The tea blends smell divine and the mix of oatmeal, salts and CBD leave the skin silky, smooth, and soft. And the best part…when you've finished your soak, just toss the (biodegradable/compostable) bag away—no messy flower petals to clean up!
Steeped Coffee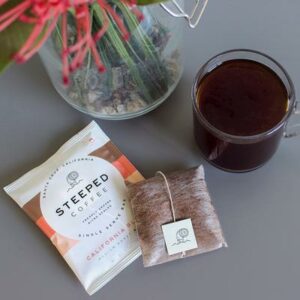 For many, the convenience of instant coffee often trumps the desire for a quality cup of freshly brewed coffee. Now, you can have it all with Steeped Coffee. Each single serve coffee bag delivers rich, ethically-sourced, freshly brewed coffee in just 5 minutes — with all of the taste, and none of the harmful environmental effects of coffee pods.
These pre-portioned, eco-friendly coffee bags allow you to steep a farm-to-cup brew nearly anywhere, sans the machine, waste, or harmful chemicals found in powdered coffee. No need to give up high-end coffee with Steeped: enjoy the convenience of delicious freshly brewed coffee on the go, at home, or wherever you need a fresh cup of joe in a jiffy. Steeped Coffee is available in 5 varieties: mild, medium, dark, French roast and Decaf. And, 20% of all sales are donated to Feeding America, to help stop food insecurity in the USA.
Koso Japanese  Prebiotic Drink & Cleanse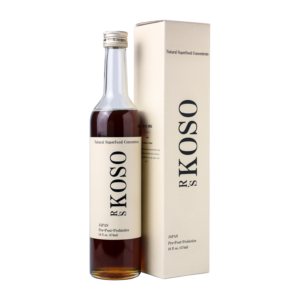 When it comes to finding a great gift for your bf/gf, think about how you want to make them feel happy for the long term. One of the greatest answers is health. Why don't you gift Japanese Superfood drink rich in Pre+Post+Probiotics. It must be a wonderful option this Valentine's day.
Lust by Diana Raab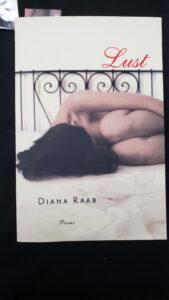 Looking for a Valentine's Day gift that's both timely and unique? Gift a little Lust to your love. Poetry that sets the mood from over the miles or across the couch.
Fragrance No.06 Wine & Love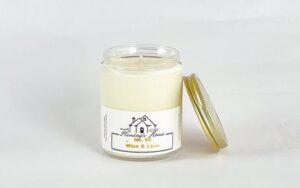 The perfect candle to light up as your day comes to an end, setting the mood for a night of true romance. This fragrance is a luscious fusion of citrus, cherry blossom, hydrangea, apple and peach. There is a hint of blondewood mixed with the unmistakable bouquet of a premium white wine—a crisp blend of white grapes, berries and fruit.
LES MILLS On Demand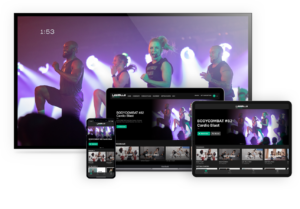 Fitness, immunity boosting, stress relief, mental well-being and more are all achievable through exercise, so for Valentine's Day, what could possibly say, "I love you!" more than the gift of health? Perfect for couples whether they are new to exercise or experienced enthusiasts, LES MILLS On Demand is the ultimate fitness app that offers access to 1000+ online 15-55 minute workouts across a variety of strength, cardio, HIIT, dance, flexibility, and other regimens, powered by science, and proven to get results.
With popular classes from the gym such as BODYPUMP, BODYCOMBAT and BODYFLOW, all are taught by highly-trained expert presenters to motivate, inspire and change lives through fitness and you can access a free 30-day trial and find subscription information.
Paint Your Own Smores Kit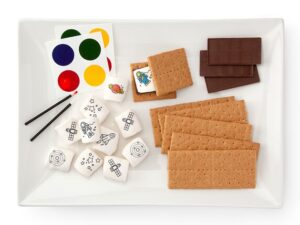 Smores are delicious any day of the year but seem even sweeter on Valentine's Day. This kit contains chocolate, edible paint, graham crackers, and marshmallows with pictures to color. Each kit contains enough ingredients to make six smores. Turn this ooey-gooey treat into a date or fun Valentine's Day activity! Are you spending some time solo this Valentine's Day? Treat yourself to some smores – you deserve it!
Ida Body Care 4-Step System Features Dry Brushing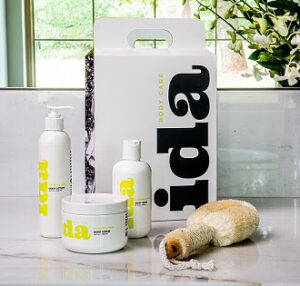 Ida's 4 Step Body Treatment gives your Valentine the opportunity to pamper herself at home. It is truly a spa experience. A self-care must. Created with 18 natural ingredients and essential oils, her skin will never feel or be the same.
Glory's Glow Massage Oil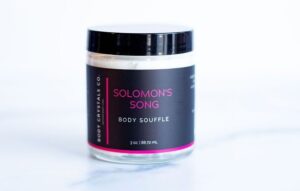 It's the perfect gift for a VDay getaway! A little goes a long way with both the body oil and souffle without leaving you feeling greasy. You'll smell seductive and sexy while keeping your skin moisturized and hydrated!
Organic Revitalizing Night Cream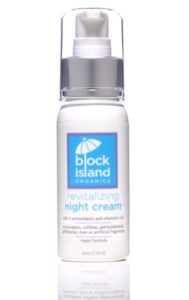 Everyone needs a little skin care pampering – especially after this past year. The best way to treat your skin is with our antioxidant rich, organic night cream. Packed with natural botanicals, our night cream will indulge and hydrate your skin with nourishing vitamins.
Lipstick Pepper Sprays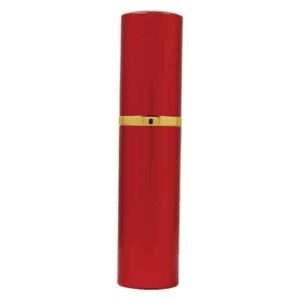 Roses fade. Chocolate tastes wonderful but only for a moment. Cute puppies eat your undies, grow up, and need to be walked twice a day. But pepper spray is the one gift that can keep your sweetheart safe and coming back to you every day. Cleverly disguised as lipstick, this personal-protection device slips easily into a purse or jeans and is more effective than a stun gun that requires close contact to zap an intruder. When you are under attack, you want to move farther away, not closer. Pepper spray has a range of 10 feet. The case is sexy, and the gift is hot. Really hot — 5 million Scoville heat units hot.
Godinger Dublin Double Old Fashioned Glasses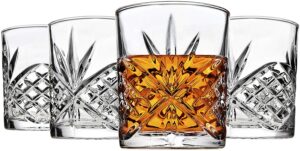 These glasses are beautiful and costly looking without the high price tag. For the whiskey drinker in your life, they're the perfect gift to add to your loved one's bar collection.
Here Comes Valentine Cat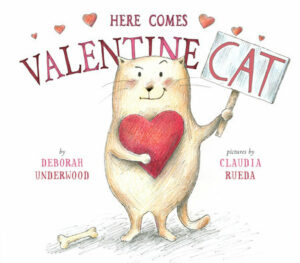 In this delightful children's story, a crabby cat learns not to jump to conclusions and has a change of heart on Valentine's Day. Here Comes Valentine Cat is a great gift for a child in your life. To add a little something extra, pair the book with a kitty stuffed animal or some candy.
Billecart-Salmon Brut Rose

Billecart-Salmon Brut Rose has notes of strawberry and pie crust. Its decadent flavor is sure to please any palate. You can't go wrong with a glass of pink champagne on Valentine's Day, either. Pair this pink and golden colored champagne with chocolate-covered strawberries for the ultimate indulgence.
Viktor&Rolf Flowerbomb Perfume Travel Set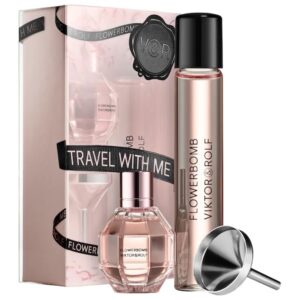 Flowerbomb is a cult classic in the perfume world. Flowerbomb embodies Valentine's Day with its punch of flowery notes that smell like a garden tea party. Buy the travel kit so your Valentine can take her perfume anywhere she goes. Flowerbomb is guaranteed to make any perfume lover swoon.
Isabelle Grace Rosie Necklace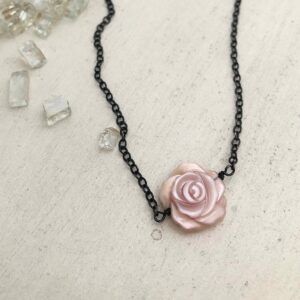 Roses are the symbol of love! This sweet and dainty piece is a unique twist on giving her roses for Valentine's Day. Featuring a gorgeous mother of pearl accent stone carved into a beautiful rose charm. Each piece is individually crafted by hand. She will treasure it!
Avenova Lid & Lash Solution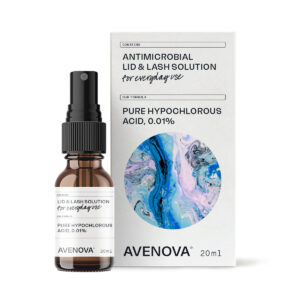 Does your loved one suffer from dry eyes, or another eye issue, such as contact lens intolerance, inflammation, redness, eye strain and eye fatigue? If so, Avenova is the perfect gift! The FDA-approved lid and lash solution uses pure 0.01% Hypochlorous Acid (HOCI), which your body naturally produces to fight off toxins and inflammation caused by bacteria. The antimicrobial spray solution is non-toxic and non-sensitizing, making it completely safe and effective for everyday use on the lids and lashes every morning and night.
Koreselect Balance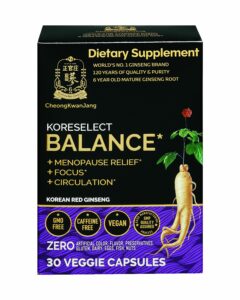 Koreselect Balance is for women dealing with menopause symptoms and contains plant-based ingredients, such as peony root extract and bamboo leaf extract, which are known to help provide menopause relief. Koreselect Balance's main ingredient of Korean Red Ginseng root extract will also help improve circulation and focus. Korean Red Ginseng is also rich in antioxidants. For more information or to purchase a variety Korea Ginseng Corp. products, please visit https://www.kgcus.com/
Color-Depositing Shampoos and Conditioners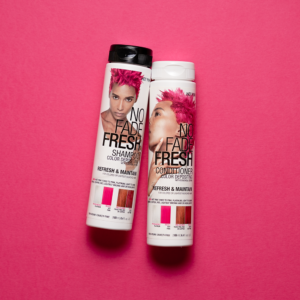 No Fade Fresh color-depositing shampoos and conditioners are clean, safe hair color without commitment. Ranging from traditional blondes, browns, and reds to pastels and vivids, No Fade Fresh deposits semi-permanent color to hair in 2-5 minutes in the shower.
Whiskey Old Fashioned All Natural Beard Oil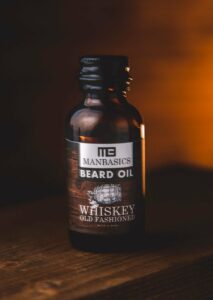 Beards and cocktails. These are a few of my favorite things! ManBasics delivers all-natural beard oils with scent profiles inspired by cocktails: the Whiskey Old Fashioned (Sandalwood, Orange and Rosemary), The Mojito (Mint, Lime, Rosemary) and the Fireball (Cinnamon, Clove, Rosemary). Are all-natural oils will help your bearded partner nourish and moisturize their skin and beard while also smelling great!
Heart Your Hair Box
Candy is dandy and flowers are nice, but you know what's better than a bouquet and won't wither away? The Heart Your Hair Box by Number 4 Hair Care. This kit is truly the total package for pampering someone you love. The Heart Your Hair Box features seven luxe mini-sized bottles, plus five multi-use sample packettes specially curated to transform dry, damaged, limp, or lackluster locks into healthy, nourished hair with strength, shine and style.
Aventon eBikes for V-Day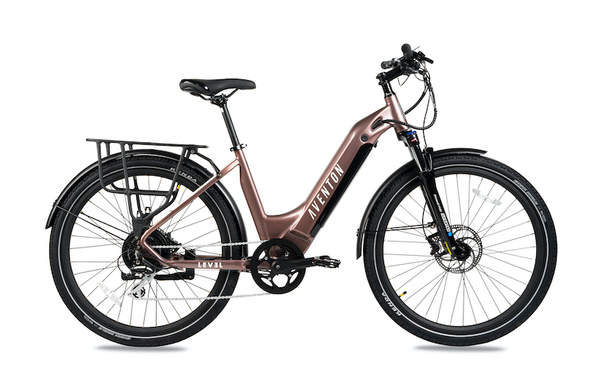 The Aventon e-Bike is a good Valentine's gift because it helps keep couples together, allowing them be active together by cycling together. Even if one is an avid cyclist or more fit than the other, the pedal-assist technology allows them to keep pace with each other as they exercise, explore, and have fun adventures. If you buy two e-Bikes – one for you and one for your partner – Aventon will give you a $200 Valentine's discount.
SleepWise
Calms your brain, reduces mental stress, and relaxes your body, allowing you to fall asleep faster. The natural ingredients on SleepWise, relax your body without affecting mental focus. Promotes deep and restorative sleep while it calms your mind.
Postal Petals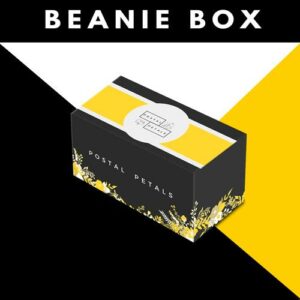 Postal Petals is a farm-direct fresh flower delivery service for DIY arrangements. Postal Petals is the perfect Valentine's Day gift because it can be customized for the recipient. First, select the size box you want based on how many flowers you need. Next, check out the week's featured recipes to choose your favorite floral mix. Finally decide how often you'd like to receive a flower delivery: one-time delivery or schedule a weekly, bi-weekly or monthly subscription. Happy Valentine's Day!
SnappyScreen "I Want to Hold Your Hand" Gift Box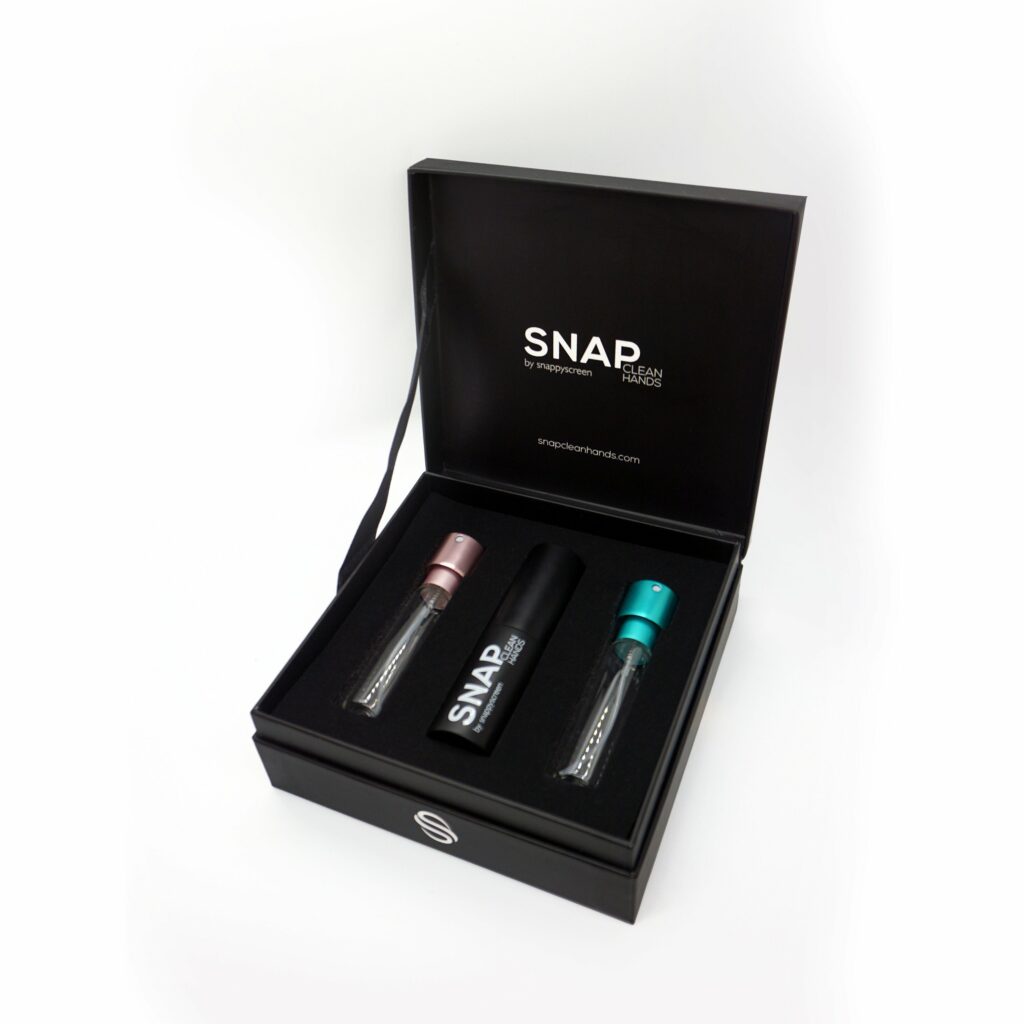 Skip the heart boxers this year and gift your significant other something they will actually use!   Nothing says "I want to hold your hand" like clean and moisturized hands with one simple spritz.  SNAP clean hands is luxury high-tech hand sanitizer that takes an everyday necessity and makes it fashionable. With the easy to use cartridge system, you can switch out your fragrance and snap your new cartridge in for a compact, travel-ready, no-spill hand-sanitizing experience!  For valentines day, SNAP is available for him and her in our luxury gift box and wrapped in a limited edition 'I want to hold you hand' valentines day box.
Xpand Laces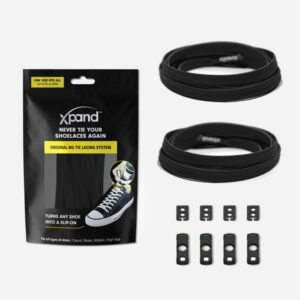 By gifting your partner Xpand's original no-tie elastic laces for Valentine's Day, you are giving them the freedom to never tie their shoelaces again. Your partner will be able to convert any shoe, sneaker, or boot into a slip-on; and, the 20+ color options allow couples to create a feeling of unity through matching laces. Show your partner how much you care by gifting them comfort in their favorite color with Xpand Laces.
Nightcapper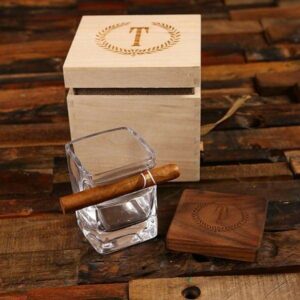 The Nightcapper makes for an ideal Valentine's Day Gift, as its unique design taps into both of your man's favorite ways to relax. With a cigar holding whiskey glass, a thick black walnut coaster, and a keepsake eco-friendly hardwood box, this gift set is the perfect personalized gift for any cigar and drink enjoying guy in your life.
Glitz & Sip Flask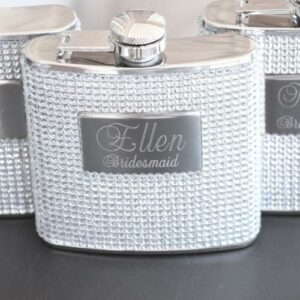 This fun Valentine's Day Gift will definitely bring a smile to your girls face! The Glitz & Sip Flask is a personalized stainless steel bling flask that arrives in a classy white gift box. Your favorite ski bunny will keep warm on the slopes with this awesome flask in her pocket filled to the brim with her favorite spirits.
Face Essentials Treatment Trio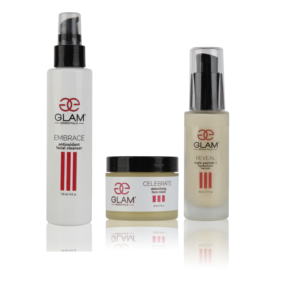 What's a better way to show yourself, your significant other, or your gals some love than with a Valentine's Day spa and wellness day featuring the Face Essentials Treatment Trio from Glam Essentials? Our Face Essentials Trio will cleanse, detox, and brighten your skin in three simple steps to help you Embrace, Celebrate, and Reveal your best skin! You'll receive: Embrace Antioxidant Cleanser(4 oz), Celebrate Detox Mask (2 oz.), Reveal Triple Peptide Serum (1 oz).
OE Shot in Mixed Berry and Pina Colada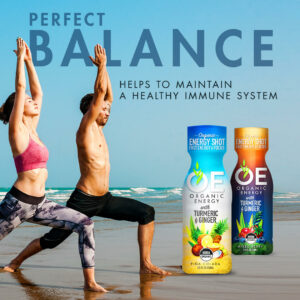 Add a new perk to your daily morning routine or a yoga date with your sweetie with Mixed Berry and also Pina Colada Organic Energy Shots. Cheers to OE Shot – the USDA 100% Organic Certified energy shots that contain no preservatives, no artificial additives, and no toxic chemicals and contain ingredients like Green Coffee Beans, Ashwagandha, Ginger, Ginseng and Turmeric help you keep balanced promoting a healthy immune system. OE Shot is offered in 12-packs
HandsOn Gloves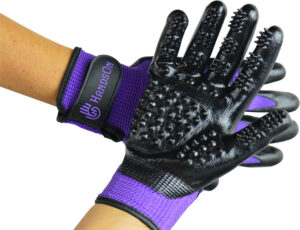 Add comfort and joy to grooming, bathing and massaging your beloved pets with HandsOn Gloves scrubbing nodules and hypo-allergenic, bio-friendly components clinically proven to be safe for use with humans and animals. The gloves work wet or dry allowing for the perfect combination to care for your pet at home and on the go. Users will find their animals wanting to come closer at groom time and the gloves help keep fur shedding to a minimum and their bond with your family to a maximum.
HandsOn Gloves also offer support for those that may suffer from inflammatory arthritis conditions in their hands adding a health benefit for the mobility of the finger and palm joints. The gloves are available in 5 sizes including a JUNIOR KIDS SIZE to have kids lend a helping hand to help care for their beloved pets.
'You & Me And The Dog' Throw Pillow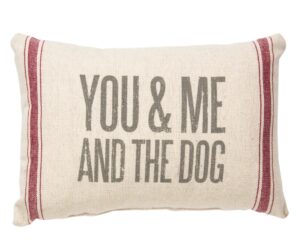 Nothing reminds your significant other that you love them – and the family you've built together – like a "You & Me and the Dog" pillow. When you're all curled up on the couch together or snuggled in bed, remember that you've got everything you need.
Tidbits Fun Bites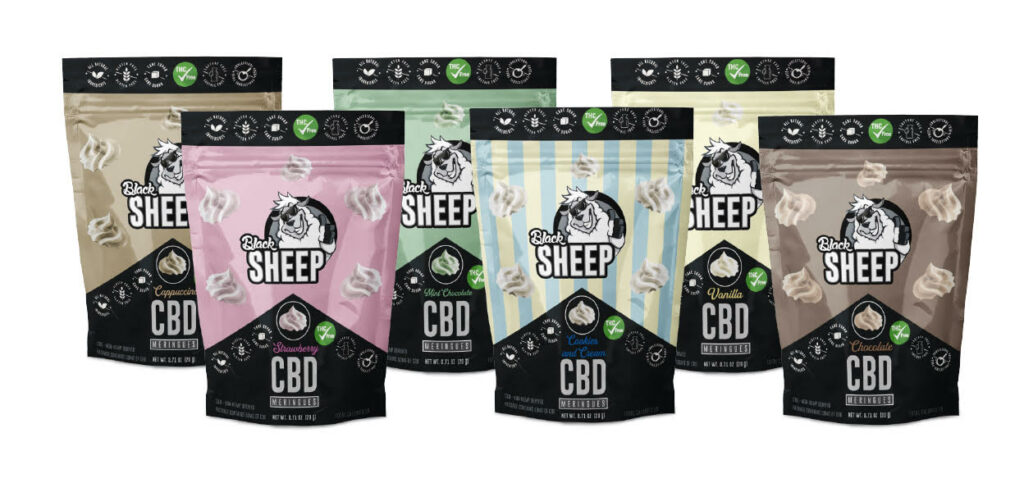 Treat yourself and your loved ones to guilt-free treats thanks to the team at Santte Foods who have spent years developing a line of healthy meringue bites that offer a sweet treat without the guilt. Tidbits Fun Bites Meringue Cookies are sugar-free, lactose-free, gluten-free, soy-free, cholesterol-free, and non-GMO. Tidbits bite-sized treats that come in a 40-piece resealable bag and come in the following flavors: Cookies and Cream, Cappuccino, Chocolate, Mint Chocolate, Strawberry, and Vanilla.